Pearl Jam Go Retrograde and Turn to Tarot
Pearl Jam released a video for their latest single "Retrograde" on May 14th, 2020. The band has the tarot fans around the globe paying attention after band members chose to feature themselves as characters of different tarot cards, along with surprise appearance by Greta Thunberg as a clairvoyant looking into the future via her crystal ball.
The animated clip delivers a dire warning about climate change using animated visuals of melting glaciers and oceans rising to swallow iconic landmarks like Eiffel Tower in Paris, London Bridge in London and New York.
Made under COVID conditions, the band enlisted the help of director Josh Wakely, to create the clip in an animated form after the original plans to shoot the video had to be reworked due to social distancing and travel restrictions.
Fans of the band have been trying to determine which card each Pearl Jam member is representing:
Fan Summer Sparks says, "Ok, so in the tarot, Jeff is The Chariot, Stone is the Ace of Cups, Matt is the Ace of Swords, Ed is The Sun… But what is Mike's card? Is it 3 of pentacles/coins? I mean it looks more like scales, but there's only scales on the Justice card! I wanna know! Lol anyone got any ideas?"
We think we have four out of the five figured out, though Matt Cameron's card (the drummer) isn't as obvious as the others, particularly as none of the Rider Waite tarot cards feature a cross. Is it perhaps Judgement, Death or Ace of Swords? We hand it over to you for your thoughts on Matt's chosen card. Can't wait to read your comments!
From left to right: Matt Cameron (perhaps Death or Judgement?), Mike McCready (Justice), Eddie Vedder (The Sun), Stone Gossard (The Magician) and Jeff Ament (The Chariot).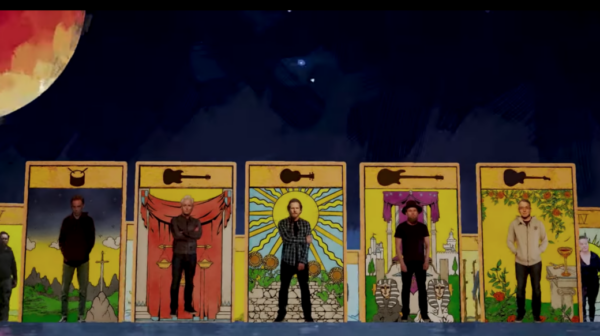 Here is the video link for you to enjoy – Pearl Jam Retrograde.
Madonna Also A Tarot Fan
It's not the first time musicians have featured tarot in their clips or shows, another example was Madonna's Re-Invention Tour which used Rider Waite tarot cards projected behind the dancers during the show.
Watch the Madonna Re-Invention Tour video.
If you don't have all day, fast forward to the 37th minute to see tarot cards featured from screenshots below.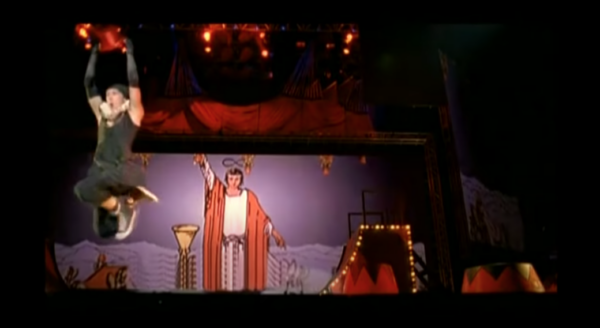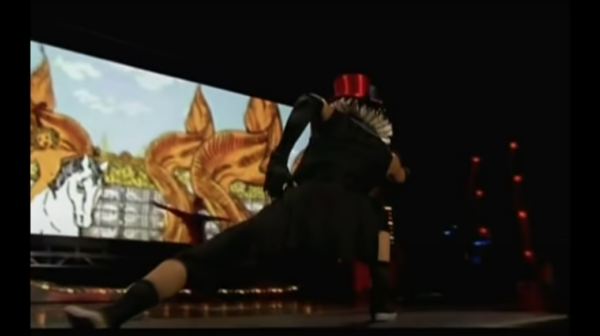 Turning Temperance into A Track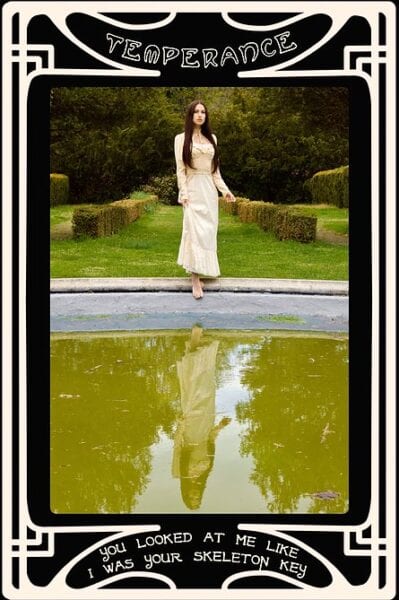 Another emerging talent in the music industry is Syd Sylvair, who divides her time between reading tarot and songwriting. Her just released album "Reverie" builds song themes around tarot cards.
The final track "Heroine," is a pop-style tune that encapsulates Silvair's writing method which she explains more about below:
"The 'Temperance' card in the tarot (which is the corresponding card to this song) is all about moderation and finding a healthy grey area between extremes," Silvair explained to American Songwriter. "The heroine of this song represents an unrealistic extreme. A takeaway from both the song and the 'Temperance' card is that it's okay to indulge in the pleasure of putting someone on a pedestal (we've all done it) as long as we protect ourselves from falling too deep into the fallacy. I sometimes get myself into trouble by looking for the best in people and ignoring red flags, which fuels a lot of my songs. But for 'Heroine,' I turned the tables and wrote from the perspective of someone who knows they're being idealized. The heroine of this song is tempted to lean into that light of infatuation, but she realizes that keeping up the facade will only lead to pain."
In the video clip, Silvair is floating, suspended in the air, above a serene labyrinth. Watch Syd Silvair's new single "Heroine."
Rachel Pollack Interview
And turning to a more educational note, the Tarot Guild of Australia recently interviewed Rachel Pollack "Tarot Master." You can view interview here.
Image Credits
Featured Image: Screenshot from Pearl Jam Video
Pearl Jam Images – Screenshots from video
Madonna Reinvention Tour Images – Screenshots from video
Syd Sylvair via her website