PUBLISHED APRIL 19TH 2017
British Prime Minister Theresa May has always denied she would call a 2017 election, so when the news arrived about an 8th June snap poll, the media (including The Sun newspaper) declared Westminster was 'stunned.'
If you follow astrology, though, you will know that last year, back on 23rd August 2016, the UK Labour Party horoscope clearly showed a coming crisis – in June 2017.
This is what you read:
"WHY LABOUR AND CORBYN HAVE A FIGHT ON THEIR HANDS, MAY AND JUNE 2017
To win another election, against PM Theresa May, Corbyn and the party must cross the next bridge as Saturn moves through 27 Sagittarius in May 2017, followed by Uranus at 27 Aries in June, 2017, alongside Chiron at 27 Pisces. Those are tough obstacles.
May and June 2017 will pile huge pressure on Jeremy Corbyn and the Labour Party in historic patterns not seen in years, but if they can survive that, they can survive anything."
So, will he survive? The polls say not, but then polls have been wrong before. My first hurdle as an astrologer, though, is that we still don't have a proper birth time for Theresa May. She may be in Vogue, but she's not in our AA horoscope data base.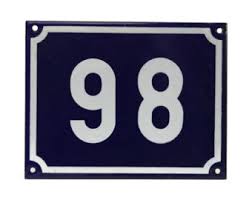 THERESA MAY – THE PRIME MINISTER WITHOUT A BIRTH TIME
Our politicians have a habit of giving conflicting birth times (Donald Trump, Hillary Clinton) or no birth time at all. Without a firm time and proper birth certificate from the beginning, doubts are always cast on the Ascendant, Descendant, Midheaven and Immum Coeli – and you really need these to predict elections. The Theresa May data is unusable. In fact, it's almost as bad as the Trump data!
ASTROLOGY VERSUS OPINION POLLS
Theresa May and the Conservative Party are 20 points ahead of Labour as I write this on 19th April 2017. That seems to make horoscope predictions pretty irrelevant. But the public opinion polls have been wrong before – and astrology was absolutely right. In fact, if you had listened to astrologers at the last election and not the political experts – you would have won the bet at your local pub.
All pollsters had forecasted a hung Parliament, underestimating the Conservative Party vote by an average of 4.2 points and overestimating the Labour Party vote by an average of 2.4 points. Astrologers, using different techniques, saw not only the Conservative Party in power, but also a record number of women in office. One of those, Theresa May, would be fated to end up as Prime Minister, many months later.
The YouGov survey in April 2017 has the Conservative Party) on 44 per cent, 21 points ahead of Labour on 23 per cent, with the Lib Dems on 12 per cent and Ukip on ten per cent. Does the astrology agree, though? Will there be any surprises in this apparently 'done deal' election on Thursday 8th June?
WILL JEREMY CORBYN STAND DOWN IF LABOUR LOSES?
As Jeremy Corbyn seems set for defeat, the media is already asking if he will resign if his party loses in June. We cannot read his chart accurately as he also lacks AA data. The charts for June 8th, Election Day and the United Kingdom itself do show a reshuffle in both parties, however. This reshuffle may occur as early as April, May.
The reason for this is the mess and muddle of the Mercury Retrograde cycle, which will be with us until its final shadow on 21st May. Here are some typical outcomes for British politics at this time, with Mr. Corbyn (below) stuck in the middle. THE MERCURY RETROGRADE PRE-ELECTION PERIOD

Here are just a few of the outcomes to expect in April and May 2017.
Candidates announced then withdrawn.
Flaws in early postal voting – fraud or missing/delayed forms.
Ballot paper errors.
Accusations of Russian hacking.
Wrong opinion polls.
Any votes which come in early, about two weeks before the voters turn up, may be in dispute in June. This situation echoes the American election, which also had pre-voting on Mercury Retrograde. Russian interference in that election remains under investigation.
THE GHOST WHO WALKS – ED MILIBAND? NIGEL FARAGE? THE LIBERAL DEMOCRATS?
To predict the future for groups (political parties) you always use Aquarius, which rules the Eleventh House (communities). Using the Natural House system here, we can see Diana at 6 Aquarius, Panacea at 22 Aquarius, the South Node at 26 Aquarius and Aesculapius at 27 Aquarius. That last one interests me. Why? Aesculapius is a symbol of resurrection. It describes people coming back from the brink – just when you thought someone's political career was over, it isn't!
We are going to see a huge comeback for a Labour party figure who British voters had assumed was gone forever. This may be Ed Miliband. It may even be Tony Blair. Could it be Jeremy Corbyn, staggering back from the brink? My eyes are drawn to that conjunction between the South Node at 26 Aquarius and Aesculapius at 27 Aquarius. It is sextile Uranus, the planet of revolution, at 27 Aries, so this is a statement about a new, independent Britain. Let's not forget the other 'ghosts' in British politics, though. David Cameron. Nigel Farage. The other great 'goner' has been The Liberal Democrats. Is this another comeback?
There is a real feeling of 'Ghost Who Walks' on June 8th and it's rather like The Phantom. If you are curious about Aesculapius, you can look him up in your ebooks if you are a Premium Member. He's a powerful asteroid and a relative of Jupiter in our astrological family tree. If you had the plague/were plagued, then you went to this god, in Ancient Rome, for a miraculous cure. The South Node is about karma, so I suspect this remarkable resurrection is fated, both for the players and the parties.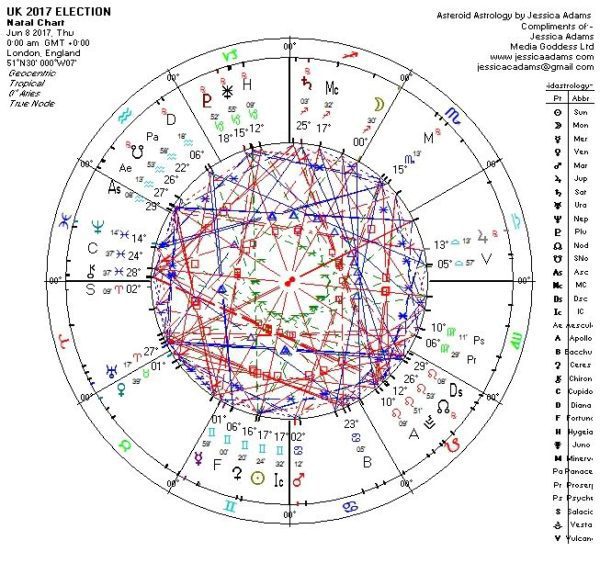 THE UNITED KINGDOM ASTROLOGICAL CHART AND THE 2017 GENERAL ELECTION

A key factor on the day will be the pound, with Venus in Taurus (women and the economy) and Minerva in Scorpio (women and finance) – female voters will be the ones to win over, in terms of the economy.
So how does the future look? Fantastic. Jupiter, the planet of abundance, problem-solving, growth and win-win outcomes will move into Scorpio for the first time in 12 years, from October. This also triggers the chart for the United Kingdom itself. She has Neptune at 18 Scorpio so is always looking for an escape (usually heavy borrowing or property bubbles). The nation also has the other money sign, Taurus, strongly accented.
When people vote, they are doing so with Pluto (power) at 18 Capricorn (leadership) exactly sextile Neptune (escape routes) at 18 Scorpio (finance) in the United Kingdom horoscope that was was 'born' with in 1801. This is a vote for a big banking bubble.
The country we know today came into the world on 1st January 1801 with the problem-solver Panacea conjunct aggressive Mars at 11 Taurus in the Second House of cash, property and business. Psyche is at 20 Taurus and the deal-maker Ceres is at 23 Taurus. The moment Prime Minister Theresa May called the 2017 election the value of the pound surged.
You might say that the election result of June 2017 will put a rocket under the British economy in future. The conjunction of Jupiter to Neptune in the national horoscope in January 2018 is just the start. There's another big, bouncy bubble in May 2018 and the final 'bounce' happens in September 2018. Throughout this period, Jupiter will also oppose the Taurus stellium in the nation's chart, so this is a momentous period in her economic history. Further ahead, of course, we are going to see a revolution when Uranus moves to 11 Taurus in May 2021, but that's only hinted at in June 2017. The bubble will pop. Explode!
MORE PREDICTIONS FOR THE UNITED KINGDOM ON GENERAL ELECTION DAY, JUNE 8TH 2017
As we all know, an election can be decided with a coin-flip. If there are two horses in the race, it's really no big deal for astrologers to say 'Corbyn' or 'May' before they nip off to Paddy Power to place their bets. The real fun comes when you look at the other predictions – the details which may come to play a much, much bigger part in the future!
Ceres is conjunct the Sun in Gemini. That's a media carve-up. In Britain, the media is dominated by Rupert Murdoch but also the BBC. Are we going to see a major policy change in funding for the BBC as a result of the Downing Street outcome? The largest stellium on the day is actually in Gemini, in the Third House of multimedia. This is very interesting, and with Mercury (who rules Gemini as he is the messenger) and also Fortuna there, alongside the Sun and Ceres, this looks like a big shake-up.
Gemini also rules the Post Office as well as the media – The Sun, Sky, the BBC and so on. The new policies in Downing Street will involve a carve-up, here. Not only do we have an exact Sun-Ceres conjunction at 16 Gemini, it is also aspecting Juno at 16 Capricorn. This is very close to the position of Mercury at 17 Sagittarius in the United Kingdom chart, in the Ninth House of foreign people and places, and publishing. Diana is at 17 Capricorn, too. The outcome of the 2017 General Election in the UK will transform the BBC for many years to come. The other transformation? The Post Office and telecommunications industry.

Gemini also rules Eurostar, the English Channel ferries and short-haul flights to Europe. This Gemini-Sagittarius pattern suggests a massive change here as well, ushered in by the Downing Street results.
BREXIT, UKIP AND ARRON BANKS
I've had my eye on Arron Banks, the multi-millionaire who bankrolled the Brexit campaign, for months. His birth chart hits the United Kingdom 'birth' chart exactly and his fate is part of the nation's fate. This is an old prediction about him from July 25th 2016, when it was possible to peer into the future, a year ahead.
What you read: "We are going to see Brexit Two and UKIP Two in September 2016 – dramatically – and then Brexit Three and UKIP Three (Newkip? NUKIP?) in March, April 2017. Who's the main player? Arron Banks. The Arron Banks horoscope chimes with the times. Mr Banks, the multimillionaire who bankrolled the Leave campaign, was born on March 22nd 1966 with Jupiter at 23 Gemini and Ceres at 23 Aries. His personal birth chart, even without a time, has a fated connection with the new Britain."
One thing to watch is his career, post election. This is someone who is not going away, and although he has a low profile compared to Nigel Farage, Mr. Banks also has the kind of chart that says he will push, push, push for a hard Brexit – as quickly as possible. His pressure may be one of the reasons the British may not have to wait quite as long as they think, for independence.
Jupiter passes 23 Libra in September 2017. That's an open door to radical change. The North Node in Leo and South Node in Aquarius are also at 23 degrees, that month. Ceres is at 23 Cancer, the sign of patriotism. September 2017 will fast-forward the quest to leave Europe, no matter what the paperwork and the pundits are saying. There is a huge independence push on, that month!