In September 2017 we have a repeat of the same Watergate horoscope patterns we saw in 1974. Using the Tarot cards created by Pamela Colman-Smith with Arthur Waite I turned up one card (bottom of page) which clearly shows an eclipse. The real thing can be seen in a Twitter image of the Trumps. In this story about Astrology, Tarot and Trump I'll look at the whole prediction. I hope this helps you with your own horoscope and Tarot readings – in seeing how it all works.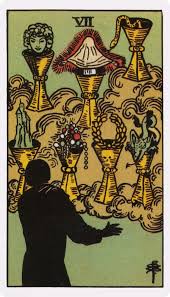 Transiting Pluto at 16 Capricorn will conjunct America's Ceres at 16 Capricorn in September. This can only happen every 240+ years. In September 2017 America will experience a power struggle in the White House and someone could easily take Donald Trump's job. Just look at that card (right).
On 18th February 2017 I predicted that September 2017 would be a possible Watergate moment for Trump. If you are curious please click on the link to read the original story. The United States of America was 'born' with the North Node at 16 Leo, South Node at 16 Aquarius and Ceres at 16 Capricorn. On August 9th 1974 when Richard Nixon quit, Jupiter was at 16 Pisces, triggering the pattern. It wasn't the only trigger but it was important. America has karma left over from the removal of King George III as her monarch. The karmic pattern – the removal of any 'King' – usually the President – is something we have seen throughout White House history.
That Other August Eclipse and Trump
Eclipses conceal they never reveal. They blind us to the truth. Everyone in astrology and the media was distracted by the drama of the 21st August Great American Eclipse. There was another eclipse just before it that concealed a rift within the Republican Party which could easily topple Trump if someone is brave and ambitious enough to seize the crown.
That eclipse fell on 7th August, 2017 at 15 degrees of Leo and Aquarius. Right on America's North Node at 16 Leo and South Node at 16 Aquarius. I mentioned the nation's karma, created when King George III was defeated. That's a trigger. But – what about Trump's destiny?
This is the Eight of Cups which shows that August 7th Eclipse. If you look carefully you can see Trump with his trademark dyed hair, wearing his favourite colour – red – departing the scene. He is alone. What is this card saying to you, when you read it in combination with the first card?
In September 2017 an ambitious rival could easily take Trump's job if he or she can turn the dream into a reality. If this does happen it will be sudden, aggressive and split the Republicans. Even if nobody takes the chance to swipe the presidency, in September, Trump will still be a man utterly alone. This card shows him leaving his fellow politicians, friends and his family – far, far behind.