Jupiter and Venus, the planet of opportunity and the planet of relationships, both meet in the finance sign of Scorpio on Monday 13th November, 2017. What does it mean for your horoscope? This event can only happen every 12 years and it spells good fortune for every sign of the zodiac in astrology but in different ways.
Jupiter and Venus and Your Zodiac Sign
How does the rare Jupiter-Venus conjunction benefit your sign?
ARIES – Money, property, business, insurance, legacies, finance, sharemarkets, banking, loans, repayments, settlements.
TAURUS – Former partners, current partners, potential partners, feuds, contests, battles, divorces, separations, marriages.
GEMINI – Lifestyle, work, health, duty, service, the body, daily routine, chores, health, surgery, medicine, food, drugs, drink.
CANCER – Pregnancy, adoption, godchildren, nieces, nephews, sons, daughters, IVF, children, students, lovers.
LEO – Houses, apartments, home town, homeland, family, household, family tree, culture, heritage, roots, property.
VIRGO – Multimedia, communication, education, information, the worldwide web, hearing, speech, writing, publishing.
LIBRA – Cash flow, ownership, debt, rewards, income streams, interest, windfalls, profits, loans, possessions, property.
SCORPIO – Image, appearance, name, profile, identity, public face, personal appearance, reputation, brand.
SAGITTARIUS – Secrets, classified information, confidential concerns, privacy, solitude, therapy, mediumship, the occult.
CAPRICORN – Friends, groups, clubs, teams, political parties, rock bands, charities, networks, circles, Twitter, acquaintances.
AQUARIUS – Career, success, status, achievement, ambition, social mountaineering, promotion, the top of the mountain.
PISCES – Travel, foreigners, emigration, foreign countries, distant regions, education, academia, publishing, the web.

Jupiter and Venus in Astrology
Astrology is Roman, and when the Romans exported it to Britain about 2000 years ago, Jupiter was easily one of the most popular new arrivals. Both the planet and the god are associated with growth – Jupiter is a giant planet – and in astrology he is the 'fertiliser' who turns acorns into oak trees. In fact, Jupiter has been associated with oak for centuries. The idea that 'from little acorns, big oak trees grow' is what Jupiter is all about. In the zodiac sign of Scorpio, which rules the economy, trade, big business and banks, Jupiter will bring expansion, opportunity, solutions and breakthroughs – on, or close to, 13th November. Are you a Premium Member? I recorded a podcast about Jupiter in Scorpio, available to you on this website now.
Spotlight on Venus in Astrology
Venus can be seen in any museum or art gallery. Sometimes she is called Venus, her Roman name, and sometimes she is called Aphrodite – her Greek name. If you go to the Louvre you will see the Venus de Milo in all her seductive glory, being swooned over by tourists using their iPhones to photograph her. It is amazing that this goddess still has such a huge impact on us, 2000 years after she was such a hit with the Romans. Yet – there is more to her than meets the eye. Especially when she's 'in bed with' or in exactly the same zodiac sign as Jupiter – and at the same degree (both meet at 7 degrees of Scorpio on Monday 13th November). As you can see below, Jupiter (left) loved close and complex relationships, but what will he bring with Venus?
In Bed With Jupiter and Venus in Scorpio
Venus, as a Roman goddess, was passionate, emotional and preferred her relationships with people to be hard work . In fact, for Venus, the chemistry is everything in life. She had a son, Cupid and prospective daughter-in-law, Psyche, who gave her some of the biggest dramas of her life – but you sense Venus enjoyed herself with every twist and turn. Venus was also unfaith to her husband Vulcan. She was caught in bed with Mars (which is why Venus and Mars are so frequently bracketed together). She lived for love – 'The heart wants what it wants' might as well have been her motto.
We are going to see some rather passionate agreements and encounters in the realm of finance, sharemarkets, trade and the rest as Jupiter meets Venus (a conjunction is an astrological term for occupying the same sign and degree) on Monday 13th November. Of course, a marriage/mortgage is a classic example of Venus and Jupiter in Scorpio. All around you, people who have patterns in their horoscopes which are at 7 degrees will benefit either directly or at a distance from this event.
Do You Have 7 Degree Birth Chart Factors?
If you have 7 degree birth chart factors (for example, the Sun at 7 Taurus or the Ascendant at 7 Capricorn) then the Jupiter-Venus conjunction in Scorpio at 7 degrees will bounce off this part of your chart and you will benefit. What can you expect? Well, other people's money moves, property choices or financial decisions will help an aspect of your own life. That aspect will be reflected in your own 7 degree placement. So, with the Sun at 7 Taurus in the Second House of cash, you would gain through money. With the Ascendant at 7 Capricorn in the Tenth House of career you would gain professionally. If you are curious about this, please hit Search for topics like the Natural House system, Capricorn, Taurus and so on. You can also ask me questions on Twitter.
Do You Have Scorpio Factors?
If you have Scorpio factors in your birth chart then you have them in the Eighth House of your horoscope, using Natural Houses. The Eighth House describes the last will and testament, legacies, life insurance, bank loans, joint bank accounts, divorce settlements, child custody payments and almost any paperwork of a financial or property-based nature that has a strong human side to it. In other words, it's not just about the pounds, euros or dollars – it's about the blood, sweat and tears of human relationships, from marriage, to birth, to death and beyond.
The Venus-Jupiter conjunction for you, is likely to result in a major shift in your own region, country – or on the world stage – which directly benefits you, even though the event itself is broad in scope and affects millions of people. As we have all just been through the saga of seeing big names like Her Majesty the Queen and Bono singled out for multi-million offshore tax avoidance, it is tempting to think that there might be some reform in this area. However – if you have Scorpio factors you are going to see opportunities, open doors, solutions and breakthroughs all over the place – so keep your eyes open. Venus and Jupiter in Scorpio are worth using, although you may want to allow a couple of days to see the full benefits, as your own horoscope may have other patterns which also need to come into play.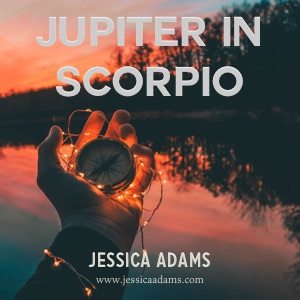 If you are curious about your birth chart then please try Premium Membership and you can instantly have it calculated for you. And if you are already a Premium Member, don't forget to listen to your Jupiter in Scorpio podcast again to hear specific outcomes for your sign, in more detail.