Born with the Sun in Leo. Nicknamed Meg by the media. Madly in love with a British captain. Beautiful, but born into a family with sister issues. Fated to wed in the month of May. You think I'm talking about the Meghan Markle horoscope here? No, it's Princess Margaret. Prince Harry is in for an interesting time in the decades ahead! What does the Future Hold in the Horoscopes of Prince Harry and Meghan Markle?
The biggest clue to the years ahead, when looking at the Meghan Markle horoscope, is her uncanny similarity to the late Princess Margaret. Let's look at how the two astrological birth charts, decades apart, show identical patterns – and how that is going to bring a note of extravagance into the usually low-key British royal family. Were the Stars Aligned?
When Prince Harry told the BBC that 'the stars were aligned' when he met his future wife Meghan Markle in July 2016, was he right? His mother, Diana, was a huge fan of astrology as we know.
Perhaps Harry knew – or maybe he was guessing – but his future bride Meghan Markle's horoscope does show a strangely fated connection with the House of Windsor.
Meghan was born on 4th August with the Sun in Leo, just like the Queen Mother, Princess Margaret, Princess Anne and Princess Beatrice.
The zodiac sign of Leo is the King of the jungle, with his lioness, the Queen, by his side – and the sign of the lion has always been associated with the British royals and their coat of arms. This is the basic astro.com chart for Ms. Markle. How Meghan and Margaret – the two Megs – Compare
Sharing the Queen Mother's birthday is not the only astrological coincidence between Markle and the royals. She has an uncannily similar birth chart to the late Princess Margaret in particular. Neither women were ever going to be 'tamed' lionesses and like Margaret, Meghan will not make a natural domestic house cat. There are other similarities – note the famous Leo 'cat's-eye' look they share. This is a tale of two Megs!
Astrological DNA in the Meghan Markle Horoscope
Just like Princess Margaret, Meghan is divorced. Also like Margaret, Meghan has fallen for a military man. The handsome flying ace, Captain Peter Townsend, whom the Queen's younger sister could never marry, was a much-awarded Royal Air Force hero. Their love story has recently been fictionalised in the Netflix hit, The Crown.
Prince Harry also served as a Captain and Meghan has clearly found him irresistible. (The Princess Margaret horoscope is below, also in its basic form, from astro.com).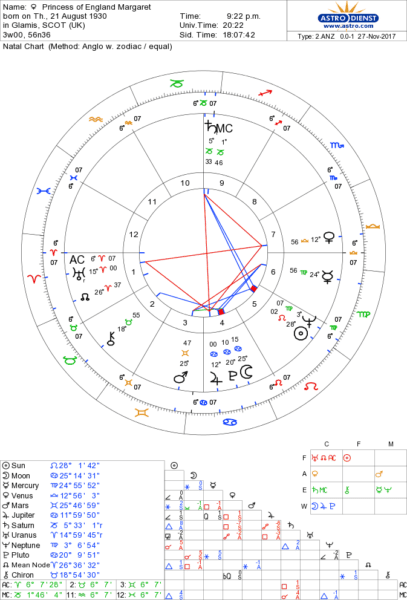 The Lure of Television and Film
As well as falling for two Captains, both women have also been drawn to TV and film industry types. Markle's first husband Trevor Engelson, is a successful Hollywood producer. Margaret's husband Antony Armstrong-Jones was an Emmy-award winning filmmaker for CBS. Not only is Meghan the latest in a long line of Leo women to rule the family, she also has the same taste in men. Princess Margaret and the Queen Mother, are two Leos who precede her.
Sister Issues and Sibling Rivalry
Like Princess Margaret, the 'spare to the heir', her sister, Queen Elizabeth, Meghan also has sister issues as her half-sister Samantha Grant has been accused of sibling rivalry in some newspapers. It was not clear, at the time Meghan's engagement was announced, if she would even be invited to the wedding. This sibling rivalry could go on for years! The sibling issues between Margaret and Elizabeth were recently fictionalised in The Crown (Netflix).
Big Charity Fundraisers and Big Spenders – Chiron in Taurus
The birth charts of Meghan and Margaret both show Chiron in Taurus, the sign of big charity fundraising and also extravagance. Like Margaret, Meghan will make a fortune for good causes, but she is also going to raise eyebrows as a big spender as the years go by. This will become a life-changing moment in the marriage when Uranus (radical change) moves across Chiron in Markle's chart. This can only happen once in her and Prince Harry's lifetime.
Margaret and Meghan are both marrying with the Sun in Taurus too, so this emphasises the tremendous theme of money, possessions, property, ownership – as well as serious fundraising – in the new royal marriage. In fact they are both May brides as you can see from this old invitation to Margaret's wedding. Harry and Meghan, for Richer, for Poorer
What about Harry's horoscope? He has his Moon in Taurus next to his future wife's Chiron. Meghan will either cost him a fortune, or help him make one, so let's hope Meghan's long-time connection with World Vision (as global ambassador) or the United Nations will see the benefits. It is all or nothing, financially, for Meghan and Harry. She could either help him clean up his financial act, or take him to the cleaner's.
In any case, Meghan's horoscope shows a fantastic new role involving children in 2019. This is also the year that a special child will come into her life.
The first Meg had her wedding on 6th May 1960 – and we now know that 19th May is the crucial date and month for Harry and Meghan too. Will history and astrology repeat? Despite Meghan's biracial background, she certainly has a striking resemblance to the late Princess Margaret, her future husband's Great Aunt. Will history also repeat itself in other ways? You can talk to me about it on Twitter any time (@jessicacadams). Posted 16th December, 2017.