Look around your birth chart, if you are a Premium Member, and you will soon see the North Node and South Node. They are always in opposite zodiac signs. The North Node and South Node meanings are always connected. To clear up any confusion, you will sometimes see the North Node listed as your True Node or Mean Node. That's fine, but what people are actually talking about is the North Node in your chart. It works as a pair with the South Node and both of them describe repetition, over many years, but also many lifetimes. They're karmic.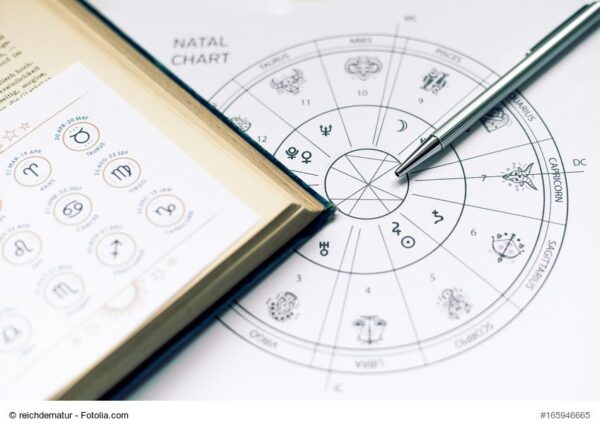 North Node and South Node Meanings and Other Chart Factors
Whenever you have the North Node and South Node in zodiac signs and houses you're likely to find that one or both of those houses (segments of the circle) are busy with other factors too. So, for example, you might have the North Node in Cancer in your Fourth House, but also find Minerva and Venus there as well. Or – you might have the South Node in Leo in your Fifth House – but also have Mercury and Pluto there.
These extra factors alongside either/both of your Nodes tell a story. It will be a proper story, full of complex characters and plot twists. So, it's not just a matter of saying 'I have the North Node/South Node in a sign' and talking about repeated cycles, life themes or patterns. The other horoscope factors alongside your Nodes will tell you what, exactly. The North Node and South Node meanings are coloured by the planets, asteroids and so on, in the same zodiac sign and house.
Do You Have Leo and/or Aquarius Factors in Your Chart?
Here is a really simple way for you to see how the travelling or transiting Nodes work. This is different to your birth chart Nodes. They show your karma. The 'moving' North Node and South Node show karmic weather. It often takes you back 19 or 20 years, if you're old enough. If you're only aged around 19 then it may take you back to the cycles which were around when you were a baby. We have the transiting or travelling Nodes in Leo and Aquarius in 2018. If you have anything in those signs at 0-14 degrees then this year, the Nodes, bringing karma, will trigger that in your life. See your chart below to check.
[contentblock id=show-chart]
Essentially you can see how 'same old, same old, repeat, repeat' works by seeing your chart and checking to see which Leo and Aquarius factors you have and at what numbers, or degrees.
Horoscope factors at Leo 29 through 14 degrees – old, old, repeated themes (even people) came back to you, May 2017 through January 2018. They triggered big questions about lovers, sexuality, pregnancy, children and/or young adults.
Horoscope factors at Aquarius 29 through 14 degrees – big deja vu and recognisable karma involving your friendships and the groups you belong to, or are affected by. Classically – rock bands, trade unions, political parties, sports teams, charities, Hogwarts-style educational groups – and Teletubbies fan clubs.
If you have Leo and/or Aquarius factors at 14, 13, 12, 11, 10, 9, 8 and all the way back to 0 degrees – then now through November 6th, 2018 you are going to hit karmic crossroads. Leo and your Fifth House are about the sex that may (or may not) lead to pregnancy. They are about those who inherit your 'crown' in terms of your guidance, example, inspiration and leadership. So – if you are in charge of interns at work, that is those people.
Aquarius factors are very much about the group (as above) and your friends and acquaintances, in and around the group. It is about the communities of people who affect your life most, and what role you play in/out of those circles. The South Node tracking through Aquarius and your Eleventh House at 14-0 degrees, January to November 2018, is serious deja vu.
The whole point of all of this (however you are affected, above) is to assist you in learning, developing, evolving and moving yourself on, spiritually. Sometimes you need a stuck record in your life to learn the song.
The Nodal cycles are about healing and closure if you are patient enough to deal with them. We all hope for an astrological cycle that H-E-A-L-S (below). So take your mug and try to join the circle and share what's going around. This applies no matter if you are Leo-affected or Aquarius-affected.
Transiting (or travelling) South Node Meaning
I've written about the South Node before, as it transits or travels across your chart and it might be useful to make these points again. The South Node by transit shows old karma coming back, as familiar situations repeat and old stories return to us. It feels comfortable, and we can take it or leave it.
We can do what we always did, one more time, or we can watch from a distance. In your birth chart, the South Node shows 'Been there, done that, written the screenplay, read the book, seen the film, acted the parts.' You may or may not want to do it all over again. To give you an example, in January 2018 the transiting (travelling) South Node is in Aquarius. If you have Aquarius factors in your Eleventh House of groups, clubs, teams and friendships then you are going to experience definite repeated notes – like hearing a familiar song. The trick to handling the South Node is to remember what worked last time (and of course) what did not work. If the South Node in Aquarius, which moves 15 through 0 degrees of the sign in 2018, also hits anything you have in Aquarius, that will be a memorable and important month for a group you are involved with.
Aquarius rules communities or circles of people. As the South Node and North Node both show past lives, it is possible that when you hit a deep 'moment' with your network as the travelling South Node goes through Aquarius – you have done it before. Maybe you are in Anonymous now, but you were involved with the real Guy Fawkes' Gunpowder Plot centuries ago. Maybe you are in a Star Wars fan club now, but you all know each other in the Middle Ages!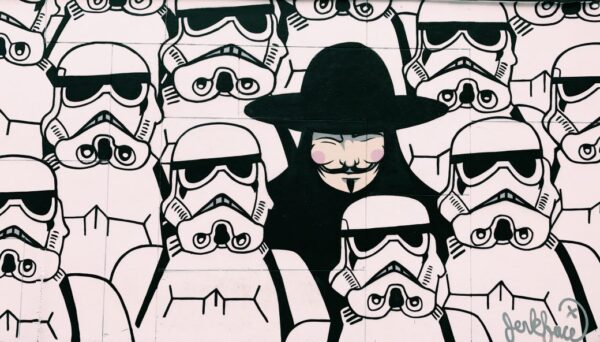 The North Node – Frustrating Karma
The South Node is always in the opposite sign to the North Node as we've seen. By transit, or travelling through, the North Node shows a more frustrating kind of karma. This is where you try to do or say things to effect change – but get nowhere. Why? Because people are going through the motions, the same old way every single time. They don't appear to respond to change. In your birth chart, the South Node reveals where the same damn thing happens over and over and over but it's less frustrating. It may even be a happy thing. It depends on what else is in that sign/house. But no matter what you do, karma says this will repeat, repeat, repeat. Because you get that 'stuckness' or unavoidable, fated quality to your life, you end up becoming more philosophical, more accepting, more tolerant, better-humoured about both the North Node and South Node.
To be clear – the transiting/travelling Nodes show temporary 'weather' which feels like you've seen it all before. In 2018, we have the South Node in Aquarius and the North Node in Leo, so particularly if your personal birth chart shows factors in those signs, in the Eleventh House and Fifth House respectively – you are going to be sent back to the past. In fact, you may be sent all the way back t0 1999 and 2000, when we last had the Nodes in these signs. The transiting or travelling South Node tends to feel easier than the North Node as it passes through – but depending on the shape your chart is in – the endless cycling and recycling of themes, patterns – either feels comfortably familiar, or uncomfortably samey!
The Nodes in Your Birth Chart
You are what you are. You are what destiny has decreed. This brings us to Her Majesty the Queen who has a validated birth date, time and place so she's often used in astrology examples as a 'How to' person. Her Majesty's Cancer/Capricorn Nodal Axis works in both directions. We've seen how her family (Cancer) and her country (Cancer) made her career (Capricorn) and status (Capricorn) unavoidable. Yet, if Her Majesty wants to stay at the top (Capricorn) she also has to put up with her family dramas (Cancer) so the Nodes really do 'ping' off each other.
What does your Nodal Axis say about your fate? By the way, you will notice I use the Royal Family a lot in my astrology examples. This isn't just because I'm a fan of Buckingham Palace (my grandfather Basil Adams collected an O.B.E. there). It's primarily because, like all astrologers, I need accurate birth times and very public life histories to do research and the Royal Family has both in abundance. I could also point you to the examples of Princess Anne, who has the South Node in Virgo and North Node in Pisces Anne works behind the scenes (Pisces) doing a great deal of good work (Virgo) for charities and other causes which need her dedication to duty and service (Virgo). She is known for being hard-working because she also has Saturn, Mercury, the Moon and Ops in Virgo, alongside the South Node. Anne dislikes publicity (Pisces North Node) partly because of the glare of the spotlight during her divorce and remarriage – during which time she threw herself into her work (Virgo). I hope you can see from Anne's example how the Nodes interact and feed off each other.
North Node and South Node Meanings
The North Node and South Node work together as a pair. You sometimes read that you 'should' do one and not the other. This is really ducking the question of fate. The Nodes show what we cannot escape. Her Majesty the Queen has a Cancer/Capricorn Nodal Axis. A Nodal Axis is the 'paired up' North Node and South Node, going across each other in the horoscope. Do you think she had any choice about doing/not doing either of those signs in her life? Her family (Cancer) made her career (Capricorn) fated! She has not been able to walk away because of the abdication crisis which put her father on the throne. Since then, the British royal family has depended on the monarch staying put. You cannot escape your fate when the Nodes are at large. Transits or travelling planets, asteroids, Nodes over your own Nodes will trigger that fate.
Knowing the North Node and South Node zodiac signs and houses in your birth chart can help your awareness. That feeling of 'I've seen this before' or 'I'm watching the same film of my life twice' (below) is correct! Your birth chart can show you the story and that gives you the ability to step outside yourself and remember what works – or does not work – from last time.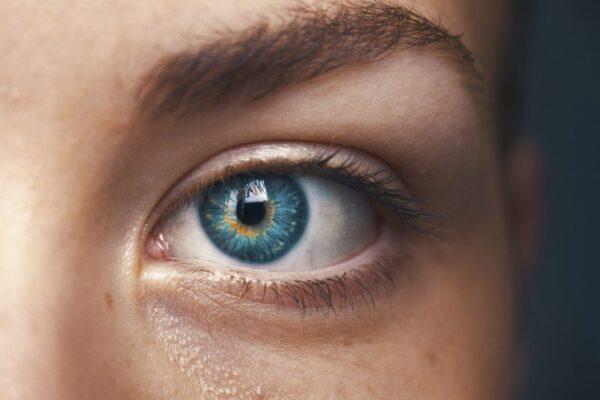 Real-Life Examples – Charles and Diana
Charles, Prince of Wales has the North Node in Taurus and South Node in Scorpio, the money, property, business, charity and possessions signs. He was born rich. He was born to inherit a fortune. He has 'worked' his Nodes by a deep involvement with The Prince's Trust and also, an organic business for the Waitrose supermarket chain in Britain. Could he have avoided the divorce pay-out to Princess Diana? Perhaps not. He can certainly never escape being rich – it's part of his job contract with The Firm as Her Majesty the Queen calls it.
Diana, Princess of Wales, was born with the North Node in Leo and South Node in Aquarius. She was given excellent advice and counselling by her two astrologers, Penny Thornton and Debbie Frank, so although she was fated to become a princess (Leo is the royal sign) with charity (Aquarius) work that came with the job – she pushed her Aquarius node much further and ended up being involved in causes that helped to change the planet; notably involving AIDS and landmines. She was strongly Aquarian and Eleventh House, with Jupiter and the Moon in that sign, as well as the South Node.
Handling the North Node and South Node in Your Chart
Handling the North Node and South Node in your chart depends on appreciating what gifts you bring from other lifetimes. What experience. What deep knowledge. Sir Winston Churchill was born with the North Node in Aries, the sign associated with the military, air force and navy. It is associated with all competitive sport (other kinds of battles) and the emergency services, like the police and fire brigade. He was born 'knowing' how to handle conflict and crisis.
He was also born with the South Node in Libra, the sign ruling the peace process, as well as the war process. He was strongly Aries-Libra anyway (despite being a Sagittarian) and when fate knocked on his door in 1939, he was ready to answer. He was born to the job of leading Britain to victory with the Allies.
Can you imagine anyone telling Sir Winston Churchill to 'do' his Libra Node but not his Aries Node, or to 'do' his Libra Node but not his Aries Node? Britain would have lost the war.
You are fated to be born with the Nodes you have because you have chosen to incarnate with them, in order to use well-earned lessons, talents, abilities and gifts, but also to learn in this lifetime how to perfect the path. You will make mistakes along the way. Churchill did. Next lifetime you will have gone up to the next level. How are your two Node signs woven into your own life and chart – and how do the transiting (travelling) Nodes affect you too?