Meghan, Harry, Archie and North America in 2020
With one simple message, the Duke and Duchess of Sussex just made an awful lot of astrology predictions come true, when they announced (on 8th-9th January 2020) the following:
"We now plan to balance our time between the United Kingdom and North America, continuing to honour our duty to The Queen, the Commonwealth, and our patronages. This geographic balance will enable us to raise our son with an appreciation for the royal tradition into which he was born."
The BBC was first to report the jaw-dropping news (their official image of the couple shown was taken after news of their engagement). This is a Megxit and as you'll see in a moment, it was tied to Brexit – years ago!
True Astrology Predictions for Meghan and Harry
We can go as far back as 17th July 2017 to see how Prince Harry's horoscope was clearly showing a new life after Brexit. And remember, this was when many people were still saying Brexit would never happen. Remember this astrology prediction for Harry? Now, we are seeing the astrology unfold.
Predicted on 17th July 2017:
THE NEW WARS OF THE ROSES – THE MALE WINDSORS
"In the new Leo cycles of 2017-2019 a complete split is possible between the male heirs in the United Kingdom with one male Royal breaking away by himself, in search of post-Brexit new horizons. The Wars of the Roses originally ran from 1455 to 1485 and saw the the royal houses of Lancaster and York against each other. This looks like a Royal flying the flag for new British trade deals around the world, but without belonging to a Royal Family. You have to wonder who will play Edward V or Henry Tudor on this journey. Prediction (July 2017) House of Windsor = New Wars of the Roses by 2019."
How Archie Changed Harry and Meghan's Destiny
It's amazing how the arrival of one small child can set his or her parents, on a different destiny path. When baby Archie arrived, it was possible to look at his horoscope back on 2nd May 2019 and predict a world-traveller. In fact, a future role as a 'born' foreign diplomat for Great Britain and the United States. He was never going to stay in Britain. Did you see this prediction?
Forecast published on 2nd May 2019:
"Here we have a little world citizen born with Jupiter and Ceres in Sagittarius, the sign of the Archer. Chiron, another archer, is in Aries. That's over-arching evidence."
This astrological chart (below) shows a few asteroids you won't normally see in a horoscope along with the all-important Ceres, which shows a future role for Harry and Meghan's son as a man of the world, world traveler and born foreign diplomat for Great Britain – but also the United States – as he was born with the right to two passports…
This little boy is a Sun Taurus, but he has a special role to play on the world stage, because Sagittarius the Archer is where we find fortunate Jupiter and powerful Ceres, right at the top of his horoscope. I don't know if Meghan knew this when she and Harry were name-hunting, but Jupiter the lucky planet is most definitely in the sign of Sagittarius, traditionally shown 'arching' his bow, below. For over 2000 years in astrology, this symbol has come to mean flight (the flying arrow) and also travel (the centaur's hooves travel great distances).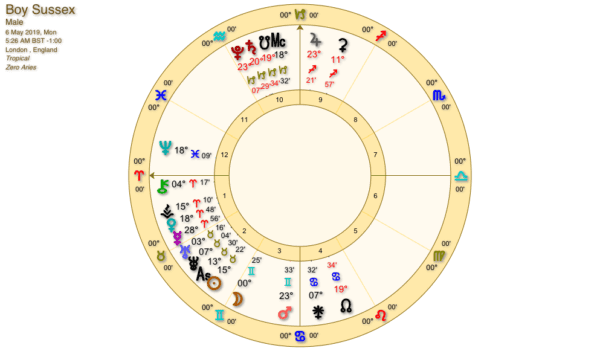 Archie is the Reincarnation of Princess Margaret
"You may or may not read this from any other astrologer or psychic, but for me, this child is Princess Margaret, back on the world stage. Little Archie is the reincarnation of Her Majesty the Queen's late sister."
The baby arrives with philanthropy built into the horoscope, and it's no surprise to hear Harry and Meghan are asking for no gifts, but donations instead, to their preferred good causes. Yet, even here, we have to watch how it all pans out. The theme of money – the royal finances – will come to dominate little Archie's life…
It must be so hard to be Royal. You have an expensive life. Yet, you cannot operate by the normal fiscal rules. This comes into sharp relief with the presents Archie receives. All of which are charity based. This in turn points us to lifelong questions about Archie and his accountants!
"The British Royals Must Operate as a Business"
What we are seeing here, long-term, are major questions about how the British royals must operate as a business. Flying the flag for Britain after she has left the European Union on the world stage – and particularly in relation to America. It's really about The Special Relationship, showing up in other kinds of special relationships: Meghan and Harry. Meghan and her son."
Taurus Archie will share a zodiac sign with two cousins — Princess Charlotte and Prince Louis are Taurus. Yet, it is Her Majesty the Queen, the ultimate Royal Taurus (steady, stable, stubborn) who will have the biggest influence on this future adult. Again, we come back to charity and the inherited wealth of the nation – how best to look after the royal art and valuables? How best to deal with taxation in particular? This child has come at a critical time for the Royal Family and its financial affairs and charities, as we will see all too suddenly in 2019 and 2020, with special focus on Her Majesty the Queen and Prince Charles. Archie will do things differently, because he will have to. Meghan, Harry, Trademarks , Taurus and the Royal Finances Neither of the two biographies about Meghan and Harry (shown above) ever tackled the in-depth astrology of their Taurus chart connections. Yet, Taurus rules money and big business. And this is a business partnership as much as a love match.
The Daily Mail, on Thursday 9th January, reported: "A right royal cash in! How Prince Harry and Meghan Markle trademarked over 100 items from hoodies to socks SIX MONTHS before split with monarchy – with new empire worth up to £400m."
The 16th December, 2017 Prediction About Meghan Markle
Posted on 16th December, 2017 – Two years ago, as you read this:
"Harry and Meghan, for Richer, for Poorer."
"What about Harry's horoscope? He has his Moon in Taurus next to his future wife's Chiron. Meghan will either cost him a fortune, or help him make one, so let's hope Meghan's long-time connection with World Vision (as global ambassador) or the United Nations will see the benefits. It is all or nothing, financially, for Meghan and Harry. She could either help him clean up his financial act, or take him to the cleaner's."
How the Royal Wedding Date Created Stormy Finances Ahead
Can a wedding date also create a horoscope? It always does. And that Saturday 19th May wedding date looked stormy from the very beginning, particularly financially. This prediction comes from 9th May 2018, which you may have seen here.
"Stormzy Weather for the Royal Wedding of Meghan Markle and Prince Harry"
"The Archbishop of Canterbury is preparing for Royal wedding by listening to Stormzy. One of the horses pulling the royal carriage is called Storm. That's astrology at work. I don't for a minute think the Archbishop reads his horoscope or even has any time at all for astrology. Storm is a key word for Uranus.
I am posting this on Tuesday 8th May, and the Royal Wedding is scheduled for Saturday 19th May. Venus will sextile Uranus at 6.30pm in London at exactly 0 degrees. Stormy weather, stormy wedding.
Uranus at 0 Taurus is sending a big message to us in May. And it's about very, very rich people and very expensive weddings. It's also about charity, at the other end of the scale. And it's about taxation and tourism revenue. Values!"
"Tense and Troublesome"
"Meghan has a chart signature in Leo near that crucial 0 degree – and Leo is of course the royal sign – Leo the lion, the King of the Jungle. Her chart is contributing to what is known as a T-Square. A T shape in her horoscope. A T-Square in astrology is shorthand for 'tense' and 'troublesome' so it's not really what you'd like to see in a royal wedding chart, but she has it, forming around that 0, 1 degree angle where Uranus strikes.
Prince Harry was born with Pluto at 0 Scorpio so this completes a Grand Cross shape around both charts, in Leo, Aquarius, Taurus and Scorpio. Uranus at 0 Taurus opposes his Pluto in the Eighth House of 'other people's money' which is important. Again, the public are seeing a big message about values. This may be about offshore tax, the cost of the nuptials, the state of the royal purse and other big question marks that classically come up when Uranus in Taurus is around. She may have her own taxation or financial story going on. They obviously both have major involvements with charities.
Harry also has the North Node at 0 Gemini and South Node at 0 Sagittarius, so this pulls in the media for him as part of the story – and also foreign affairs. Prince William has Jupiter at 0 Scorpio, the Sun at 0 Cancer and Uranus himself at 1 Sagittarius. This is beginning to look like 'batten down the hatches' and also 'umbrellas up' for the younger Royals. This Uranus in Taurus arrival is a direct hit on so many cities around the world and that includes London. It also pulls in Buckingham Palace. This is a 'firm' as The Queen is rumoured to call it, based on inheritance."
The larger message is really about the cost of the Royal Family to taxpayers. These people are paid by – the people. Beyond that there are deeper questions about values. Ethics. Morals. The cost of things and the price of things! The Royal family manage their inheritance because they produce the 'heirs and spares' who rule Britain and the Commonwealth. Uranus in Taurus is the storm that nobody really expected to see."
Astrology Predictions for Archie – Aged 12 and 24
You might also remember this prediction, made way back on this website:
An International Young Royal for a Global Duet
"The Duke and Duchess could apply for their child to have dual US-UK citizenship and the horoscope suggests this will unfold. You'll remember Princess Margaret was one of the original 1970's jetsetters, more at home island-hopping and cruising the world, than staying in rainy Britain! This little boy will be the same, as a restless and adventurous young man of the future.
There have also been reports that the royal couple are considering a major move to Africa which would enact an entirely unexpected upbringing for baby Sussex. The stars say – it could so easily happen – by November 2019. This baby is a globetrotter, and aged around 12 and 24, will fly the flag for both America and Britain – but also embrace Commonwealth nations – like Africa. That's the Sagittarius part of his chart, which also chimes with Princess Margaret's horoscope.
Harry's mother, the late, great Princess Diana also had this Sagittarian streak in her chart. Africa was very dear to her and she made a huge difference there in her campaign against landmines. Harry's son does pick up this globally aware, world-citizen streak in his chart, along with the "Margaret" factor."
Date-Stamped Predictions for the Royal Family in January 2020
Okay, so the reports about Africa were wrong – we now know it's North America – but the Commonwealth has certainly come calling for the Sussex family – and November 2019 (predicted above) was likely the beginning of the shift, as Archie, Harry and Meghan spent Christmas in Canada.
Here is a date-stamped prediction about January 12th 2020, made back on 26th December 2017. As I post this feature on Thursday 9th January 2020 in Sydney, it looks as if we are days away from The Capricorn Effect, having a direct hit on the Royal Family. Remember this prediction?
System Change at the Top on 12th January 2020
"Because Pluto and Saturn will meet on 12th January 2020, alongside Ceres and Mercury, very close to that date we will see a crisis that leads to long overdue improvements, as Jupiter dominates the year. The improvements will be hard-won. We will see people at the top – Presidents, Prime Ministers, leaders, executives – demoted and promoted in a major global switch. Power changes hands. There may also be losses and departures at the top, and the elevation of others. It's a system change……
The House of Windsor, in Great Britain, will be profoundly affected by the change in the balance of power to come (Pluto) and the difficult realities of Saturn. The typical carve-up and compromise over power and control which comes with Ceres is also part of the story."
Prediction: Meghan Markle Will Lose the Title 'Duchess of Sussex'
I am writing this on Wednesday 15th January 2020, some three years after the first predictions about the extreme business/finance/taxation patterns in the Meghan, Harry and Archie horoscopes.
We now know that Meghan's company Frim Fram is behind the moves to trademark Sussex Royal. Frim Fram papers seen by The Daily Telegraph in London, show she has been looking to Delaware, an American corporate haven.
The astrology is really useful here! Meghan and Harry made their moves during Mercury Retrograde in Scorpio, at the end of 2019. This was a huge mistake. Scorpio rules sex and money. Marriage and business. Mercury is about paperwork, plans, negotiations, contracts and particularly names – branding.
I am not the only astrologer at The Sun Sign School or The Astrology Show predicting this! Meghan Markle and Prince Harry will face losing their titles as Duchess and Duke of Sussex and be offered the same kind of status as Princess Anne's title-free son, Peter Phillips. There will be no Sussex Royal socks.
Meghan and Harry will be offered a choice – leave and lose their titles – or stay and fulfil their obligations. This brings them to a crisis as Saturn passes 0, 1 Aquarius and hits that horoscope hotspot. This takes place Monday March 23rd until July 1st, 2020.
How Meghan and Harry Will Lose Their Titles as Duchess and Duke of Sussex
Between March 23rd and July 1st 2020, Meghan Markle and Prince Harry will lose their titles as Duchess and Duke of Sussex, unless they abandon the plans made to fulfil part-time royal duties overseas and pursue Sussex Royal branding. The astrology is clear. Saturn can only trigger their horoscopes in this way, once every 29 years. This is also a marriage crisis, sadly.
The Story of Princess Margaret and Prince Harry
I'll finish with a word about astrology and how it works. It's quirky time. Circular time. Astrology is based on reincarnation and the idea that everything repeats – including ourselves. When I was first asked about Archie by the Oxford radio station Jack, I think I shocked the hostess, by saying that the new baby was the reincarnation of Princess Margaret.
Two globetrotters who live outside the Royal Family rules and have as little to do with Buckingham Palace as possible! But really, if you look at those birth charts, and the uncanny similarities between the chart of Meghan, Duchess of Sussex, and the late Princess Margaret – it's really no surprise.
If you are curious about the British Royal Family and astrology, don't miss the first 2020 episode of The Astrology Show coming soon to this website. Our special guest is Penny Thornton, astrologer to Diana, Princess of Wales. Follow Penny on Twitter @astrolutely. For those of you who are Sun Sign School students, the astrology chart data for Meghan, Harry and Archie is here.
The source is the internet's best astrology research resource, the magnificent Astro.com run by Alois Treindl.
Meghan, Duchess of Sussex
4th August 1981 at 4.46am in Canoga Park, California, America
Rodden Rating AA