Watching Wall Street on a Full Moon – The Full Moon is D-Day
We're moving towards a Full Moon in Scorpio opposite the Sun in Taurus, on May 7th, 2020. It falls at 17 degrees of both signs.
A Full Moon is always D-Day. A difficult decision day. The signs of the Sun and Moon, clashing in opposite signs, tell you what's at stake.
Scorpio rules the contents of legacies and wills. Why? Scorpions kiss or kill. It also rules the testaments between family members – so the big concerns, like houses and apartments, shares and assets. Most of all it's about marriage and mortgage and 'til death do us part.'
Now for the opposite pull of this Full Moon
Taurus Rules Bull Markets
Taurus rules bull markets and gold bullion. It also rules, not surprisingly, the meat industry and agriculture. Astrology is quite literal sometimes.
What happens when there is a clash between the Sun in the sign of the bull, and the Full Moon in the sign of the scorpion? Especially when there's a charging bull in bronze, within a short walk of Wall Street's towers? You end up with a conflicted market. And that's putting it politely.
Why? Because on the 7th of May 2020, not only is there a Full Moon opposite the Sun in Taurus, we also find the planet of radical change, revolution and upheaval (Uranus) also in Taurus.
This is a charging bull on a hot tin roof. Dramatic.
It's All About the Degrees
People are surprised to hear that a share trading entity can have a birth chart. They are often surprised to hear a whole organisation can have an astrology natal horoscope too. Yet, they work.
If we're looking for outcomes, we need to find anything at all at 17 degrees, in the New York Stock Exchange chart. It's set for 17th May 1792 at 12.00 pm LMT in New York.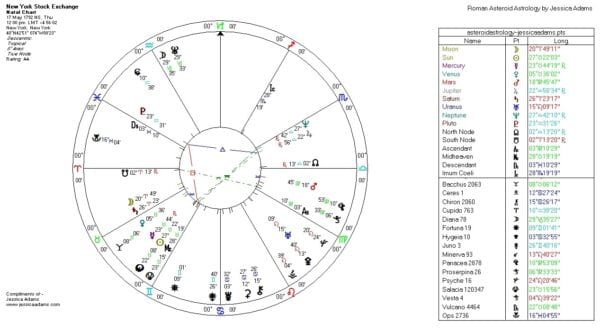 Watching Mars in the Wall Street Chart
We find Mars at 18 Virgo which is pretty close. In modern astrology, we allow what they call 'a one-degree orb.' One digit's difference.
Mars is about heat, action, speed, competition and doing battle. Virgo is about medicine, surgery, hospitals and health. It's about drugs.
You'd be watching those shares like a hawk on that Full Moon. Make some predictions in your journal, so you can learn from your experience.
By the way – you make your own financial decisions. Not me. You are responsible for your own astrological birth chart, your understanding of it and your destiny.
But you're here to learn, right? So, this Full Moon will be an education for you.
Reading a Chart
The fastest way to eyeball a chart is to run your eye across the numbers in the right-hand column. The first number on the far left of the sign glyph, is the degree you want. Don't worry about the other numbers, they're for micro-precision prediction.
Do that now in the Wall Street chart and you'll see Mars, the fifth horoscope factor down, opposite 18 Virgo 45 47.
The Full Moon is a split between confident bull market thinking (optimistic, horns up, in the mood to send shares up) and the emotional realities of stocks and shares, pensions and superannuation. It's about marriages and families, bottom line.
Into this split, comes Wall Street's natural aggression, speed, impatience, macho/masculine drive and it's expressed through Virgo – so, companies which are dedicated to the body. Medicine. Health care. Hospitals. Surgery. Drugs.
Make notes on that. What do you expect to see?
The Old 1929 Wall Street Crash Chart
Let's try the old 1929 Wall Street Crash chart. Why? Astrology is history, and history is astrology. That's how it works. It's also how we learn what to do/what not to do. Again, we're looking for anything at 17 degrees. We'll take 16 or 18 too, thanks to the one-degree orb rule.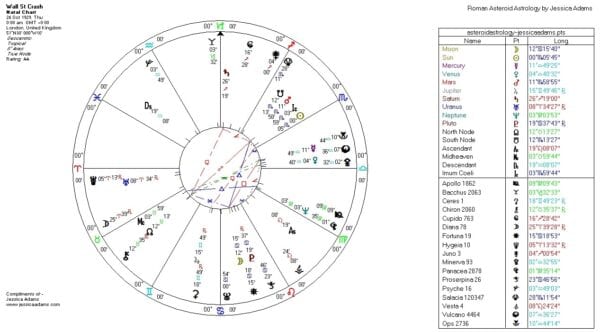 Well done if you spotted Ceres at 18 Gemini, Cupido at 16 Sagittarius, there.
Your Task if You Should Accept It
Given that Ceres is about tough deal-making, Gemini is about multimedia and communication – and Cupido is about passion, and Sagittarius is about foreign places and people – go back to 1929.
Find out what happened during the crash. You might start with this PBS documentary on the hot stock of 1929 which was R.C.A. (Radio, ruled by Gemini). That's a huge astrological clue.
Haunted by 1929 in 2020
This Full Moon in 2020, this week, is somewhat haunted by 1929. It's not related. It's not a replay.
Yet, the ghost of 1929 is there and it's very much about R.C.A. which is a classic Gemini-Sagittarius 'signature' organisation. In 1929 it was doing deals with Japan (the 'foreign' Sagittarius part of the pattern). How do you see the past looming over the present?
Watching the NASDAQ on the Full Moon
Now you're getting the hang of eyeballing a chart, look for anything at 16, 17, 18 degrees in the NASDAQ horoscope.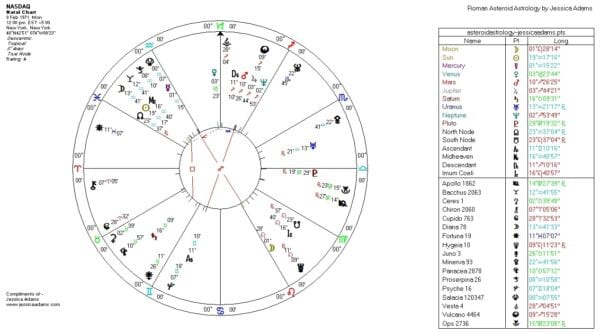 Yikes. Did you see that? Saturn at 16 Taurus. The planet of heavy reality checks is just one degree away from the Full Moon, which sees the Sun at 17 Taurus, opposite the Moon at 17 Scorpio.
The NASDAQ Saturn in Taurus
Keep going and you'll find the MC or Midheaven at 16 Aquarius. Normally that would be more 'yikes' but we won't use it. Why not? We don't know the exact time of the chart. We have no evidence of the hour and minute the NASDAQ was founded, so we're using noon, which all astrologers do, to make the best of a horoscope.
It means the majority of placements will be correct, but the angles in particular (like the MC or Midheaven) should not be used, as they may be wrong. So, we'll skip that MC.
No Time? Skip the Angles
It's the same with the IC or Immum Coeli. That's also what they call an angle and it depends on accurate times of 'birth.' So even though it's at Leo 16, we skip it. Working your way down the right-hand column, you will find nothing else.
So, all we have is Saturn. But that's enough.
This is how you make a prediction. There is a heavy (Saturn) reality check (also Saturn) for the NASDAQ coming on Thursday, May 7th, 2020.
There is a real split between bullish investors (Taurus bull market optimists) that day and the Mom and Pop investors (Scorpio rules sex and money) which is hard to resolve.
It's going to trigger the natural caution and pessimism (Saturn) of the NASDAQ. If this organisation was a person, that day would be high-pressure, and you'd be allowing a great deal of time and space.
How to Be a Better Astrologer
We've seen really strong signs here that the Full Moon of 7th May is absolutely critical for the world economy and particularly America.
Make these kinds of predictions months or years in advance, not just when it's really obvious that a Wall Street drama is brewing! Pro astrologers go in earlier than that.
I'm one of them. So, on February 28th, 2020 (which is fair warning for readers wanting to do some research), I posted this story and specifically gave May 7th as a date to watch. Make this story part of this week's astrology lesson.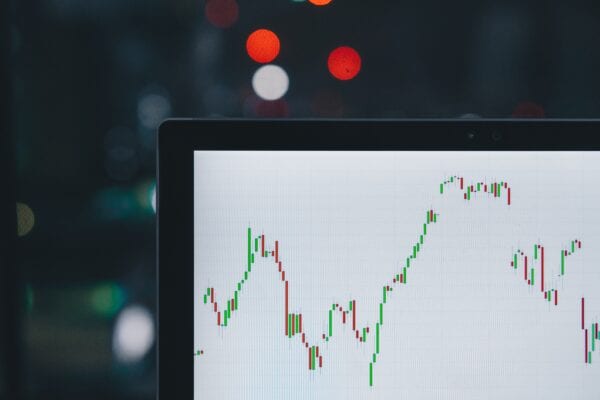 Going Further with Prediction
You'd have to be watching the Dow Jones as well, wouldn't you, with this kind of astrology prediction? Find the 'birth' date for that and try for the birth time as well. Create a chart using 12 noon if you can't find it.
If you don't have Solar Fire or Astro Gold software at home, use the free software program at astro.com.
Watching the Tokyo Stock Exchange
Okay, so you've tracked down the Dow Jones date. Are you seeing anything around that 17-degree mark?
Find more charts in this long-range prediction I made about the Global Financial Crisis II here.
Look at the Tokyo Stock Exchange and the position of the Nodes. The North Node and South Node. Look at Diana (an important asteroid) in the chart for the London Stock Exchange.
Learning Astrology from Professionals
Do you want to learn Sun Sign Astrology with household name astrologers, authors and academics? For US $100 you can take our distance, online course (The Sun Sign School) and learn at your own pace. Find out more at Sun Sign School.
Image Credits:
All images (except charts) courtesy of Unsplash
Chart images courtesy of Jessica Adams