Venus, Jupiter, Saturn, Neptune, Pluto Retrograde in 2020
Let's start at the beginning and say – retrograde is not another word for bad. I am not sure where this idea came from that a planet appearing to stand still, then turn backwards, was negative. We do have an unusually high number of retrogrades in 2020 and yes, you've already seen some of the impact.
A planet like Jupiter, which is about hope, optimism, improvements, growth, expansion – can go backwards and forwards for months – and you still end up gaining. It's rather like swinging backwards and forwards on a Ferris Wheel at an amusement park. Sometimes, if you have the right company, it can be enjoyable.
Your Career, Success, Achievement, Ambition
Despite the intensity of your job, unpaid work or university/college situation in 2020 (which Jupiter in Capricorn rules right now) it is important to remember, that even as he goes retrograde – or backwards – it is part of a long process you gain from.
Let's talk about another retrograde, which is giving this year such strange timing. Mercury Retrograde (scheduling, transportation, travel) was with us from around Sunday, February 2nd, 2020, just after the full impact of Rona was beginning to hit. Mercury went backwards through two signs, so two departments of your life were affected. In fact, Mercury Retrograde did not stop until Monday 30th March.
You saw flights cancelled, right around the world. That created a domino effect, so projects and plans were delayed or called off. Now, as we go through May, June and July 2020 we are going to see some more retrogrades. Saturn (below, shown with the rings) is already tracking at 1 Aquarius, soon to go back to 0 Aquarius (when he really should be moving 2, 3, 4!)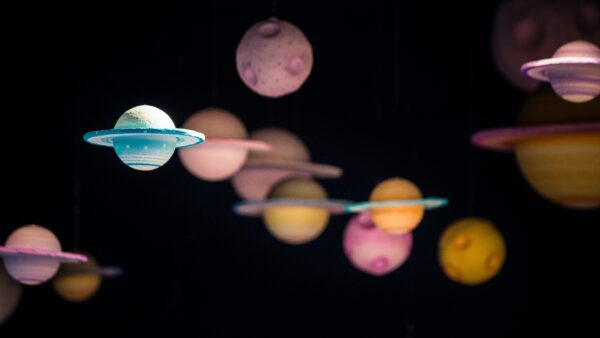 Mercury Retrograde and Venus Retrograde
Normally we would have some recovery time from Mercury Retrograde, which (from shadow to shadow) stopped around Monday 30th March. Instead, Venus (the planet of relationships) also began retrograde, from around Friday the 10th of April 2020.
It's now Thursday, May 14th, 2020, and you've been living with this, for about a month. (To which you reply, 'Tell me about it.') This has been a long loop, or stuck circuit, waiting to happen.
In fact, from shadow to shadow, Venus will not be back to normal until around Wednesday, July 29th, 2020.
Do you have your personal astrology chart here? If you're logged in as a Premium Member, you can see it now. Check to see if you have anything in the zodiac sign of Gemini from 5 through 21 degrees. If you do, then it is projects, plans, courses, commuting, websites, books, multimedia projects, short trips and your commute which has been affected.
And…it's not just the actual concept, journey or brainwave. It's the people involved. The relationships.
[contentblock id=show-chart]
What To Do On Mercury or Venus Retrograde
Even if you don't have a chart to check (or don't have Gemini factors at 5-21) you can still use some basic astrology rules to get through the retrogrades. It's a really good idea to allow more time and space in your diary for the following outcomes:
The reappearance of people, organisations or objects from the past.
The rebuilding of structures, places or ideas for the second or third time.
Product recall and store refunds.
The reclaiming or reconstructing of who or what was lost.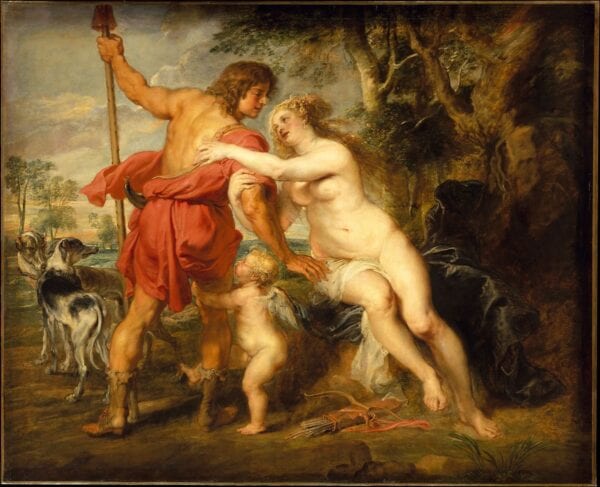 Mercury rules multimedia, the post office, the mail, the worldwide web and all commuting and short-distance travel. Venus rules complicated relationships – between lovers, between husbands and wives, between mothers and sons, between in-laws. They can sometimes be relationships between friends or colleagues, that feel like family or marriage. They have many layers.
Rubens' painting of Venus and Adonis, with her son Cupid (below) says it all. Venus Retrograde in Gemini tends to produce women (or men with a strong female identity) whose private lives are dramatic. They may be twice-married, for example. They have have affairs, or just encourage jealousy in their partnerships. Venus was vain and envious. Insecure and beautiful.
She was possessive with her son and loathed her daughter-in-law. She was gorgeous, seductive and without her, life would be boring. Venus is at the heart of every great song, poem, television series, film, novel or play. In Gemini? She's here to complicate our lives online, with travel plans, projects, courses, regular commuting and the phone. Expect a long circuit.
When Mercury Retrograde and Venus Retrograde Are Useful
I'll give you the future dates of the retrogrades for 2020 in a moment. When are these cycles useful for you? When they involve repair and recovery. Most of all when they involve reflection.
I use the shadows, at the start and end of the cycle, because history proves to me that they work. What is a shadow? It is the period of time when a planet moves over the same zodiac sign and degree, where it will shortly get stuck, or go backwards. Allow 24 hours' difference for your time zone, please, as I have readers in Auckland and also Los Angeles. But, in general:
Friday, April 10th to Wednesday, July 29th, 2020 – Venus Retrograde in Gemini
Tuesday, June 2nd to Monday, July 27th, 2020 – Mercury Retrograde in Cancer
What To Expect From Mercury Retrograde in Cancer – June and July 2020
Please check your personal astrology chart if you are a Premium Member (above). If you have anything at all at Cancer from 5 through 14 degrees, there will be announcements, email, letters, paperwork, news – which will move the story with your house, family, apartment, visa, passport, citizenship, relocation, emigration, holiday/vacation accommodation, household, town or country forwards. Yet, all too soon, it will reach a standstill or move backwards. When you come back to it, the story could easily change.
Please have Plan B, C and D when you go through Mercury Retrograde in Cancer, if it moves across any of the planets, points or other factors in your personal birth chart. Plan for potential delays or changes and make sure you are covered.
Even if you don't know your birth chart, or you do have one (but nothing in Cancer at 5-14 degrees) you will still be affected by rescheduling and delays from around the 2nd of June to the 27th of July 2020. Why? The domino effect of Mercury Retrograde.
We have another Mercury Retrograde period in 2020, which runs from around Monday, September 28th to Friday, November 20th, 2020, from 26-29 Libra (marriages, business partnerships) and 0-11 Scorpio (finance, property, business, charity, possessions). I'll give you that heads-up now, in case you are planning ahead, September-November 2020.
Again, if you have your personal birth chart (above) and you know for a fact that Mercury is going to land on the same degree (number) as anything in your horoscope, you'll want to allow for delays, rescheduling or even reversals with the plans.
Jupiter, Saturn, Neptune and Pluto Retrograde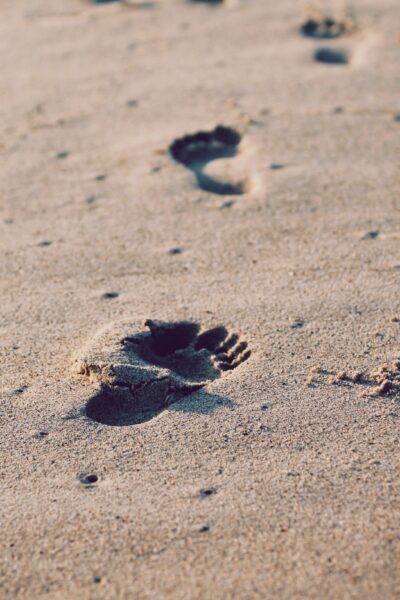 These are the big, slow-moving outer planets which also get stuck (from our point of view on earth), then move backwards and forwards. They are the background to all that you experience with Mercury Retrograde, when communication, transportation and information goes backwards – and Venus Retrograde – when all kinds of relationships, connections, ties and bonds between you and other people also get stuck, or reverse.
The Retracing of Your Steps

What you notice most on these slower cycles, is the 'retracing of the steps' which begins on the day the planet actually turns. In May 2020, we are going to see this happen on Thursday the 14th of May, when Jupiter at 27 Capricorn goes backwards.
You will already be aware of the 'turn' with Saturn at 1 Aquarius, which started going backwards on Monday, May 11th. In a sliding scale, we then find Pluto Retrograde at 24 Capricorn from Tuesday 2nd June, and Neptune Retrograde at 20 Pisces from Tuesday 23rd June. If you want to drill down into the meaning of these cycles, please use Search. If you are a Premium Member, please turn to the guidebooks that come with membership and the extended features.
Why June 2020 Is Retrograde Central
June 2020 is a month of standstills and retraced steps. Mercury Retrograde in Cancer will remind property developers who are financing high-rise apartments and office blocks, that they should really take astrology seriously. Expensive projects will halt.
We should also expect mortgage interest, or home loan interest rates – to be in flux. The value of homes may fluctuate. We also have Venus Retrograde in Gemini so trains, flights, buses, cars, coaches, ferries, cruises, yachts will not have normal A-B progress. It's the same with the worldwide web and the media. Gemini rules all these things, as we've seen.
Astrology is about patterns which join together. So, not only do we have this unusually long and drawn-out phase for the airlines, we also have Pluto in Capricorn. (Virgin is a really good symbol of Venus in Gemini, as Richard Brandon's aeroplanes are painted with semi-clad women) Pluto is about powerful rich men. In Capricorn – powerful rich men at the top of politics.
The Queensland, Australia government's attempts to buy Virgin will go backwards and forwards until around Wednesday, July 29th, 2020. One of the issues will be the female flight-attendants. Why? They are Venus in a red and purple uniform. Watch. I am publishing this prediction on Thursday the 14th of May, 2020.
Jupiter Retrograde in Capricorn
Jupiter Retrograde in Capricorn is about delayed solutions to problems at the top of power, money and politics. Now, in general, 2020 is going to bring sweeping answers to persistent issues that people have with their Prime Ministers, Presidents and with big business. With the rich and famous, and the royal family.
All this is ruled by Capricorn the mountain goat at the peak of society. Jupiter on top of Pluto is always a huge breakthrough (Jupiter) to Pluto problems (the abuse of power at the top). That process of necessary change will get stuck and slow down.
Yet, right on time for the American 2020 Election, we are going to see Jupiter moving forwards again and in fact, December 2020 (Electoral College) will transform the nation and the world – for the better. I do astrology, not politics, but every single time we have seen Jupiter in the same zodiac sign as Pluto, we have seen massive reform. Apartheid ended on it.
Neptune and Pluto Retrograde in June
This idea of 'the backwards step' is strong on the days that Pluto turns retrograde in Capricorn on Tuesday, June 2nd, 2020, which is very much about the process (above) at the top of politics, money, fame and power. Pluto goes backwards at 24 Capricorn, which will be a career, unpaid work or university/college rethink for you, if you also have factors at that degree and sign.
It is also there on Tuesday, June 23rd, 2020, when Neptune goes retrograde in Pisces. Again, if you have your personal birth chart, please check to see if you have factors at 20 Pisces, as you will be most affected. This would be about your spirituality, beliefs, faith and philosophy.

Living With Rona on Retrogrades
We have to be practical about 2020. Rona is here. As we saw on the first weeks of Mercury Retrograde, that spelled cancelled school terms, postponed projects and just about every 're' you can think of. Astrology is here to be used. It has served us for 2000 years and counting. When we can see Mercury, Venus, Jupiter, Saturn, Neptune and Pluto Retrograde in June 2020, we should not be throwing caution to the winds.
We should have Plan B, C and D for whatever gets stuck or goes backwards. And that might just be the dog, or it might be us. The whole point of astrology is pre-planning. Now, wash your hands.
Image Credits:
Featured Image: Photo by Reiseuhu via Unsplash
Planets: Photo by David Menidrey via Unsplash
Venus and Adonis – Peter Paul Rubens – Met Museum
Footprints: Photo by Christopher Sardegna via Unsplash
Social Distancing: Photo by United Nations COVID-19 Response via Unsplash