The North Node and South Node move backwards through the 12 signs of the zodiac. They hit the same sign every 19 years (approximately) and according to astrology, this triggers karma from 19 years ago, and 19 years before that, and so on. Right into past lives.
The Node Return and Opposition
When the North Node and South Node return to the same degree (number) and sign as your own, or into opposite signs (same number) it's big. It will alter your destiny, even though you have free will.
Both signs in your horoscope will come alive at once, in terms of the houses they rule and the life departments you experience the new/old story in.
Karma and the Nodes In Your Chart
Allowing for karma, your soul may slowly begin to fulfil its purpose and you will act out what you came here to do. In your life between lives, you made particular contracts or agreements with your guides, according to some astrologers.
The North Node and South Node signs show those contracts. You come back here to attempt your mission and hopefully complete it – karmically. This does not make it simple, easy or even what you would prefer. Yet – through the Nodes you achieve.
Alan Turing and the Nodes
I took these photographs at The Science Museum in London which show Alan Turing as a young man. The star of Bletchley Park – the genius behind codebreaking and the birth of the modern computer – would have been amazed to see his old photographs blown up, decorating an exhibition about his work on the Enigma machines.
The Alan Turing Chart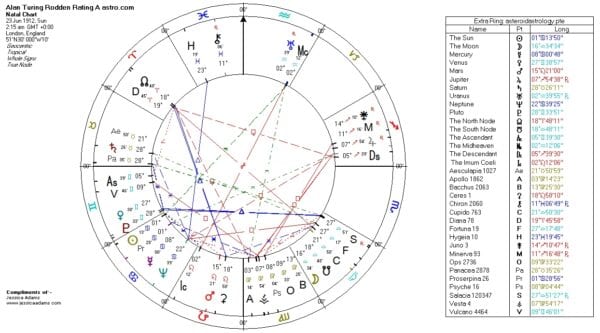 This chart has been calculated using modern astrology (so, with asteroids) using data from Alois Treindl's collection at Astro.com. The data has a Rodden A rating so is pretty reliable.
Gay Genius at Work
Turing was famous for two things. Being the genius at Bletchley Park whose part in code breaking helped shorten the war – and for being gay. He was persecuted for his homosexuality after the war and later pardoned by the British government.
So, here we have a war hero (and you would expect to find Aries, ruled by Mars the God of War starring in the chart) and a hero to the gay movement. In fact it was his youthful affection for another schoolboy who tragically died young, which led to him wondering how a human mind could be recreated.
You would be looking for Libra in this case, particularly as Libra the scales rules marriage, but also justice, the law, equality and fairness. Gay marriage or civil partnership is a Libra concern.

The Love That Dare Not Speak Its Name
There was no question at all, about Turing being open about being gay at Bletchley Park. In the 1940s every man, in love with another man, knew the danger. Instead, he tried a relationship with a woman.
Look at the Nodes in your own chart and find out the year that you had a Node return or opposition. You will have made your own history. The signs and houses (life departments) will reveal the likely past life or karmic issue. You can find out more clues by going back another 19 years.
The Aries-Libra Nodes and the War
Alan Turing was born with the South Node at 18 Libra and North Node at 18 Aries. In 1939 when the Second World War began, the North Node entered Libra and the South Node entered Aries for the first time in 19 years.
In fact, after war was declared in Great Britain on 3rd September 1939, it took a mere nine days for the Nodes to make their historic switch to Aries-Libra. Turing's destiny was decided by something he could not control. That is what the Nodes do.
Aspects to the Nodes
I began these free astrology classes several months ago, so feel free to go back and catch up. If you have been keeping step, though, you will know that aspects (patterns involving horoscope factors at the same numbers or degrees) are really important.
Look for aspects to Alan Turing's North Node and South Node at 18 Aries and Libra. You will find Ceres at 18 Leo, which is a story you will need to uncover yourself, just as Turing uncovered the German codes hidden in the Enigma machine.
Data from astro.com with a Rodden A rating.
Feature Image Credit: Mauro Sbicego