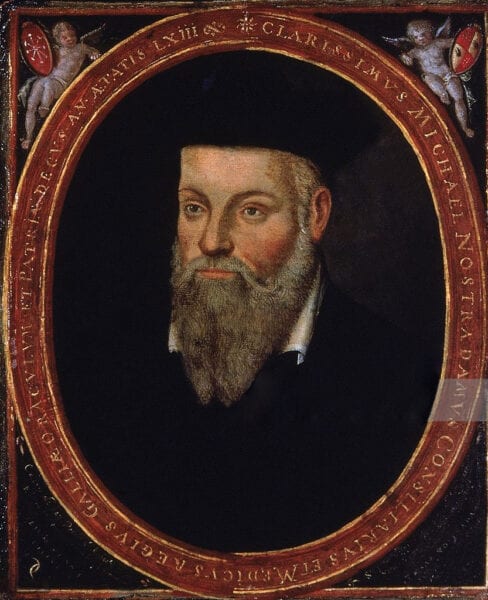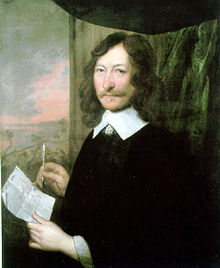 Nostradamus (Sagittarius, born December 14th, 1503 on left) and William Lilly (Taurus, born April 30th, 1602 on right) both made their names with printed astrological predictions, peering years or even centuries (in the case of Nostradamus) into the future.
With the boom in astrology, I've seen one journalist after another approaching me for explanations about 'why Millennials believe in it' or even, why I believe in it.
Well, I've been doing this since I was 14 years old. Pre-computer. Armed with a pencil and a biscuit tin to draw around (all horoscopes are circular).
I don't just 'believe' in astrology. I use it, in a practical way. With the virus, it's a good time to stay at home and try it yourself. But first, a little something for the sceptics among you.
Nostradamus and Plague
Sceptics find this deeply annoying, but Nostradamus saw several plagues across the centuries, and date-stamped them for his readers. He also saw the Notre Dame fire using astrology and, likely, scrying (clairvoyance). Gazing into water to summon up visions.
"The head of Aries, Jupiter and Saturn" he wrote in one quatrain. "France and Italy, what emotions will you undergo?"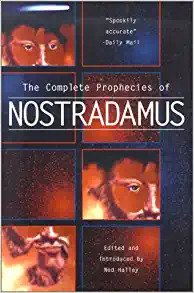 The Notre Dame fire did indeed break out with unusual patterns involving the zodiac sign Aries, Jupiter and Saturn. The French were devastated, as was the Vatican.
This translation, in The Complete Prophecies of Nostradamus (Editor: Ned Halley, Castle Books, Ware 1999) also notes several plague predictions, of which this is the most intriguing.
"With the plague scars gone, the earth becomes smaller."
Could there be any better description of the world in 2020, without flights or indeed cruises?
William Lilly and The Great Plague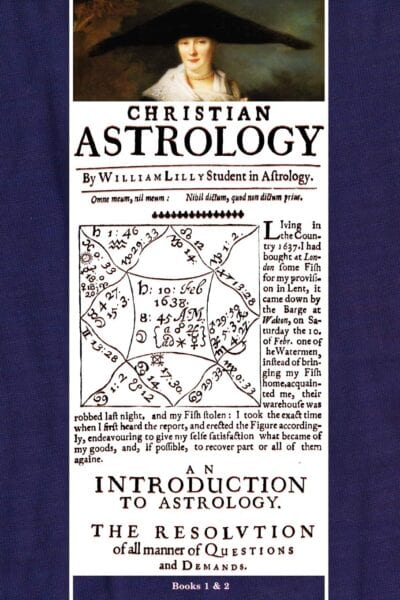 Today, we full-time professional astrologers use similar techniques to Nostradamus and another famous stargazer, William Lilly. Lilly of London lived, worked, survived and (even) thrived in a time of plague. He resided on the Strand, judging as many as 2000 astrological birth charts a year.
His 1647, masterpiece Christian Astrology was written while in retreat from The Great Plague, which he had publicly foreseen with a pamphlet illustrated with a woodcut – of grim coffins. For the record, he saved his landlords' children and himself. The novelist Tobsha Learner (The Magick of Master Lilly) is just one author who has been fascinated by his famous illustrated predictions, including The Great Fire of London. Lilly has also attracted a fan base of American astrologers who dedicate themselves to his particular technique – horary astrology – charts cast for the hour a question is asked.
So, Lilly was all about divination. Or, if you prefer the theories of Carl Jung, synchronicity. Using astrology, Lilly was hired to help Charles II escape during the English Civil War. Then, as now, astrology has a royal connection.
Natalie Delahaye (who is a guest tutor at The Sun Sign School) prepared a marriage horoscope for Prince William and Kate Middleton for a wedding guest and was first to obtain Kate's birth time. The astrologers Debbie Frank and Penny Thornton, who are also guest tutors at The Sun Sign School, both count Diana, Princess of Wales as a former client.
Drawing up horoscopes (or these days, calculating them with Astro Gold software) is not for the faint-hearted. It works – so well – that it is sought after by some of the most famous people in the world. In fact, it's part of the business. Powerful information attracts powerful individuals.
Lilly's prediction of The Great Fire of London appeared in woodcut form (pictured right). He called these woodcut illustrations 'Hieroglyphicks.'
Date-Stamped: The WHO Pandemic
Plague prediction is a very long way from the Cosmopolitan, Elle and Vogue horoscope columns I once wrote, but as an astrologer, when something stands out in the heavens, it's time to ring a warning bell. Thus, I was clanging like mad, here on my website around a year before WHO called a COVID-19 pandemic. This is what some of you may have read:
March 28th, 2019 – The New World Order
Between Monday, January 6th and Monday, January 13th, 2020, there will be a critical change in the balance of power between the United States, China and Europe. One last note – Post-Millennium bugs, hackers and viruses.
One date stood out in that prediction. January 10th, 2020. The day of an eclipse.
We know the rest. The first Covid-19 fatality in China was announced to the world on the 10th of January 2020. Close to this date we also saw a Microsoft Killer Windows 10 Bug and The New York Times linked the impeachment of Trump to Russian hackers.
The astrological language which gives us 'virus' is similar to bug and hack. It can show inside computers but also inside the human body. It did so, on that date.
Another prediction, again about a virus, appeared on September 7th, 2017 (so even further back). My story on Mercury Retrograde Dates to 2020 covered a popular astrology meme: The apparent backward motion of Mercury, the planet which rules transport, airlines and business. Three years later, readers were piling onto the website to thank me, having avoided this period for flight bookings and share market gambles.
What ran in 2017, was about all the Mercury Retrograde periods ahead, but it gave a timeframe that now makes perfect sense as we cope with the pandemic.
"On Mercury Retrograde there are classically major computer, transport, internet or travel problems across the world, usually in influential cities like New York, Sydney, London, Los Angeles or Paris." It went on: "I have included all the risky Mercury Retrograde Shadow periods in the dates below. The Wall Street Crash of 1929 happened on the shadow."
The last dates in the story were peak times for the Covid-19 crisis and Wall Street panic – February 2nd to March 30th, 2020. The prediction continued, on my website:
"The Wall Street Crash on Black Tuesday, October 29th, 1929, was the most chaotic event of the 20th century, leading to years of Depression around the world. It happened on Mercury Retrograde Post-Shadow."
Critics of astrology sometimes dismiss our work as a lucky guess. The one black swan, among all the white swans, that is a mere fly-past.
On November 11th, 2019 in a story called Mercury Retrograde 2020 (warnings cannot be repeated often enough when crisis is coming) I looked about five months into the future.
Very close to the day that WHO declared the COVID-19 outbreak a pandemic (Wednesday, March 11th. 2020), astrology called Monday, March 9th, 2020 as a virus risk period. Again, this is what you may have read on my website:
"Where is the Chaos in Your Life on Sunday 8th and Monday 9th March? This period is particularly chaotic because we also have a Full Moon in Virgo (organisation and order, clashing with flooding and confusion) and the Sun's conjunction to Neptune (randomness) across this period.
In fact, you can circle these dates in your diary now, because we're going to see computer and human viruses, and regular traffic, air traffic and shipping affected by wave after wave of rain/flooding. "
Why Astrology Works
Time is a construct. The clock time you use is man-made and designed to help your city – do business with other cities. So, London GMT (Greenwich Mean Time) was once 'levelled' with New York Time for economic reasons. Clock time is manipulated for business/agricultural reasons for farmers – Daylight Saving Time.
Calendars are constructs. During the French Revolution, new calendars were produced to replace the old.
Yet, the real time, behind all of this, might be Astrology Time. Nothing to do with men interfering with the normal Sun and Moon calendars for political or business reasons – everything to do with nature.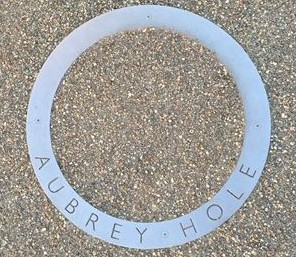 At Stonehenge, the 56 Aubrey Holes (discovered by an amateur astrologer named John Aubrey) can be used as eclipse predictors. Professor Sir Fred Hoyle confirmed this in the 1960's. If you move one marker for the North Node, one marker for the South Node, one marker for the Moon and one for the Sun – around the holes – eclipses can be seen before they happen.
Or, were the 56 holes used as a day-plus-night prediction device for women's periods? Fertility? Conception? Pregnancy? In any case, the Moon mirrors women, and women mirror the Moon. They both run on repeated 28/29-day cycles. Perhaps astrology is the real time, behind constructed time, and prediction is a natural part of life.
Once you return to it, it works. The old mechanisms click into gear, like ancient wheels.
The Ethics of Prediction
Some astrologers frown on prediction. I see it as human weather forecasting. I am not a hard determinist. It's the storms that require an umbrella and good diary planning I am interested in, not some gloom-and-doom unavoidable fate. This is in a tradition set by William Lilly who published 'A Letter to the Student of Astrology' in the 1600s.
"Be humane, courteous, familiar to all, easy of access, afflict not the miserable with terror of a harsh judgement."
My colleagues and I with all our free blogs and websites are standing on the shoulders of a giant here – his famous pamphlet held in the Museum of London – his plaque dominating the Strand. We can but try, of course. There will never be another William Lilly. Yet, the earlier we make our predictions public, the more time there is to prepare our readers. And that's the whole point.
I wrote my book 2020 Astrology: Your Five-Year Horoscope Guide as an eBook in 2016 and it was published at the end of that year on Amazon. It went something like this regarding the Global Banking Revolution:
Page 128:
"Uranus in Taurus from 2018 will bring a global banking revolution. My prediction (although I have not yet had my coffee) is that we will see the end of banks as we know them. I know many astrologers and astrology beginners who see the same thing. We look around us and see Bitcoin, PayPal and Stripe. More importantly, though, we see that a very old cycle is about to repeat."
Page 151:
"During the life span of this book, we will see radical changes for world currencies, banks, taxation and economic systems like Communism. Why? Uranus makes an historic move into Taurus, the cash sign, from May 16th, 2018. We will be set free from old financial or economic systems that trapped us. The planet will be shocked into a new way of operating. Uranus describes the revolution that sets people free from who/what restricts them or even utterly denies their own right to live their lives. You don't have to be a genius to figure out that the biggest restriction of all is debt. Who and what keeps you in debt? That is where the revolution will unfold from 2018 onwards."
It's About Correlation. Not causation.
Sceptics dismiss astrologers as some lumpen mass of charlatans (Professor Richard Dawkins being among our heaviest critics), but there are many kinds of astrologer and many kinds of astrology. And – we don't believe Jupiter "influences" our lives, and we are not astrologists, either.
I'm looking at you, Professor Brian Cox, in your YouTube clip about astrology. (And if we're astrologists, then surely that makes Cox and his colleagues, scienters?)
Our house journal is called Correlation. I don't know any professional full-time astrologer in my circle who is mad enough to think Jupiter has 'energies' or has some kind of invisible effect on our destinies. Quite honestly, the midwife had a greater pull on me at birth, than Pluto.
No, it's just about timing. And the peculiar nature of time and reality itself.
Synchronicity, as Carl Jung had it. And perhaps, Hugh Everett III's theory of parallel universes and parallel lives, thrown in. One of the funniest things about the sceptics – the scienters – is that they solemnly give the Multiverse credence while denying that astrology could work in any universe at all.
The Past Shows the Future
By examining history and the patterns of planets and other heavenly bodies in the past, we can use software or an Ephemeris (like a time-travel directory) to look backwards and see forwards. I did this in my book, published in 2016, gazing four years into tomorrow. Many other astrologers have also been calling 2020 as a milestone year – for years.
On page 128 of 2020 Astrology, this was printed:
"In the new world, when everything radically changes, and people must co-operate to invent a new way to bank – we turn to astrology and history to show us a few home truths. Turn to America in 1781 if you want to learn how to deal with what is coming. Year zero for the planet Uranus and year zero for independence."
"Whenever Uranus enters a new sign, there are people who resist the revolution and are left behind. History tells us that the radical should also include them, as much as possible. If it's not possible, change should happen compassionately. There should be a spirit of understanding even if the entire planet is being turned on its head."
Yet to Come? The Restructuring of Skyscrapers
Some of what I wrote in my 2016 book, I am still uncertain about. For example, on page 230:
"Skyscrapers in 2020 will not be the skyscrapers we know in 2016 as I finish this chapter. Those concrete and steel corporate structures will be restructured. Why? Because they have to be."
This is pure astrological thinking, borrowed from William Lilly in the 17th century. We're seeing heavy Capricorn weather in 2020. Capricorn the mountain goat rules high places – peaks and pinnacles. Summits. In modern life, that's skyscrapers.
And that brings me to all the Trump Towers and Trump himself. You'd hope that an astrology book published in 2016 could have foreseen his impeachment, and while obeying the rules of our business (no single individual named – free will rules) – what was published was pretty explicit.
Continued on page 230:
"Christmas 2019, New Year 2020. That is going to be quite some New Year's Eve celebration. The balance of power is altering. The Christmas tree in Trafalgar Square will shake. Right around the world you can expect to see a carve-up of control.
Astrology tells us to expect demotions, departures, promotions and reshuffles when Pluto and Ceres are in Capricorn, the sign which rules people at the top. Jupiter is there. This is a detox. In 2020 the time is right to ask questions about who is at the top, in the middle and at the bottom of any corporate, government or royal structure. How and why are they there? How can we fix the issues and heal the past?"
With hindsight, as my readers have pointed out, Prince Andrew and Jeffrey Epstein was as much proof of that prediction, as the impeachment of Trump.
Of course, January 2020, too, was also the month that Brexit became a reality.
Brexit and Astrology
My earliest published prediction of the departure of the United Kingdom from the European Union, was on my website in a story about Greece and the European Union. It ran on July 5th, 2015 in a piece headlined Astrology of Greece – Goodbye EU, Goodbye Euro.
The prediction attracted an avalanche of comments and still does. This is what was published:
"Even if Greece votes YES in the referendum which is hours away now, there will be riots, strikes, rebellions and revolution – and that yes will become a NO eventually."
The next section of this forecast, made on exactly the same basis that Nostradamus and William Lilly also made predictions, was about England:
England Leaves the European Union, Scotland Leaves England
England will eventually leave the European Union. Scotland will ultimately leave England. Europe is breaking apart and this is the start.
People are surprised to know that astrologers use the 'birth' or foundation charts of nations to make predictions, but it's part of what is known as Mundane Astrology. Even the Euro has a chart. We use the time, date and place of the birth of the currency to see what is in store. The feature went on:
"The end of the Euro as we know it…By 2026, the Euro we know in 2015 will no longer exist…What we take for granted – credit cards, debts to the bank, debts carried by our own nations, mortgages – will be replaced by a new model of how money should actually work, 2018-2026."
It finished with an explanation justifying what (was) even for me – being the astrologer making it – quite a shocking prediction, for my students:
Astrology is Quirky Time
When you use astrology, you work with Quirky Time. Time as we know it does not exist, anyway – we all know that. There is no clock or calendar carved on the sky. Time is a construct. Astrology is Quirky Time. Carl Jung called it synchronicity.
Yet, it may be Natural Time. The Real Time.
Getting it Wrong is Getting it Right Repeated polls show only about 25% of people – perhaps one-third – trust astrology. Most people ignore it. Despite this, astrologers still find their way into academia, like my teaching colleagues, bestselling authors and Cosmopolitan horoscope alumni Maggie Hyde and Barbara Dunn.
Diana's advisors, Debbie Frank and Penny Thornton, have found their way into history, in Andrew Morton's book Diana – Her True Story (Michael O'Mara Books Limited).
And, when all else fails, my colleagues and I, just stand up in front of whiteboard and shout at anyone who will listen.
Shouting the Warnings in 2018
Thus, it was that two summers ago in Melbourne, where I usually spend half the year, that my colleagues Joanne Madeline Moore and Stephanie Johnson did our level best to warn our audiences of astrology fans, while trying not to scare the pants off them.
"Get out of debt now," Joanne, a former television actress, yelled, without a microphone. "Property prices are going to crash. Get rid of your credit card if you can. Stop borrowing and spending."
Stephanie's software, Solar Fire – something William Lilly and Nostradamus would have loved – showed the logic behind our concerns about 2020 as we passed around printed charts.
Those mysterious patterns, though, also showed a better world to come, though. A correction if you like. For all that 2020 was a crisis year, with very hard work to follow until 2025, there was hope.
The Future of the Future Game
Astronomers shake their heads balefully when astrologers talk about their version of the sky. The precession of the equinox (the earth's wobble) means the old zodiac signs that our ancestors used, are no longer in the same position.
I quite agree. There is nothing rational about what we do. The closest it comes to any kind of science at all (statistics being no friend of astrology) is quantum mechanics. And, certainly, psychologist Carl Jung's 'acausal connecting principle' of synchronicity.
Yet – for stargazers like me, who are in the future business- it's really clear that 2020 is the beginning of a welcome correction.
Climate Emergency and Astrology
Our climate emergency (I have been on strike over it, as part of Fridays For Future since last September) is rapidly looking manageable. Beyond that, the ongoing impact of COVID-19 will minimise it. For that, we have to peer far into the future, at Neptune's departure from Pisces – a sure sign of flooding ahead – but the signs are encouraging. We can minimise the harm.
Beyond Climate Emergency, we are now in a classic cycle for system change. Particularly system change when 'great dictators' or bad dictatorships have controlled us all.
2020 repeats what we call a Jupiter-Pluto pattern (both planets being in the same zodiac sign) we have seen throughout history, when good beats evil.
Mussolini was arrested in such a year. Hitler was nearly killed in a bomb blast – and D-Day certainly signalled the beginning of the end for Nazism and Fascism. Barack Obama was elected in such a year when Jupiter and Pluto slowly moved into the same zodiac sign. Nelson Mandela triumphed over apartheid. It's a game-changer in our game.
No doubt about it. We are in a perfect storm in 2020. A line-up in Capricorn (the elite) and Taurus (the economy) affecting billions, that we have never seen before and will never see again.
Yet, as the ancient wheels of the horoscope grind around in time, as they have done for stargazers as far back as Mesopotamia – it is also clear that through a quirk of birth timing, every generation now here, from children to seniors, is about to rediscover its best qualities. To come into its own.
For all that we are suffering, Generation Aquarius (think today's teenagers – the Greta Thunbergs) are here to help.
I have been called upon to leave the astrological language out of magazine and newspaper articles, over the years. Editors dislike it because they think it alienates readers. Far from it. Thanks to the internet and websites like astro.com we now have a highly educated, well-informed readership of millions (according to Google Analytics and Alexa) who like to read about astrology, as it was originally written by Nostradamus and Lilly. I'll wager a few of you reading this don't even blink at the phrase 'Saturn-Pluto conjunction.'
Perhaps it's time we all got real about the world of astrology, with all its impressive history and fascinating track record, in this epic year of reality checks. Or to put it bluntly, if 'this stuff works' as American astrologer Michael Lutin (ex-Vanity Fair) claims, why don't we give it more space?
Finally, a tale of astrology's apparent failure, that proves its successes.
In The Guardian in 2016, I was asked to predict who would win the American election. Armed with the supplied time, date and place of birth of Donald Trump, I could see no evidence at all that a man born with such a horoscope would end up in the White House. Hillary's birth data was unverified (always risky) but I called it for her.
Well – some time later, reeling from this wrong call (most astrologers got it wrong, for the record), I woke up to find a New York Post headline about Trump supplying an incorrect birth date to the New York authorities, ahead of a mayoral election. So – along with the two birth times supplied at astro.com, where we find our celebrity data – we now had two different birth months. It was at that point I dragged all Trump horoscopes into the wastepaper basket on my laptop and left them there.
In getting it so wrong, so publicly, astrologers had got it right. A good workman does not blame his tools, but in our profession, if we have competing data supplied, forget it. Down tools!
Astrology works. It predicted a 2020 virus and economic shock years ago. If you know your birth time, place and date – or even just your birthday – please use it. Could there be any more intriguing way to spend the coming days at home?
Why does it work? You may as well ask, 'Why do human beings age, from babies to old ladies?' Why do kittens grow into old cats, and puppies into old dogs? Why do the Sun and Moon appear to be the same size and shape, even though it's an optical illusion?
Astrology (Real Time, Old Time) is part of being human. What do you think? How has astrology accurately predicted your own future?
Image Credits
Featured Image – Photo by Fabrizio Verrecchia via Unsplash
World is Temporarily Closed – Photo by Edwin Hooper via Unsplash
Trump Tower – Photo by Miltiadis Fragkidis via Unsplash
Brexit – Photo by John Cameron via Unsplash
Climate Protest – Photo by Markus Spiske via Unsplash
Right to be Wrong – Photo by Andrej Lišakov via Unsplash