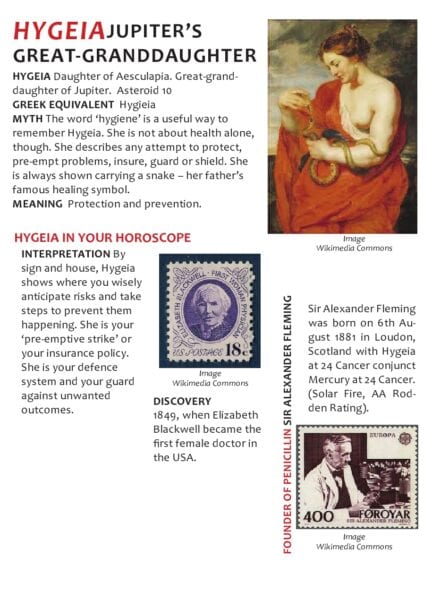 Jupiter has a family in modern astrology and his wife Juno, and his children are all asteroids. So are the grandchildren and great-grandchildren.
Jupiter benefits you. He's 'the greater benefic' in old astrology. His DNA goes to Hygiea who is about prevention, not cure. In your chart, by sign and house, she shows where you are cautious, sensible, wise, self-preserving and insure yourself and your world against what (you hope) will never happen.
Hygiea in Your Chart
The word 'hygiene' comes from her. Good hygiene stops infection. Wash your hands, use your gel and you reduce the risk of COVID-19.
She was found in a breakthrough year for cholera. (Dirty water was responsible). Sir Alexander Fleming has an exact Hygiea-Mercury conjunction – the founder of penicillin.
Don't get distracted by the focus on medicine, though. Hygiea in Libra in your Seventh House can describe how you fall in love with, and marry, men who are dependent on you financially. You insure yourself against being left, by choosing husbands who would be lost without you, so they stay!
The Klimt Hygiea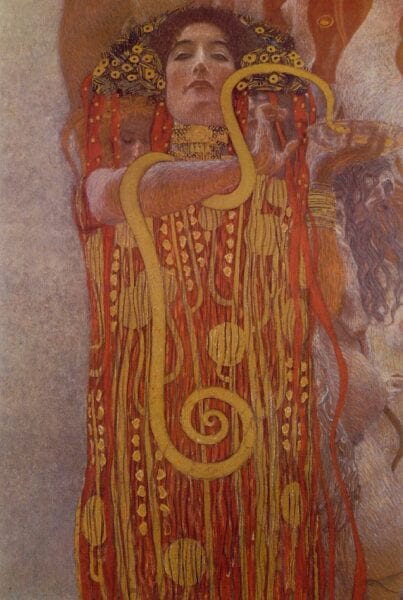 Art can inform you about an asteroid. Here we have a famous Art Nouveau painting by Klimt, showing the goddess with her snake and bowl.
The snake is part of her DNA. Apollo is often seen with a snake. His son Aesculapia/us, her father, has The Rod of Aesculapia/us. A snake wrapped around a staff. The snake and staff are common symbols for ambulances and doctors. The snake and bowl are common symbols for pharmacies and chemists.
You can also see her shielding and protecting herself. Strong boundaries! Big fences and walls and other preventative structures are Hygiea in your chart. By sign and house, in the context of other horoscope factors, she will show where you are strong-willed, focussed and passionate about not letting anything/anyone past your boundaries.
We might say flood barriers are Hygiea.
Feminists and Asteroids
Astrology came through patriarchy and so for centuries women only had the Moon and Venus as their symbols. The new technology discovered asteroids and in modern astrology, we put them back into the family tree which began with Mercury, Jupiter, Saturn and the rest. They are all symbols in divination and 'just' because Hygiea is an asteroid does not make her any less important than, say, Neptune in your interpretation.
You can see the female power in this Klimt painting.
Marie Stopes and Prevention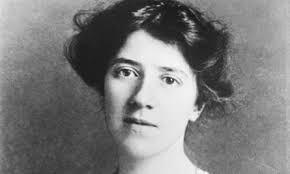 You tend to get exact aspects or a great many aspects in charts where someone devoted herself to strategy and structure. Marie Stopes pioneer birth control and protected generations of women against unwanted pregnancies.
She had Hygiea at 19 Gemini, Panacea at 19 Gemini (quite astonishing as the two asteroids are sisters) and Juno in a trine at 19 Libra. I am sure you know Libra rules marriage. Gemini rules education and communication. Stopes instructed wives how not to have babies! This chart uses Whole Sign Houses.
Hygiea as Gatekeeper
A symbol of fast, furious and sometimes reckless action (Mars) can be kept back by Hygiea in exact aspect. So, if you have Mars at 1 Aries and Hygiea at 2 Aries, you could be a pushy self-promoter – but nicely restrained by Hygiea.
Look at aspects within a one degree orb (one degree's difference) to see how Hygiea works out in your life and personality. If she is implicated in many patterns you will always be thinking ahead, worried about future outcomes, trying to inoculate/insure against that.
Professional astrologers who are highly successful have Hygiea in exact or one-degree aspect to not just one factor in their chart, but two or three. They peer into the future to stop problems from becoming problems and of course, the public and clients can't get enough of that level of warning.
Where is she in your chart?
[contentblock id=51 img=html.png]
Hygiea in Transit
As you might expect, Hygiea is present in times of pre-emptive strikes or major public health initiatives. She is absent or implicated in stress patterns, like T-Squares or oppositions, when people are being reckless.
For more on this asteroid, buy my bestselling book 2020 Astrology: Your Five-Year Horoscope Guide.
Image Credits (where applicable)
Featured Image: Photo by Sharon McCutcheon via Unsplash
Keep Clean Drawing by United Nations COVID-19 Response via Unsplash