The Future of America and Mental Health
During my talk about Donald Trump, Melania Trump and the future of America, I mentioned why mental health would become a new national concern.
I can see it in the horoscope for the United States. This (below) is the American chart I used to predict Joe Biden would be President (below) and also, Donald Trump's impeachment by Nancy Pelosi. Take a close look and you can see the mutable sign 'weather' which picks up Virgo (depression, anxiety) but also Pisces (pharmaceuticals).
Not the 4th July 1776 Chart
I call this the 'Alternative America' chart because it's not the usual July 4th 1776 chart, but it works a lot better. And just to repeat, I never use the supplied data for Donald Trump as it has changed twice. For me, this is 'dirty data' as Lois Rodden called it. We have to remember this is a self-confessed fraud who gave it to us. (He settled out of court for fraud in 2016).
I made this prediction in The Daily Mail on 19th October, 2020 without using the supplied Trump data at all, as I stopped using it in 2016 when I realised there was no point in relying on the horoscope. As we know now, Joe Biden did in fact go on to become President, despite the 'shambles' I saw with Mercury Retrograde, which will end on 20th November, 2020.

Ronald Reagan and American Mental Health
Here in the American chart on this page, you can see Panacea (illegal drugs like cocaine as well as legal anti-depressants and tranquilisers) in Virgo in the Sixth House, which rules public health. Neptune is at 24 Virgo and Panacea is at 19 Virgo. My concern is the trine from Neptune at 24 Virgo to Fortuna at 24 Capricorn in the Tenth House, which rules the President of the United States and the First Lady. That is exact.
Of course, it's always been there. Perhaps this is where the story of Ronald and Nancy Reagan comes from – she hiding his memory loss. There may well be more White House secrets about drugs or alcohol and mental health, at the top.
An audience member at my talk, at Breaking Down the Borders, suggested part of the new, intense concern with mental health would also be triggered by Trump voters who had lost. This is a wise comment. We know the virus is a risk in 2020 and 2021, but how do you 'mask up' against a mental health crisis?
Michelle Obama and Depression
What we have here is the chart of a country about to admit there is an elephant in the room. Mental health (which includes the Alzheimer's disease suffered by former president Ronald Reagan) and also embracing the frank admission of 'mild depression' by former First Lady Michelle Obama. Michelle shared her diagnosis with the world in 2020.
Let's time the crisis in American mental health at the top, with a view to increasing awareness of the issues, to minimise the potential problems.
The transit of Pluto at 24 Capricorn between Sunday 27th December 2020 and Monday 25th January 2021 will trigger Fortuna at 24 Capricorn and Neptune at 24 Virgo.
Between 27th December 2020 and 25th January 2021, President Donald Trump and First Lady Melania Trump will be at the heart of deep, new, serious questions about the state of the nation's mental health, no matter if the issue is depression, bipolar disorder, anxiety or memory loss. We have all been so concerned about the virus, haven't we, but the mutable weather (Gemini, Pisces and Sagittarius transits, triggered Virgo in the American chart) tells us, this is about the mind.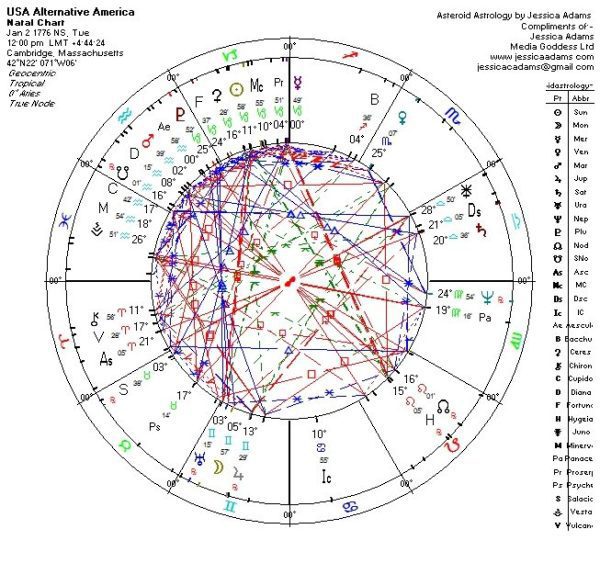 Other Notes From the Talk
I mentioned John Lempriere's Classical Dictionary of Mythology was free online. It's the best go-to source if you are searching for the meaning of planets and asteroids in the chart. You can download it here, as copyright expired and Harvard among others have kindly donated their copy.
The United Kingdom and USA – and 'The New Local'
We were also talking about how the United Kingdom of Great Britain and Northern Ireland would split up into the old four nations, in order to aim for elimination of COVID-19. This is 'the new local' thinking about life. The North Node in Gemini in 2020, 2021 and Uranus in Gemini, from 2026, will end globalisation and start a new way of thinking. Call it neighbourhood, suburb, village, town or community, but it's coming.
Copying Australia and New Zealand
Australia, New Zealand and Taiwan will become models for new COVID-19 management systems as each country adapts their template to suit local conditions. Within the United States of America, I believe Hawaii will lobby the new White House for rights to shut her borders and go for elimination, with a view to opening up a bridge and bubble with New Zealand. We may well see New York and California following suit.
I feel very lucky to be in Tasmania, Australia, where we eliminated the virus (zero new cases for over 28 days) well over two months ago now. It was great speaking to you all over the world, from there, at Breaking Down the Borders and I hope you enjoyed it. I can answer any more questions you have @jessicacadams.
Resources and Contacts
Astrology can really help, but only so far. If you, or anyone you know, needs to call a helpline, to talk to someone who can listen, in confidence – please do call The Samaritans in your country.
The USA contact for The Samaritans is here.