If you have more than three factors in Taurus and/or Scorpio, then money, property, charity, business, shopping or collecting is a major part of your life. It describes who you are.
You may be a Socialist or Communist. You can have issues about capitalism, or love it, with these signs dominant in your chart. Yet – money, one way or another, will guide your life, no matter if you work on Wall Street, deeply love shopping – or you give it all away to charity.
Audrey Hepburn was a strongly Taurus-Scorpio woman. She was the Goodwill Ambassador for UNICEF who inspired generous global fundraising for children in developing countries – but also wore Givenchy. Her most famous film is about Tiffany's on Fifth Avenue. Around one third of her entire chart was about money, property, charity, business and possessions.
Taurus factors in your chart show your personal value system. What you don't mind selling your soul for – or what you absolutely refuse to waver over. Taurus describes what you put the highest price on. Diamonds or precious principles?
Scorpio is about all of the above, but heavily involving other people or large organisations, like tax departments. It's about the mortgage you split with your partner and owe to the bank. It's about your life insurance. It's about the legacy you leave to your children, or a charity. Deadly serious financial agreements or sexually powerful property arrangements are Scorpio's domain.
Wall Street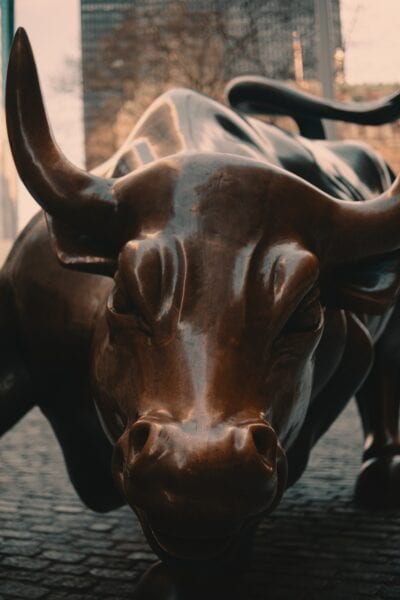 Both Wall Street crashes showed patterns at 12 degrees of Taurus and Scorpio. Why? Because all kinds of money were affected. From the kind tied up in skyscrapers and banks, to the kind husbands and wives fight over, in bed.
The Wall Street Crash of October 24th, 1929, set for 00.00am in London, shows Chiron at 12 Taurus, the North Node at 12 Taurus and South Node at 12 Scorpio. Very close by, were Salacia at 11 Scorpio and Mars at 11 Scorpio.
The Wall Street Crash of 1987 on October 19th, 1987, set for 00.00am in London shows Mercury at 12 Scorpio, in the same sign, at the same number (degree). The odds of that are remarkable.
2018
Olga Morales from the C*I*A* (no, not that CIA) is the expert on financial astrology. She bases her work on Mr. Gann, the mysterious astrologer and financial whizz who disguised his cunning Wall Street techniques in a novel.
I have no interest in playing the share market, but I am fascinated by transits through Taurus (bull markets, bullion) and Scorpio (mortgages and other sexually intimate or deadly serious deals). Astrology says, 'Look at values.'
See what happened to our values – specifically Communism and Capitalism – when Uranus moved to 0 Taurus between May 16th and June 4th, 2018. This is where the True South Node and Saturn stood at the start of World War Two. The wheel of karma in the world economy will revolve. This is about debt.
We saw radical change for world currencies, banks, taxation and economic systems like Communism. Why? Uranus made a historic move into Taurus, the cash sign, on May 16th, 2018. We were set free from old financial or economic systems that trapped us. The planet will be shocked into a new way of operating.
Uranus describes the revolution that sets people free from who/what restricts them or even utterly denies their own right to live their lives.
You don't have to be a genius to figure out that the biggest restriction of all is debt. Who and what keeps you in debt? That is where the revolution unfolded from 2018 onwards.
Jupiter, the planet of opportunity, solutions, growth, hope and optimism was in Scorpio, the sign ruling marriage and mortgage mashups – in 2018. Many of you reading this now were born with an outer planet, like Neptune, in Scorpio. Entire generations of people in 2018 stand to gain from what goes down with the banks and our world economies, from May. Your financial holiday from reality will be complete. Just make sure that when you float off in the big bubble, you come back later.
The Taurus/Scorpio in your chart tells you the 'what' of your money story and the actual horoscope factors give you the 'how' and 'why.'

Richard Branson
Virgin boss Richard Branson was born on July 18th, 1950 at 7.00am in Blackheath, England. He has Vesta at 10 Taurus. She is the asteroid we associate with vestal virgins.
In Ancient Rome, they lived in an all-female community with a male uber-boss, the Pontifex Maximus. Vesta is always about gender politics. Vesta in Taurus commonly describes businesses with one man, being the boss of two or more women. Sometimes the issue is a family where one man has a wife, ex-wife and three daughters and he controls the cash. You get the picture!
No wonder Branson has done so well with the airline industry, where male pilots in their cockpits are outnumbered by female flight-attendants.
On average, Richard Branson should have no more than 2-3 factors in Taurus. He has four. Check the personal birth charts of the biggest business brains, breadheads or charity donors you know. Taurus and Scorpio will rule, by stellium or exact aspect. The nature of the horoscope factors involved will fill out the picture.
When there are stelliums moving through Scorpio and Taurus (transits) and they cross your own stelliums in Scorpio or Taurus, it's make-or-break time for your money. My website will give you the lowdown whenever this occurs.
Did you have a hard time financially from 2012-2015? Saturn (serious, stuck, slow) was in Scorpio, so this planet may have impacted your own Scorpio factors, which are about deadly serious financial agreements or sexually intimate property arrangements.
Horse Racing
I love Phar Lap. He's totally stuffed these days, of course, but the greatest horse Australia ever knew, is still standing proud and tall in Melbourne.
Some astrologers I know have won the Grand National using horoscopes (I'm looking at you, Julian 'Giddy Up' Venables).
The only problem is, if there was a successful formula for winning horse races, then the entire world economy would have collapsed last century.
It's a bit like betting on the football. If there was some amazing astrological secret that guaranteed a win, don't you think capitalism would have imploded?
Success on the track is a glorious one-off. It's all down to the basic rules of astrology. What we do is alchemy! It's chemistry. You need to line up the charts of everyone involved, along with the transits on the day. For all I know, that also means the jockey's mother and the horse's aunt.
The rules of astrology also tell us a fairly predictable truth – that if you want to win on the ponies, you need to be born with a fortunate Taurus/Second House pattern and/or Scorpio/Eighth House pattern. That's where the cash is.
My predecessor at The Australian Women's Weekly, dapper astrologer Richard Sterling, had a huge fan base because of his horse racing knowledge.
Richard published a book where he wrote a list of all the key words associated with the planets, so that if a particular planet was prominent on Melbourne Cup day, you could find a horse with a related name and try your luck.
I really miss Richard Sterling. He was an amazing astrologer with a truly exceptional moustache.
Some people have unlucky charts. They have Saturn in the Second House or Eighth House. They were born with Mercury Retrograde in the Second House square Neptune, so they think they're having a psychic hunch about the race, when they're actually just a bit drunk. Then they lose their ticket and fall over, so it doesn't matter anyway.
Property
Money is property – and property is money. The Fourth House and Cancer rule your house, apartment, holiday home, land, caravan or castle. Patterns there in your birth chart tell you the story. When those patterns are triggered, you have some choices to make.
When should you renovate or move to a new house? First of all, try not to do it on Mercury Retrograde, and include the shadows too. If you can move or fix your place at any time, better to be safe than sorry, as there are often chain-reactions of chaos locally, or across your country, at these times which end up getting you where you live. I would also look at Mars Retrograde. Too much backwards action, out there, having a domino effect on your builder.
I'll give you an example. When politicians call an election on Mercury Retrograde or actually vote on that cycle they end up with a hung parliament, or nobody knows the results for a week. This sends everything into a spin and the domino effect may click all the way down, to your real estate agent or the man with the jeans cleavage who is renovating your kitchen.
Look for useful transits to your Fourth House in the zodiac sign of Cancer, which rules your house, apartment, village, neighbourhood, city and so on. Mercury moving forward is a good one. The New Moon is generally great. You can read the lowdown on all the horoscope factors elsewhere in this book. My website will give you exact timings watch the position of the heavenly bodies there, as they go through the signs.
If you have difficult placements or aspects in Cancer in your Fourth House then be wise and avoid cycles like Mars in Cancer, to move. He'll just sit on your stuff and turn up the heat. I'm sure you'd rather move at a less stressful time. What do I mean by 'difficult'? Typically squares and oppositions, so you may have stuff in Cancer which is clashing with Libra, Aries or Capricorn elements in your scope. If Mars comes along and triggers that, you may end up sitting on a packing crate drinking gin, naked.
Who is most drawn to property investment? There is a relationship between Cancer (the Fourth House of property) and also Taurus (the Second House of cash) and Scorpio (the Eighth House of serious finance) in your chart. Horoscope factors in two or three of those, especially if they aspect each other, will make you a natural DIY real estate queen or king.
Edited extract from 2020 Astrology: Your Five-Year Horoscope Guide by Jessica Adams.
All Images Courtesy of Unplash.com.