Astrology and the Australian Election 2022
The current Prime Minister of Australia, Scott Morrison, has chosen an unhelpful date for the 2022 election. The astrology of the 2022 Australian election shows delayed results, reshuffles during the campaign as well as post election, wrong calls by the media and a high chance of a hung parliament.
Hung Parliaments in Astrology
We are seeing Mercury Retrograde and other factors, on the May 21st election, which we saw on the two previous hung parliaments. In a moment I will look at the Tarot as well as the astrology – it may be that Treasurer Josh Frydenberg risks losing his seat. This looks like an election upset, according to the heavens.
Shocks and Cover-Ups
We'll see some shocks involving Taurus Prime Minister Scott Morrison, Scorpio former Prime Ministers Malcolm Turnbull and Tony Abbott, in May. These will fracture the Liberal and National Party. Watch Thursday 5th May for sudden storms. There is also direct karma for all three men, on Friday 13th May (yes, that is the correct date) going back to September 2003.
Latest Final Results by June 14th
Results in some seats or with some candidates may be as late as Tuesday 14th June. That is the final day of the Mercury Retrograde loop, which begins at the end of April. And it's all thanks to Mercury Retrograde. When life goes backwards. Mercury Retrograde can result in legal battles after the votes are in. We've seen that in American elections, like Bush/Gore. We also saw it with Donald Trump. Remember the never-ending recounts even though Biden won a landslide?
The Financial Review reports that 'deal by deal' chaos is Prime Minister Scott Morrison's fear. This sounds exactly like the Mercury Retrograde in Taurus cycle we are about to experience. Mercury rules negotiations. Taurus rules deals. Mercury going backwards and forwards sounds like a lot of bargaining (below). I think we're also going to see basic computer and postal problems, because for some of this time, Mercury will also be stuck in Gemini, which rules information flow.
Vote Recounts on Mercury Retrograde
Scott Morrison has chosen polling day as Saturday 21st May 2022 and we're in for some serious flux. The astrology of this election in Australia shows recounts, retracted statements and reversals. We may see resignations. 2022 is an exact mirror of 2010, when Prime Minister Julia Gillard was up against Tony Abbott and it took 17 days for Australian voters to see a final, hung parliament. Gillard tells the tale well in My Story. The astrology of 21st August 2010 is told well by astrology, too.
That was when we saw Mercury Retrograde and Jupiter in Aries for the first time in 12 years. On 21st May 2022, we will once again see Mercury Retrograde and Jupiter in Aries for the first time in 12 years. It's a literal repeat. Same skies.
The Albanese and Morrison Natal Charts
In a word, we don't have charts for Albanese or Morrison, to help make a prediction. Astrologers are still waiting to see birth times from either politician. The Morrison chart is rated X so we can't use it.
I have gone as far as I can with the Anthony Albanese astrology chart here – with no birth time. We can see some truths about Albanese, without a time. He's an innovator. He prefers the new to the old. What is unique about this weird repeat of the Julia Gillard and Tony Abbott contest in 2010 suggests voters want Greens and independents to speak for them – not just the two-party system with two men at the top. I'll explain the astrology of that next.
The Simple Astrology
The winning Prime Minister and government, including any powerful independents on the cross-bench, will spend the first full year in power, under Pluto in Aquarius. You've not seen that in your lifetime.
Pluto shows us who/what is in control. This is the diverse group, not the elite. It's not the usual two party system dominated by powerful, rich, white men. This new future begins in March 2023 and Aquarius has always been about minorities.
How Generation Aquarius Rocks the Vote – Aged 18 to 24
Generation Aquarius, born with Uranus or Neptune in Aquarius, are voting for the first time. More than half of the 700,000 new enrolments to the Australian Electoral Commission were from 18-24 year olds. They were born 1998 to 2004. Now, according to the ABC's Vote Compass, 38 per cent of 18-29 year-olds nominated climate change as their most important issue. That is going to have a massive impact on voting day, with Aquarius weather dominating the heavens. Generation Potter
Younger Millennials, Gen Aqua, are Generation TikTok. This is Generation Potter. They vote with their friends or their tribe. And Generation Teletubbies, too: the group of all colours. They have no natural respect for the people at the top (men in suits) or the idea of authority figures who must run the world. They're about unions not corporations. Gen Aqua turn out to protest marches on Climate Emergency even though they are still in their teens.
Alternative names for this group are Generation We and also the Net Generation. These people are into brotherhood and sisterhood, regardless of age, gender, race, nationality, class, religion and other classifications. If you really want to get inside the head of the tweenagers born with this unique Aquarius pattern in their personal horoscopes, just watch their favourite childhood show, Teletubbies. Tinky Winky carries a red handbag and at one point, believe it or not, was outed as gay. Generation Aquarius really doesn't care if you're gay, straight, lesbian, transgender and will vote strongly against sexism, and against homophobia. There are 350,000 people in this generation ready to vote, and we've not seen that before. Shockwaves.
Independents' Day and Independence Day
Incredibly, just one woman in Australia (and her local volunteers) could see the Liberal government treasurer, Josh Frydenberg, lose his seat. Her name is Dr. Monique Ryan and she is standing in Kooyong. Frydenberg recently made headlines when Guide Dogs Australia was unwillingly dragged into his campaign. Questions of integrity arose.
The Sydney Morning Herald's David Crowe wrote, "Scott Morrison's refusal to commit to an integrity commission with teeth could easily come back to haunt him in a hung parliament."
In America, they have hanging chads on Mercury Retrograde elections. In Australia, we have hung parliaments and are often left hanging in suspense for final results in seats where the votes are close.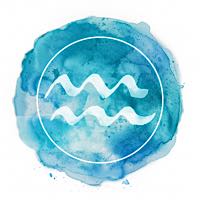 Teal Independents and Aquarius Weather
Often using teal, or turquoise, high-profile independent candidates running in wealthy Liberal seats, such as Allegra Spender in Wentworth, Kylea Tink in North Sydney and Zoe Daniel in Goldstein are using Aquarius colours (left). This is really interesting, given the wave of Aquarius weather on election day. Aqua is the Aquarius colour. Now, that's synchronicity.
What the 2010 Hung Parliament Achieved
In a moment I'll look at the other Mercury Retrograde election, back on 21st September 1940 when Australians waited weeks to discover who would lead them.
Yet, even though these elections bring flux, hung parliaments can be productive.
The Julia Gillard years delivered – The national broadband network, Gonski school funding, a means test on the health insurance rebate, paid parental leave, a plan for the Murray-Darling basin, plain packaging for cigarettes, a carbon price, education reform, children's dental care, the national disability insurance scheme and the Royal Commission into Institutional Responses to Child Sexual Abuse.
Jupiter in Aries – Here Come the Independents
One very good reason for the likelihood of a 2022 hung parliament is the rise of women independents.
Aries is the sign of the solo operator and self-promoter, and here we have Jupiter (which always expands whatever it touches) in Aries for the first time in 12 years, just as it was back in 2010 when it was lone operators – independent candidates – who held the keys.
Pluto in Aquarius is Calling Australia
So what is this Aquarius weather? Aquarius as a sign, was defined way back in 1971 by the American astrologer, Rex E. Bills in The Rulership Book (American Federation of Astrologers, Arizona).
This is interesting because it was published over 50 years ago and outside Australia. Thus, using Bill's keywords from 1971 we find that Pluto in Aquarius from 2023 is power through:
Electrical manufacturers and dealers (like the Elon Musk car company Tesla)
Labor organisations
Progressives
Rebels
Reformers
Senators
What to Watch in Astrology for Election 2022
This is a Mercury Retrograde election like no other. Postal and early voting will surge, because people want to avoid COVID-19 infection in long queues. Mercury turns Retrograde Shadow on Saturday 30th April and turns retrograde on Tuesday 10th May. The chaos will be notable in that period.
Postal votes are particularly delayed, in April and May, because Mercury rules the mail. This is also when opinion polls will begin to show the wrong results, as we'll discover later. Mercury rules all messages, so advertising and form-filling. Posters and pamphlets, websites and Twitter accounts. Mercury Retrograde in Gemini, which rules communication, may see television coverage affected. Newspapers may go out with the wrong cover. Be wary of wrong calls by pundits.
Never trust opinion polls on this cycle. Be aware of the large number of first-time voters, too. We may see a high number of informal or invalid votes. More Mercury Retrograde.
Donald Trump, Mike Pence and Mercury Retrograde Elections
The most famous recent example of a Mercury Retrograde election was Donald Trump's failed bid for presidency against Joe Biden, with Mike Pence. Remember the victory speech that wasn't?
Voter Registration – Generation Aquarius
As 18-year-olds born in 2004, every new voter in this election was born with Neptune in Aquarius. They are far more likely to vote with their friends, and to vote for politicians who respect diversity. So – women – in particular.

Mercury Retrograde is notorious for extreme weather (floods) and also strike action (affecting transport and travel) but also hacking (computers) and power outages.
This may also play a part in what is going to be a chaotic election. We may see a new COVID-19 outbreak, which would fit with the usual Mercury Retrograde chaos.
Independents' Day
Green and Independent votes may see a hung parliament as we saw on the same astrological cycle, back in 2010. Australian election astrology predictions in 2022 may mirror 2010.
Many more independents, women and/or Greens on the crossbench, for years into the future, seems likely, given what we are seeing from March 24th, 2023, until January 19th, 2044, throughout this entire Pluto in Aquarius cycle.
Will 1940 Repeat Itself?
Will 1940 repeat itself? This is the other famous hung parliament apart from the PM Julia Gillard election.
Well, in the year 2022, Uranus is in Taurus. That's uncanny. That also happened in 1940 and it's rare. Uranus has not been in Taurus since the war. What does it show? A revolution in the economy. It also shows a revolution against the economy.
Back in August 1940, Mercury was on a retrograde loop in the zodiac signs Leo and Cancer. The election was called on 20th August, for a vote on 21st September 1940, so it was announced very close to the end of the loop. It took five weeks for Australians to find out where they stood. This timing is really similar in 2022. We will wait weeks for some seats to be declared final.
Endless Negotiation
Remember Julia Gillard, Tony Abbott and the deal-making with the Greens and Independents? That took 17 days of Mercury Retrograde bargaining.
Leaders and Stop-Start Astrology
One possible outcome is a Labor loss, in Australia, but a mutiny against Scott Morrison by his own party, so we end up with a new Prime Minister (not Scott) – but also a hung parliament.
Another outcome on a Mercury Retrograde 'result' is that Australia votes for PM Albanese, but he does not see out the full term of leadership. We have to be honest about these classic astrological outcomes on this cycle. We've seen them before.
Ignore the Polls on Mercury Retrograde
People are going to change their minds on this election. Mercury rules words. Retrograde is going back. People will go back on their word – what they tell pollsters on the telephone – so do not trust what you are reading or hearing.
People will change their minds, actually in the voting booth. We are very likely to see issues with mobile phones in general, too, as well as social media.
Swinging Voters and the Aquarius Mood on Election Day
We judge the mood of swinging voters, who have not made up their minds, by the dominant signs on the day. What is the mood, the emotional weather? We have a stellium in Aquarius on the day.
This is very important with the age of the voting population then: Generation Aquarius, born between January 30th , 1998 and December 30th , 2003 with both Uranus and Neptune in Aquarius, will be as their most 'Aquarian' when they come to vote. These voters aged 19 to 24 (Millennials) are the future. Why? Pluto goes into Aquarius from March 2023. They slowly start to find their power.
The Aquarian Trends on Voting Day
My friend, the bestselling novelist Tara Moss (left) is a good person to follow @Tara_Moss, if you are interested in activists in Australia, this election.
As a spokesperson for people living with disability, she's been vocal about Scott Morrison's comments about that issue, made during the Sky Leaders' Debate and his notorious "blessed" comment about his daughters.
We have heavily Aquarian weather on voting day, which is never about the mainstream, the norm, the majority or the average. It is always about the group of unique individuals, each with equal power.
It's always really interesting to watch the media try to put their chosen issues on the front page, or at the front of the news – then see the astrology.
In April and May 2022 the astrology is saying 'Forget that, this is Aquarius Weather' and that is going to make issues like disability, for example, front-and-centre. Aquarius also rules charities. People power for a cause. And it rules feminism.
In a moment I'll talk about a very peculiar Tarot card reading that turned up when I published these predictions and why I believe that the Treasurer Josh Frydenberg may lose his seat because of his behaviour over charities.
The Aquarius Patterns on Voting Day 2022
Here is the line-up in Aquarius on voting day. It's a stellium. An unusually high cluster of factors in just one sign.
Moon in Aquarius
Saturn in Aquarius
Vesta in Aquarius
IC (Immum Coeli) in Aquarius
Bacchus in Aquarius
Aquarius is about diversity and equality, pooling resources, shared power within a group of unique individuals, among whom are minorities. That's really lesbian Penny Wong in the Labor leadership isn't it, just for a start. And what about the transgender athlete issue, in Sydney, the gay activist capital of Australia?
Women Holding the Balance of Power
Most new independent candidates in Australia for this election are women. Aquarius rules feminism. Uranus, the planet ruling Aquarius, is also associated with independence/independents.
The other big concern in 2022 is Climate Emergency. How interesting that Aquarius has long been associated with 'electrical inventions' – like the electric car. That is an old key word associated with the sign since last century.
Electric cars? Judging by the lack of action on that on the streets to date, it's not Barnaby Joyce and it's not Scott Morrison.
What the Tarot Says About the Australian Election 2022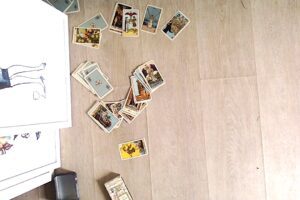 I knocked my Smith-Waite Tarot deck over when I was writing this feature. The cards fell in a pattern on my office floor, so I'll read it. It shows the chaos of this election. None of the cards landed upright. They are all sideways, or spinning. Australia 'lands' in quite a random state.
I can see Brittany Higgins here, as I publish this on the 21st of April. There she is, twice, in her famous white outfit. Can you see her? She's important, at the top of the spill.
You can see The Fool, falling out of the picture, down the bottom. Who or what is The Fool to you? He's leaving the scene. The other curious thing about the way the cards fell? This looks like an outline of the state of South Australia.
The Falling Fool in the Tarot and the Dog
The Fool is shown here, the right way up, enlarged, for you to interpret. I find the little white dog very interesting. Perhaps the Treasurer, Josh Frydenberg, really was foolish to try and use the charity Guide Dogs Victoria (without their knowledge, they say) to help advertise himself in the 2022 election. In fact it was one of several causes or charities, including the scouts. Many of you are natural or professional psychics, I know. What do you see in The Fool?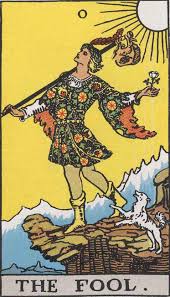 The Astrology of the Australian Election 2022 – Horoscope for May 21st
This is set for 6.00pm in Canberra, the capital, at the close of polls on 21st May 2022. This uses the Natural House System and modern astrology, from our Family and Friends software, on this website. (Main Image: Cyrus Crossan, Unsplash).