The New COVID-19 Variants 2023-2026
I have had a lot of questions about COVID-19 in 2023, 2024, 2025 and 2026 from those of you who understand astrology and are very concerned. You know that the worst is yet to come. Correct. The world will be temporarily closed again.
The astrology is clear that new and yet-to-come variants are not stopped by vaccination or a previous infection. Here are the most recent TIME magazine reports
The Solution and the Crisis of March 2023
Although I am calling a 3-4 year health crisis for March 2023, though, that same month – there will also be solutions. I am not paid by Philips and I am not an influencer.
When the people who make my electric toothbrushes (and global hospital equipment) sell a unit that kills Delta and Omicron Covid, though, I need to pass that information on.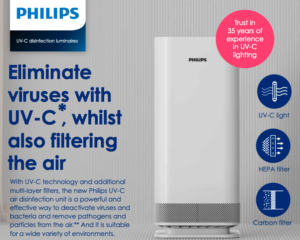 The Solution is UV-C Light
The solution for COVID or SARS-COV-2 is Ultraviolet light. The astrology suggests Philips is just the first mainstream company through the door.
Safe UV light eliminates Covid in the air, safely, and plugs into the wall. It gives hope to the 30% of Americans who have long-haul Covid symptoms, now affecting as many as 23 million people, according to the U.S. Department of Health and Human Services. We are moving into Pluto in Aquarius, an air sign, in March 2023. That's historic. Philips are producing upper air lighting, called luminaires. They're promoting the safe Ultraviolet lights as 'Breathing space.' More air!
Vaccines in Astrology
As NBC and other media recently confirmed, vaccines do not protect you against Long Covid. We know vaccines 'produce immunity against a disease' (the Oxford English Dictionary definition). However, as President Biden proves, vaccines do not stop infection and transmission. Or harmful after-effects. There never was a silver bullet.
The pandemic led Philips to develop UV-C lights. Their tests show a 99% reduction in SARS-COV-2 after 90 minutes in a test chamber. And not only that. Flu and staph as well. Read a user manual here.
From Taiwan Restaurants to British Rugby – UV Power
Taiwan's TTFB restaurant chain (80 branches) is fitted out with UVC light. Harlequins Rugby Club in Britain are fitted out with Philips UV-C. This may be why.
On 11th March 2021 the Philips (Signify) UVCA110 Air Disinfection device reduced SARS-CoV-2 at 99.99% in 45 minutes. It's also branded as Ecolink, Fail-Safe, Alkco, Mazda, Pila and Iris Ohyama Inc. See the science here.
Find out more about Philips and their home and office UVC units at Philips Australia Find out more in America here. Start here in the UK . Go here in Hong Kong and over here in New Zealand.
Astrology's Track Record With Pandemics
If you're joining me late on this website, I predicted a virus twice in 2019, date-stamped it to January 10th 2020 (the day the first man died, in China) and again to the first half of March 2020 (when the W.H.O. declared a pandemic). The Daily Mail featured my two predictions in a front-page story in October 2020. China was in the prediction.
Long Covid is a reality that people that people are denying, ignoring or downplaying. This is what concerns me about March 2023. When Saturn goes into Pisces and begins opposing the Virgo and Sixth House (health) factors of billions, for 3-4 years, that's either a Long Covid crisis, or a new variant which may mean an increase in hospitalisation and death because the last vaccinations do not protect against it.
Watching 7th and 8th March 2023
So here's my prediction.
The W.H.O. will privately or perhaps publicly confirm a new COVID-19 variant of concern close to Tuesday 7th March 2023, according to the astrology.
They will either know about the new mutation and not announce it until then, or will arrive very quickly, close to Tuesday 7th March next year (I am publishing this on 3rd December, 2022). The other obvious issue with the Saturn ingress of 7th, 8th March 2023 is a huge outbreak of Covid, for reasons we do not yet know.
It is possible that variants we already know are bypassing vaccination or prior infection just explode in March 2023. Professor Paul Bieniasz at Rockefeller University and researchers at Columbia University already confirm BA4 and BA5 Covid are defeating vaccines and even previous cases of Covid.
The Full Moon in Virgo on 7th March 2023
We have a Full Moon in Virgo on 7th March 2023. Virgo rules health as I've mentioned. On Wednesday 8th March, the following day, Saturn (tests, trials) enters Pisces, opposing Virgo factors in the charts of billions. Maybe you too.
Saturn leaves Aquarius that month too. Pluto enters Aquarius. From March 24th 2023, there is real power in a group. Historic power. This suggests that trade unions and professional associations will push employers and politicians to pay for building refitting with UV-C light, or the Philips units.
Astrology Predicts UV-C is the Covid Answer
Pluto in Aquarius arrives in March 2023, for the first time in 248 years or so – and the clue about Ultraviolet light and Covid – is in the Aquarius star constellation. Look at the centre of this photograph. This is classic astrology. Synchronicity.
A dying star in the constellation of Aquarius has been emitting intense ultraviolet radiation already. It's the Helix nebula. You can read more about this incredible aspect of Aquarius at NASA.
Saturn in Pisces in Opposition to Virgo Factors
This is a long Saturn opposition to Virgo factors in billions of charts and may indicate repeated infection of COVID-19. The Guardian reported on June 14th 2022 that there is no immune boost at all from having had Covid the first time around. This may be the Long Covid reality, for those who have the virus for the second, third or fourth time. It's good to know you don't even have to get it the first time, though. And UV light is not only proven against SARS-COV-2, but the flu as well.
Long Covid (currently affecting one in five people who have had the illness, according to The New York Times) has a major Virgo signal, because Virgo and the Sixth House rules work and study, as well as wellbeing. Long Covid disrupts that.
The Proof From Astrology
The last time we saw Saturn in Pisces opposing the Virgo factors of billions, just as we are going to from March 2023, we saw HIV-AIDS became the biggest killer of Americans in their twenties, thirties and forties – well above heart disease and cancer. It seems likely that SARS-COV-2 as we also know Covid, will repeat this in 2023-2026. Same cycle.
AIDS and Saturn in Pisces – Same Cycle
You can see proof of the Saturn in Pisces cycle, below (Data/Image: Wikipedia, US National Centre for Health Statistics).
This is what happened in America when there were billions more people than usual, with Virgo factors in the Sixth House of their astrological charts (the health house) – and they were hit by an opposition from transiting Saturn in 1993, 1994, 1995, 1996.
This was an AIDS deaths peak. There never was a cure for AIDS. There never has been a cure for COVID-19. Same cycles. Look at the red line, below, spiking just as Saturn in Pisces, opposite Virgo, was also peaking.
When we last saw the same cycle we are about to begin, in March 2023, AIDS was the biggest killer of Americans aged 25 to 44, according to The New York Times.

The Challenge to Change – Virgo Factors
If you have Virgo factors in your natal chart, your challenge to change, is now. Perhaps you have already changed your lifestyle to deal with COVID-19. You will need to change again from March 2023, through early 2026.
Lessons From The Black Death
Even in a far smaller world, with far less people, The Black Death of the 1300's remains the biggest depopulation virus in history. It has a lot to teach us now.
When we look at all those people who were born in the 1300's and died in the 1300s, we find they arrived with Pluto in Pisces. Neptune in Sagittarius. Uranus in Sagittarius and Pisces. Sagittarius always has, always will, rule foreign travel. We are in uncannily similar cycles now – since 2020 in fact.
We now know the Black Death began in North Kyrgyzstan in the late 1330's. The plague began on The Silk Road. It's the travel that makes epidemics, pandemics. The University of Stirling, Scotland, confirms what the astrology showed then.
The People of 1710-1717 and Uranus and Pluto in Virgo
People who were born from 1710 to 1717 with Uranus and Pluto in Virgo, are very similar to people today, especially those in their fifties, born in the 1960's.
That generation in 1710-1712 also went through two Saturn in Pisces oppositions, to their natal Uranus and Pluto in Virgo, from 1729 to 1731 and again from 1758 to 1761.
Measles and plague afflicted them, with huge outbreaks worldwide. But just as our generation has found an answer for COVID-19 in the new UV-C light – their generation also began the cure for smallpox.
The End of Old-Style Travel From 2026
From 2026, when Uranus goes into Gemini and opposes the Sagittarius (foreign travel) placements of billions, flying and cruising as we know it now, will end. It has to. Canada has produced the world's most thorough investigation into the problem with air travel and COVID-19.
As Slate reports, when flying, "You need to get to the airplane, and many spaces, like crowded boarding areas, don't have great ventilation. Also, filtration systems are not turned on during the boarding process."
The Smithsonian reports the case of a COVID-19 outbreak flight which stopped to refuel in Kuala Lumpur, Malaysia, when the air filtration system was turned off for 30 minutes. Just one passenger infected four more. That way of flying is over.
Check 2020-2021 for Future Class Actions
In the future people will take class action lawsuits out against airlines, cruise ship companies, airports and other branches of tourism and travel industry. They may relate to these astrological periods, when eclipses suggest a cover-up. There will be retrospective class actions as Uranus in Gemini triggers Sagittarius, from 2026 – about the years 2020, 2021.
June 5th 2020 – Full Moon Eclipse in Sagittarius opposite the Sun in Gemini.
November 30th 2020 – Full Moon Eclipse in Gemini opposite the Sun in Sagittarius.
December 14th 2020 – New Moon Eclipse in Sagittarius
May 26th 2021 – Full Moon Eclipse in Sagittarius opposite the Sun in Gemini
June 10th 2021 – New Moon eclipse in Gemini
December 4th 2021 – New Moon eclipse in Sagittarius
How People Power Conquers COVID-19 From March 2023
All these cycles are not just about a virus, they are about system change. To date, politicians and businessmen have forced infection upon us. That stops in March 2023 when Pluto (power) leaves Capricorn (the men at the top) and goes into Aquarius (people power, in the group). We are going to see more resignations and strike action until they pay for UV-C.
March 24th until June 11th 2023
January 22nd until September 2nd 2024.
November 20th 2024 until February 28th 2043
September 2nd 2043 until January 19th 2044
Your New UV Social Life is Your New Power
Pluto in Aquarius from March 2023, for around 20 years into the future, suggests it will be a UV-protected social life which is your/our new superpower. The 5-Point Cafe in Seattle is one of the very first cafes in the world to pioneer safe UV dining and drinking. Find out more at their excellent and informative website here (Illustration: The 5-Point Cafe).
The Conversation has an excellent story on why Ultraviolet 222 light works.

The Science Behind Your New Cafe or Bar
Researchers from Columbia University, the University of Leeds, the University of Dundee and the University of St. Andrews, tested what is known as Far-UV Light using five lamps in a room that was 10 by 13 feet. A bacteria was sprayed. The lamps killed 98% of the bacteria in five minutes. You can update yourself on the latest research at Nature.
Covid and Cigarette Smokers – Same, Same
We are now headed for an exact repetition of the cycle which saw cigarette companies go down, thanks to class action lawsuits – and it begins on January 12th 2025 and runs until July 27th 2026. There will be uncanny similarities between what happens to the corporate and political Covid killers and the old tobacco corporations, as the same cycle repeats.
In 1998, American states won a $246-billion payout from tobacco companies. The Master Settlement Agreement in that 1998 cycle ended the big cigarette cover-up.
The Nodes in Virgo and Pisces Again
In 1998 we found the North Node in Virgo and South Node in Pisces. We can now expect the North Node in Pisces and South Node in Virgo, from January 12th 2025 until July 27th 2026. I will be really interested to see who is sued.
The nodes show karma. It always has to be paid. Who is the Covid equivalent of the tobacco companies of 1998?
Individual legal action has just won on 22nd June 2022, as I update this feature today. Long Covid is real and the United Kingdom courts have ruled, it's disabling and you can sue your employer. One in seven children in Britain who became infected and ill, developed Long Covid, according to University College London and Public Health England.
The New Flights and the New Fuel
If enquiries into airlines and airports do indeed find that refuelling is behind COVID-19 infection on board, as happened on a documented Dubai-New Zealand flight – then that may hasten the replacement of kerosene planes. It seems very likely airports and airlines will have to pay to retro-fit UV lighting from 2026 when Uranus moves into Gemini.
Do You Have Uranus and Pluto in Virgo?
If you were born with Uranus and Pluto in Virgo, you are most affected by the opposition of transiting Saturn in Pisces, and then the opposition of the transiting North Node in Pisces You might say, your time has come. You are the cigarette lawsuit generation. You are the AIDS generation. You're here to turn this around.
If you are strongly Virgo with a Sixth House pattern in your chart, you may want to follow up this research.
Four Universities Prove Ultraviolet Light Works
Research from Columbia University, San Diego State University, the University of Leeds and Yamaguchi University.
The World Will Close Again
The world will close again from March 2023, in different places, at different times – as COVID-19 variants we know about, take over from March 2023, or a new variant, even replaces that.
We know China is already closed, as I update this prediction in December 2022. More countries and cities will also shut, in turn, as Saturn transits Pisces 2023-2026.
If you were born with Pluto and Uranus in Virgo, 1956 through 1972, you will be most affected by the new cycle. You also have the most to gain by taking back control from your employers and politicians, and creating your own revolution. Astrology is a strange thing. We're going into Pluto in Aquarius for the first time in 248 years in March 2023 and the Ultraviolet at the heart of the Aquarius constellation is showing us a solution. Now, we have to make it happen.
Pluto in Virgo
October 20th 1956 to January 15th 1957
August 19th 1957 to April 11th 1958
June 10th 1958 to October 5th 1971
April 17th 1972 to July 30th 1972
Uranus in Virgo
November 1st 1961 to January 10th 1962
August 10th 1962 to September 28th 1968
May 20th 1969 to June 24th 1969
Images: Daniel Schludi, Unsplash, Main Image: Edwin Hooper.