The Virgo New Moon
This is a misleading New Moon on Saturday 27th August 2022, so although it feels like a new beginning – it is the beginning of delays, reversals and cancellations.
If you have Virgo factors in your natal chart, in your Sixth House of health and wellbeing, you may want to see a different doctor, or start a dental treatment program.
You need to know that Mercury Retrograde in Virgo, at the same time as the New Moon, will produce waiting games, u-turns or dead ends. Basically, this is 'Spaghetti Season' as you loop the loop. At the end of this feature I'll wrap up the prediction for all 12 Sun Signs based on this New Moon.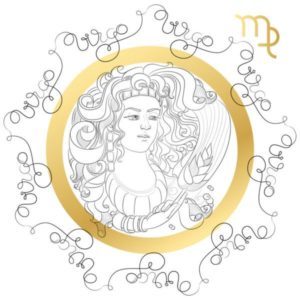 Mercury Retrograde in Virgo
The New Moon falls at 4 Virgo on Saturday 27th August and Mercury Retrograde started on Sunday 21st August. Mercury goes forwards, backwards and forwards again from Saturday 24th September until Monday 10th October.
Mercury is retrograde like this:
Virgo 24, 25, 26, 27, 28, 29
Virgo 29, 28, 27, 26, 25, 24
Virgo 24, 25, 26, 27, 28, 29
If you have factors at Virgo 24, 25, 26, 27, 28, 29 then you can expect the usual problems with clear communication, paperwork, your computer, the telephone, the internet, commuting, the post office and short journeys. It will be specifically in the context of your health, but also work, unpaid work or study. Virgo and the Sixth House rule all these things.
Pfizer and the Virgo New Moon
You can see this playing out in the massive new legal battle against Pfizer. In your own life, if you have Virgo factors, be cautious and have Plan B, C and D.
If your health, medical, diet, fitness, mental health or alternative therapies plans are long-term, be aware that Saturn will be in opposition to Virgo, from Pisces, beginning March 8th 2023, starting at 0 Pisces in opposition to factors at 0 Virgo, and remaining there until May 25th, 2025, when he passes 29 Pisces, opposite 29 Virgo.
This will only be an issue if your plans involve (say) medical insurance in a binding agreement now through 2025, or you are also thinking about other long-term commitments.
Best Wishes, The Virgo New Moon
If you have anything in your natal chart at 4 degrees, the Virgo New Moon will aspect that. A new beginning for other people, or a fresh start around you, will bring that story to life in a new way. So, best wishes from the Virgo New Moon.
So, you might have Jupiter at 4 Leo, and the New Moon at 4 Virgo may produce a pregnancy. You might have the Moon herself at 4 Aries and the New Moon at 4 Virgo will prompt a makeover.
What you set up on Saturday 27th August (allow a day either side for world time zone differences) is picked up beautifully by Jupiter at 4 Aries on September 17th to 24th and again by Jupiter at 4 Aries from Saturday 21st January 2023 until Wednesday 25th of January.
The Scramble of RETROGRADE
The story continues in a more fated way with the North Node at 4 Taurus and South Node at 4 Scorpio from the 8th March to 8th May 2023, so whatever planet, asteroid, angle or other factor you have at 4 degrees really is triggering a long episode.
The sign and house will give you the 'what' of the story and you can find out more about that in your library here, if you are a Premium Member.
This is a peculiar New Moon. It's misleading for many, but if you have anything at 4 degrees, of any sign, then it genuinely is a new beginning which will produce fantastic solutions or opportunities later. It's the scramble of RETROGRADE (like jumbled Scrabble) for most.
You can allow a degree, in modern astrology, so this also applies to factors at 3 and 5 degrees, as well as 4. Whatever aspects being made by the New Moon, then Jupiter, then the lunar nodes will also pick up your chart with a one-degree orb, so look closely.
Your Sun Sign and the Virgo Story
Astrology works on two levels. Public and private. I've talked about the private impact on you and your personal birth chart. What about your public life? The areas listed below will give you a fake fresh start on Saturday 27th August 2022 (allow a day either side) which will go backwards and forwards until Monday 10th October, because of Mercury. Remember – get everything in writing and have Plan B, C and D if you are unable to avoid going ahead with Mercury matters now.
The Virgo e-card pictured here is one of a range available to Premium Members.
ARIES: Health, mental health, wellbeing, fitness, food, drink, doctors, medication, healers, work, unpaid work, academia.
TAURUS: Courtship, heirs, pretenders and spares to the throne. Pregnancy, babies, infants, children, teenagers, Millennials.
GEMINI: House, apartment, garden, council, country, home town, homeland, government, family, household, ancestors.
CANCER: The internet, computers, the media, the post office, domestic flights, commuting, the post, publishing, education.
LEO: Money, houses, apartments, valuables, charity, sales, purchases, assets, inheritance, insurance, taxation, finances.
VIRGO: Image, profile, reputation, brand, appearance, packaging, presentation, publicity, self-promotion, name, title.
LIBRA: Religion, Tarot, mediumship, Buddhism, spirituality, therapy, counselling, hypnosis, self-help, dream coaching.
SCORPIO: Friends, clubs, teams, groups, charities, political parties, trade unions, Twitter, your social life, social circles.
SAGITTARIUS: Professional life, unpaid vocation, study, ambition, social climbing, status, position, mission, levelling up.
CAPRICORN: Foreigners, foreign countries and cities, translated publications and websites, academia with foreign students.
AQUARIUS: Financial and sexual relationships, marriage and mortgage, wills, legacies, inheritance, divorce, family money.
PISCES: Professional partnerships, sexual partnerships, marriage, divorce, separation, duets, duels, opponents, enemies.