The Tarot Can Change Your Past
Using the Smith-Waite Tarot, which is free on my website, you can change some chapters in your past. You can rewrite what you had always 'known' was true and change your present – and your future.
What if you've never known the truth about your past? It happens more often than you might think. Yet, if you never ask, you will never know.
I'll be looking at this phenomenon, with the Tarot Guild of Australia in a special live event on Zoom, on Saturday 3rd September 2022 from 1.30pm t0 3.30pm in Melbourne. You can book here.
Science and the Tarot
Dr. Peter Evans at the University of Queensland recently asked the question: what if events that happened in the past, could have been caused by events in the future?
He suggests the idea of letting go of our current view of the past as something we know everything about. Why not adopt a more flexible view of time? This brings me to a very strange time warp in your horoscope, known as Mercury Retrograde.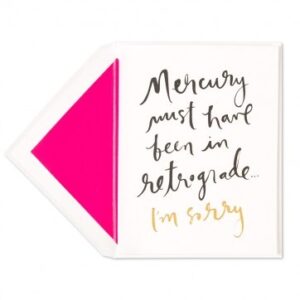 Retrocausality and Retrogrades
Retrocausality is the idea that the future 'causes' the past. So, for example, D-Day caused World War Two.
Science has no objection to that: after all, what we call time is just our human version of using clocks and calendars, pointing in one direction, for the sake of convenience.
There is no reason, say some scientists, why what happened in 1944 should not have caused what happened in 1939.
To give you another example, the house or apartment you are living in today, may have caused you to move, a few years ago. (Or a few months ago, depending on when you packed your bags).
Astrologers work with this idea all the time, because we own a book called an Ephemeris which shows horoscope factors from 2000 to 2050.
Flipping backwards and forwards we see the same planets and zodiac signs repeat, so we get quite used to the idea that 2050 is already causing 2022. It's like looking at a smoke trail. We can work backwards.
Mercury Retrograde and Changing the Past
In astrology, the "backwards" cycles of Mercury Retrograde are well known. So too is the rewinding cycle of Mars Retrograde. They are real-world, horoscope examples of what happens when life is on a loop.
I'm giving this Zoom event (and we are trying an experiment with time) in a month when Mars is retrograde and Mercury is retrograde, because I'm curious to see if people attending, can alter the past and see a different future. The weird 'backwards' movement of Mercury seems perfect to do this experiment.
We'll be using The Lovers card to do this, because most people have a sexual relationship in their past to work with. Mercury is retrograde in Libra, which rules love, sex, marriage, separation and divorce. So let's see what happens.
Cast yourself as one lover. Cast someone else as the other lover. I'll go into this more, at the end of this feature.
The Wild Card and the Tarot Cards
This is how one of the world's biggest names in physics explains 'the wild card' in time. This suits the Tarot nicely. Einstein was wrong!
Pamela Colman Smith's Clouds
Quantum Theory suggests life is only real when it's observed. Otherwise it's just a cloud of potential outcomes. Most people know about parallel universes, the Multiverse and The Observer Effect. Some scientists think "shut up and calculate" is the only way to deal with quantum weirdness. They rather arrogantly describe Tarot readers who look at quantum as 'woo.'
Perhaps they should get a reading some time!
Some Rules of the Game
You can't change what already happened, as a physical event. You can't have contradiction. If you are divorced, you can't go back in time to your wedding day, and stop it from happening. Yet, there certainly some things about the past that you can change from the present. At the end of this feature you'll experiment with time. This feature in Psychology Today may help explain more, too.
Classic Outcomes of the Game
A classic outcome of the game is that a 'lost' letter or 'forgotten' photograph turns up hours, or days, after you have sent a message back to yourself, in time. You've created a loop! Or – someone gets in touch unexpectedly, about a matter from the past you had not been aware of, or had forgotten.
Nothing is Real Until You Observe It
At the tiniest level of reality, nothing is actually there, until you look. Until you observe. If you never, ever observe – life goes on being a mish-mash of 'realities', plural. This is exactly what happens in a Tarot reading.
Each of the 78 cards represents 78 parallel universes. You ask a question. You end up in one of them and not in the other 77. Why? Unlike most people, you chose to judge what was there.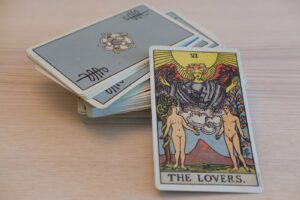 Waves, Particles, Clouds
Pamela Colman Smith, who created the Tarot on this website, did not know about Quantum Mechanics. Yet, Quantum Mechanics seemed to know about her. Her cards are full of clouds. Nice analogies for the cloudy nature of reality.
The cards are also full of waves – usually shown as water – but sometimes used to decorate armour or clothing. Her particles – dots – are also everywhere. Waves and particles seemed to find their way into her 1909 deck. There is an even stranger synchronicity than that, involving Schrodinger's Cat, which I'll explain in a moment. Here, above, you can see billowing clouds behind The Lovers, the card we will be experimenting with at the Tarot Guild of Australia event on 3rd September.
Naked and Upfront Lovers
The naked woman and man are upfront. Behind them are clouds of mystery. If this is a previous relationship or marriage, what did you not know? What did you not see? Assuming you are the lover on the left or right, who is the other person, and what was behind a smokescreen or heavy fog, in the background?
Using another Tarot card you can uncover the clouds in Pamela's cards. You will change what you assume is the past. You will be acting in the future (years after the relationship or marriage) to alter what was. And that could have really interesting repercussions in just a few minutes from now. It's all possible.
Pamela Colman Smith and Schrodinger's Cat
Pamela was a channel. Perhaps the most successful channel of the 20th century. Her Smith-Waite deck, commissioned by Arthur E. Waite, her creative partner, has sold many millions of copies.
In 1909 when Pamela was illustrating the 78 cards of the Tarot for Arthur E. Waite and Rider Publishing, crucial theories about wave and particle reality were also being discovered.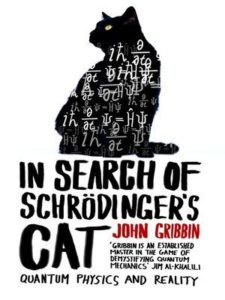 Your Past Is Not Necessarily Real – Until You Check
Your past is not necessarily real, until you observe it again. The Tarot is ideal for that. You have a lot of different stories in your past. You remember the scenes in your mind, the way you remember a film. What if there were scenes you had never seen?
Pamela illustrated a black cat in the Queen of Staves card. It had never been in her instructions from Arthur E. Waite. It is, however, the star of the most famous thought experiment in physics: Schrodinger's Cat.
This is the quantum reality black cat which is both alive and dead, in its box, until you open the lid and check. Then it becomes one or the other. If you never, ever look – the cat remains in two states. Or, if you prefer, the cat is in two parallel universes. One alive or one, dead.
What is even more intriguing about all this, is that Schrodinger lived a few doors down from Pamela's mentor in The Golden Dawn. The Nobel prize-winner, W.B. Yeats. Yeats owned a Tarot deck and used it regularly. They all lived in Merrion Square in Dublin. Across the square was the home of Oscar Wilde, whose wife Constance Wilde had also been in The Golden Dawn. A hotbed of synchronicity, mystery, Tarot and quantum reality.
Examples of Changing the Past
Here is a basic example of how the future changed the past, which happened to me a few days ago. It has nothing to do with Tarot but it shows how false the 'past' can be.
I've lived in the same beachside town for years. I've walked it maybe 1000 times. I've always known every trail and cove.
The other day something made me take the road less travelled. My dog stopped at a tree covering a hidden pathway. We walked for about half a mile and found a hidden white sand beach. It was stunning.
My past had been – the town without it. My present was – the town, very much with it. In seconds this simple fact changed my future. I had been considering moving. The secret, spectacular beach convinced me to stay. I'm still here.
Australia and Terra Nullius
Here's another example, again not using Tarot – but it works well to show retrocausality in the real world.
In 1992 it was proven that Eddie Mabo was right and Australia had never been Terra Nullius (nobody's land). It had always been Aboriginal – indigenous.
This is literally a case of Australian history changing in a day. All those history books we had at school (I certainly had them in Tasmania in the 1970s) were wrong. The past had not been the past. The future (1992) had just changed it. King George III and Captain Cook had no right to claim Australia. There was no January 26th Australia Day.
It had always been, and always would be, Aboriginal land. An incredible one day, one page, rewrite.
Azaria, Lindy and Michael Chamberlain
Here is a final example of why the future can change the past and I am going to use the Tarot to reveal it.
In 1986, British tourist David Brett was planning to climb Ayers Rock, now known as Uluru.
He tragically fell to his death and dingoes moved in. Police searching the area found dingo lairs near Brett's body – and – to the shock of every Australian – Azaria Chamberlain's missing matinee jacket.
32 years after many Australians had decided what the past was, it changed. Lindy Chamberlain had been in prison for three years, accused of her daughter's murder. Her husband Michael Chamberlain had also been jailed.
What was the past, had been a cloud of nothing. Lindy was given $1.3 million compensation and a new death certificate for the baby was issued. Again, in a day, a whole nation rewrote its past. The future had transformed, what was.
The Lovers Card and the Chamberlains
I thought I would show you The Lovers card again to reveal how Tarot works.
I have placed The Lovers card alongside the front cover of the book, The Chamberlain Case. You can immediately see Lindy as the woman, Michael as the man and – there is Uluru behind them.
Of course, Pamela Colman Smith illustrated this in 1909 and could not possibly have known anything about the Chamberlains. It is a tribute to her particular genius that here is a card which symbolically shows man, woman, and a big red rock. There will always be one of 78 Tarot cards which can be seen, psychically, to reflect a question. This is a classic example.
The Clouds and the Chamberlains
You can see the clouds behind the couple. As a Tarot reader, exploring the 'past' in this instance, you would be operating on the basis that so often, what we call The Past (as if it was real) is not real at all. You would be allowing for the future (yourself, now) to rewind but also change the film of the past.
The baby was taken by a dingo. Not her suffering parents. The clouds in the card cover up what really happened. And there were so many cover-ups. The dingo nobody ever saw was just one…
Try the Tarot Experiment for Yourself
If you are unable to attend the event on 3rd September 2022 with The Tarot Guild of Australia, you can always try The Lovers experiment with yourself. Follow the usual steps, detailed on my website and in your Tarot flipbooks in the Premium Member library.
Establish the present. Then, set an intention. Ask "How can I change my past in love relationships to be happier in the present and the future?" You are accepting that the clouds in The Lovers card are quantum in nature. One of many realities. You are going to work backwards to find out what is there, and thus alter your known world.
Quick Steps to (Possibly) Changing the Past
Choose a Tarot card to describe the present for yourself. If your life was a magazine what would be on the cover?
If this is accurate, you've tuned into Tarot Time. Proceed.
With The Lovers card on your desktop or in your hand (a physical card) focus on yourself as one of the lovers.
Identify the time in the past you want to change, for a happier and better present – and future.
Write a letter to yourself, as you were then. Put your address (then) on the letter but date it now.
In the letter, you'll be describing a second card. This second card shows what is hidden behind the clouds in The Lovers that you need to know. What or who was concealed, back then, that it would help your past self to know? What can your current self tell your former self, that she/he most needs to know, for an improved future?
Writing the letter is important. You can keep it and even seal it in an envelope, or rip it up and recycle it.
You can also 'send' the message in your mind, telepathically, to your former self.
Results may come instantly, or in weeks or months – maybe even years. This is an experiment.
Remember to let myself and other readers know what happened in Comments.
Casting the Part of Man or Woman
Taking the card from your deck, or just sliding this one (below) onto your desktop, place yourself in the role of the man or the woman. Now 'cast' the other person, from your past.
It may be your husband now, but five years ago. It may be your former girlfriend, whom you broke up with last month. Using the Tarot on my website, or your own deck, ask 'What's behind the clouds? Where is the hidden story in my past?' It might just change your present or your future. Let me know what happens, if it does.
In my experience, things can happen quickly (an email from a former wife appears) or in weeks, months, even a year or two – but there is usually an 'Aha!' moment when you realise what has happened.
Reading List: The Tarot Guild of Australia Event
These are the books and card decks I referred to in the Zoom event at The Tarot Guild of Australia. The event has been recorded so please do get in touch with them if you would like to purchase a copy.
Pamela Colman Smith – The Untold Story
Stuart R. Kaplan
Mary K. Greer
Elizabeth Foley O'Connor
Melinda Boyd Parsons
Dr. Quantum's Little Book of Big Ideas
Fred Alan Wolf Ph.D
Pamela Colman Smith: Life and Work
Curated by Colleen Lynch and Melissa Staiger
Stuber Publishing
The Ultimate Guide to the Rider Waite Tarot
Johannes Fiebig and Evelin Burger
Llewellyn Publishing
Pamela Colman Smith: Tarot Artist
Dawn G. Robinson
Fonthill
The After Tarot
Pietro Alligo, Corrine Kenner, Giulia Francesca Massaglia
The Before Tarot
Corinne Kenner, Eon and Simona Rossi
Secrets of the Waite-Smith Tarot
Marcus Katz and Tali Goodwin
Llewellyn Publications
Dictionary of the Tarot
Bill Butler
Shocken Books
Tarot of the New Vision
Pietro Alligo
Tarot Images: Justin Tabari.