Almost Everything is Retrograde – September, October 2022
A cycle that began on Sunday 21st August 2022 and ends on Monday 17th October explains why so many areas of your life are stuck, stop-start or go-slow.
In this feature I will look at your personal birth chart and how it's affected. If you are a Premium Member you can check that now, as it will be on your screen.
Normally, Mercury Retrograde is enough to deal with. Your diary is changed; written agreements are in flux; there are cancellations and so on. The retrograde astrology of September, October 2022 began in August, but has long effects.
In September, October 2022 almost everything is retrograde, so plans 'inked' in August and September have already gone backwards or come to nothing – or they will do.
With Mercury Retrograde leading the big rewind from 21st August to 17th October, we also find the North Node, South Node, Mars, Jupiter, Saturn, Uranus, Neptune and Pluto reversing for some or all of this time.
Looking in the Reverse Mirror
This photograph by Robin Edqvist (Unsplash) describes the multi-retrogrades of August-October 2022 very well. You are driving forward in your life, occasionally being stopped, or already reversing.
How do you gain from multi-retrogrades? You treat life as a journey not a destination. Understand that the route will be circular. You may even have to get off the road and find another one. Maybe you will decide the journey is not worth it.
Driving Backwards
Because of the signs involved in these multi-retrogrades, the areas of life affected cover just about everything. As I've been tracking these cycles since my very first horoscope column magazine job (at ELLE, aged 23) I can reassure you that 'retro' doesn't mean a backward step to your disadvantage. It really depends on what you do with the long, drawn-out process.
Depending on your chart (you can find all about that in your library as a Premium Member) you can make a rehearsal out of a reversal. And sometimes the rehearsal makes for a perfect final production.
It is also true, however, that people can really get on the wrong highway on a multi-retrograde. As I said, it depends on your personal birth chart.

Expecting Reversals and Rescheduling
In this feature, I will also look at why newspaper headlines about Charles III 'crowned Spring 2023' are wrong and why the reshuffle of the Royal Family following the loss of Her Majesty the Queen will be reshuffled again.
We also saw some big (wrong) announcements in September. There will be retractions or new information will arrive later which reverses the original statement.
President Biden and the W.H.O. said the worst of the pandemic was over. The astrology disagrees.
Mercury Retrograde Leads the Reversals of 2022
If you have anything at 24-29 Virgo and/or 0-8 Libra then your workload and wellbeing (Virgo) and your duets and duels (Libra) are in flux until October.
Mercury rules information, communication, negotiation and transportation. This is how he moves in Virgo, which rules your Sixth House of doctors, dentists, your job, unpaid work or academic career.
What you discussed, put in writing or planned will be rewritten according to these dates. The 'what' of the story comes down to whatever horoscope factors you have at 24, 25, 26, 27, 28, 29 Virgo. This is where there will be rehearsals and rewinding.
In general, because Virgo rules pandemics, the politicians declaring the COVID-19 pandemic over will be proven wrong. In fact, the most dangerous variant yet (BJ1) arrived in this time-frame.
Your Virgo Factors Affected
Sunday 21st August to Friday 26th August: Mercury 24, 25, 26, 27, 28, 29
Saturday 24th September to Monday 10th October: Mercury 29, 28, 27, 26, 25, 24, 25, 26, 27, 28, 29
Your Libra Factors Affected – Duets and Duels
Mercury Retrograde in Libra began moving like this:
Saturday 27th August to Friday 23rd September: Mercury 0, 1, 2, 3, 4, 5, 6, 7, 8 and 0, 1, 2, 3, 4, 5, 6, 7, 8 Libra
Tuesday 11th October to Monday 17th October: Mercury 0, 1, 2, 3, 4, 5, 6, 7, 8 Libra
The duels are classically separations or divorces, contests, battles or lawsuits. The duets are marriages, professional partnerships and common law marriages.
The Royal Reshuffle
The reshuffles of the couples in the Royal Family and their new titles and roles will be revealed later. We saw Charles III and Camilla Queen Consort oversee his signatures at St. James Palace.
We saw the media announce new roles and titles for William and Kate, Prince and Princess of Wales. This is Libra territory and what was 'sealed' in September 2022 will come unstuck.
This Morning ITV, Holly, Philip and the Multi Retrograde
I've appeared on This Morning (ITV) a couple of times and felt really sorry for Philip Schofield and Holly Willoughby being caught in the Multi Retrograde. They were at the lying-in-state of Her Majesty the Queen to work, with media fast-tracking, then found themselves being called queue-jumpers. The muddle will be cleared up once and for all with a big decision by Philip on the weekend of Sunday 9th October. We'll then find out how wrong their critics were, by Monday 17th October. You tend to get a lot of loose talk, false accusations and wrong gossip on Mercury Retrograde. It was made worse by the multi retrograde!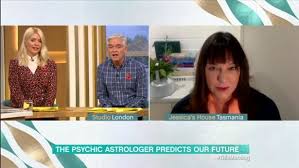 The Full Multi Retrograde Picture
Using Virgo and Libra transits by Mercury Retrograde to lead this story of rescheduling, rewriting, retracted statements, product recall and the rest – we can also put the other retrogrades in place in your chart.
If you have anything at these degrees, in these signs, you are personally affected in the 21st August-17th October loop. For some or all of the time, these cycles are stop-start and go-slow.
North Node Retrograde in Taurus 13-17
Focus: Money, property, charity, business, inheritance, valuables, buying, selling, taxation, insurance, superannuation/pension.
South Node Retrograde in Scorpio 13-17
Focus: Budget, income, bills, debts, wills, legacies, houses, apartments, land, possessions, trust funds, banking matters.
Mars Retrograde in Gemini 8-24
Focus: Siblings, cousins, the neighbourhood, commuting, the region, neighbours, the media, the worldwide web, publishing.
Jupiter Retrograde in Aries 1-7
Focus: Title, role, self-promotion, badge, medals, labels, profile, reputation, portrait, image, name, flag, wardrobe, armour.
Saturn Retrograde in Aquarius 18-21
Focus: Friends, groups, clubs, political parties, charities, good causes, social life, Twitter, Meetups, teams, societies, unions.
Uranus Retrograde in Taurus 17-18
Focus: Money, property, charity, business, inheritance, valuables, buying, selling, taxation, insurance, superannuation/pension.
Neptune Retrograde in Pisces 23-24
Focus: Religion, spirituality, psychics, hypnosis, dreams, Tarot, quantum mechanics, meditation, self-help, therapy.
Pluto Retrograde in Capricorn 26
Focus: Position, mission, ambition, curriculum vitae, rank, status, the hierarchy, corporation, kingdom, academic career, job.
Not Just One Way on Multi Retrogrades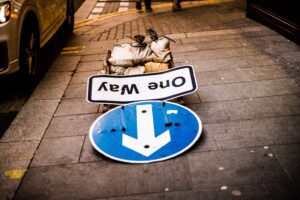 It is tempting to think of life as a one-direction, one-way business. At the moment we are seeing a lot of retrogrades in the money and work signs: Taurus, Scorpio, Virgo, Capricorn. That affects just about everything and everybody else.

So, even if you don't have personal chart factors in the signs and degrees above, everybody else's stop-start and go-slow affects you as well.
The worldwide pause made necessary by the sad passing of Her Majesty the Queen is a good example of that. Remember The Queue? That's common on retrogrades.
In this period, Prime Minister Liz Truss arrived at 10 Downing Street. She appointed a team and announced politics. That's not going to stick. Put 're' in front of most words on retrogrades. So reorganise, repay, reclaim, relaunch – later!
Different Dates for Outcomes in 2022, 2023
The individual 'races' of the factors I've been talking about all speed up, slow down or stop at different times, leading us all the way to 2023. Yet, in this very short, concentrated period, we are going to see immediate turnarounds.
Get everything in writing, read the fine print and have Plan B and C as well. Allow for technical, computer, internet, transportation/travel glitches, hitches, no-shows and write-offs. One way is not the only way on a multi-retrograde.
One Way Sign: Rob Wicks, Unsplash.
Main Image: Edi Libidensky, Unsplash.