Charles, Astrology and the Royal Family Predictions
In March 1949, Charles Carter, Editor of Astrology: The Astrologer's Quarterly, predicted that baby Charles III was unlikely to be crowned.
Carter was Principal of the Faculty of Astrological studies and also President of the Astrological Lodge of London.
He was the first of several eminent astrologers including Penny Thornton (whose clients included Diana, Princess of Wales) to publish the view, that the crown would pass to someone else, at the end of Elizabeth II's reign.
I was recently interviewed about the astrology of Charles and the Royal Family by The Daily Express and agreed with both Charles Carter and Penny Thornton. In this feature I will look at the cycles of time and the role that fate plays in the future of the monarchy in 2022-2024, and why Charles, Camilla, Harry, William, Anne and Edward are part of a critical crossroads.
Diana, Princess of Wales, also plays a fated part, as you will see.
We also have a timed chart for the succession; the moment Charles III succeeded in place of Her Majesty Queen Elizabeth II, from the certificate, so we can see future trends for kingdom and Commonwealth.
Astrologers and Monarchs
Astrologers have historically cast horoscopes and made predictions for monarchs in the United Kingdom. Dr. John Dee chose the coronation date for Elizabeth I. Charles II asked William Lilly for advice.
A small burden of monarchy, I suppose, is astrologers collectively peering into your birth chart. However, it is also true that astrologers have traditionally helped and guided their rulers, too. Penny Thornton and my other friend, the author and columnist Debbie Frank, both achieved this for Diana, the Princess of Wales.
Now, to the astrology. It could be well over a year until any coronation – and we may never see King Charles III. These charts in front of me are firm.
Nicholas Campion, academic and author of Born to Reign – and editor of The Harmony Debates – references the famous Charles Carter prediction about the other Charles, in his 1993 book.
"When Prince Charles was born, the British astrologer Charles Carter wrote that while Charles' horoscope was "rather favourable…" whether it is of a royal character is possibly more open to question."
Nick Campion goes on, "His main reason was that Jupiter was in a weak position. Carter was certainly picking up on a familiar royal pattern, for most recent British monarchs have been born under a powerful Jupiter."
The publication of the excellent Harmony Debates, edited by Campion, with a foreword from no less than H.R.H. The Prince of Wales, Charles III – is about a new, sustainable future. Yet, how is the United Kingdom to be sustained? A crisis is approaching in 2023.
No Guarantees in 2022-2024 for The Royal Family
There are some pressing political questions about who will reign in the Commonwealth- and when – and how. This is particularly important in Australia, where I write this. The campaign for a referendum on a republic has never gone away.
In the United Kingdom there is also plenty of debate about Charles III and particularly the taxation structure of the U.K. as well as the nature of Charles's charitable organisations.
People who support Charles III's views on the environment applauded his arrival as King, to replace a beloved Queen. Yet, the astrology says, there are no guarantees for the world's most famous family in 2022-2024. (Below: Astrology: The Astrologer's Quarterly, March-May 1949).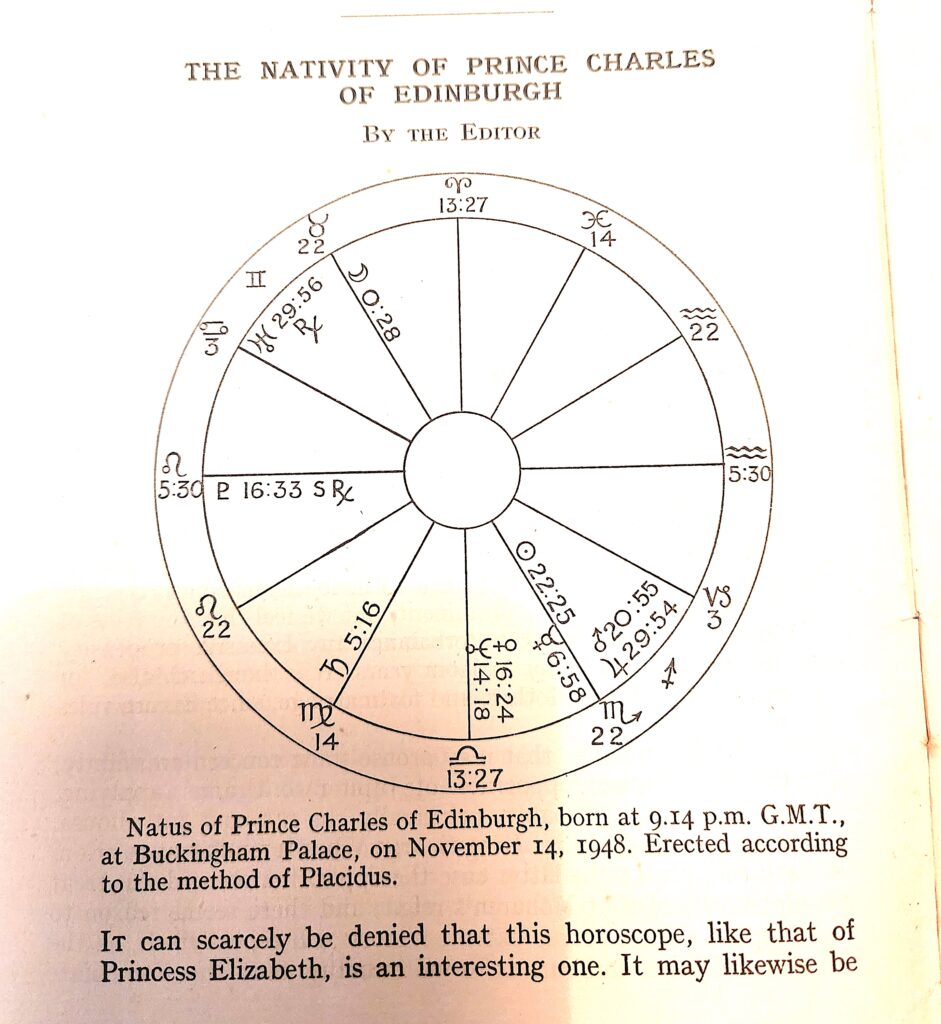 What Leading Astrologers Have Predicted for Charles III
Charles Carter: (1949) "At some time the Native himself would relinquish the burden of his high estate. Note Sun in opposition to Neptune in the 1066 horoscope. The practice of voluntary abdication may become more frequent in the future, for the burdens of sovereignty grow and those who bear them may reasonably ask for some years of repose, like other workers."
Penny Thornton (With Love From Diana, Pocket Books, New York 1995). "Charles has been preparing to become King all his life, but like the Prince of Wales before him, Edward VIII, he may believe he can have his cake and eat it. In Charles's case it is not the woman of his choice who is unacceptable, but the very things he stands for and the things he cares about. Paradoxically, free of kingly office, he may ultimately be the effective force he truly wants to be." In her fascinating book, Penny writes that Diana found this chapter – prepared for her approval – "riveting".
What Diana Predicted for Charles
Diana herself is on record with a prediction that Charles would never become King. So is her butler, Paul Burrell, who is a key witness to history.
Diana was a client of the medium Rita Rogers. Having been astonished by the detail in a long conversation with Rita Rogers, I can confirm she is an outstanding psychic. If Diana held that view because of Rita's information, that's powerful validation.
Nostradamus, The Queen and 2022
From many impressive sources, including Diana herself, the same message is coming through. And, inevitably, Nostradamus.
Most recently, Nostradamus: The Complete Prophecies for the Future, by the late Mario Reading, claimed "Queen Elizabeth II will die, circa 2022, at the age of around ninety-six, five years short of her mother's term of life."
Reading went on to interpret the famous 'divorce' quatrain as follows: "The pressure on him is so great, and his age so much against him, that Charles agrees to abdicate in favour of his son."
Should you ever predict death? Of course not. But Reading did, and sadly, he was correct about The Queen.
This quatrain (below, from a 17th century edition of Nostradamus' Prophecies) is usually taken to refer to Wallis Simpson and King Edward VIII. Mrs Simpson, divorced, was barred from the Church of England. The result was abdication and the pair were indeed 'forced' from the British Isles. So what are we seeing here? Mario Reading's update, or just the wrong divorce?

The Observer Magazine Prediction of 1966
On March 13th 1966, The Observer magazine devoted its entire issue to fortune-telling. Leading astrologers and psychics.
Lewis Ackerman, of Fate magazine, was called 'more specific than most' by the journalist, Colin Cross. "He has committed himself in print to forecasting a divorce in the Royal Family this year and that Prince Charles will never ascend the throne," Cross wrote in his long feature.
Decades later and the question of 1966, is still under discussion. His Royal Highness The Prince of Wales (as he was then) seen here in GQ, looks relaxed about his destiny, never mind all those astrologers. But what will life before any coronation bring?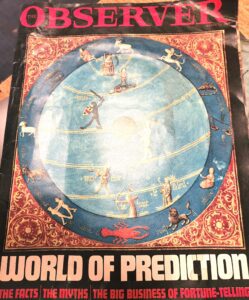 The Charles and Camilla Charts
Here we have the astrological charts of Charles and Camilla (below) now King and Queen Consort, as signed into ancient law – yet signed into law on Mercury Retrograde. Never underestimate the part this planet plays – the carrier of signatures and parchment scrolls – when he is running backwards.
In fact, a great many factors in the heavens were retrograde, or appearing to go backwards, stop and start, go slow – and perhaps come to nothing – when the great and the good gathered to watch Charles III make history at St. James Palace.
Pens had to be found (even if they didn't work) and titles changed for the press; signatures were scrawled on paper and so on. And yet – as an astrologer – the timing was so wrong.
This chart for Camilla and Charles is about more than Mercury Retrograde, though.
It uses modern software that Charles Carter, back in 1949, might have shaken his head at. The most obvious thing about it, is the huge Scorpio stellium in Charles's Eighth House of inheritance, financial and sexual relationships, wills and legacies. I call this 'Sex, death and money' to save time. The scorpion moves with a deadly sting in his or her tail.
The South Node of karma travels through Scorpio, making a long chain of conjunctions with those six factors in Charles's chart, culminating in a rare and fated pattern, between March 8th and May 8th 2023.
Fate, Karma and the North Node and South Node
The South Node at 4 Scorpio and North Node at 4 Taurus in Charles's chart will be crossed by the transiting South Node at 4 Scorpio and North Node at 4 Taurus in March-May 2023. This period directly relates to a cover-up dating from Tuesday 25th October 2022, with a New Moon Eclipse at 2 Scorpio.
Cast your eye on Camilla's chart, below, and you will see she was born with Chiron at 2 Scorpio in the Eighth House, too.
I am writing this so far into the future, on 24th September 2022, that the eclipse is yet to fall – but fall it will – and there will be a distraction from the truth at that point, or just an outright cover-up.
Scorpio in Focus in the Royal Charts
Scorpio is about joint financial and property matters, including business, charity and taxation. Taurus is about individual income; the personal bank account and shares. This is a complicated clash in the heavens and it picks up the vast differences in values between Royal Family members. It also locates the signatures on several documents crucial to the United Kingdom.
Karmically, this March-May 2023 interval brings the former Prince of Wales, now Charles III, all the way back to the period, June 3rd to June 26th 1995. This is about the first wife. The first marriage. The mother of his sons, William and Harry. It's about the elephant in the room – if we can ever call her an elephant – Princess Diana.
The Dragon's Head and Dragon's Tail
Back then in 1995, the North Node was at 4 Scorpio and the South Node at 4 Taurus. A mirror image of the same issues we will see in the historic year of 2023 for the Royal Family.
This idea of the Dragon's Head and Dragon's Tail is very old; Chaucer had them chasing each other on his famous astrolabes. In India they are known as Rahu and Ketu; the eternal cycle of karmic debts and credits.
What happened in 1995? Well, among other things, Penny Thornton published many intriguing horoscope secrets in her bestselling book, With Love From Diana. It remains the only detailed historical record of Diana's trusted use of astrology.
Pluto in Aquarius, Camilla and Charles
It takes more than the lunar nodes to make history. They repeat in the same zodiac signs every 18 or 19 years. What is very new in 2023, though, is Pluto in Aquarius. This is a change in the balance of power creating a difficult crossroads for Charles.
Pluto begins his cycle at 0 Aquarius on Friday 24th March 2023 and will be on his way to 4 Aquarius on February 11th to March 20th, 2026.
Pluto in Aquarius, following Pluto in Capricorn, is always the end of powerful elite rule and the beginning of people power. The last time we saw this, Louis XVI and Marie Antoinette lost their heads. King George III stepped down to the Prince Regent.
Pluto begins with a bang at 0 degrees Aquarius and moves to 1, 2, 3, 4. You can see those numbers (degrees) repeating in both charts for Charles and Camilla. Tied together by fate. From March 2023, a time of reckoning begins.
Camilla, Ceres and Chiron
In Camilla's chart we find Ceres with all her power and potent emotion, at 2 Taurus, opposite Chiron at 2 Scorpio. This is a woman at war with herself over money, charity, business and property. It comes to a head when Pluto goes to 2 Aquarius.
When the North Node is at 2 Taurus and South Node is at 2 Scorpio between June 17th and 23rd, 2023, karma comes for Camilla from life as it was July 1995.
It will be financial in nature, or vested in charity, possessions, business, shares, kingdoms and castles.
This pattern is just one degree away from Fortuna at 3 Cancer in Charles's chart; the Wheel of Fortune spinning in the sign of family and nation, palaces and castles, land and estates.
If Not Charles, Then Who Will Be Monarch?
William, now Prince of Wales, was born with Jupiter at 0 Scorpio. The ancient symbol of luck, abundance and hope, in (again) the sign of inheritance, legacies and – no pun intended – wills. For all that newspapers like The Daily Express see the monarchy in spiritual terms, this is The Firm. It's about the banking.
Prince Harry was born with Pluto at 0 Scorpio. This 0-4 zone for the fixed financial signs, Taurus and Scorpio, is heavily fated.
Charles has the Moon at 0 Taurus. Again, Prince William has his MC at 2 Scorpio. This is a vast difference in value systems. It will be most hotly contested when the lunar nodes move through Taurus and Scorpio on these degrees, from March 2023 until July 2023.
Princess Anne comes into the picture. She was born with Mars at 2 Scorpio and Cupido at 4 Taurus. Prince Edward has Venus at 3 Taurus. Taurus is about stubborn, fixed, unchanging values. Refusing to budge on price, or sell one's soul, is a Taurus archetype. Scorpio is about the intensely personal nature of family and property, or sexual relationships and finance. It is about marriage and divorce; adultery; the last will and testament of all concerned. Clash.
Prince William – the Right Attitude?
Jupiter was known as Jove to the Romans who gave us modern astrology. From this we obviously find the word 'jovial' but we also discover 'joy' and 'joke'. The Happy Prince is certainly a royal who has Jupiter on his side, and by a quirk of birth, William does.
I am going to end this prediction that Charles will not proceed to the coronation – or perhaps abdicate the throne after ascending – with the chart of Her Majesty Queen Elizabeth II.
Elizabeth II was born with the Sun at 0 Taurus. The odds of one family sharing so many conflicting patterns in the money and property signs, is remarkable, let alone a family which is a substantial part of the United Kingdom's economy. It suggests that the crisis of 2023 is bigger than everybody. It is there for a purpose, and that purpose it tied to the nation's coffers.
Running through all the available charts on the AstroGold database, it is significant that the only members of the Royal Family to share this pattern at 0, 1, 2, 3, 4 Taurus-Scorpio are likely to be in the immediate legacies of Elizabeth II and Charles III.
Prince Louis, born on 23rd April 2018, has the Sun at 3 Taurus. Prince George, set to inherit ahead of his younger brother, was born on 22nd July 2013 with Saturn at 4 Scorpio. Both the boys are pulled into the events of 2023 involving their father William and grandfather, Charles III.
The Astrology Charts for Britain
There are many charts for the United Kingdom of Great Britain and Northern Ireland, documented by Nicholas Campion in his Book of World Horoscopes. Several of them, going as far back as 410 AD, are triggered by the crisis of 2023. The ancient stones of the island shake. Debbie Frank, columnist for Hello, predicts a rocky road for Charles III. Leo is the royal sign, and is hugely significant in the Grand Cross forming around 0, 1, 2, 3, 4 of the fixed signs: Taurus, Scorpio, Leo, Aquarius. The Battle of Hastings astrology chart shows the Moon in Leo. It is typical of astrology with all its synchronicity, that Hastings marked the arrival of William the Conqueror. The four main charts are below:
United Kingdom Independence, 20th March 410, 00.10am, London: Saturn 4 Taurus.
Battle of Hastings, 14th October 1066, 5.28pm, Seniac. Mercury 2 Scorpio, Moon 1 Leo.
House of Commons, 20th January 1265, 12.00 London, Jupiter 2 Taurus.
Act of Union, 1st January 1801, oo.oo, London, Jupiter 1 Leo.
The French Revolution and American War of Independence
If we step back from this extremely rich family – charity patrons all – symbols of an entrenched British economic system – we find Pluto repeating his cycle from The French Revolution but also the American War of Independence too.
The former removed Louis XVI and Marie Antoinette; the latter saw George III step down in favour of the Prince Regent. Afflicted with what some historians now believe was Bipolar Disorder, he saw his son, George IV, step forward in his place. Thus, The Regency.
Charles III Arrives on 8th September 2022
The old cry of "The Queen is dead, God Save the King!" is echoed in this chart for 8th September 2022 at 3.10pm at Balmoral, Ballater, Scotland. There is a square from Aesculapia at 6 Capricorn in the Tenth House to Jupiter at 6 Aries in the first House. As far as appearances and titles look, this is fortunate if hard to square.
Jupiter in Aries suggests the expansion of a military message to the world, but there is also a message here about the monarchy itself; Capricorn rules the people at the top of the system. Aesculapia suggests that who/what is assumed to be finished or over, really isn't. I find that very interesting. Aesculapia famously revived and resurrected people who were considered near death, or even dead.
Proserpina at 6 Sagittarius suggests a foreign go-between. Psyche at 6 Libra suggests a partnership or a battle which lives forever. This pattern around 6 degrees is really striking. There is a strong suggestion about the spirit world in this horoscope. And this brings me to Diana, the Princess of Wales. Diana, Princess of Wales and the Death of The Queen
Strange but true. This striking 6 degree pattern in the immediate arrival of Charles III, lines up exactly with the chart of Diana, Princess of Wales. She was born with Proserpina at 6 Libra, and so there is a conjunction with Psyche at 6 Libra, the sign of marriage and divorce. She was and is the go-between. Proserpina went between the underworld and afterlife – and the earth. So, much as there has been an earnest campaign to park Diana firmly in the past, this is the chart of someone who is still present.
Is there anything else at 6 degrees here? Yes. Diana was born with Chiron at 6 Pisces in the Twelfth House, which literally rules the psyche, soul and spirit. She was also born with Pluto exactly opposite at 6 Virgo in the Sixth House of service and duty.
This brings me to the 4 billion view TikTok views for the message seen by millions on an ITV live broadcast and subsequently heard and seen again, by many more people. ITV have made no comment.
Death is Irreversible – Trapped
The E.V.P. (Electric Voice Phenomena) is real in my opinion as a medium – and appeared on a live ITV broadcast of The Queen's funeral procession. This chart shows that. As a medium I am familiar with E.V.P. and know that spirit can only say a very few words, so those words must be carefully chosen. We hear "death is irreversible" and "trapped." The former makes no sense unless you treat it as a standard medical phrase: "brain death is irreversible." Trapped is either under a seat belt (though we are told the Princess did not wear one on that occasion) or in the well of the Mercedes; standard practice if a gun is pulled.
Key dates to watch for more timing with Diana, Princess of Wales and Charles III include the lunar nodes at 6 Taurus and Scorpio, from February 11th until 21st 2023, a few days after Jupiter has passed 6 Aries and Ceres has passed 6 Libra, from February 1st to 5th that year. We should also ask more questions about Diana, when Saturn goes to 6 Pisces, May 10th 2023 until June 1st. August 30th 2024 until November 5th is also important, as the lunar nodes pass 6 Aries and 6 Libra. Finally, for historic transformation, Pluto at 6 Aquarius, February 24th 2027 until July 27th 2027. Neptune is also at 6 Aries then and Uranus at 6 Gemini.
The Astrology for Diana, Charles III and Prince Harry
You are looking for the unusually high number of factors at 6 degrees here. The trigger dates are above. There are no 6 degree placements at all in the natal chart of Prince William. Harry (born Prince Henry) has Apollo at 6 Leo. He is part of the story. Apollo is a symbol of leadership and of course Leo is the sign of royalty. All eyes on the year 2027, four years into the future as I write this update on the astrology of Charles III. New Regency in the New United Kingdom?
Are we headed for a new Regency? Astrology shows the weather, not the outcome, but it is important to ask the right questions. Those old British horoscopes tell a story, rewritten by particular senior members of the Royal Family in 2023.
When that legendary astrologer Charles Carter sat down to write his feature on baby Prince Charles, the arrival of Prince William was decades into the future. And yet, there is Jupiter – the 'king' of the planets, according to the Romans – just two degrees away from William's MC or Midheaven. This is the middle of heaven – the highest point to which one can ascend.
I am grateful to both of Diana's astrologers, Debbie Frank and Penny Thornton, for confirming (again) that the Princess of Wales gave them two entirely different birth times. For that reason we use both of them. These two amazing women played the same role in history as Dr. John Dee with Elizabeth I and it is significant that Diana chose to present two separate times and that should be recorded.
Astrological Chart Data for Senior Royals (AstroGold).
Prince Harry: 15th September 1984, 4.20pm, London.
Camilla, Queen Consort: 17th July 1947, 7.00am, London.
Prince William: 21st June 1982, 9.03pm, London.
King Charles: 14th November 1948, 9.14pm, London.
Princess Anne: 15th August 1950, 11.50am, London.
Prince Edward: 10th March 1964, 8.20pm, London.
Her Majesty Queen Elizabeth II: 21st April 1926, 2.40am, London.
Diana, Princess of Wales, 1st July 1961, both 2.15pm and 7.45pm were given by Diana.
Main image: The Daily Express. Photographs of The Observer magazine, Astrology: Jessica Adams.