Wall St Astrology – 2022 and 2023
Horoscopes always show sharemarket highs and lows, based on Taurus and Scorpio. Before I predict drama for Wall Street in December 2022, then an historic moment of truth in April-May 2023, let's look at how it's done.
I predicted the pound would be devalued in September 2022, back in July 2020 and also predicted that British currency would see The Queen's head overturned. How do you predict the date-stamped future in astrology, two years in advance?
The Original 2020 Prediction
The Astrology of Wall Street and the NYSE
The Panic of 1907 – Began in the middle of October 1907 and lasted three weeks.
Black Thursday – October 24th, 1929, saw the largest sell-off, of shares, in American history.
Black Monday – October 19th, 1987, was a global, sudden, severe, mostly unexpected stock market crash.
The Mini Crash – October 27th , 1997, was a global stock market crash caused by an economic crisis in Asia.
All these events centered on just one factor = Mercury at 12 Taurus in the NYSE astrology chart.
You can see that in the triple wheel below. I'm using Astro Gold software.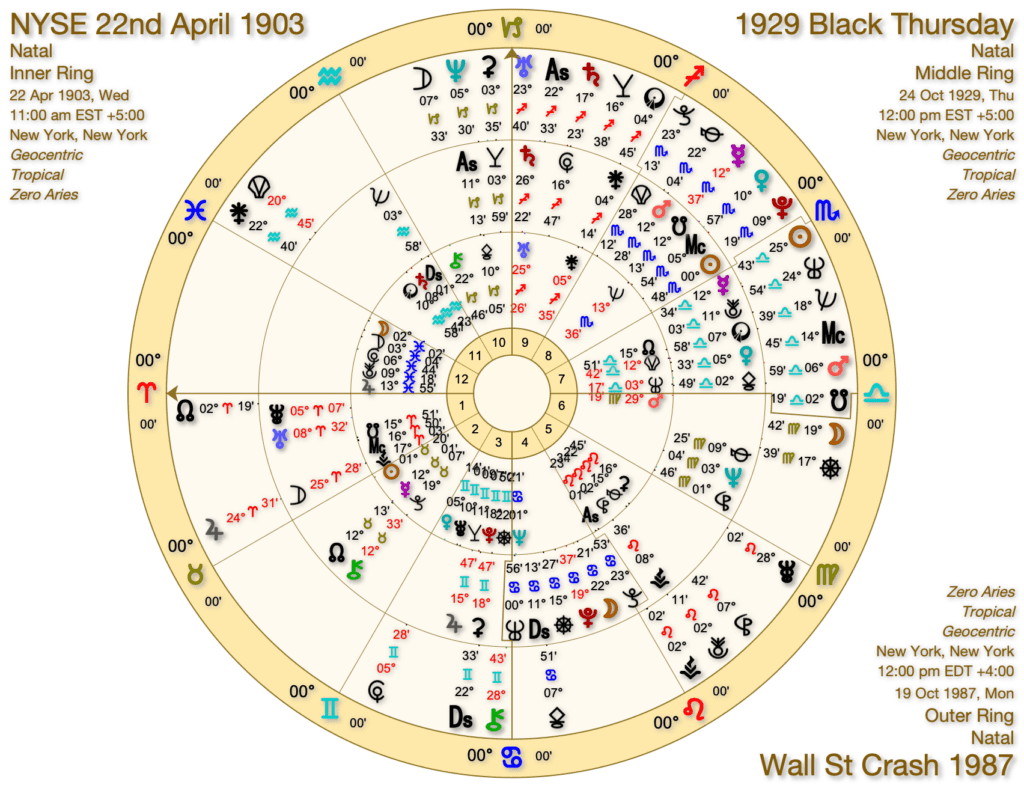 The NYSE was 'born' with an opposition from Mercury at 12 Taurus to Psyche at 13 Scorpio. All dramas unfold across this.
The Deep Dive into the NYSE Astrology Chart
It takes more than transits at 12/13 Taurus or Scorpio to trigger a crash. Of course. You also need simultaneous transits which aspect the NYSE Sun at 1 Taurus and Proserpina at 19 Taurus. Taurus rules bull markets and gold bullion. The charging bronze bull on Wall Street also shows Taurus. As with all modern astrology we allow a difference of one degree. A one degree orb.
On Black Thursday 1929, the Sun was at 0 Scorpio. Ceres was at 18 Gemini. Aesculapia was at 0 Cancer. Crucially, Pluto was at 19 Cancer. Panacea was at 1 Virgo. Minerva was at 2 Libra.
On Black Monday 1987, the North Node was at 2 Aries. The South Node was at 2 Libra. Vesta was at 2 Leo. Ops was at 2 Leo. At noon, the Moon was at 19 Virgo.
Bitcoin Charts and the 18, 19, 0, 1 Degree Patterns
You would expect to see the New York Stock Exchange chart pick up Bitcoin charts (there are a few) and this is the case. Because Wall Street was 'born' with the Sun at 1 Taurus, the bull market sign, and Proserpina at 19 Taurus, again the symbol of finance – anything right on those degrees – or close by – is important. I have also included Tesla here.
US Inflation and the NYSE Astrology Chart
On June 10th, 2021, The Guardian reported "US inflation climbs to its highest rate since 2008." Since the Global Financial Crisis, in other words. Ceres stood at 12 Taurus. Saturn was at 13 Aquarius. Uranus was at 12 Taurus. That is a rare, historic line-up for a rare, historic crisis.
December 2022 Fits the Pattern
December 2022 – The North Node is at 12 Taurus. The South Node is at 12 Scorpio. We will see a dramatic market change then. This is a pattern not seen for around 19 years.
What about the rest of the pattern?
We find Jupiter at 1 Aries in December 2022. Saturn at 19 Aquarius. Ceres at 1 Libra. Crucially, Mercury Retrograde at 19 Capricorn. On December 23rd, a New Moon at 1 Capricorn. In December 2022, we will see a dramatic moment of truth on Wall Street that influences 2023.
Elon Musk and the NYSE Chart Elon Musk was born on June 28th, 1971, at 9.00am EET in Pretoria. So what does the chart of the world's richest man look like, lined up with the NYSE chart?
His chart does aspect the Mercury 12 Taurus/Psyche at 13 Scorpio financial signature of the NYSE. He was born with Chiron at 13 Aries. Cupido at 12 Cancer. Minerva at 12 Libra. He also ticks the boxes for close or exact aspects to the NYSE Sun at 1 Taurus. Elon Musk was born with Saturn at 1 Gemini. Juno at 1 Leo. Neptune at 0 Sagittarius. Vulcano at 1 Capricorn. Salacia at 0 Aquarius. Does Elon Musk tick the boxes for the other key factor in NYSE drama, Proserpina at 19 degrees Taurus? Yes. He has Venus at 19 Gemini. Mars at 20 Aquarius.
Historic Change on Wall Street in March – June 2023
A cycle not seen in 240+ years begins in March-June 2023 and triggers the Elon Musk and NYSE chart. Pluto goes to 0 Aquarius. The North Node goes to 1 Taurus. The South Node goes to 1 Scorpio. Saturn goes to 1 Pisces. Uranus goes to 19 Taurus. Jupiter goes to 1 Taurus. The other red flag is Mercury Retrograde at 12 and 13 Taurus from April 28th to Monday 1st May.
March – June 2023 is a shock to the economic system not seen in our lifetime.
Historic change for Wall Street is due on April 28th, 29th, 30th, May 1st 2023. It directly involves Elon Musk, because his chart is triggered. Pluto is at 0 Aquarius square the NYSE Sun at 1 Taurus appears then. Uranus at 18 Taurus appears then. Mars at 18 Cancer appears then.
The NYSE Cover-Up of October 25th
We have a NYSE cover-up with the Eclipse at 2 Scorpio on Tuesday the 25th of October 2022. This sounds to me, as if someone is planning a year-end, Christmas move. Two months into the future. Eclipses conceal, they never reveal. Do not judge or act on this eclipse. Wait. Allow 24 hours for the world to catch up with itself. This eclipse is opposite the NYSE Sun in Taurus.
How the NYSE Astrology Charts Shows Dow Jones Drama
All these Bull Markets, Cyclical Bull Markets and Turnover Bull Markets are recorded on Wikipedia. They fit the pattern.
The all-time Dow Jones high was January 4th, 2022. Jupiter stood at 1 Pisces. The North Node was at 0 Gemini. The South Node was at 0 Sagittarius. Mercury was at 2 Aquarius. The Sun was at 13 Capricorn. Neptune was at 20 Pisces. This ticks every box.
The all-time low was August 8th, 1896. Saturn was at 12 Scorpio. That's all you need to know.
The planet of heavy realities, in exact opposition to Mercury at 12 Taurus in the NYSE chart. Yet, that August 8th, 1896, chart also ticks the other boxes. Neptune at 19 Gemini. Salacia at 0 Libra.
The Wall Street Horoscope
The financial astrologer Kate Silas at Profit With the Planets has a database of New York Stock Exchange 'birth' dates favoured by astrologers from Bill Meridian, to Sepharial, to Henry Weingarten. It's interesting to compare them with each other.
The invitation (below) is timed and dated. 2000 guests attended. This gives us the most accurate astrology chart for Wall Street. Details! How the 22nd April 1903 Chart Works
Using the NYSE – April 22nd, 1903, astrology chart compared to the 1929 Wall Street crash, we find: Transiting Sun 0 Scorpio opposition natal Sun 1 Taurus. Transiting South Node 12 Scorpio in opposition to natal Mercury at 12 Taurus.
Transiting Mars at 12 Scorpio in opposition to natal Mercury at 12 Taurus. Transiting North Node at 12 Taurus in conjunction with Mercury at 12 Taurus. Transiting Chiron at 12 Taurus in conjunction with natal Mercury at 12 Taurus.
That's a rare and historic astrology line-up. Here again, I've been using Astro Gold software.
When News Was Good
On February 8th, 1980 – Capitalisation of the NYSE topped $1 trillion. So what was going on?
At 12 noon in New York on February 8th, 1980, transiting Aesculapia was at 1 Taurus in conjunction with the natal Sun at 1 Taurus. The Moon was at 12 Scorpio in conjunction with Psyche at 13 Scorpio – in opposition to Mercury at 12 Scorpio. The usual triggers.
This is a handy timing device. I'm not giving you advice about the sharemarkets here, and, in fact I never do, but you can line up your own astrology chart, which you'll have if you are a Premium Member – and look at this NYSE chart, to see patterns.
This is what happened when COVID hit Wall Street: On February 20th, 2020, global stock markets crashed, including the NYSE – as the COVID pandemic took hold. On that date we find Mercury Retrograde at 12 Pisces working as 'the messenger' in the horoscope. Exactly triggering natal Mercury at 12 Taurus in the NYSE chart set for the 22nd of April 1903.
About Mercury in Wall Street Astrology

This photograph from @NYSE (the best Wall Street account on Twitter) shows – the New York Stock Exchange building of 1903 on Broad Street has a sculpture titled 'Integrity Protecting the Works of Man.'
At the center, Integrity wears the winged cap of Mercury, the Roman god of commerce. This is really interesting, not only because Mercury at 12 Taurus is the keystone of the NYSE astrology chart (triggered by both crashes) – it also sums up what trading is about.
Mercury, Merchants and Mercantilism
Astrology is synchronicity. This ancient Roman astrology symbol, Mercury, lends the core of his name to mercantilism, made famous in The Wealth of Nations by Adam Smith.
Merchant adventurers (today's trade merchants) go back to the old guilds of Europe. The word commerce stems from Mercury. So does merchandise. These associations between Mercury and the markets are very old. It's significant that he shows up in the NYSE 'birth' chart and also on the building – and is always triggered during big dramas.

On the 16th of September 2008 the Global Financial Crisis began. Jupiter was at 12 Capricorn trine Mercury at 12 Taurus in the NYSE astrology chart. That's a pretty strong argument for 12 degrees as a trigger for dramatic scenes in a larger piece of theatre.
Looking at 2022, we see a trigger to that 12 Taurus Mercury, as the year ends.
Which Countries Line Up With the NYSE Astrology?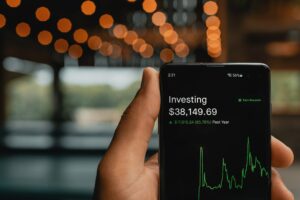 The USA chart set for January 2nd, 1776, at 12.00 noon in Cambridge, Massachusetts, shows the Sun at 11 Capricorn, Chiron at 11 Aries, Jupiter at 13 Gemini – all aspecting that Mercury 12 Taurus and Psyche at 13 Scorpio NYSE pattern. There are many charts for America. This one works best.
We also find Mercury at 0 Capricorn, Aesculapius at 0 Aquarius, Mars at 2 Aquarius. We find Minerva at 18 Aquarius and Panacea at 19 Virgo. I've run this chart against everything from the JFK assassination to the events of 9/11 and it works perfectly. This is how we know America rolls when Wall Street is rocked, March-June 2023.
There is one other chart which chimes with this. It is set for USA Confederation on November 15th, 1777, at 12.00 LMT in Philadelphia. Mars is at 12 Capricorn. The Moon is at 2 Gemini. Again, this suggests drama for America, March-June 2023.
The Euro shows Neptune at 1 Aquarius, Ceres at 0 Gemini, Fortuna at 0 Virgo, Psyche at 0 Capricorn which suggests an historic transformation of the European Union and the currency, in the same time-frame. March-June 2023. She also has Mars at 18 Libra and Aesculapia at 12 Scorpio, right on the NYSE Mercury-Psyche opposition.
There will be historic, world-changing Wall Street drama from April 28th to May 1st, 2023, and it will directly affect the Euro. The Elon Musk chart is also tied into this. It is the beginning of people power – financially.
The Big NYSE Stretch in December 2022
The North Node goes to 12 Taurus for the first time in almost two decades, between December 10th and 25th (Christmas Day) 2022. The South Node goes to 12 Scorpio in the same time-frame.
What happens on Wall Street between December 10th and 25th is Christmas karma. Win or lose with the Dow Jones, it's unusual. I am predicting this two months before it happens, but what took place in March 2004 and August 1985 will play its part in what some – historically – gain or lose.
The Astrology of March 2004 in December 2022
Here's a flashback to the last cycle. On March 10th, 2004, the North Node stood at 12 Taurus and South Node stood at 12 Scorpio. The Dow was pushed into the red.
This may also be important. On March 24th, 2004, trading began on futures on the VIX. The VIX is known as the market's "fear indicator." The lunar nodes were at 11 Taurus and Scorpio, just one degree away.
The Astrology of August 1985 in December 2022
The North Node at 12 Taurus and South Node at 12 Scorpio timed a stock price plunge – the biggest Dow Jones decline in over a year, back during the 1985 cycle.
Again, this is worth tracking as the lunar nodal cycle repeats in December 2022. If your chart chimes with the NYSE then the ripples from New York in December will reach your shore. If your chart chimes with the NYSE across Taurus and/or Scorpio, and you are directly involved with that sharemarket, then it's personal.
As a Premium Member, your library here can tell you the rest. You have to make your own financial decisions, based on your own chart – looking at your Taurus and Scorpio factors – and the cycles I've covered here. I can't do that for you. To further personalise your forecast, use the Tarot for yourself.
Wall Street Astrology March – June 2022
Beyond the December 2022 drama after the big cover-up on Wall Street on 25th October 2022, we can expect radical market correction from March-June 2023. Do you win or lose? It depends on your chart. It also depends on what you owe, from 18 or 19 years ago, or what you are owed. Only the universe can decide that.
I would expect Mercury Retrograde from Friday, April 28th to Monday, May 1st, 2023, to be a chaotic crossroads.
You can find out more about the software here at Astro Gold from Stephanie Johnson and friends.
Images courtesy of Unsplash.