Pluto in Aquarius 2023 to 2044

Pluto shows power in astrology. The zodiac sign it passes through, shows where all the control is. Aquarius is the sign which rules groups and friends. Brotherhood and sisterhood. Community. It rules humanitarianism. Equality.
Margaret Hone linked Aquarius to "Groups and societies and amongst acquaintances brought together for a common purpose" in her Modern Textbook of Astrology. She associated Pluto with "Elimination. Renewal. Regeneration."
A closer look at history shows that Pluto is always about a change in the balance of power. If you are a Premium Member and you see Aquarius planets, asteroids, angles or other factors in your personal birth chart, you will be profoundly affected.
Feminism, Tribes and System Change
History reveals that Pluto in Aquarius is always about feminism, tribes and system change. From Boudicca (sometimes spelled Boudica) onwards, this rare cycle (every 248 years) always gives women power, encourages groups and replaces the old system.
The global community, the United Nations, will very likely be transformed or replaced by 2044. It was born on 24th October 1945 with Pluto at 11 Leo and may not survive the opposition from Pluto at 11 Aquarius ahead.
History Repeats
If history repeats, then in the tradition of Boudicca, Empress Zoe and Queen Elizabeth I, (who all found power during Pluto in Aquarius) America may gain her first female president.
Based on history, Scotland may also gain her independence.
By 2044 the Commonwealth could be reformed or even replaced. Australia might become a Republic. All these changes are the natural outcome of every other Pluto in Aquarius cycle.
Every time Pluto turns up in Aquarius it tends to move on and progress, changes from previous Pluto in Aquarius cycles.
Feminist is grounded in the British Isles, there since 60AD and the best-recorded Pluto transit in Aquarius we have. A change in the United Kingdom voting system, with proportional representation, seems very likely by 2044. This would guarantee female independents would have more power, outside the two-party system. More than one modern Boudicca? (Illustration: iStock). Boudicca as Pluto in Aquarius
In The Contemporary Astrologer's Handbook, Sue Tompkins writes about Aquarius as "in olden times, a woman on one knee pouring out water from an urn or jug."
Later on this Aquarian figure became male in astrology. For a time, though, Aquarius was female, and Boudicca (also spelled Boudica) was her first well-recorded channel.
"The Aquarian type is self-willed with a strong independent spirit. Typically the type will not be interfered with or told what to think or what to do," Tompkins writes.
Alexandria Ocasio-Cortez as Boudicca?
Pluto in Aquarius chimes with Generation Z voters, who were born with Uranus or Neptune in Aquarius, the sign of community and equality. The demographics of future American elections reveal that they will have more numbers than Baby Boomers, as Pluto begins its slow transit in Aquarius from 2023 to 2044. Is AOC America's Boudicca?
Mary Beard on Boudicca
In SPQR, Mary Beard comments about the histories of Tacitus and other Roman writers where Boudicca laments the lost libertas of the Britons. This is a core Aquarian idea: to be at liberty, to liberate. Boudicca both failed and won.
This first well-recorded Pluto in Aquarius cycle, from AD 60 to 85 holds clues for us in 2023-2044. Strong women need good male allies to succeed. The generation which rises to the rebellion, or revolution, is only born to the task, if those future adults have Uranus and/or Neptune in Aquarius. The new voters and politicians of 2023-2044 do. In 2022, they call them Millennials.
The End of Elon Musk Syndrome
The 'one man to rule them all' syndrome which Elon Musk personifies, also includes Donald Trump and Vladimir Putin. Pluto in Capricorn has been about power through the system or the establishment. Capricorn rules tradition. To date, that has been patriarchy. So, a social system in which positions of dominance and privilege are primarily held by men. We might also call this Emperor system. We have been living with this since 2008 and will be astonished at how different life feels, from 2023.
From March 2023, this Pluto in Capricorn phenomenon (patriarchy with all the money and power concentrated by men at the top) starts falling apart. It does so in slow stages, but the writing is on the wall when Pluto arrives in Aquarius and Saturn goes.
Plutocracy itself, defined by the Merriam-Webster, is government by the wealthy. A controlling class of the wealthy. The power of the Pluto in Capricorn plutocrats will not survive the next cycle, from Pluto's first stay in Aquarius, from March 24th 2023 to June 11th 2023. This fall may include rich, older men like Eddie Izzard who claim they sometimes feel as if they are girls, taking over women's spaces. This has been an unusual example of Pluto in Capricorn patriarchy which seems doomed to fail.
Pluto in Aquarius 2023 to 2044 Dates
March 24th 2023 to June 11th 2023
January 22nd 2024 to September 2nd 2024
November 20th 2024 to March 9th 2043
September 2nd 2043 to January 19th 2044

The Sign Aquarius
The sign Aquarius (Image: Wikimedia Commons) was defined for us by Ancient Rome. An 'Aquarius' was a literal water bearer. The aquarii were the work force behind the aqueducts. The communal baths (thermae) of Rome and fountains ran on water supplied by these aquarii.
The idea of pooling resources comes from this – and with it the old idea of Aquarian sharing. Men and women both used the baths and library.
The wavy lines in the Aquarius symbol show the water in the Roman baths or thermae. The contrast between Capricorn the mountain goat, the ambitious creature who strives to get to the top – and the Aquarius supplier to the people – could not be more extreme. Pluto in Aquarius will be a revelation after Pluto in Capricorn.
The Professional Aquarius of Rome
The man with the urn on his shoulder is the professional 'Aquarius'.
The thermae or Roman baths were about equal access for all – for the greater good. Aqueducts like the Aqua Virgo supplied the baths. Baths were social hubs where senators and slaves mingled.
Aquarius is about this egalitarianism. It is also about tribalism. All the tribes coming together.
It rules the Eleventh House of your birth chart as you probably know. Friends and groups. Men and women. If you are a Premium Member, check to see if you have a stellium in Aquarius. If you do, then you inhabit your Eleventh House for much of the time. Pluto in Aquarius from March 2023 will permanently alter the social landscape for you.
Join Me on Zoom
I'll be talking to Lynette Malone and Zane Stein at The Astrology Collective about Pluto in Aquarius at a Zoom event, where I am happy to answer questions. You can find your tickets here on their Meetups page.
Please join us on February 5th and 12th 2023 to suit all time zones. Now, following your requests, let's take a detailed look at the Pluto in Aquarius cycle, covering all periods in recent history. This data comes from Tables of Planetary Phenomena by Neil F. Michelsen.
Pluto in Aquarius 60 to 85 AD
March 28th to June 3rd 60
January 27th to August 16th 61
December 7th 61 to March 24th 84
August 8th 84 to February 7th 85
October 14th 85 to December 12th 85
Christianity and Pluto in Aquarius

Christianity was the first Pluto in Aquarius people power movement, embracing equality.Mark began writing the first of the gospels recounting the life of Jesus Christ in 60AD. This was also the first great example of system change, under Pluto in Aquarius. This cycle is always a two-step.
There is classically a long period of Pluto in Capricorn, where a tiny number of men hog the money and power – and people suffer. There is then a changeover period when the Pluto in Capricorn plutocrats meet a sticky end – and the people push back. And by people, we mean women.
Nero stabbed himself in the throat. Louis XVI had his head cut off on the guillotine and waved in front of the crowd. George III was psychotic and forced to hand over the crown. Pluto can be ruthless when he goes from Capricorn to Aquarius.
Boudicca and Pluto in Aquarius
Boudicca led the Iceni and other British tribes in an uprising against the Romans in 60 AD. They destroyed London and Nero considered withdrawing all his forces from Britain.
Eventually, Boudicca and the British were defeated, but centuries later, she was adopted as an icon by the Suffragette movement. She has been captured in biographies and on television; a potent symbol of female power within a tribe.
The statue Boadicea and Her Daughters is close to the Houses of Parliament where three female Prime Ministers, all from the Conservative party, have ruled Britain since.
Pluto in Aquarius cycles leave long traces in history. They always empower women in keeping with the old Aquarian vision of pooling resources across genders.
Boudicca paved the way for Mary I and Elizabeth I, who also arrived on a later Pluto in Aquarius cycle. A fourth female British Prime Minister seems likely from 2023 to 2044. She may not be white.
Nero as Pluto in Capricorn
During the Great Fire of Rome in AD 64 Nero put Christians to death, but it made them martyrs and Christianity grew more powerful. Nero committed suicide at the age of 30 in AD 68. Pluto in Capricorn 'plutocrats' tend to fall over when the planet departs this sign. They take their own lives; go mad; are killed. It's a Pluto rule.
If you are interested in the end of Pluto in Capricorn as much as the start of Pluto in Aquarius, look here.
A second discussion about the fall of Pluto in Capricorn plutocrats and patriarchy is here
Christianity, Women and Pluto in Aquarius
Luke began to write his gospel in this same Pluto in Aquarius cycle in AD80. It includes more stories about women than any other gospel.
Women are disciples and full members of the new community in Luke; they are partners with Jesus in mission and witnesses to the crucifixion, the empty tomb, the angelic announcement of the resurrection – and resurrection appearance. It's interesting to note that the next great religious movement (system change) began with Islam, after Christianity. Again, we are back to tribes and people power.
Pluto in Aquarius 550 to 574
March 14th 550 to June 2oth 550
January 18th 551 to September 3rd 551
November 22nd 551 to March 12th 573
August 25th 573 to January 25th 574
Muhammad was born in 570 and founded Islam, the next great movement to emerge during Pluto in Aquarius. His wife, merchant and businesswoman Khadijah bint Khuwaylid became his first follower.
Pluto in Aquarius 795 to 819
March 27th 795 to June 7th 795
January 25th 796 to August 22nd 796
December 1st 796 to April 13th 817
July 19th 817 to February 21st 818
September 21st 818 to January 3rd 819
Irene of Athens became sole ruler of the Eastern Roman Empire from 797 to 802 in this Pluto in Aquarius cycle. This particular Pluto in Aquarius cycle also saw the Viking Age. Another system change. Viking wives had a say in the choice of their mates, could initiate divorce, reclaim dowries, and play a part in public life. They could become wealthy landowners. Viking women were also respected psychics or seers.
Viking Women and Pluto in Aquarius
The best way into Viking female history is this website if you are curious. Scandinavia Facts reveals that during this intriguing Pluto in Aquarius cycle, women were so important to society that they were buried with ships. The Middle Ages described a huge leap forward for women, stuck as they were with the old Pluto in Capricorn system, just before. (Image: Scandinavia Facts).
Pluto in Aquarius 1041 to 1063
February 9th 1041 to July 31st 1041
December 20th 1041 to March 31st 1062
August 4th 1062 to February 11th 1063
October 11th 1063 to December 16th 1063
Zoë Porphyrogenita was Byzantine Empress in this period. She ruled with her sister Theodora and they were joint empresses, for a short time. (Image: Wikimedia Commons).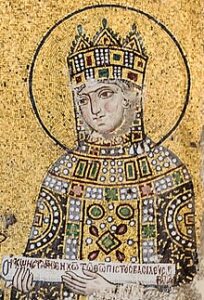 Pluto in Aquarius 1286 to 1308
March 5th 1286 to June 29th 1286
January 10th 1287 to September 23rd 1287
November 1st 1287 to March 27th 1307
August 10th 1307 to March 27th 1307
October 23rd 1308 to December 4th 1308
The First War of Scottish Independence began in 1296 as the Scots with Robert the Bruce, battled the English. On March 25th 1306 Robert was crowned King of Scotland with Elizabeth de Burgh as Queen. It seems we can likely expect independence for Scotland in the 2023-2044 period.
Pluto in Aquarius 1532 to 1553
February 12th 1532 to July 29th 1532
December 21st 1532 to March 30th 1552
August 4th 1552 to February 10th 1553
October 15th 1553 to December 12th 1553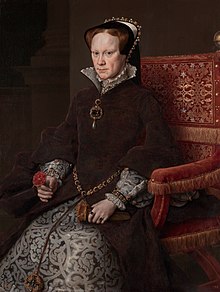 This Pluto in Aquarius period saw the youthful beginnings of Britain's second great female leader after Boudicca. Enter the all-powerful Queen Elizabeth I, born on 7th September 1533. The Church of England was also born with Pluto in Aquarius, in November 1534 and would eventually allow women priests some centuries later.
Mary I became Queen on 19th July 1553 in the final year of Pluto in Aquarius. (Image: Wikimedia Commons). This was a tremendous period of system change, elevating two queens. The transformation in this cycle was also, of course, The Reformation under Henry VIII.
Pluto in Aquarius cycles have to put in context. The Reformation came about because Henry VIII was a serial monogamist. This great power struggle between King and Pope is typical of any Pluto cycle, Pluto being the astrological symbol of total control. Yet, without the Anglican church that Henry created, a woman's right to divorce (and a woman's right to become a priest) would not today be enshrined in English life. Today's royal family are a good example of just this: a woman's right to leave a marriage, with Diana and Anne leaving a long trail.
Pluto in Aquarius 1777 to 1798
April 3rd 1777 to May 28th 1777
January 26th 1778 to August 21st 1778
December 1st 1778 to April 11th 1797
July 21st 1797 to February 17th 1798
September 28th 1798 to December 26th 1798
Plutocrats, symbolic of the previous Pluto in Capricorn cycle, fell over dramatically on this Pluto in Aquarius transit. On 14th February 1779 Captain Cook, that great coloniser, was killed by Hawaiians. In 1778 his employer, George III became deranged and unfit to rule. In February 1789, the Regency Bill, authorising the Prince of Wales to act as Regent in George's place, was passed in the House of Commons.
The United States is Born
People power famously peaked in this period on 19th October 1781 when General George Washington defeated the British at Yorktown. On 3rd September 1783 Britain signed the Treaty of Paris and gave independence to America.
The 1777 Second Continental Congress agreement set up "a firm league of friendship" between the new united states. This is where many American astrologers began to associate friends, allies and the idea of a brotherhood and sisterhood – with Aquarius.
The US Constitution adopted on 17th September 1787 has been amended 27 times since then and it is easy to predict, will be amended again on the new Pluto in Aquarius cycle of 2023-2044.
Modern Australia is Born
On 13th May 1787, during this cycle, the First Fleet of settlers, including 778 convicts, left Britain for New South Wales, Australia. Australia is an interesting example, like America, of a nation invented during Pluto in Aquarius. All the signs are there. Tribes. Feminism. Egalitarianism. This was also a crucial period for black rights worldwide. The British Society for the Abolition of the Slave Trade was established in 1787.
Liberte, Egalite, Fraternite
"Liberty, equality, fraternity" was the rallying cry of the French Revolution of 1789. The Storming of the Bastille on 14th July 1789 is a defining Pluto in Aquarius moment.
"Men are born free and remain free and equal in rights" is part of the French Declaration of the Rights of Man and of the Citizen, from this Pluto in Aquarius cycle in 1789.
On 21st January 1793 Louis XVI was executed at the guillotine. On 16th October Marie Antoinette met the same fate. On 4th February 1794 France abolished slavery.
The Society of Revolutionary and Republican Women was an important part of the revolution. The Women's March on Versailles, too.
Mary Wollstonecraft
A Vindication of the Rights of Women was published by Mary Wollstonecraft in 1792 during this Pluto in Aquarius cycle. It called for girls to be educated equally with boys. This brings us to the year 2023 and the imminent arrival of Pluto in Aquarius, again. Where to next? (Image: Wikimedia Commons).
The combination of Uranus in Taurus (a revolution in the economy) as well as Pluto in Aquarius (from 2023 to 2026) suggests either a sharemarket crash and/or taxation reform. The billionaire plutocrats who dominated us during Pluto in Capricorn seem unlikely to survive.
Do you have an Aquarius stellium? Perhaps you are already involved in such a movement, but nothing has altered. That will turn around from March 2023 when the time is right. Jupiter and Saturn in Aquarius in December 2020 may have laid out the path, but it will take Pluto in Aquarius to propel you along it. In your own way, you will be part of the great change to come.