The Jupiter-Sun Conjunction in April 2023
On 12th April 2023 at 8.03am in Sydney (adjust for your time zone) we experience the fantastic Jupiter-Sun conjunction which can only happen every 12 years, in one particular zodiac sign.
This one takes place with the Sun at 21 Aries 45 alongside Jupiter at 21 Aries 45. If you have anything in your chart at 21 degrees you will find your life lightens up, opens up and offers more.
To allow the world enough time to catch up with itself, we can allow 24 hours either side. Jupiter is about expansion, growth, good outcomes and big benefits. The Sun brings highlights. It sheds light and illuminates. This chart below shows you the conjunction, as it happens at breakfast time in Sydney, Australia. This is a hugely optimistic moment on the 2023 calendar.
A lot of people and organisations will be using it, so don't be surprised if there are some big announcements near that date. This is an AstroGold Software chart.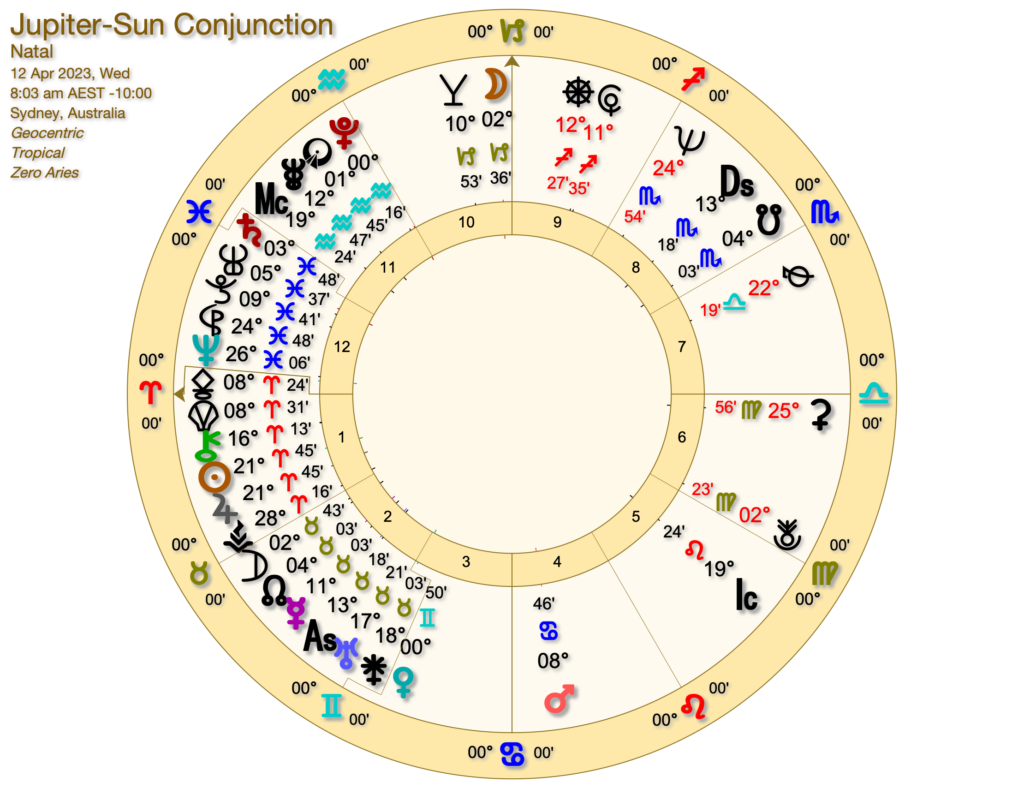 What To Expect From Jupiter-Sun Conjunctions
Globally, they always bring good news. Great news. Big news. The zodiac sign and house where the Jupiter-Sun conjunction takes place, tells you the nature of the news. In Aquarius, for example, the 2021 conjunction was about the global community.
On January 29th 2021, we saw Jupiter at 9 Aquarius in conjunction with the Sun at 9 Aquarius. The Treaty on the Prohibition of Nuclear Weapons came into effect on 22nd January, just seven days before. On January 20th President Biden brought the USA back into The Paris Agreement on climate change – just nine days before.
On Saturday 5th March 2022, last year, Jupiter 14 Pisces was in a conjunction with the Sun at 14 Pisces. Pisces rules self-help, counselling and therapy – the soul, spirit and psyche. The National Geographic reported on a new drug for trauma and addiction. Australia became the first country in the world, to legalise MDMA and Magic Mushroom treatment for depression and post-traumatic stress – on the same day, 5th March.
This new Jupiter-Sun conjunction on 12th April will be in Aries, the sign ruling title, appearance and reputation. We are likely to see some great news about social media, which is where most people have their profiles. The phrase 'From little acorns, mighty oaks do grow' is true for Jupiter. This photograph by Alexander Klarman (Unsplash) shows small beginnings.
Growing the Acorns into Future Oaks
In modern astrology we allow a one-degree orb (one degree's difference) so if you have horoscope factors at 20, 21, 22 degrees you will gain from Jupiter and the Sun, aspecting your chart. The aspect (or pattern) may be a semi-sextile, sextile, square, trine, quincunx or opposition.
Even if the aspect involves hard work or a big stretch, you still benefit if you take the Jupiter-Sun opportunity. The 'what' of the outcome will be shown by whatever you have at 20, 21, 22 degrees and its sign and house. You should already be familiar with that if you're a Premium Member. So, for example, if you have the Moon at 21 Virgo in your Sixth House of wellbeing and workload, Jupiter and the Sun at 21 Aries will aspect that – and you are in a terrific position to improve your lifestyle.
Jupiter-Sun Conjunction in the Birth Chart
Mary Tyler Moore is a typical example of a person actually born with a Jupiter-Sun conjunction. And she is a perennial advertisement for the feelgood factor, optimism and 'can-do' which comes with the combination.
She was born on 29th December 1936 at 10.45am in Brooklyn, New York, with the Sun at 7 Capricorn in a conjunction with Jupiter at 6 Capricorn. The clue is in the name. Mary Tyler More. Jupiter is always about starting small and gaining. It's about thinking big and aiming for the best and greatest. It's also very much about the luck that can take you there.
Mary had her conjunction in Capricorn, the sign of the mountain goat who climbs to the peak. This clip is great as it sums up the career woman of 1970, climbing the high-rise Capricorn towers and throwing her hat in the air. (Clip: YouTube).

Your Sun Sign and the Jupiter-Sun Conjunction
Publicly, where do you stand to gain near Wednesday 12th April (allow a day either side) as you experience this transit?
Aries: Image, reputation.
Taurus: Spirituality, self-help.
Gemini: Friends, groups.
Cancer: Success, status.
Leo: Foreigners, the worldwide web.
Virgo: Finance, property.
Libra: Duets, duels.
Scorpio: Workload, wellbeing.
Sagittarius: Relationships, children.
Capricorn: Home, family.
Aquarius: Siblings, internet
Pisces: Money, business.
Your Birth Chart and the Sun-Jupiter Conjunction
So you have 20, 21, 22 Degree Factors in…
Aries: Profile, reputation, title, appearance.
Taurus: Money, property, business, charity.
Gemini: Internet, media, siblings, journeys.
Cancer: Home, family, property, home town.
Leo: Bedroom, courtship, children, teenagers.
Virgo: Work, wellbeing, lifestyle, routine.
Libra: Partners, duets, duels, conflicts.
Scorpio: Joint finances, shared property.
Sagittarius: Foreigners and the worldwide web.
Capricorn: Success, status, achievement, goals.
Aquarius: Groups, friends, allies, people power.
Pisces: Spirituality, self-help, psychics.
Do You Have Aries Chart Factors?
This is about your First House of reputation, appearance and title. Your exterior. You may want to catch up with this feature on Aries cycles as self-promotion has been a long story in your life for many years.
What happens at the Sun-Jupiter conjunction in Aries will probably be an acorn, in terms of planting the future of your appearance online. The oak will grow from 2026 onwards as Neptune goes into Aries, and new technology will enable you to experiment with a range of different online personalities. We already do this of course, if we choose avatars or fake names, but what unfolds with Neptune in your First House will be a revelation. A complete escape from who you are – in a virtual bubble.
Main image: Rajiv Bajaj, Unsplash.