The Taurus New Moon Zoom on Friday 19th and Saturday 20th May
Join me and host Alicia Fulton from The Astrology Show on Twitter, for a free New Moon Zoom on Friday 19th May and Saturday 20th May 2023 in London, Sydney or New York. Bring a notebook along and remember, we always break for a Tarot reading using my website at these sessions, so you can ask a personal question using the deck on my site – how will the Taurus New Moon affect you?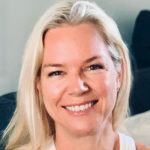 This is the luckiest New Moon of 2023, particularly if you have anything in Taurus in your birth chart.
If so, this will be about saving or making money for you. Yet, everyone can gain from this New Moon with the Sun at 28 Taurus and Moon at 28 Taurus.
Your personal horoscope may chime with this New Moon, or with Jupiter in Taurus in general. Taurus is the sign which rules everything that is valuable, precious or priceless in your life. We'll break for wine or tea on your appropriate time zone. Alicia (pictured) will be at Bondi Beach to welcome you online, with me in Hobart for these two sessions.
Join Free at Astrology and Tarot Meetups
If you are not already a member of Astrology and Tarot Meetups in New York, London or Sydney – then it's free to join.
Just use your full name and a clear photograph of your face. Here are the details for the New Moon Zoom, below. Just remember, you need to click on the Zoom link to register, ahead of time, then Zoom emails you a second link, to join. It's two steps. Figure out your time zone within Australia or in New Zealand by using Time and Date or skip to the handy look-up guide at the end of this feature.
Australia – Friday 19th May @ 8pm AEST
London – Friday 19th May @ 11am BST (combined event with Australia event above)
New York – Friday 19th May @ 8:30pm EDT
What To Expect From the Taurus New Moon Zoom
This is a big, big new beginning. It is like planting an acorn which you know has a fantastic chance of becoming a mighty oak. I'll take questions in Live Chat during the Zoom, for those of you with anything at 28 degrees in your chart, so we can see how it is personally affecting you.
By all the laws of astrology, anything you begin which is brand new, on the New Moon at 28 Taurus, will reward you when Jupiter, the planet of breakthroughs, solutions, hope, growth and expansion, moves to 28 Taurus in May 2024. The exact dates for that are May 18th to 21st. Even if you don't have factors at 28 Taurus, anything in Taurus in your birth chart at all will show solutions or big options. If You Have Taurus Factors
If you have Taurus factors in your Second House of finance, possessions, houses, land, apartments, investments, charity, business, shares – then you stand to gain between May 17th 2023 and May 25th 2024. You may inherit money. You may start small with a product and find it grows enormously, even by 2024.
You may find that an NFT investment pays off, for example. You may be offered something for nothing – a fantastic house-sitting opportunity or the use of a yacht. Maybe your government has a new budget in mind which will benefit you in lower taxes or allowances. You may inherit or win. It happens.
Bargains (the big kind of bargain) are also common on this cycle. You'll have noticed that the world's second-richest man, Elon Musk, is offering Twitter users the chance to charge followers for access to special events, coming off their accounts. That's really good example of something for nothing on Jupiter in Taurus.
So, for example, if you are a great cook you can now offer your Twitter followers access to your best recipes. If you are a musician you can use your Twitter account to show people your new song, as part of a subscription. At last social media is paying you.
Over the next 12 months, obvious at that New Moon on 19th May – we will see all kinds of good news about the world economy and about your own country's economy too. In a moment I'll look at the 'forever' brands which began on this cycle and how you can gain. People often make a simple mistake with Jupiter in Taurus. They launch a startup or kick off a business without thinking beyond the first 12 months. Jupiter in Taurus is about approximate 12-year cycles so you should be thinking about the years 2035 and 2036. Jupiter likes to grow.
Jupiter in Taurus Success Stories
Allow a day either side for world time zone changes, but these are the Jupiter in Taurus periods, previous to the one you are in now, starting in May 2023.
May 16th 1940 until May 26th 1941
April 28th 1952 until May 9th 1953
April 12th 1964 until April 22nd 1965
March 26th 1976 until August 23rd 1976
October 16th 1976 until April 3rd 1977
March 8th 1988 until July 22nd 1988
November 30th 1988 until March 11th 1989
The Secret – Plan to Expand and Think Long-Term
The secret with Jupiter is to plan to expand and to think long-term, as I've mentioned. Jupiter comes back into Taurus every 12 years, so it's wise to start with something that lets you think big, and allows you to embrace more from every angle. These are just a few of the brands or arrivals from previous Jupiter in Taurus cycles, below.
McDonalds (15th May 1940), Holiday Inn (1st August 1952), Television in Canada (6th September 1952), The Flower Pot Men (BBC TV) (December 15th 1952), the James Bond Books (13th April 1953), Pop-Tarts (September 14th 1964), The Addams Family (ABC TV) (September 18th 1964), Diet Pepsi (December 28th 1964) the Die Hard Series (July 15th 1988). These brands expanded into different territory or different mediums and grew.
Kentucky Fried Chicken was born with Jupiter in Taurus too, as were M&M's and Cheerios breakfast cereal. Big, number one food brands come out of Jupiter in Taurus. Of course, it helps to have other great transits too, but in 2023 we have them. Uranus is in Taurus, which lends itself to new inventions. Here is another tip. Have an expanding menu with a vision to eventually offering vast, multiple choices. Would you like fries with that?
This old advertisement for McDonalds from various sources on Twitter (it has gone viral over the decades) shows you how you can begin with a hamburger and expand.
McDonalds has branched out into chicken and vegetarian burgers. Fish burgers – and ice-cream. Cafes. Drive-in collection. Free gifts for children. McDonalds has gone into Communist countries and it did so, for the first time, on its Jupiter in Taurus return.
Think roughly 12, 24, 36, 48 years into the future because that is how often Jupiter returns to Taurus. Ongoing growth. My favourite example of a Jupiter in Taurus winner is the thing you are looking at now. The Worldwide Web was launched with Jupiter in Taurus. I am looking forward to seeing as many of you as possible to set goals, pick up good 2023-2024 timing secrets and start your success.