What the Israel Astrology Chart Shows
Israel was founded at 4.00pm on 14th May 1948 in Tel Aviv. (Software: AstroGold).
The October 2023 Hamas attacks triggered the chart, which you would expect, as an astrologer. The horoscope also shows solutions and hope for the future, so after many requests on Twitter, I will show you dates for progress.
The problem for Israel and Gaza is clearly shown with one glance. Uranus (shocks, independence, upheaval) is in Gemini, the sign ruling neighbours. The issue always was, always is, geography.
Uranus is at 24 Gemini in the Third House of neighbouring nations. It makes an exact sextile to Fortuna at 24 Aries in the First House of image. There is another exact aspect too; a square to Minerva at 24 Virgo in the Sixth House of daily life.
An Old Prediction About Israel
Two years ago you read this prediction about Israel, territory and a redrawn map. Scroll down to the end of the feature if you missed it.
I was looking far beyond 2023 into the late 2020's and predicting crisis and change, particularly with map boundaries.
The issue for Israel and Gaza will be COVID-19, into the distant future.
The Pandemic, Gaza and Israel
In October 2023 violence on both sides is the problem for the world to look at. Later on it will be the pandemic. This is a humanitarian crisis and lack of access to vaccines has already been a concern.
It will be the continuing pandemic which is a prime mover for the search for solutions for Gaza and Israel, ongoing. Children on both sides are the innocents, aren't they?
This is the map of Israel and the boundaries with her neighbours which shows that line-up with Uranus in Gemini in the Third House (above).
We are slowly approaching the Uranus Return in Gemini which will result in a radical change to the neighbouring countries, below.
Uranus in Gemini is Back
Just as the territory was carved up in a revolutionary way at the birth of Israel with Uranus in Gemini, so it will be dramatically altered again, as Uranus returns to the Third House of neighbours. (Map: Wikimedia).
The Two-State Solution, which seems so far off as I write this in October 2023, could easily become boosted in 2025, when Jupiter moves into Gemini onto the Israel 'neighbour issues' hotspot. Jupiter times big answers in astrology.
This, or a variation of it, could revolutionise Israel and her neighbours quite radically once Uranus moves into Gemini too. That's only a few years away now. Gemini the twins suits Two States as well. Astrology runs on synchronicity like that.
Watching Iran Until 1st November 2023
Benjamin Netanyahu, the Israel leader, began his war plan overnight on Saturday 7th October 2023 after the Hamas attack. The astrology chart set for 9.00pm on Saturday night shows Mars the war planet at 27 Libra. It forms a T-Square with Pluto at 27 Capricorn and the Moon at 27 Cancer.
The problem is 27 degrees. It is a hotspot. It also shows up in the chart for Israel (above) which has Jupiter at 27 Sagittarius. The Iran chart shows Mercury at 27 Pisces and Apollo at 27 Taurus.
Nothing changes until 1st November 2023, when at last Pluto moves off 27 Capricorn. Until then we can expect a power struggle and changes in the balance of power, between nations and within Israel's leadership. The astrology is clear. At 5.00am on 1st November 2023 the crisis over control for Israel, Iran and Gaza ends. Benjamin Netanyahu may lose power.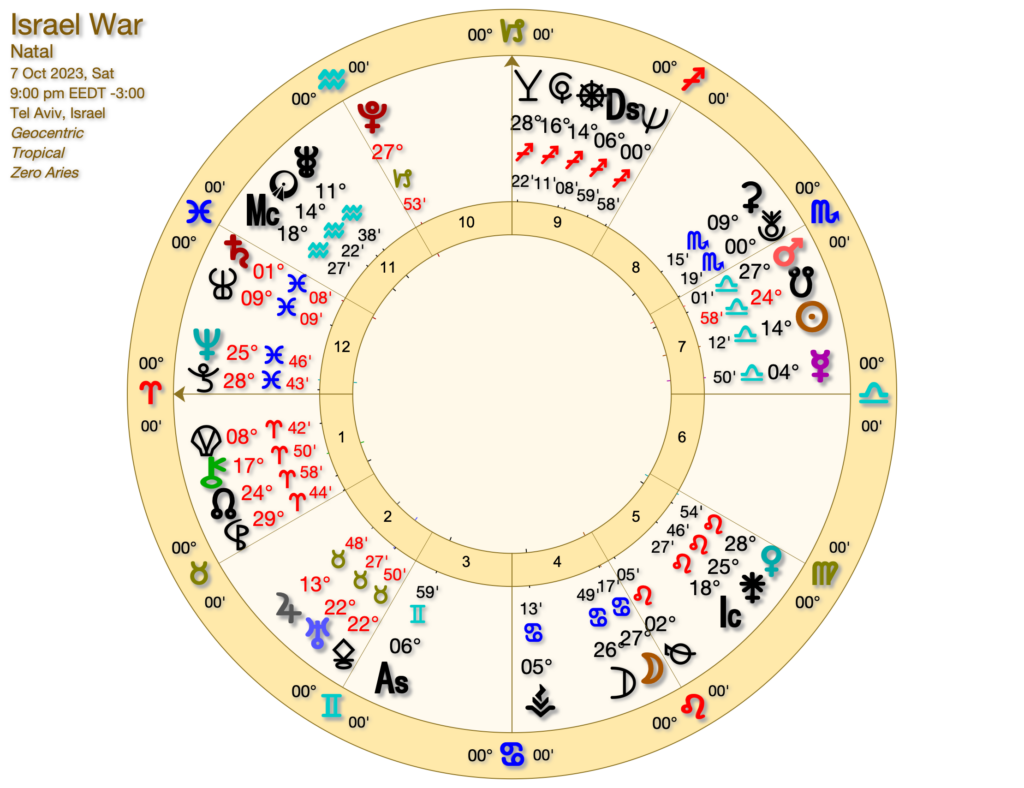 Hope and Progress in 2025
The trigger to the pattern with Uranus at 24 Gemini (shock and the neighbours) was something you only see every 19 years: the North Node at 24 Aries and South Node at 24 Libra. This was the Hamas attack. The line-up was exact and historic.
The good news is, this tells professional astrologers like me, when to expect hope, progress, solutions and breakthroughs. Jupiter with all its solutions will move to that Uranus 24 Gemini hotspot eventually.
The Gemini Cycles are About New Neighbourhoods
In fact, the dreadful events of October 2023 are already writing a better and different future, as in some years from now, Israel will have her Uranus Return in Gemini – the sign of the neighbours, or Gaza and Palestine. The year 2025 is calling.
This is 'the revolution that liberates' and there will be an independence push on one or both sides to break free from the tyranny of geography. In fact it may even chime with a new Israel – a rebirth. That would mean a new chart as well.
A Caution Date for Israel in 2024
The astrology is specific here. On 13th February 2024 the Moon is at 16 Aries, Chiron is at 16 Aries and the North Node is at 16 Aries, all opposite the South Node at 16 Libra. That is extremely risky.
Israel was founded with Saturn at 16 Leo. The other issue is the Mars-Pluto conjunction at 0 Aquarius.
This is far too much heat (Mars, Aries) and way too much power (Pluto) pushing back against any peace process (Libra) or any hopes that laws will prevail (Libra, again).
It's a red flag date best avoided. The 13th February 2024 is extremely difficult for Israel, even as I write this on 14th October 2023, looking five months into the future.
What's So Different About 2025?
Uranus in Gemini nods to a two-state or three-state solution, or another radical answer. Uranus is the last thing anybody expected. The world turns upside-d0wn. Gemini is the country over the back fence.
What's so different about 2025? Not only is Uranus in Gemini back since the time Israel was actually created, we also have Pluto (the power) in Aquarius (the sign of global brotherhood and sisterhood; the world community).
The timing has been wrong before. The timing will soon be right for the world to turn upside-down and in the right direction.
Dates to Watch
Uranus at 24 Gemini, Fortuna at 24 Aries and Minerva at 24 Virgo in the astrology chart for Israel show us the breakthrough dates for big answers.
This will be May 14th-18th 2025. That's a long way off, as I write this on 11th October 2023, but it is an important window of opportunity between Israel and her neighbours.
May 14th to 31st 2025 is Historic
In fact, May 2025 is historic for Israel and Gaza. We also see the transiting South Node at 24 Virgo and North Node at 24 Pisces.
That takes place on May 25th to 31st. So this is a two-step outcome for Israel and Gaza.
From May 14th to 31st 2025 answers. not possible in 19 years will arrive to help solve the conflict in Israel and Gaza and their neighbours.
The Biggest Revolution of All – Map Boundaries in 2031
The biggest revolution of all will come on the Uranus Return of Israel, when Uranus itself moves to 24 Gemini. That takes place in July 2031.
The map will be redrawn then, as I predicted two years ago. In fact, map boundaries will be redrawn worldwide between many neighbouring states and nations, but perhaps none is more important than Israel and Gaza – and their own neighbours.
Main image: Circles in a Circle, Wassily Kandinsky (Picryl).