A symbol of freedom and independence
Diana is a symbol of freedom and independence in your horoscope. She is an asteroid, and the daughter of Jupiter in Roman mythology. Of course, all our modern astrology is based on these Roman/Latin gods and goddesses. Diana is thus an important part of the family tree you can find in your horoscope. She can show you (by sign and house) why you may be reluctant to commit. With Diana in the Tenth House, for example, you may not want a lifetime career path. With Diana in the Fourth House you may be very shy of mortgages.
This is an ancient archetype, or symbol, which has survived the centuries. Here is Diana in the Middle Ages with her bow and arrow, and her dogs. To the Romans she was their version of the Greek Artemis, the goddess of the hunt. Diana is that part of you which roams free. She is all about Women Who Run With The Wolves.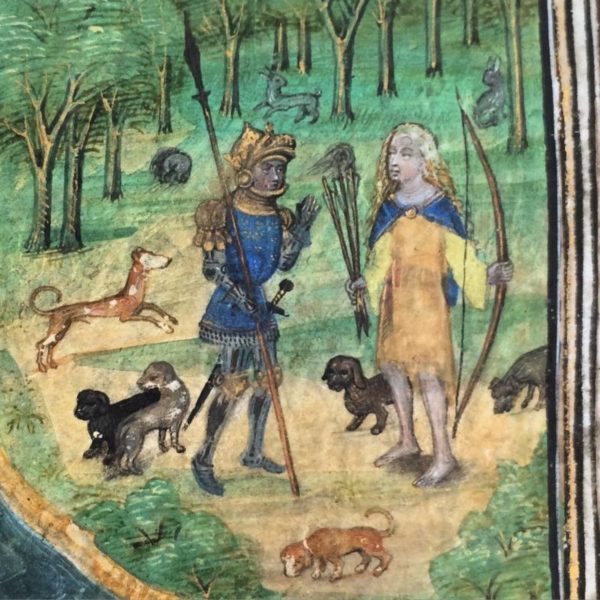 Diana: Key Words and Ideas
Non-binding agreements. Commitment phobia. Autonomy. Space. Liberty. Spontaneity. No Ties. No Strings.
Diana was the goddess who begged her father Jupiter to release her from motherhood and marriage. Jupiter granted Diana her wish and set her free to hunt with her only companions, a hunting dog (usually a greyhound) and her nymphs, who were her followers, but also her friends. They are often seen in art bathing naked together. Some people have suggested this makes Diana a bisexual symbol. She had male lovers, too. Famously, Endymion was one of them. Endymion spent his entire life asleep. Diana only visited him when he was slumbering. They had children together, so it was a passionate affair, but it was never an active partnership (to put it mildly). Diana types often need Endymion types. The house and sign where you have Diana shows where you are always 'hunting' and roaming free and wild, but may need someone who is passive to partner with you.
I photographed this statue of Diana with her slumbering lover in Bath. You can see Diana's dog underneath his leg but Endymion has passed out! It is common to see Endymion types in modern life who are addicted to television/computers/games/meditation and thus, barely present. Or, Endymion can manifest as a man with depression, or someone who is an habitual stoner or drinker – physically there, but not wholly there at all.
There is the suggestion that Diana falls for Endymion precisely because he will not get in the way of her hunting, her swimming and her dog! Can you see Diana-Endymion patterns in your own life?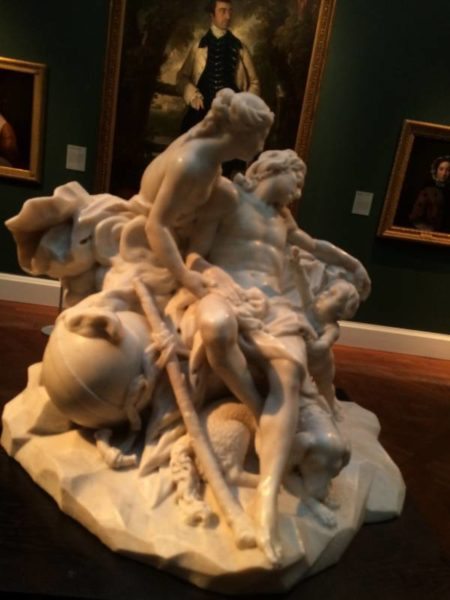 Diana in the Signs and Houses
The sign (below) you find Diana in, also gives you the house, or the life department she's involved with. Of course this may be a complex and sometimes contradictory part of you! Why? Diana may be in the same sign as the Moon (for example) and the Moon needs to be needed. Or she may be in there with a number of heavenly bodies, which makes this part of your life rather complicated.
If Diana makes aspects (patterns) at the same degree as other chart factors, she'll be quite busy in your personality and your life. If you have Diana at 1 Aries and the Moon at 1 Cancer, for example, you'll find Diana pops up quite a lot.
Strongly Diana types are typically single women who don't want children, who tend to have affairs or part-time relationships with men rather than commitment or domestic life – and who are either the outdoors type (active) or born to travel. If you have Diana in Pisces in the Twelfth House then you may be a secret free spirit who 'roams' when nobody is watching!
ARIES Image, brand, appearance, self-interest, self-promotion, profile, reputation, publicity, packaging.
TAURUS Money, business, charity, value, communism, socialism, economy, possessions, property, charity.
GEMINI Multimedia, publishing, internet, words, ideas, images, journalism, books, public speaking.
CANCER Mothers, home, family, home town, country, patriotism, roots, heritage, houses, apartments, home exchanges.
LEO Children, babies, young adults. Youth projects. Junior generations. Lovers who could make you a parent/aunt/uncle.
VIRGO The Body. Daily routine, lifestyle, work ethic, service, duty, food, drink, drugs, doctors, healers, surgery, exercise.
LIBRA Partners. Partnerships. Former, current and potential partners. Enemies, rivals and opponents. Lovers or foes!
SCORPIO Power and money. Sex and money. Death and money. Basically – property/finance in power-based ties.
SAGITTARIUS Travel. Travel in the mind. Academia, education, publishing, beliefs, foreign or regional ties, the internet.
CAPRICORN Ambition. Social climbing. Social status. Achievement. Being at the top of the hierarchy. 'Making it.'
AQUARIUS Groups. Friends. People power. Clubs, societies, associations, political parties, bands, teams, Twitter networks.
PISCES Drugs and alcohol. Meditation. Mediumship. Secrets. Operating behind the scenes without any credit/visibility.
Working with Diana in your chart

We live in a world where security is sold to us as the ultimate kind of happiness, yet the truth is, we all have Diana in our charts somewhere. I know that big business, government and banks long for us to commit (that fits nicely into their spreadsheets and projections) but Diana has nothing to do with security, safety, commitment, longevity, assurances, responsibility – or anything else. She is all about hunter/gatherer instinct. You can spot her all over the world. Here she is in a Paris antiques shop. She is always shown with her bow and arrow, and usually a greyhound or spaniel at her feet. Diana is usually shown with one foot raised, as if to run. She's that side of you which does not hang around! Diana helps you deliver the goods, but you will want to do it on your own terms, in your own way, on your own time.
Her famous fight with Actaeon came about when he accidentally saw her swimming naked with her nymphs. She was so enraged at this invasion of her space that she turned him into a stag. He was torn apart by his own dogs, as a result. Diana can be a fierce, remorseless, part of yourself too. This is where you will not stand for anyone or anything taking away your territory. If you have Diana in the Sixth House of the body, for example, you will be fiercely independent about your food, drink, fitness, healers, doctors, drugs and so on. You won't take kindly to others (even accidentally) tramping on your turf.