An eclipse in astrology is simple to understand. It obscures what would normally be seen. Situations are in shadow. There may be a cover-up. Details may be hidden. For this reason, astrologers have always warned their readers and clients to avoid the eclipse period (allow one day before, and one day later, for world time zones to catch up) for decision making or action plans.
Here's a famous example. Prince Charles married Lady Diana Spencer on Wednesday 29th July 1981. The wedding was sandwiched between two eclipses. It was too late for Diana to call things off. Her face was on the tea-towels. The first eclipse took place on Friday 17th July. The second one occurred on Friday 31st July. Somewhere between the wedding cake icing and the honeymoon, everything was hidden. Cancerians (people born with the Sun in Cancer) are strongly affected by eclipses because they are ruled by the Moon. Princess Diana and Camilla Parker-Bowles were both Cancerians.
Princess Diana died near an eclipse. She passed on 31st August 1997 and the Solar Eclipse took place on 2nd September, two days later. It is typical of eclipses that months or even years later, there is always mystery, lack of information, lack of insight or lack of detail surrounding an event. An eclipse does what it says on the label. It blots out what would normally be seen.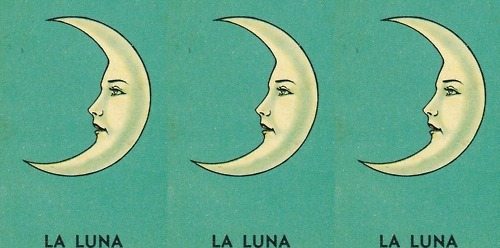 THE ECLIPSE AND THE ASSASSINATION OF PRESIDENT JOHN F. KENNEDY
On July 20th, 1963 America went eclipse crazy. Even Peanuts mentioned it. The man who allegedly assassinated President John F. Kennedy was fired from his job the day before the eclipse took place.
Lee Harvey Oswald's next job would be at the Texas School Book Depository, near where JFK would die. Polls show that most Americans do not accept the official verdict on the assassination of President John F. Kennedy, even today.
IF AN ECLIPSE HITS YOUR CHART

When Lee Harvey Oswald was fired from his last job, at the Reily Coffee Company in New Orleans, before ultimately going to Texas, the total eclipse the following day saw the Sun and Moon at 27 Cancer. Oswald lost his job on July 19th 1963 and America went dark on July 20th, one day later.
President John F. Kennedy was born on 29th May 1917 at 3.00pm in Brookline, Massachusetts with Saturn at 27 Cancer. Right on the eclipse point. Saturn is the toughest chart factor of all. An eclipse on your Saturn is not a good time to do anything dramatic, because you will not see what you need to see. You will not know, what you need to know. You will have a blind spot!
An eclipse is not necessarily negative. It may hit your Jupiter, which is the planet of problem-solving. However, you have to ask yourself if you want to proceed with any plan, event, decision or important discussion when things will be obscured from view. This image from The Daily Express in 1999 describes the famous eclipse over Britain that year. I saw it at Glastonbury when I was interviewed by Channel Four about its astrological meaning. Or rather – I didn't see it. The whole sky went dark.
You can track the exact degrees of the eclipses to see if they hit your chart in your 2017 Moon Calendar if you are a Premium Member. Make sure you've downloaded it. You can print it, or keep it on your desktop.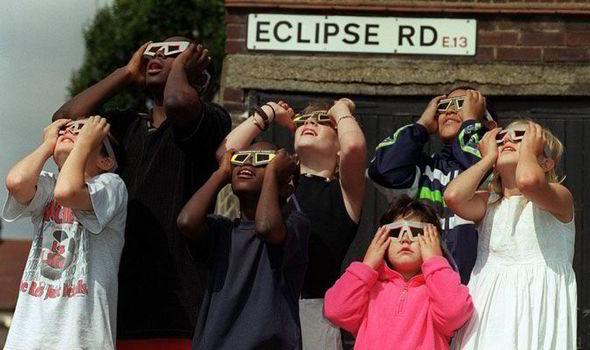 THE ECLIPSES YOU NEED TO KNOW ABOUT UNTIL 2020
2017 February 11th, February 26th, August 7th, August 21st.
2018 January 31st, February 15th, July 13th, July 27th, August 11th.
2019 January 6th, January 21st, July 2nd, July 16th, December 26th.
2020 January 10th, June 5th, June 21st, July 5th, November 30th, December 14th.
WHAT AN ECLIPSE IS – AND WHAT AN ECLIPSE IS NOT
During a Solar Eclipse, we on earth are in the Moon's shadow. During a Lunar Eclipse, our Moon is in shadow. The word 'eclipse' comes from an ancient Greek word for 'darken'. We are left in the dark on an eclipse. We can't see. There may be a deliberate cover-up taking place. The facts may be shadowy at best.
On a New Moon Eclipse – check for the area of your life (house) affected by each eclipse, which is a simple matter of looking at the sign. I use the Natural House system for the personal birth chart you have as a Premium Member. Accurate, nice and easy.
This is personal information based on your personal chart so only you really know the story here! It's intensely private. If you don't have your birth chart from me, please keep reading further to find out how eclipses affect your regular Sun Sign or 'public' astrology chart. All systems work. What you read below shows the inner you. Further down, you'll see how an eclipse affects the public, or outer you.
An Eclipse in Aries – Image, Brand, Reputation, Name, Label, Personal Appearance, Profile
An Eclipse in Taurus – Money, Business, Corporations, Economy, Taxation, Houses, Apartments, Charity
An Eclipse in Gemini – The Internet, Emails, Hacking, Telephones, Faxes, Computers, Multimedia
An Eclipse in Cancer – Property, House, Family, Apartment, Home Town, Household, Homeland
An Eclipse in Leo – Children, Babies, Courtship, Royal Bedchamber, Heirs, Godchildren, Nieces, Nephews, Youth
An Eclipse in Virgo – Body, Job, Lifestyle, Workload, Duty, Service, Fitness, Drugs, Food, Drink, Doctors
An Eclipse in Libra – Partners, Former Partners, Potential Partners, Enemies, Opponents, Rivals
An Eclipse in Scorpio – Finance, Property, Business, Wills, Testaments, Mortgages, Banks, Investments
An Eclipse in Sagittarius – Travel, Foreigners, Export, Publishing, Worldwide Web, Religion, Academia
An Eclipse in Capricorn – Corporations, Business, Government, Ambition. Success, Achievement
An Eclipse in Aquarius – Clubs, Teams, Societies, Associations, Guilds, Friends, Unions, Freemasons
An Eclipse in Pisces – Secrets, Classified Information, Confidential Concerns, Life Behind The Scenes
On a Full Moon, the Sun will be in one sign, and the Moon in another. Both will show you areas of life where there may be a lack of clarity, vision or murkiness to deal with. Look up both signs to see the areas of your life affected, as each eclipse comes around. If you're a Premium Member, you'll have your 2017 Moon Calendar from me which shows you every single eclipse.
An eclipse is neither positive nor negative. It's just missing information, concealed facts, blind spots, and the simple business of not knowing/not seeing. The rest of your personal chart will tell you if it happens to be a problem or not. People often aren't telling you things on an eclipse, or there may be a 'to be continued…' element to what goes down. An eclipse event will happen almost as soon as the Moon moves into the sign where there will be an eclipse and it's usually easy to spot. MAKING PREDICTIONS WITH ECLIPSES
How do we make predictions with eclipses? It's simple. Some eclipses are more important than others. If they take place in zodiac signs where we are also seeing major planetary alignments, the story becomes bigger.
On Monday 21st August 2017, we will see an eclipse falling with the Sun and Moon both at 28 Leo, which is a hotspot. Why? Because in May 2017, just three months before, the True North Node also passes 28 Leo. What does Leo rule? Children. Specifically, the children and younger people in any royal family. Why? Leo is the Royal sign.
Leo also describes the President in countries where there is no King or Queen. Prediction – The world's karma (the True North Node) surrounding the younger members of families attached to Buckingham Palace and the White House (Leo) in May 2017, will be directly connected to a cover-up, or mystery, on 21st August (the eclipse). The new beginning then (the New Moon) involving these younger faces attached to the Queen or the President (Leo) will be unusual (an eclipse is rare). It will not show us what we need to see. (Eclipses conceal, they never reveal) It will hide from the world, what would normally be visible.
This is how astrologers make predictions. We take the whole astrological 'sentence' apart and decode it.
We can expand that prediction. Why? Because the eclipse falls at 28 Leo. Is there anything else at 28 degrees in August 2017? Yes. Chiron is at 28 Pisces and Uranus is at 28 Aries. From a global point of view, this is big.
When people talk about 'shadowy' events or something 'casting a shadow' they are speaking the language of an eclipse. This is an old illustration of such a Moon Shadow, falling over England centuries ago. History and astrology teach us about eclipses.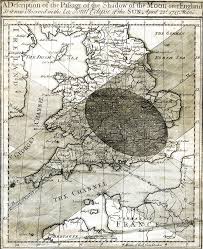 MORE FAMOUS ECLIPSES FROM WATERGATE TO 9/11

I've mentioned the story of Princess Diana in my notes on eclipses, but as you might expect, we also find them playing a major part in the 9/11 attacks and Watergate. We had a Lunar Eclipse on July 15th 1973 and on July 28th 1973, President Richard Nixon ordered the White House taping system to be disconnected.
We also saw a Total Lunar Eclipse across 20th and 21st January 2000. The first 9/11 hijackers secretly arrived in California in January 2000.
THE ECLIPSE IN YOUR SOLAR CHART (SUN SIGN CHART)
Your Sun Sign chart, or Solar Chart, shows the headlines of your life. It was created for the media, by the media, as a special technique. It works really well in revealing what is obvious to other people, about yourself and your world. Your personal birth chart (which you will have if you are a Premium Member) will tell you if you have anything at 28 degrees, which is where the August 21st, 2017 eclipse falls.
Your regular chart, based just on your sign, is just as important because it shows you what is easily understood by you and the people around you. So where will events be 'in shadow' and where will they be obscured? What area of life will blot out what you need to see and know? Please don't be paranoid about this. Scaremongering astrology is just as stupid as happy hippy astrology (which is when you read about how an eclipse will be the best thing since Nag Champa incense).
All you need to know is this. Across August 20th, 21st, 22nd 2017 we have a New Moon, or new beginning, in the sign of Leo. Normally it would be straightforward, but this new beginning involves a cover-up, a blind spot, or low visibility. The area of your life affected (below) is thus where you need to put off choosing, acting, deciding until things become clearer. Simple.
FEELING THE ECLIPSE 'BUMP' LATER ON – WATCH THE WHITE HOUSE, BUCKINGHAM PALACE
Eclipses tend to give us a 'bump' a few weeks or months later. Sometimes it can be years as we realise what we did not know, or could not see at the time.
On a world scale, it may be some weeks or months before we feel the classic 'bump' of the Leo Moon eclipse in August 2017 and it will involve the younger members of the Royal family and probably, also, the younger faces surrounding the White House. At that point we should all go back, back, back to May and August 2017 to look for answers, because there will be a mystery or missing links. Leo is the royal sign which always rules the First Family or Royal Family. This dramatic cover-up is about the White House and Buckingham Palace.
What about your own life? What about your 'heirs to the throne' if you have Leo factors? Because the eclipse occurs at 28 Leo, for those of you old enough to remember, there may be a direct link with the events of October, November 1998 when we also saw the True North Node at 28 Leo. Can you think back that far? There is karma here, in the area of life you are about to discover below. It may be a children's charity. It may be your children. It may be your godchild.
ARIES – Lovers. Babies. Children. Heirs to your throne. Courtship. Millennials. Youth. The royal bedchamber. Offspring.
TAURUS – House. Apartment. Family. Home Town. Homeland. Property investment. Tenants. Landlords. Builders.
GEMINI – The Worldwide Web. Your telephone. Your emails. The media. Multimedia. Education. Communication. Writing.
CANCER – Your money. Your house. Your business. Your apartment. Your charity Commitment. Your possessions.
LEO – Your image. Your reputation. Your title. Your Name. Your appearance. Your profile. Your portrait. Your cameo.
VIRGO – Your classified information. Your secrets. Your confidential concerns. The role you play behind the scenes.
LIBRA – Your friends. The group. Your private members' club. Your team. Your band. Your political party. Your committee.
SCORPIO – Your job. Your career as a whole. Your university degree. Your unpaid work. Your vocation or higher calling.
SAGITTARIUS – Foreigners. Foreign religion. Regional differences. Academia. Education. Publishing. The Worldwide Web.
CAPRICORN – Finances. Business. Charity. Property. Your last will and testament. Mortgages. Banks. Company finances.
AQUARIUS – Your former, current or potential partner. Your arch enemy, rival or opponent. The person opposite.
PISCES – Your job. Your unpaid work. Your body. Your daily routine. Your housework. Your service and duty to others.