Aesculapia is a symbol of resurrection, revival and a miraculous comeback in your horoscope. By sign and house, the position of this asteroid shows you where you can be like the Phantom – The Ghost Who Walks. Just when you think someone/something is over, it comes back from the brink. I used this asteroid to predict the outcome of the 2017 UK Election. By the way, thanks for all your messages about that.
Predicting the Future With Aesculapia
Whenever this powerful asteroid makes exact aspects (patterns) in your chart, you just know there's going to be a Phantom return. This is exactly what happened on the day that Prime Minister Theresa May called her election. And so, to the prediction, which was based on Aesculapia.
"To predict the future for groups (political parties) you always use Aquarius, which rules the Eleventh House (communities). Using the Natural House system here, we can see Diana at 6 Aquarius, Panacea at 22 Aquarius, the South Node at 26 Aquarius and Aesculapius at 27 Aquarius. That last one interests me. Why? Aesculapius is a symbol of resurrection. It describes people coming back from the brink – just when you thought someone's political career was over, it isn't! There is a real feeling of 'Ghost Who Walks' on June 8th and it's rather like The Phantom. If you are curious about Aesculapius, you can look him up in your ebooks if you are a Premium Member. He's a powerful asteroid and a relative of Jupiter in our astrological family tree. If you had the plague/were plagued, then you went to this god, in Ancient Rome, for a miraculous cure."
Predicting a Dead Woman Walking in the 2017 Election
So who was the Ghost Who Walks? Prime Minister Theresa May. When you use asteroids in astrology, you can make predictions that almost repeat the newspaper headlines. Understanding How to Work With Asteroids
The asteroids like Aesculapia (also known as Aesculapius/Asklepios) can be found at a glance if you are a Premium Member and have your personal birth chart from me. He is in Jupiter's family tree. All modern astrology is based on these Roman family trees, which began with Mercury, Jupiter, Saturn – and later added Uranus (father of Saturn) in 1781, then Neptune (Jupiter's brother, in 1846) and Pluto (another of Jupiter's brothers, in 1930).
The best way to understand how Aesculapia works in your chart is to look back at your own past to find out how you have experienced revivals, comebacks, returns and the rest. If you have Aesculapia in Leo in the Fifth House, for example, you may have paid or unpaid work which brings children back from the point of no return – perhaps in medicine or even in children's charities. (Leo rules children and young people). At the same time, Leo and the Fifth House are associated with lovers, so perhaps you are the kind of person who can resurrect a dead love affair, not just once, but many times.
Aesculapia and Florence Nightingale
Florence Nightingale was born with Aesculapia at 27 Sagittarius exactly aspecting Ops, another asteroid (Jupiter's mother) at 27 Taurus. Florence Nightingale became famous nursing dying soldiers back to life as they lay in their hospital beds, far from home in England, during the Crimean War. Sagittarius, of course, rules foreign places and people.
This asteroid was found in 1923 and the other connection with nursing/medicine/healing/surgery/the life force comes from the simple fact that in 1923, insulin was discovered. As you can see below, the twisting spiral of DNA resembles the twisting snake on the famous Rod of Aesculapia. You will see the god holding this snake, or staff, with a serpent wrapped around it in most museums. Today, the symbol can be seen on the side of New York ambulances.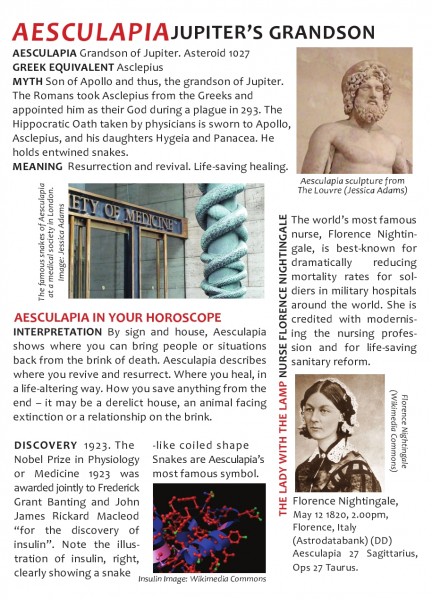 Discovering Aesculapia in the British Museum
I am often asked when I will be teaching astrology – particularly Sun Sign astrology – and the answer is, 2019. These lessons and events will be free to Premium Members. One of the very first field trips we will take will be to the British Museum, where you can begin discovering the meaning of asteroids like Aesculapia by looking at surviving sculpture and other artefacts from Ancient Rome. Rome was where our modern astrology was born, after a long period of trial and error, involving Mesopotamia and Greece. The Romans took Britain, and imported their gods and goddesses. These powerful archetypes found their way into British astrology, thus by 1930 when Tombaugh was discovering Pluto and Burney was naming him, London stargazers were identifying this planet with the Roman god who ruled Hades – Pluto the ruler of the Underworld. It all comes from those long-ago exported Italian gods.
Pluto and Aesculapia
Pluto is important in the story of Aesculapia by the way. Pluto wanted human souls in his realm of the dead. Aesculapia made it his business to save those souls, and haul them back before they ever had a chance to enter Hades. A battle ensued. Today in the British Museum you can see the god on the ground floor, a little worn by time, but still holding his famous rod and snake. It is not only a symbol of DNA but of the Chakra system in Indian healing. Those Romans knew a thing or two. Sometimes the snake or serpent symbol will turn up in your life when you are having a transit to your natal (birth) Aesculapia – or he is crossing something crucial in your chart. I photographed this on a day when a friend had been diagnosed with breast cancer. She survived. Sometimes astrology and synchronicity can be powerful.
The Romans and the Plague
Plagued by the fear of a hung parliament, Prime Minister Theresa May came back from the brink, as we've seen. In fact, the Romans set up special temples (their version of hospitals) where people who were ill with the plague would sleep overnight, tended by priests, carrying snakes – hoping to see Aesculapia in their dreams with a cure or solution. Occasionally miraculous recovery would be reported, overnight. In the British Museum, you can see Roman offerings to the gods, shaped to mimic the painful body part. This is a gammy leg (left) and you can see a miniature version of Aesculapia, to the right. The British Museum also has a collection of other body part casts.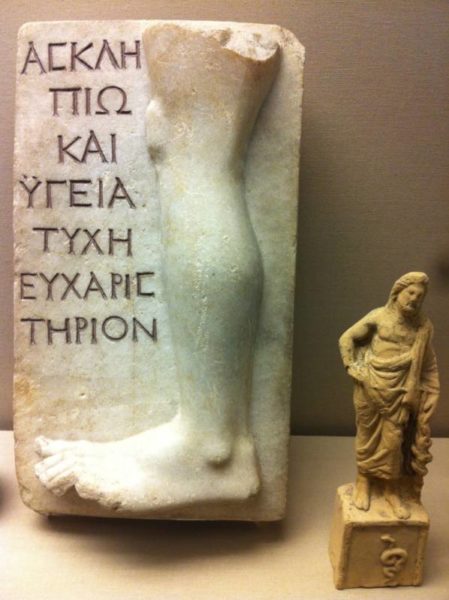 Healing, Health and Medicine in Astrology
Old 20th century astrology taught in the mainstream gave us Chiron as 'wounded healer' but the Romans didn't particularly associate him with medicine or surgery – he was associated with herbal medicine, but he was also associated with music, and teaching. Found in 1977 he has been linked to the healing process for 40 years, by some astrologers, but others – notably the late Dennis Elwell – disagreed.
In actual fact the Romans would have thought horoscope-watchers were mad to give Chiron such a big role. And he wasn't a wounded (past tense) healer at all. He was wounded, in the myth, but he didn't spring to life and start galloping around rural Italy with his herbal potions. He crawled into a cave.
The Hippocratic Oath which has been such a part of medical history cites Aesculapia and every member of his family, instead. Men of medicine used to swear allegiance to Apollo, who is the father of Aesculapia – and then the god himself. Crucially, the oath also mentioned the two daughters of Aesculapia – Hygiea and Panacea. Of course all these asteroids are in your chart too and just understanding the family tree of healers and helpers, can give you new insights. You can see the famous Aesculapian snake in painting and sculpture showing his daughter Hygiea. She is often shown with a snake and a bowl. In fact, that symbol can be seen on Spanish pharmacy windows.
Chiron is not a Wounded Healer
Chiron, photographed below in Melbourne near our Celtic Club astrology gatherings, challenges our ideas about what is acceptable, or possible. He's the centaur who gallops through the pages of mythology, testing everybody's ideas about what a centaur could, or should be!
Chiron does occasionally turn up in medical matters. In the year they found him, 1977, scientists began developing a test-tube baby. As you can see from my picture, Chiron is all man – rather like any hipster you'll meet in a Melbourne pub – until you get to his waist. However, he is far less a symbol of healing than Aesculapius and his family.
Chiron confronts us. Sometimes, that confrontation happens within a hospital or doctor's surgery, but if you're looking at the true family of healers remember the Hippocratic Oath is all about Aesculapius, his father, and his daughters. In fact – swearing a modified version of the Oath is still a ritual for medical graduates.
"I swear by Apollo the Healer, by Asclepius, by Hygieia, by Panacea, and by all the gods and goddesses, making them my witnesses, that I will carry out, according to my ability and judgment, this oath and this indenture."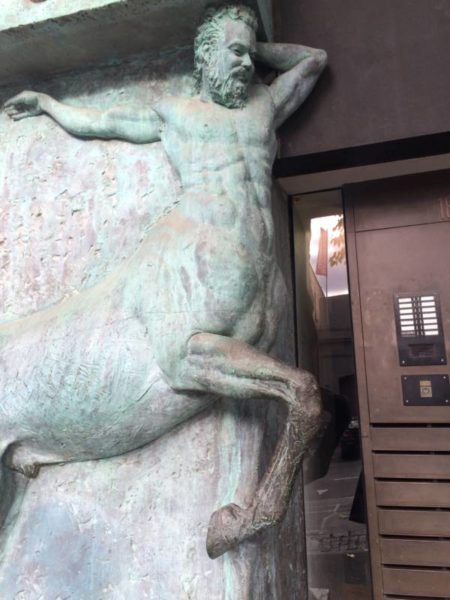 Panacea and Hygiea in Your Chart
Once you have gone to Lempriere (now free online) or other classical sources for your information on these ancient astrological symbols, look to your chart to decode their role. The best way to see how they all work in your personal birth chart is just to look at the zodiac sign and house. Apollo was a multi-tasker god who was a leader of men – and he had the ability to heal, just as he was also psychic and musical. Aesculapia, as we've seen, was the miracle-worker who could save you from the plague, or pull you back from the point of no return.
His daughter Hygiea, found in the year they made breakthroughs with cholera, is about 'prevention not cure' and we get the word hygiene from her. Her sister, Panacea, is about remedies, cures and solutions with an ethical or moral component. To give you a famous example, a sugar pill (a placebo) can be a panacea for some doctors, but is it correct to deceive a patient, if it also means he/she will be cured?
I hope you get more from your astrological chart by understanding how the family works in your horoscope. Of course, like all chart symbols, these asteroids work symbolically. Sometimes there are literal health issues, if the Sixth House and Virgo are involved, and sometimes Aries and the First House. In general, though, you'll be looking at broad, general translations of what Aesculapia, Apollo, Hygiea and Panacea mean. (If you have Aesculapia in your Fourth House of property, for example, you may have a job as a builder, specialising in renovating dying buildings).
[contentblock id=51 img=html.png]