Every major plague in history has taken place with the North Node and South Node in the signs of Cancer and Capricorn. Why? Because Cancer rules families and homes, and Capricorn rules Presidents, Prime Ministers, Kings and the authorities.
During plagues, our families are controlled by the men in charge. They decide how the plague proceeds.
Understanding the North Node and South Node
They are imaginary points which cannot be seen, but cycle backwards in 19 year loops, in the twelve signs of the zodiac.
In The Black Death of 1350, which was recorded by an astrologer (not an astronomer, as Wikimedia wrongly claims – an astrologer), it was the King who was in charge of families. Simon de Covino attributed the plague to a conjunction of Jupiter and Saturn.
Actually, that is way off the mark. We have a Jupiter-Saturn conjunction in December 2020, for example, but it's too late – the first death from COVID-19 took place on January 10th, 2020.
What is really behind the astrology of plagues is the Cancer-Capricorn Node cycle.
The Great Plague of London – Same Pattern
In June 1665, we have another astrologer looking at plague. This time he gets it right (famously so) and his name, of course, is William Lilly.
In 1665, we find the North Node and South Node across Cancer-Capricorn again.
Lilly's work inspires another astrologer (although this one is an amateur) named John Aubrey. Aubrey will use Lilly's horoscopes for a book of biography. More tellingly, Aubrey will go on to discover what are today known as The Aubrey Holes at Stonehenge.
Using these 56 holes as a timing device, with markers for the North Node and South Node, astrologers today can predict eclipses, just as the people of Stonehenge could have done, 5000 years ago. So…this all takes us back not just centuries, but thousands of years in time.
Quick Lesson for You
Download a free Ephemeris in PDF format from Astro.com for the plague years of 1350 and 1665 and find the symbol for the North Node. You will see it is in Cancer. The South Node is always left out of an ephemeris, for some reason, but it's easy. Though never published, it is the opposite sign of the North Node. So, here we have (centuries apart) two big plague years with the North Node in Cancer (families, homes, regions, countries) and the South Node in Capricorn (Kfings, Prime Ministers, Presidents, Mayors, Premiers).
Another way to think about Cancer is that she carries her home on her back and her roof over her head. She is never far from her family. Capricorn is the mountain goat who puts his head down and climbs to the very top of the peak. He is usually male because we live in patriarchy (male dominated power structures).
Stretching the Lesson
What would you expect to see in The Spanish Flu of 1918? Sure enough, another node cycle in Cancer-Capricorn appears, when you download the Ephemeris for that year, also from astro.com.
This time the North Node is in Capricorn and the South Node is in Cancer.
The Difference Between the Nodes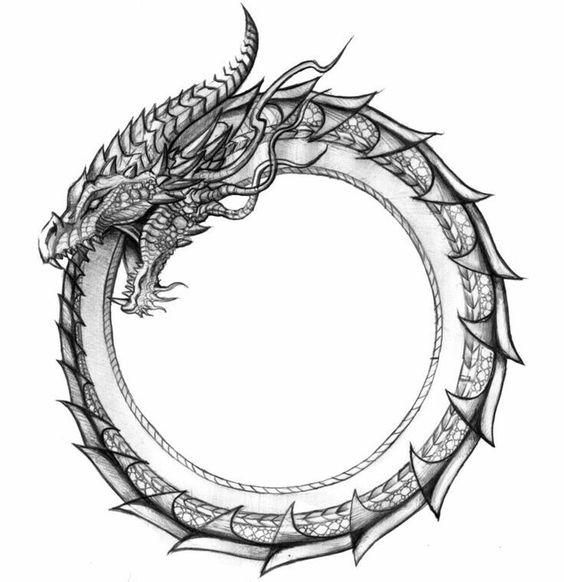 The North Node and South Nodes are about karma, the lessons of the past, the need to settle old karmic scores, what is owed (spiritually) and so on.
The North Node and South Node are in a loop, like the dragon eating its tail. In fact, in India, the North Node (top) is the dragon's head, and the South Node (bottom) is the dragon's tail.
There is really no separation. One is not good and the other bad. They are all of a piece.
At a pinch, you could say the North Node takes in from the world, absorbs from it, digests it – and feeds this back (recycled) into the South Node. In turn the South Node then channels all this into the North Node, and around the cycle goes.
Cholera and the Nodes
In 1851, when Cholera (made worse by migration and pilgrimages) was at its deadly peak, we found the North Node in Cancer and South Node in Capricorn. One more time. The dragon kept on chasing its tail.
AIDS and the Nodes
Predictably, we get to 1981 and AIDS arrives with the North Node in Cancer and South Node in Capricorn.
This is a really good example of how to learn from the past. What we see today is politicians (leaders – Capricorn goats) failing to properly educate people about the risk of sexually transmitted COVID-19.
Where are the advertisements? Yet AIDS in 1981 should have taught us that the key to controlling the spread is to teach people about sex and infection.
COVID-19 and the Node Cancer-Capricorn Cycle
This brings us to 2020 and of course, right up until May this year, the North Node and South Node cycle in Cancer and Capricorn ruled one more time.
Now, every cycle is different in extremity and intensity. These Nodes cycle around every 19 years and we obviously don't have a pandemic every two decades.
What makes a pandemic? Aspects to the Nodes from the slow-moving outer planets, like Saturn. William Lilly knew all about that, back in 1665.
Managing COVID-19 and Living Your Best 2021
It's always really interesting to see a politician like Vladimir Putin boasting that he's found a cure, in a deep plague cycle.
The astrology would completely disagree with him. The Russians have not found a cure for the mutating COVID-19 pandemic. Dear old Vladimir fantasises that he has. (Russia is caught in illusions as the national chart shows huge Neptune transits).
There may never be a cure for this mutating virus. There is no cure for AIDS. Neither is there a vaccine. After ten years and $100 million, just one attempt at a vaccine failed in March this year.
So, what can astrology tell us (in 2020-2021) about living our best lives, and managing COVID-19?
The New Education
Every time we see the nodes in Cancer-Capricorn, and go through a plague, we then move to an education shift, because the nodes go into Gemini-Sagittarius.
I am sure you know, that just as Cancer rules our homes, town, families and countries (and Capricorn rules politicians) we have a big focus on schools, colleges and universities with Gemini and Sagittarius.
One rules Zoom webinars and the other rules academia. One is about home tutoring, mentoring, recreational part-time courses, evening classes. The other is about proceeding from a BA to an MA and PhD and the role of professors in our lives.
Every time we hit a plague in history since the 1340s past AIDS, we move into hugely important new cycles for home learning, retraining, new skills, and both informal and more formal kinds of teaching.
Image Credits
Featured Image: Photo by Morning Brew via Unsplash
Man in Mask – Photo by Tai's Captures via Unsplash
Better Days are Coming – Photo by United Nations COVID-19 Response via Unsplash
Dragon – Via Pinterest