Just like number cases of COVID-19, the volume of information on the novel coronavirus is expanding second by second. The Astrology Show has pulled together some quotes from online articles by some of our favourite astrologers, along with social media posts on the topic.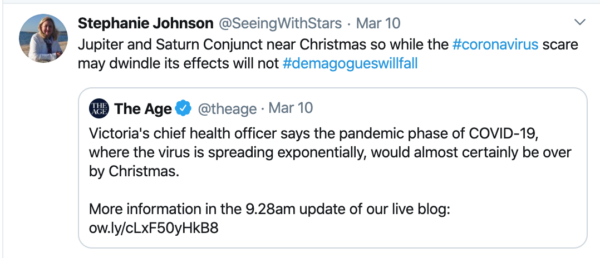 Jessica Adams
Did you see my astrology prediction about a new world order with China here (Corona Virus COVID-19 In Astrology – Part I):
"The New World Order Between Monday, January 6th and Monday, January 13th, 2020, there will be a critical change in the balance of power between the United States, China and Europe. One Last Note – Post-Millennium Bugs, Hackers and Viruses. As an astrologer, I always deal with American readers who type day, month and year dates in reverse order to British and Australian calendar dates. Yet, no matter how you key in the date of the eclipse on 10th January 2020, you end up with what looks like a memorable code. I am going to leave this with you. This is not my area. But I need to mention it. Over to you! This eclipse falls right in the extreme Capricorn 'change' weather zone."
And also a virus, set for January 10th, 2020 (1102020), way back on 28th March 2019? The horoscope also showed bugs and hackers. Here it is again:
"In astrology, a virus, bug and hack are all shown by one planet. Neptune. By tracking Neptune and other factors, it was possible to see what was coming and date-stamp it. So, what happened around ten months later? The world saw the Microsoft Killer Windows 10 Bug near 10th January. Russian hackers were linked to the Donald Trump impeachment by The New York Times. And worst of all, the first Corona Virus fatality exactly on 10.01.2020 or 01.10.2020 depending on how you read the date. If you want to know which China horoscope works best for date-stamped prediction check the China astrology chart set for December 25th, 1947, the day that the Constitution of the Republic of China was adopted. I've tested this before in 2018 if you want to see what else is in store in 2020. How seriously should we take the Corona Virus in astrology? Well, it's spreading on the same zodiac cycle as The Spanish Flu and The Great Plague. That's the North Node and South Node cycle jumping from Cancer and Capricorn to Gemini and Sagittarius. Just knowing that can tell us more, from an astrologer's point of view."
(Jessica Adams also followed up in a detailed second article – Corona Virus COVID-19 in Astrology Part II.)
Debbie Frank
"The coronavirus which was seeded earlier in the year is likely to reach chaos proportions around the time of the Full Moon in Virgo, with the Sun's proximity to Neptune and the Venus/Uranus conjunction on the 8th and 9th. The theme of invisible spreading and the psychic virus of fear that causes meltdown is highly reflective of the Pisces/Neptune theme and the opposing force of health-conscious Virgo which tries to contain. Alarm bells are the signature of Venus and Uranus as radical changes are implemented. As Mars moves to meet with Jupiter, Pluto and Saturn this month, it's a point of collective awareness. Saturn's move into Aquarius – the sign of the people and global consciousness marks the true beginning of the Age of Aquarius. The virus is an awakener in this respect as it crosses all borders and is a global phenomenon requiring a co-operative response. We are moving into the One World mindset which is the hallmark of Aquarius."
See more from Debbie Frank via her website Debbie Frank Astrology.
Joanne Madeline Moore
"The big news in March? Mercury turns direct on the 10th and then Saturn shifts into Aquarius on the 22nd (for the first time since 1994). Apart from a retrograde phase back into Capricorn (from July until December) Saturn will transit through Aquarius for the next three years. It's a period when governments, businesses and corporations will become more innovative and inclusive. But it could also herald cuts to scientific funding and a complete restructuring of the aviation industry."

For more from Joanne, please visit her website Boho Astro.

Penny Thornton
The below excerpt is from her Weekly Bite (September 12, 2018) – you can read it in its entirety here.
"As we go to press, the spread of the virus is rampant, and although governments and health officials have not yet declared a pandemic, common sense would inform you this is the scenario we're facing. Which has prompted me to dig into the past and see what, if any, astrological markers can be found in flu pandemics. I'll go through these shortly, but to whet your appetite Jupiter was conjunct Pluto during the 1918 Spanish Flu and the 1968 Hong Kong Flu, as they are indeed now with Covid-19.
In terms of patterns, the astrology also proves interesting. The cycles of the planets from Jupiter through Pluto trace the patterns of the times, whether in personal or global terms, which is why I have concentrated my efforts here on the major angles between the trans-personal planets.
1847: Saturn conjunct Neptune in Aquarius.

1889: Saturn in Virgo square Neptune conjunct Pluto in Gemini.

1918-1920 (Spanish flu): Saturn conjunct Neptune in Leo at the start of the outbreak; Jupiter conjunct Pluto in Cancer at the peak of the outbreak – it went quiet in the summer and returned with a vengeance in the autumn.

1957-1958 (Asian flu): Uranus in Leo square Neptune in Scorpio.

1968 (Hong Kong flu): Jupiter conjunct Pluto in Virgo.

2003 (SARS): Tail end of the Saturn-Pluto opposition (Gemini-Sagittarius). Jupiter in Virgo opposite Uranus in Pisces.

2009 (Swine flu): Saturn in Virgo opposite Uranus in Pisces. Jupiter conjunct Neptune in Aquarius.

2020 (Covid-19): Saturn conjunct Pluto in Capricorn. Jupiter conjunct Pluto in Capricorn.
While a sample of eight flu epidemics can hardly be considered a study, it is interesting that Saturn has been conjunct Neptune twice (25% probability) and Jupiter conjunct Pluto three times (38% probability). Saturn and Neptune combinations fit the deadly flu virus rather well since death occurs mostly through liquid overwhelming the lungs – the patient effectively dies by drowning. Jupiter-Pluto conjunctions say more about the mass spread of a virus and certainly the mass panic response to it.
By the way, the next Saturn-Neptune conjunction will be in Aries in 2025 and the next Jupiter-Pluto conjunction in 2033. Fortunately, they don't occur in the same year. Nevertheless, plenty of time to stock up on hand-sanitizers, zinc and vitamin-C, and for the Chinese government to put an end to its wet markets."

See more from Penny Thornton via her website Astrolutely.com.
Neil Spencer
Excerpt from his post "Your Stars March 2020."
"Astrologers are usually the ones castigated for wrong forecasts, but so far the star-gazers have been proved correct about the shape of 2020, a year that's long been marked out for planetary turmoil.
Your astrologer has waxed on about Saturn-Pluto in past forecasts, and the conjunction's association with a major economic downturn, something just instigated by the spread of the Corona Virus, itself a tragedy still unfolding. Contagions are linked to Neptune, a planet strong in March's stars, though Saturn's change of signs on March 20th marks a change of outlook in late March."
For more from Neil Spencer, please visit his website.
Thomas Miller – Fun Astrology Podcast
Excerpts from his post "Astrology FUN! February 28 – Coronavirus, Stock Markets & Saturn Pluto."
"That's what I thought we would talk about today, the impact of the Coronavirus, everything that is going on, from an astrological perspective because we are reading it in every headline now this thing is getting serious, at first we understood it was going to spread but we haven't seen anything like this in recent history, yes Ebola, but I think this just has a lot more legs is my personal opinion and what Ebola didn't have is the Saturn Pluto conjunction. "This thing is nuts, this is Saturn Pluto" "This is going on from a soul perspective everyone chose to be here for this purpose, a good time to practice not being in fear" "I realise that Saturn and Pluto together can be deeply transformative."

See more via his website – Fun Astrology with Thomas Miller.
Wow Astrology
Excerpts from article "Coronavirus and Astrology."
"Saturn and Pluto conjunct once every 34 years and it is therefore an important astrological event for the humanity. It practically prepares us for a new life and a new purpose. We are forced to work collectively. It forces us to connect our souls and higher spirits to find faith. This also contributes to the collective transformation of the Planet.
People are or should be more aware of the Planet and others. And if we don't understand this message, a horrific tragedy such as a pandemic could force us into this: a global fight against coronavirus. We need determination and patience to cope with the emotional tumult and the individual and collective awakening to which we are subjected. We will coordinate our efforts because even if we didn't realize it by now, we'll be forced to see "the wrong". And there is no other response to this awareness than CHANGE."
See more from Wow Astrology here.
Marjorie Orr
Excerpt from her article "Coronavirus – coping with dread ++ market meltdown ++:"
"Coronavirus has turned into a full-blown global panic as it spreads from the Far East into Europe and the USA. Despite the astrology being more similar to the Saturn Pluto 2003 SARS outbreak than the Saturn Neptune 1918 Spanish Flu outbreak, the numbers are veering alarmingly upwards. (See previous post January 25, 2020). Apart from understandable personal fears, there is also an almost certain prospect of a 'sudden stop' financially as supply chains dry up and international travel is restricted."
For more from Marjorie, please visit her website here.
The AstroTwins
The below excerpts are from their post "8 Things Astrology Says about the Coronavirus Outbreak."
"It's been quite a week in the news, and as astrologers, we consider it our job to look for astrological patterns and predictions—NOT to fan the flames of fear. While panic about a pandemic could feel like an appropriate response, here's a view of astrology and the coronavirus: how the current and impending astrological line up could shape public health, the economy and more.

A note about our November 2019 prediction of a "black swan event. In our 2020 Horoscope book (published November 2019), we predicted the possibility of an economic "black swan" event that could be triggered by the January 12 Saturn-Pluto conjunction in Capricorn, the sign that rules governments and the economy.
These two planets aligned in Capricorn for the first time since 1518, traveling in close contact from December 2019 through late February 2020.
True to the nature of a black swan—an event that comes completely out of left field and has a major impact, but can only be contextualized after the fact—this sudden and stunning worldwide occurrence is indeed lining up with much of 2020's astrology forecast. While our book was written and printed months before any mention of the coronavirus outbreak in Wuhan, China, an event like this one has a long historical footprint—at least, according to astrology.
Now, we move into a new week facing shaken global markets, new international travel restrictions and the first recorded coronavirus death in the U.S.—plus virus outbreaks in over 50 countries."
Read more from the AstroTwins via their website Astrostyle.com.
Ask Astrology
Excerpts below from Blog post "The Astrology of the Coronavirus" located here.
"Uranus entered Taurus on March 7, 2019, where it will remain until April 2026. The last two Uranus in Taurus periods were from 1935 to 1942 and 1851 to 1859. World War II began under the 1935 to 1942 transit and the 3rd Cholera Pandemic (which killed up to 1,000,000 people in Russia) occurred during the 1851 to 1859 transit. Suffice to say, that when Uranus goes through Taurus, we can expect shocks to our daily lives.
COVID-19 is already adversely affecting travel and is beginning to affect the daily lives of citizens worldwide, even in places where few or no cases currently exist. There are many ways to understand the idea that the world is a single complex organism, economics is one way, travel and communication are another, … and pandemic disease, which is a way to "shock" the system."
For further reading, visit AskAstrology.com.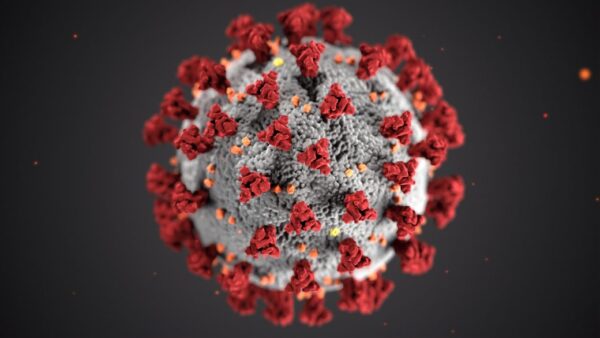 Featured Image courtesy of CDC via Unsplash: This illustration, created at the Centers for Disease Control and Prevention (CDC), reveals ultrastructural morphology exhibited by coronaviruses. Note the spikes that adorn the outer surface of the virus, which impart the look of a corona surrounding the virion, when viewed electron microscopically. A novel coronavirus, named Severe Acute Respiratory Syndrome coronavirus 2 (SARS-CoV-2), was identified as the cause of an outbreak of respiratory illness first detected in Wuhan, China in 2019. The illness caused by this virus has been named coronavirus disease 2019 (COVID-19).