Your past lives are shown by the True North Node and True South Node. Dragon's Head (North Node) and Dragon's Tail (South Node) are ancient markers of fate and fortune. In fact you can find them on astrolabes dating as far back as Chaucer.
At Stonehenge the Aubrey Holes (56 in number) show North Node and South Node cycles of time.
Dragon's Head and Tail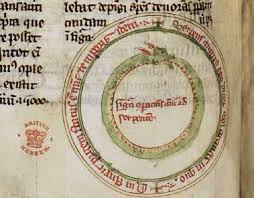 The dragon eats its own tail in the old astrolabes and this is how the North Node and South Node work in astrology. Round and round, the nodes go. They feed into each other. It's endless recycling.
Prince William was born on 21st June 1982 at 9.03pm in London with the North Node at 13 Cancer in his Fourth House of family and country. It was his fate to be born into the royal family in the United Kingdom. His Tenth House contains the South Node at 13 Capricorn (the nodes are always at the same degree in opposite signs) and of course that rules success.
Families and Nodes
As families reincarnate together to resolve past life karma it is common for your North Node and South Node to line up with factors in, say, your mother's chart. Diana, Princess of Wales, was born on 1st July 1961 in Sandringham at 7.45pm. There are two birth times for her and my friends Debbie Frank and Penny Thornton use either; in the case of the Nodes, which move very slowly, it doesn't really matter which time you use.
Diana was born with the asteroid Vesta at 13 Taurus in the Second House of money. Vesta is about 'one male, two or more females' and of course she divorced Charles, Prince of Wales for his affair with Camilla Parker-Bowles – among other reasons. It was at his expense, literally.
William was a child when this happened but there is a link from his North Node at 13 Cancer and South Node at 13 Capricorn and Diana's Vesta at 13 Taurus.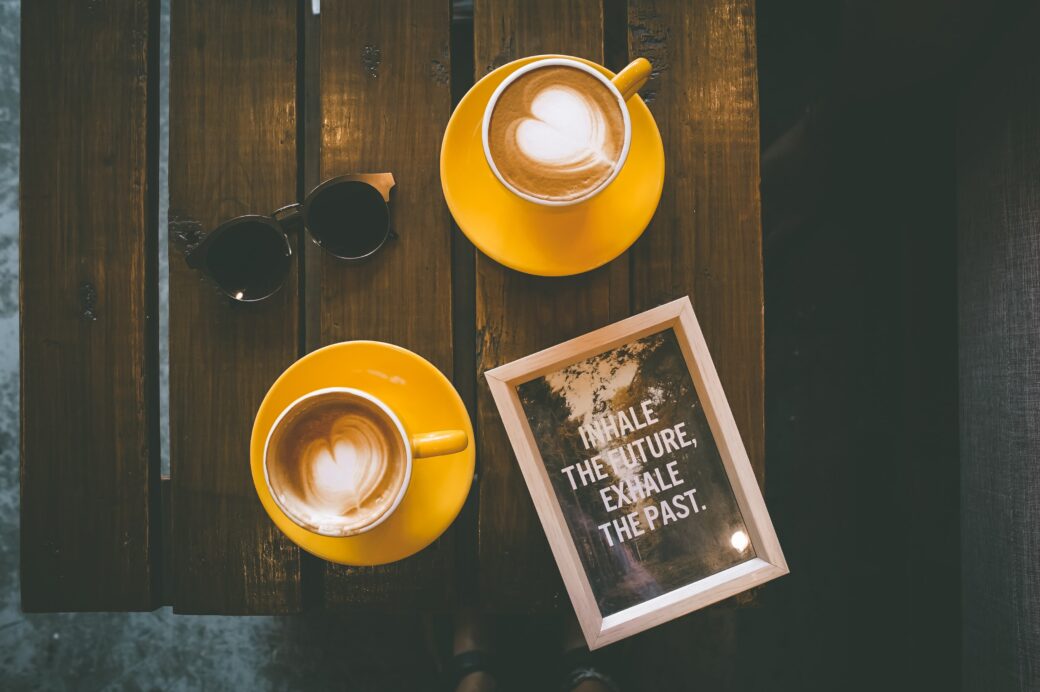 Photo by Toa Heftiba
Past Life Memories
The sign and house of the True North Node in your horoscope, shows past life memories which you may pick up in childhood, as you arrive with them, when you are born. Often, in your life, you will think 'Here we go again' in relation to the life stories which unfold. It's like the same book with a different cover. Same chapters, no matter what you do. The character names may change but the plot remains the same. Is it good or bad? It depends on the other horoscope factors in the same sign and house as your True North Node. Are they hard work or easy?
The sign and house of the True South Node is similar. You are also born remembering particular roles, themes, lives or concerns. You think to yourself 'Been there, done that, written the screenplay, seen the film.' Sometimes people choose to avoid pursuing the affairs of that South Node house and sign, without knowing why. Here's a clue. You've done it all before.
Transits to your Nodes (they are opposite each other) will trigger the repetition and déjà vu.
People whose horoscope factors aspect your Nodes (allow no more than one degree) may have shared past lives with you and there could be some karma there to enjoy…or not.
You can also create new karma, particularly in love, by starting a relationship when both of you have the travelling South Node or North Node aspecting your stuff in Cancer, Leo, Libra and/or Scorpio.
You can break up but you'll bump into this person, or they'll have reason to stick to you like glue, until at last the karma is complete and there is no more to say or do.
Families welcome new babies and get the chart done. The chart reveals ties between the Node positions of the new child and other family members. You've all agreed to work out particular issues, before you incarnated. Or, you enjoyed the last past life so much, you vow to be together again.
Test This For Yourself
Test this for yourself. It's the best way. Look up the True North Node and True South Node of your exes and see how it pings your birth chart. (You can look this up free online, at many astrology sites, or in an ephemeris). Maybe you two knew each other before.
If you are owed past life credits, then Jupiter will turn up in the same sign and house as one of your Nodes.
Barack Obama has the True South Node in Aquarius in the Eleventh House of groups, alongside Jupiter. He inherited great karma with the Democrats.
If groups, clubs, teams, political parties, bands, societies and other networks are hard for you, then you may have one of the Nodes in Aquarius in your Eleventh House alongside Saturn. You may even choose to avoid them. You may find yourself thrown into a movement, or a trend but struggle with it and even separate yourself from it. Karma.
Madonna was born on 16th August 1958 at 7.05am in Bay City, Michigan. She has the True South Node in Aries in her First House. She's done this before. She knows why image matters. Why is Madonna's hair, wardrobe, face and name so important? Her True South Node is at 24 Aries trine her Sun at 24 Leo.
People who are sceptical about reincarnation, past life memories and karma are quick to reference the fact that not everybody can have been a European monarch in a previous existence. Where are all the maids with their mops and brooms?
The Nodes show you the general theme, not the specifics. Who knows why Madonna was born, just knowing why image mattered so much? Maybe she was an Egyptian hairdresser. (But obviously a very good one).
The Nodes show us where we go round and round. It's not always so merry. If you have the True North Node or True South Node in the Sixth House of mental and physical health, it may require serious effort to get out of a loop.
As always in astrology, you need to put your Nodes in context with the rest of the chart. What else is in Virgo and the Sixth House? What aspects does it make? Who else is involved in your health and wellbeing and what aspects are made, from their birth horoscope, to yours? What about the transits and the trends affecting you?
Astrology is a good way to crack your own code. It gives you an objective viewpoint, which you may not have considered before. If you're going through major health issues you will want to throw everything at your question and that might just include your Nodes.
Photo by Markus Winkler
Predicting With the Nodes
You can predict the future using the Nodes as part of the jigsaw. I did this on the 28th of March 2019, when I published a prediction about a virus and a critical change with China, the United States and Europe between January 6th and 13th 2020. This turned out to be the Corona Virus.
One of the issues to watch here, was the classic virus/plague pattern of Cancer-Capricorn Nodes moving into Gemini-Sagittarius.
Why? With Cancer-Capricorn, no matter if we're talking the Black Death or the Spanish Flu, we always see big government, royalty or big business (Capricorn) dominating the house and apartment market (Cancer) so that habitat is squeezed by too many people. In overcrowded cities, no matter if we are talking London in 1665 or New York in 2020, overcrowding means a virus can become a pandemic.
The Gemini-Sagittarius Node cycle always follows straight afterwards and it stops travel, immigration and tourism. The world changes and borders go up. Because of plague, flu, virus, epidemic, pandemic – the old map of the world is redrawn.
Astrology is about history. History repeats and astrologers noticed. The old model of time (linear time, going in a straight line, with the 'brick wall' of the future) is not what astrologers use, at all. We use circular time, where everything goes around and comes around.
Photo by Erik Mclean
My Original Virus Predictions
I made two predictions about a virus, one year before it happened. The Nodes give you the 'why' and the 'what' background, because we've seen it all before. When the men in power take over human and animal habitat for money (Capricorn-Cancer) we see health crisis and the world map is redrawn afterwards to stop infection (Sagittarius-Gemini).
This was the 28th March 2019 prediction –
"Between Monday January 6th and Monday January 13th, 2020, there will be a critical change in the balance of power between the United States, China and Europe. It will also involve New Zealand, either on questions of trade or as a major non-NATO ally. We, the people, need to track this before it even comes to pass to make sure the stakes are kept as low as possible. One Last Note – Post-Millennium Bugs, Hackers and Viruses."
(28th March 2019)
And this was the 11th November 2019 prediction. I made it twice because there were two warning dates.
"Where is the Chaos in Your Life on Sunday 8th and Monday 9th March?
You can circle these dates in your diary now, because we're going to see computer and human viruses."
(11th November 2019)
The first COVID-19 fatality was declared by China on 10th January 2020. WHO declared a pandemic on March 11th, 2020.
The astrology was spot on with the first date, a year before it happened, and was just two days out with the second one, when WHO declared a pandemic.
Now, let's look at this Sagittarius-Gemini cycle.
The South Node in Sagittarius
This new horoscope cycle from around Wednesday May 6th 2020 until January 19th 2022 will bring back karma for you, from the period October 14th 2001 through April 12th 2003. As it's in Sagittarius-Gemini, in your personal birth chart this will be about your Ninth House (foreign people and places) and Third House (the internet).
The Meaning of the South Node
The South Node shows karma, reincarnation and previous lifetimes. In its new sign of Sagittarius from around May 6th 2020 until January 19th 2022, it will bring back people and places from far away or overseas. Questions about university life, colleges and education. Familiar issues about the worldwide web, publishing and books.
It is always opposite the North Node in astrology, but what's the difference?
Are You a Premium Member?
Check your astrological birth chart now and look for factors in Sagittarius in the Ninth House and/or Gemini in the Third House. If you have them, then this South Node in Sagittarius cycle will be more important for you.
Why? Because the more factors you have in Gemini, the more crucial the internet and multimedia, books and ideas are to you.
The more factors you have in Sagittarius, the more important foreign people and places, travel and 'travel in the mind' is to you.
Starting in an obvious way in May and June 2020, but with you until January 2022, you are going to be taken back to the past, and into past lives, by what unfolds.
Even if your chart lacks anything in Gemini or Sagittarius, those around you who have those placements will make milestone choices about their use of the internet, and their dealings with foreign people and countries, by January 2022.
[contentblock id=show-chart]
The Meaning of the North Node
The North Node is the dragon's head. The South Node is the dragon's tail. According to many astrologers, like Jean-Louis Brau, Helen Weaver and Allan Edmans (editors of the Larousse Encyclopedia of Astrology, Plume, New York 1980) the North Node corresponds "to the mouth, or a point of openness and receptivity, and the south node to the anus, or a point of elimination and release."
Based on this way of thinking about the South Node in Sagittarius, we are going to see you (and everyone around you) eliminating and releasing –– old Sagittarius concerns.
The Anus Theory of the South Node
The Larousse Encyclopedia of Astrology is a good source, with Consulting and Contributing Editors including Robert Hand, Charles Harvey and Charles Jayne.
So – this 'anus' idea of the South Node is an interesting theory we should take seriously!
One way to test it – is to look at what the world was doing in terms of foreign people and places (thus, travel, tourism, immigration) on the last cycle. Not to mention publishing and the worldwide web.
Universities and colleges. Museums and all places of learning – libraries, documentary production houses – are also ruled by this sign. All these aspects of life are Sagittarius' domain – the famous half-man, half-horse with the bow and arrow resembles Chiron the centaur, the greatest teacher in astrology.
Excrete and Release?
Well, for those of you asking me about this 'excrete, let go, delete, release' theory, let's go back into older South Node in Sagittarius cycles to see if the events of history prove this idea.
The North Node in Gemini
You may have read around the internet, and in various astrology books, that on these cycles you should try to let go of the South Node experiences, concerns, stories and themes (particularly those from 19 years ago) and try to move towards the North Node areas of life instead.
The North Node being in Gemini in 2001-2003, this theory suggests we should 'take in' or 'devour' Gemini things. So – language translation. All forms of media, from radio and television, to the latest developments online. We should also add short-haul train, plane, bus and coach journeys. Commuting, by bicycle, boat or public transport.
More About Gemini
Gemini is defined in The Larousse Encyclopedia of Astrology as 'the insatiable computer' of the human mind. "This sign is associated with teaching, writing, translating, science, photography, journalism and business."
I would disagree with photography, unless it's for news purposes (Pisces rules that) and business is really a Taurus and Scorpio concern. Yet, Gemini is certainly about communication.
Sagittarius is similar to Gemini but different. "Like its polar opposite, Gemini, Sagittarius wants to know, but this knowing must go further. Where Gemini is content to think, Sagittarius must experience; where Gemini will let the mind wander, Sagittarius wants to travel; and where Gemini likes to accumulate facts, Sagittarius wants to construct theories, to fit all the separate pieces of information into an all-encompassing world view."
What the Years 1908, 1909, 1910 Tell Us
The proof is strong for the Gemini North Node and Sagittarius South Node, between 28th September 1908 and March 23rd 1910 when the cycle finished.
I am sure you can see the uncanny parallels with 2020, as COVID-19 has transformed communication (video group calls) and dramatically halted immigration and tourism. Virgin is just one airline facing the point of no return. We live in the age of Zoom on this cycle, don't we? But if we go back to 1908, 1909, 1910, we also see 'zooming' with what was then the introduction of powered flight.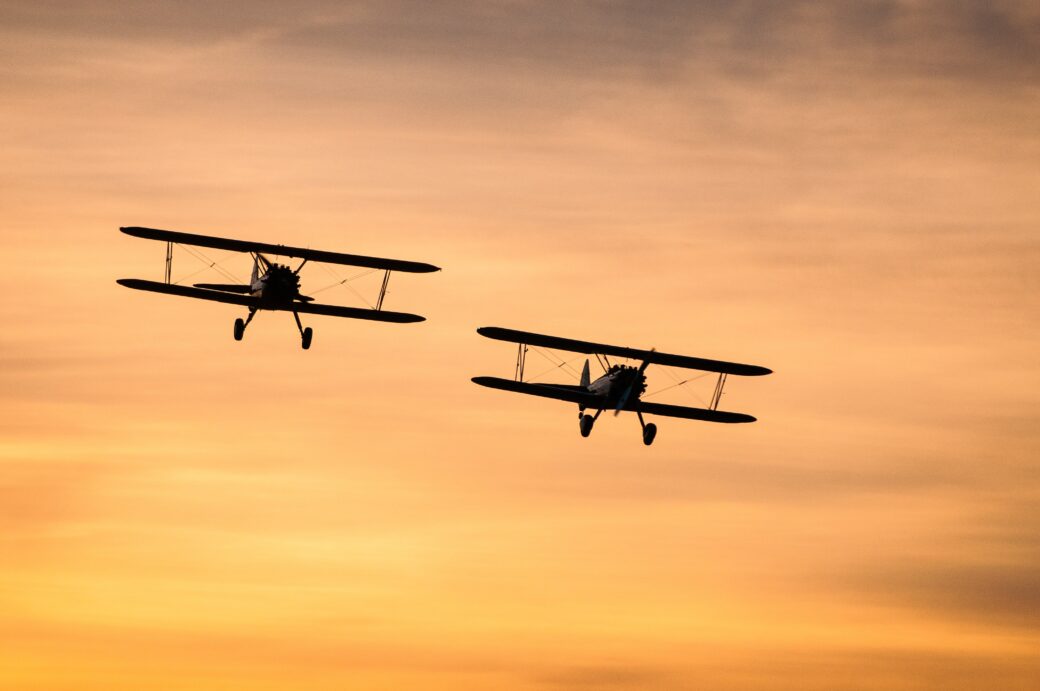 Photo by Simon Fitall
How the Nodes Repeat Themes
Sometimes there is a literal repetition of an event, situation, person or organisation when the Nodes go back into the same zodiac signs they were in, many years before.
1908 – Cars, Planes, Post and Immigration
January 12th
A long-distance radio message is sent from the Eiffel Tower for the first time.
February 12th
The first around-the-world car race begins: The 1908 New York to Paris.
February 18th
Japanese emigration to America is limited.
March 29th
The world's first passenger flight is made.
October 1st
Penny Post is established between America and Great Britain
October 29th
The Olivetti typewriter company is founded in Italy.
1909 – North Pole Conquered, Museums Open
April 6th
The North Pole is conquered by Commander Robert E. Peary of the United States Navy.
June 26th
The Victoria and Albert Museum opens in London as the Science Museum becomes independent.
July 25th
Louis Bleriot becomes the first man to fly across the English Channel
1910 – Radio, Women Pilots, The Dalai Lama
January 13th
The first public radio broadcast takes place, from the Metropolitan Opera House.
February 23rd
The Chinese invade Tibet and the Dalai Lama flees to India.
March 8th
The first woman pilot gains a license – Raymonde de Laroche makes history.
How India Sees the Nodes
The ideas of so many astrologers about the North Node and South Node have been borrowed from India. So what do they tell us?
Over there, the South Node is known as Ketu and Rahu is the North Node.
Dragon's Head and Dragon's Tail, becomes serpent's head and serpent's tail.
That idea about the dragon comes to us from the Latin. Caput Draconis, head of the dragon (North Node) and Cauda Draconis (tail of the dragon (South Node).
Bepin Behari on the Nodes
Bepin Behari, author of Planets in the Signs and Houses and Fundamentals of Vedic Astrology, has written a good guide to Indian astrology. Myths and Symbols of Vedic Astrology is published by Lotus Press (Wisconsin, 2003).
He writes "Basically, Rahu and Ketu represent karmic retribution. They link present restrictions and opportunities with past actions. They arrange events in such a way that harmonious balance ultimately prevails."
He notes that both the North Node and South Node work together. "They both produce their results by a churning operation; that is, by creating psychological storms and strains."
Putting It All Together – The South Node
There is no evidence that a cycle of the South Node in Sagittarius is about 'excreting', letting go, eliminating or expelling Sagittarius concerns.
Far from it. What happens on a South Node in Sagittarius and North Node in Gemini cycle is a loop. The issues of both signs cross over.
In 1908, the Japanese and American governments arrived at what became known as the "Gentlemen's Agreement".
Japan agreed to limit emigration to the U.S., while the U.S. granted admission to the wives, children, and other relatives of immigrants already resident. Following an agreement made on February 15th 1907, America's President Roosevelt struck a deal with Japan. If he could suspend immigration, Japanese-American students could attend U.S. public schools.
The Nodes Aren't Simple
The Nodes aren't simple. They work as a knot, or loop, that can't be separated. The old 1980s ideas (and earlier) about North being somehow 'good' and South being somehow 'bad' are simplistic and inaccurate.
It's more realistic to say, that what was done in the past, pulls in the concerns of both signs. We can see that in the Japan-America example, at the turn of last century (Gemini rules schools, teachers and pupils, and language differences – Sagittarius rules immigration).
This is one example of many where you would expect to see karma play out in 2020, 2021, early 2022. Watch the relationship between Japan and America because it was clearly laid out in a previous Sagittarius-Gemini node cycle.
Going Deeper Into Your Astrology Chart
Astrology is about patterns. Using the above example, we might have predicted something big to happen, karmically, between America and Japan the next time there was Sagittarius and Gemini 'weather' in the heavens.
It did. On December 7th 1941 the Japanese bombed Pearl Harbour. For the first time in 12 years, Jupiter was in Gemini. Mercury was in Sagittarius. The Sun was in Sagittarius.
The One World Language
Right on cue, we are expecting Japan to host the Olympics (maybe!) as the North Node goes through Gemini and the South Node goes through Sagittarius.
In 2021, the wheel of karma turns again. We always have choices with astrology. That's the whole point of horoscopes.
We can choose to heal the past, find wholeness, balance the spiritual books and settle the soul's score sheet.
The Sagittarius-Gemini Node Cycle and You
Go back 19 years, in May 2020, and look at how you were affected by the node cycle last time, in 2001. In the year 2021, look back at 2002. Chances are, even if you have just one factor in Gemini in your Third House, or Sagittarius in your Ninth House, you'll be seeing a chance to get some kind of closure.
You can listen to a podcast about the new Node positions on my new YouTube channel, which I made with special guest Penny Thornton, who together with another friend, Debbie Frank, was astrologer to Diana, the Princess of Wales.
Summing up the Nodes
The North Node and South Node reveal karma from previous lifetimes, and repeated themes from this one. The Dragon's Head (North Node) eats the Dragon's Tail (South Node) and on it goes.
The Nodes move back through the signs of the zodiac in approximate 19 year cycles. That's why, at any given point, if you think back a couple of decades to what was happening, you'll hit repetition. Sometimes literal, usually symbolic or thematic.
The idea that you 'should do the North Node' and 'let go of the South Node' has no evidence to support it. Taking Prince William as an example, the future King, he can hardly avoid family/career at either end as both are mixed up together and it is his destiny!
Destiny is your ruler with the Nodes. How have they worked in your personal birth chart and how is the transit of the Gemini-Sagittarius nodes affecting you in terms of travel, for example, or relations with people in other countries?
Adapted extract from the #1 Amazon bestseller, 2020 Astrology: Your Five-Year Horoscope Guide by Jessica Adams.
Feature Image: Photo by Smart