Pluto and Proserpina
After Pluto was demoted in 2006 to Dwarf Planet, and his mother-in-law Ceres was promoted from asteroid to become his equal (also a Dwarf Planet) – astrology changed. Suddenly we could call Pluto and Ceres equal in the horoscope. Ceres was very much back in, if you had ever left her out at all.
This raised the immediate question of her daughter Proserpina, Pluto's wife. As an asteroid, was she still to be excluded? At this point, back in 2006, I decided it was all divination anyway and quite frankly, the size of a space rock was irrelevant. If you are going to use Pluto, use Ceres. And if you are going to use Ceres, use her daughter, Proserpina!
Proserpina in Your Chart
As Pluto's wife, Proserpina is the go-between who crosses from the underworld, Hades, to the earth, every Spring and Summer.
The Romans, who gave us modern astrology, believed that when Proserpina was with her mother Ceres, the earth produced the corn and wheat, in the sunshine, that Ceres herself ruled. She was the goddess of the four seasons and thus, agriculture and particularly the grains that ordinary Romans depended on for survival.
When Proserpina is with Pluto, her husband, in the dark depths of Hades (with the souls of the departed) Ceres is in mourning. The earth becomes cold and dark. Autumn and Winter.
Being Taken Over and Taking Back
Proserpina was initially taken over by her mother. As a sweet young maiden she was under her command. Then Pluto saw her, fell in love with her, and broke through the crust of the earth in his chariot, drawn by black horses, and seized her. She was taken over, then taken. Eventually, though, Proserpina took back. How? She found her power as the sought-after middle person, caught between two enemies: her husband and her mother.
This is sometimes literal in a chart. You may have married a man whom your mother sees as dominating. More usually the Proserpina story is symbolic or thematic. By sign and house, Proserpina shows where you are taken over, taken, then take back.
The Aachen Raub Painting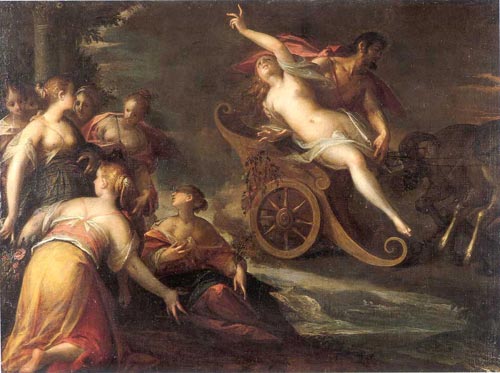 This painting by Aachen Raub shows the famous abduction. This is the 'Help! Help!' face of womanhood. You see this archetypal myth played out in so many books, television series and films.
If you think about Jane Austen's Pride and Prejudice, and Miss Elizabeth Bennett, you will see Proserpina. She is taken over by her mother from the start. Her mother bosses Elizabeth and her sisters around quite mercilessly. She wants to marry them all off, as quickly as possible.
Tall, Dark, Handsome Stranger
Mr. Darcy arrives. The 'tall, dark, handsome stranger' is often Pluto. (Pluto is dark-haired because he lives among the coal, deep below the earth's crust. His hair is coal-black). Mr. Darcy tries to take Elizabeth Bennett as his wife. She refuses. At that point she is empowered. She becomes Proserpina eventually, the bridge between Darcy and her mother. The connecting force who must work hard to please both sides.
As you can see, Proserpina is where you are in demand. Where you are fought over. Yet, if you get the negotiating wrong and either side feels unfairly treated, you can be drawn into a lot of people politics. Even, high drama.
The Romans tell us Proserpina carried it off, successfully, and so the seasons carried on as they should. They ran normally and Proserpina really kept them in check, as her mother Ceres was always happy to have her for at least half the year, when 'the earth laughs in flowers' and the sun shines. People harvest the grain for their bread.
Proserpina and Power
In your chart by sign and house, Proserpina shows where you go through a repetitive process. You begin with no power at all (sometimes this is literally because your mother dominates you!) and then you become empowered.
How? Someone or something sweeps you away. In Proserpina's case this was her abduction by Pluto, the ruler of Hades, who saw her and had to have her. She became his wife and so the co-ruler of the underworld.
Proserpina is where you are a bridge, agent, connecting force, negotiation point or link between two powerful people, organisations or places. This by itself makes you powerful. Proserpina was the go-between who went from the underworld with Pluto, to the earth, with Ceres. Pluto had command over departed souls; Ceres ruled the four seasons, wheat and corn. By being the piggy-in-the-middle Proserpina woke up to find herself with rather a lot of clout and control. Yet it is also precarious to be that person.
Proserpina is Hard Work
Just to go between two sides, is very demanding. When you have two powerful organisations, individuals or even places (whole countries, perhaps) to be the people-pleaser in the middle is challenging. Proserpina is hard work. You can see some of this strain and effort on the face of Proserpina (Proserpine) in this tile from the restaurant at the Victoria and Albert Museum in London.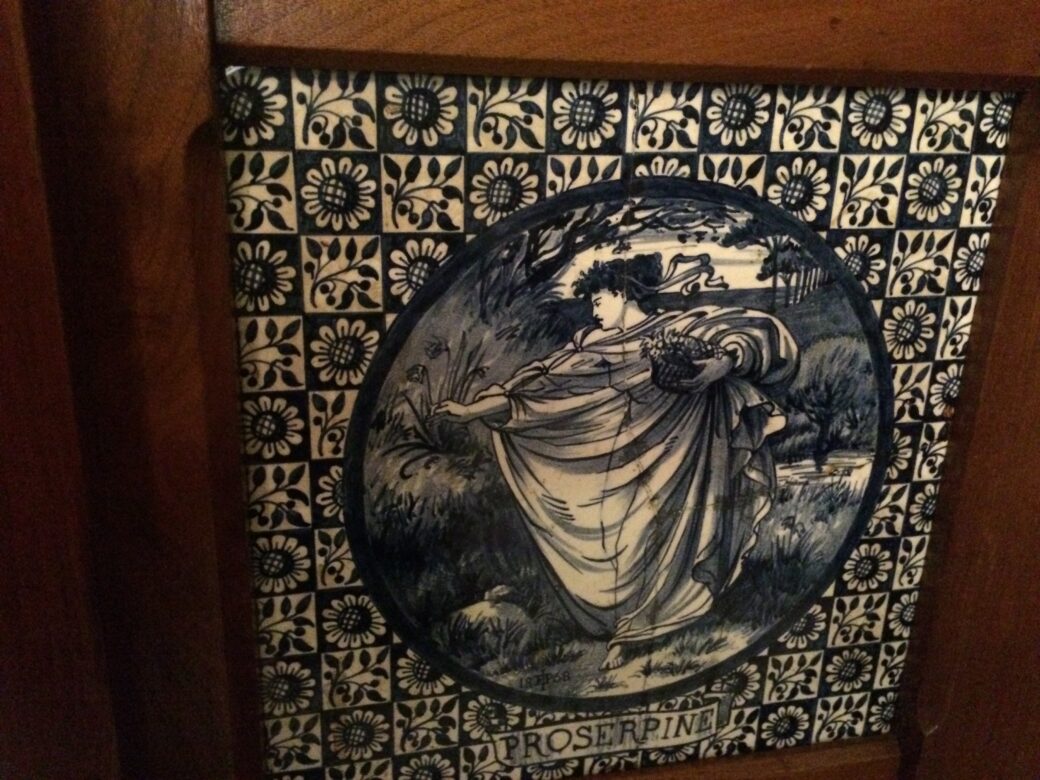 Proserpina in Art and Décor
I always encourage readers and students to look at the asteroid goddesses and gods in art and décor; design and illustration. You will get a better sense, then, of the full meaning of each archetype.
Of course, if Proserpina makes exact aspects in your chart (lines up at the same degree as other asteroids, planets, points or angles) you have a major theme to explore in your life and personality.
Agents of All Kinds
Real-estate agents and literary agents often have an exact Proserpina aspect. They go between two powerful sides (publisher and author, or buyer and seller). They have to keep everybody happy.
A proper Proserpina is tactful, sensitive, sensible and always on a pretty tight leash whenever it is time to cross the bridge!
I find it interesting that Christmas brings families together and Proserpina wakes up then, in so many charts. Mother-in-law and son-in-law must be pleasant over the turkey while the 'Proserpina' nervously makes sure everyone is getting on.
Christmas, is of course the depths of winter, and the time of the Solstice, so from a Roman point of view, this would be when Proserpina is going back down into Pluto's domain, away from her mother.
Astrology is fascinating with all its synchronicity. You can also watch Proserpina in transit. By herself she may not tell a dramatic story, but in combination with slow-moving outer planets like Pluto himself, or Saturn, she can really time an historic saga.
Victoria, Australia
Countries, states and counties have horoscopes too. The chart of Victoria, Australia has an important Proserpina placement and she will end up being the go-between for Australia and Europe; perhaps the United States.
Why? She beat COVID-19 and managed to produce zero new cases, and zero deaths, after three months of tight self-control and self-discipline, staying at home and observing curfew.
Watch Victoria, Australia as her Proserpina was under exact transit by slow-moving outer planets when the victory (the clue is in the name) took place. She now has a template or model for eliminating the virus and by all the laws of astrology, will 'go between' her own country, and another. Perhaps it will be New Zealand. Let's see where this goes. I am writing this on 6th November 2020 and time will tell, as it always does with astrology.
Feature Image: Photo by Mario Dobelmann