Scorpio, Sex, Business and Death
In March 2021 Australia exploded with denied historic rape allegations by the Attorney-General, Christian Porter, following a reported suicide by the woman who claimed he had raped her.
PM Scott Morrison temporarily replaced Christian Porter with Michaelia Cash.
Grace Tame, Brittany Higgins and Chanel Contos
The Australian of the Year, Grace Tame, who had survived attacks by a paedophile teacher, was also front-page in March 2021, along with an alleged rape survivor at the very heart of the PM Scott Morrison government in Canberra – Brittany Higgins.
In the same month, March 2021, Australian Chanel Contos went front-page with her petition to have education on sexual consent taught in schools. Anonymous female students from some of Australia's most expensive private schools put their accounts of rape and sexual assault survival online.
As an astrologer you have to stop and wonder – 'What is going on?' As it turns out, the astrology charts for the nation tell us. And this is going to be a revolution.
What's Historic About March 2021
The line-up in March 2021 has never happened before in Australian history, since settlement. What March has delivered is Pluto at 26 Capricorn, exactly sextile Proserpina at 26 Scorpio, in one of the astrology charts for Australia, set for 1st January 1901 (Federation).
The last time we saw that was 1777-1778 so about ten years before Australia was even settled in 1788. Pluto is a symbol of powerful men. Capricorn rules the top of politics. Proserpina, ironically, was Pluto's captive. She became his bride. Scorpio, of course, rules sexuality.
What is really rare about March 2021, in addition, is Uranus at 7 Taurus, right opposite the Scorpio patterns in two other charts, within one degree.
We've not seen Uranus at 7 Taurus since May, June, October, November 1936. March, April 1937. Rare.
The Full Moon of Tuesday 27th April 2021
As an astrologer, you go looking for Scorpio in the Australian astrology chart at such times, as Scorpio has always ruled sex, business and death.
We find Scorpio patterns in three of the many Australian astrology charts, erupting in March 2021 and set to trigger a revolution in Australian politics, law and education on a very specific date. The Full Moon of Tuesday 27th April 2021.
The Modern Textbook of Astrology by Margaret E. Hone D.F. Astrol.S was published by L.N. Fowler & co. Ltd. in 1951 and clearly associates Scorpio with 'Sexuality. Coroner. Detective. Death. Secret Matters.' (Extract below).
This is part of what Australia has always been, about, according to three of her astrology charts, and massive crisis and change is here in 2021. What has been buried underground is erupting.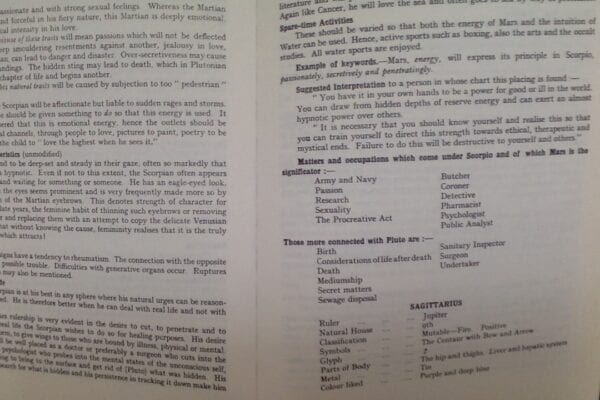 Vulcano 7 Scorpio, Psyche 7 Scorpio and Uranus at 7 Taurus
The famous Australian 26th January 1788 chart has always been popular with well-known astrologers – and it is set up for January 26th 1788 at 5.10am in Sydney.
It shows Vulcano at 7 Scorpio and Psyche at 7 Scorpio. Vulcano rules volcanic emotion. Psyche rules who or what lives forever, after death. I published this comment about Australia on Australia Day 2018, January 26th so a full three years before Christian Porter made headlines. This is what you read…
"The Immediate Problem Was Sex
There is no doubt at all that January 26th 1788 at 5.10am in Sydney produces a strong horoscope. When the First Fleet landed, one of their immediate problems was sex. As in men, women and natural instinct. Saturn is at 28 Aquarius next to Venus at 29 Aquarius in the house of groups and tribes, showing the convict chain gangs, but also the women, separated from the men."
The Pregnant Sydney Teacher and the Schoolboy
A Twitter friend pointed out that the 7 degree hotspot in Scorpio was triggered when a Sydney teacher at an elite, expensive school became pregnant by a schoolboy. As the ABC reported on 2nd February 2018, the teacher at Sydney Grammar was jailed for sex offences.
The time-frame fits. Jupiter was at 7 Scorpio from November 12th-16th 2017 as the drama escalated. On 25th February 2018, Saturn moved to 7 Capricorn.
Why Tuesday 27th April 2021 Erupts
When you see the same story told three times, three different ways, in three different astrology charts for Australia – all triggered to erupt on the same day, you know you are going to see radical change in the nation's laws and politics.
The chart set for 1st January 1901 at 00.01am in Melbourne is set for the Federation of Australia. Again this version of Australia shows Scorpio – sex, business and death. We have Proserpina at 26 Scorpio and Fortuna at 27 Scorpio. Patterns not possible in over 240 years triggered that in March 2021 as Pluto went to 26 Capricorn, making a sextile.
Proserpina the Maiden, Abducted by Pluto
I am sure you know Proserpina, the maiden, was abducted by Pluto – taken from her mother by force. Fortuna is the Wheel of Fortune, spinning our fate in quite random ways. What is astonishing about 27th April 2021 is that when we have that Full Moon trigger in Scorpio, we also find Pluto turning retrograde at 26 Capricorn, on the very same day. He stands still.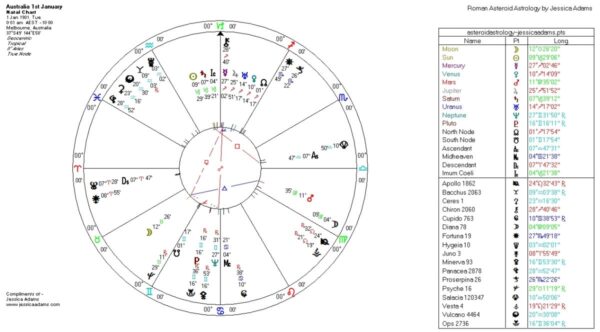 The Third Australian Astrology Chart is Triggered
On May 27th 1967, Australia voted overwhelmingly for Aboriginal equality. We have a third chart here. The first one is for white settlement. The second is for constitutional change. The third is for the new Australia.
The chart set for that date shows the South Node at 6 Scorpio, just one degree away from that hotspot at 7 Taurus/Scorpio. Thus, Tuesday 27th April 2021 is underlined again in a third horoscope. This is really important because the outrage is by white people, about white people, in March 2021.
Yet, once you look at the fate of indigenous girls and women in the nation, you see a terrible story – ignored. I'll go into that more in a moment. First, let's look at Prime Minister Scott Morrison.
Psychic Insights About PM Scott Morrison
On 26th December 2020 I published this, which you saw on the website. It's a psychic insight on the Australian PM Scott Morrison and as you read this on March 7th 2021, it's about three months old .
"When I look at Australia I see PM Scott Morrison with fish surrounding him. That is the fish of the Christian church."
Of course, it is Christian Porter who has tested the Prime Minister of Australia. There are also new questions about Morrison's church, Horizons, however – in the light of the two rape allegations surrounding his government.
I also published this, which you may remember – picking out April 2021 as a month to watch, because of that Full Moon.
PM Scott Morrison Crisis – April 2021
This looks like a leadership spill within the Liberal National Party government or a Horizons church issue. It is a critical month for Morrison and as it is Easter there will be timely questions asked about his chances of a resurrection.

Indigenous Women and Rape in Australia
Chanel Contos, a heroine for these times, along with Grace Tame – made the private hell of white girls from expensive Sydney schools – public. Yet these three astrology charts, dominated by Scorpio patterns, are not just about white women.
They are about indigenous people; the first Australians; Aboriginal owners of the land. So, if the nation is heading towards radical change in her politics, education and laws – this is going all the way to the Northern Territory. And here is a really good reason why.
The 14-Year-Old Survivor and the Law
As reported in The Age: "The Human Rights and Equal Opportunity Commission plans to intervene in a highly controversial case in which a judge gave a one-month sentence to a 55-year-old Aboriginal man who anally raped and bashed his 14-year-old "promised wife". A decision by NT Chief Justice Brian Martin QC to sentence the man to only one month's jail after accepting he was unaware his actions were offences under NT law has created a furore."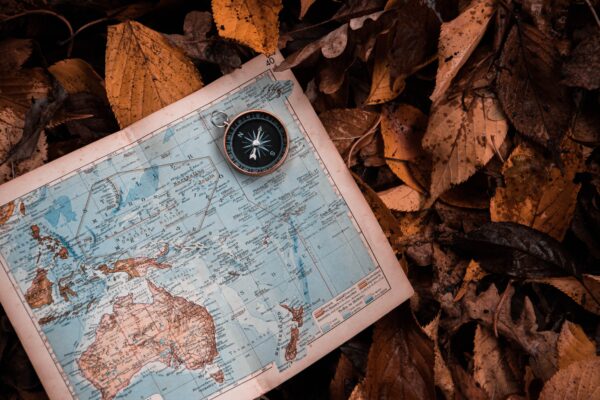 Solutions in Kenya
Kenya runs the successful 'No Means No' program of education and self-defence training for children and teenagers. I'm yet to see a politician or anyone in the police force reference this. Here it is. It's not the whole answer but it is one of many that could be put in motion immediately. The people of Kenya are far, far ahead of Australia here. And it's done without a 'consent app.'
The Tarot Card on Twitter
I am lucky to have some brilliant Tarot readers and astrology colleagues on my Twitter account and when I was sent this Tarot card, I realised that the other side of the story about Australia's 2021-2022 sex revolution, would be indigenous people.
This card has the Scorpio symbol in the top right-hand corner. The message 'CHANGING' is clearly about Uranus in Taurus. The figure in the middle is neither male, nor female, but is half black, half pink. There is so much more to see in this card, and to say, so please leave your thoughts in Comments. Thank you.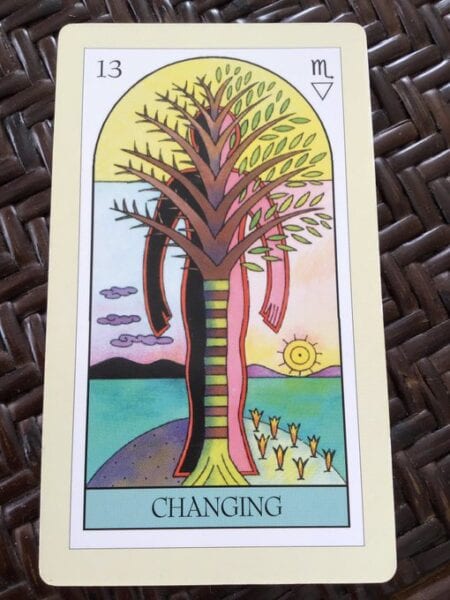 Dates to Watch in the Australian Sexual Revolution
Given that 7 degrees is a hotspot, Scorpio is the story (sex, death and big business) and we have another astrology hotspot at 26, 27 degrees – what we are looking for are historic patterns in the heavens when all these astrology chart stories are told at once. Loudly.
Judging by my Twitter account, this can't come soon enough. So let's look at specific astrology timing.
Millions of Us Are Affected
Why are we all so angry? Well – these Scorpio patterns are shared by so many of us, in our personal charts. This goes beyond politics into the personal lives of millions of Australians.
It raises massive questions about (for example) rape within marriage. About sexual assault within 'dating' at Australian parties. About the entire area of consent and en-masse cover-ups.
There is also a huge wave of anger coming from those who support Christian Porter's categorical denial.
Whole generations of Australians were born with the outer planets Uranus, Neptune and Pluto in that sign, Scorpio. So a huge number of us are being triggered by that Uranus opposition.
We are also looking at aspects at 26 and 27 degrees, which trigger Proserpina and Fortuna in Scorpio one of the charts. So again, this is millions of us.
What this looks like, to an astrologer, is an entire country ready for massive transformation over the Scorpio side of its existence. And as we know from Margaret Hone, in her book The Modern Textbook of Astrology, published some 70 years before Christian Porter met the headlines – this sign has always ruled sex and death, together.
The Eclipse on 19th November 2021
An eclipse is always a cover-up and we have one on Friday 19th November 2021. We will not see, and will not know, what is being concealed from us then.
The Sun is at 27 Scorpio and the Moon is at 27 Taurus. This Full Moon eclipse is like every other Sun-Moon event of this nature. Sometimes what/who matters most at the time, is in plain sight, but obscured by someone/something else taking all the attention. Astrology tells us to be aware, of what we are unaware, on Friday 19th November 2021 – specifically about Scorpio matters – so, sex and the headlines.
High Hopes for a New Country
What we should be really hopeful about, though – as we strive for a new country – is Pluto going to 26, 27 Capricorn in February 2022; the North Node going to 26, 27 Taurus in the same month; the South Node going to 26, 27 Scorpio and Jupiter at 7 Pisces.
February 2022 – The Revolution, Sex and Australia
When are we going to see mandatory education on rape, consent, sexual abuse and sexual assault in every Australian school? February 2022.
When are we going to see the law protect every human being in the same way, indigenous or not? February 2022.
Astrology shows massive reform and system change. Even about something as personal as a nation's sexuality.
How powerful the revolution ends up being, is up to us. But, these patterns in February 2022 are rare. The South Node is only in Scorpio every 19 years. Jupiter is only in his February 2022 position, every 12 years. Pluto takes over 240 years, to get to 26, 27 Capricorn – again, in the same month – February.
You might say that 2021, 2022 are moments whose time has come, for Australia. And very specifically, April 2021 and February 2022.
Images: Jon Tyson, Denise Jans, Unsplash, Twitter. If you have been affected by any of the issues discussed in this feature, please note the numbers below for help in Australia. Thank you.