Questions and Answers About 2022 Predictions
I am circling back to this feature about 2022 in astrology and psychic prediction, as the video has now been posted, so you can catch up with the long-range forecast, not just for 2022, but taking us beyond 2026. Watch it here.
We have almost 100 questions here so it has taken me a while to sort through them, so my apologies if you have been waiting a while, but I will combine some answers together. For example, many of you wanted to know when the plutocrats would lose power. This covers PM Scott Morrison and the Liberal Party in Australia and of course impeached former president Donald Trump in America – as well as PM Boris Johnson in Australia.
Plutocrats go down on Pluto cycles when they end – especially in Capricorn, which rules the top 1%. So at the very latest, March 23rd 2023 is the astrological date for a first or second take-down. For example, there may be a resignation followed by criminal charges. Or an election loss followed by class action lawsuits. Perhaps, a departure altogether. Those are the Pluto rules.
2022 Psychic and Astrology Forecasts
Thanks to the hundreds of you who joined Gina Lazenby and I at The Conscious Cafe, to look at the psychic astrology of 2022. We glanced back at the 2021 event, on YouTube, where I predicted children for PM Boris Johnson (he had his second most recent child in 2021) and a cover-up involving the Ukraine. Well, that has come to pass as you read this. Sometimes the Tarot cards which turn up in these events say it all.
What to Expect From 2022
In 2022 we go through the last full year of Pluto in Capricorn, so this is the last full year that particular Prime Ministers, Presidents, Premiers and other politicians will be in power. Pluto tends to produce resignations, defeat or ill health at the end of the cycle, for particular power-players (if they have had too much control). It's a rule with this planet.
COVID-19 in 2022
I predicted a virus, twice, back in 2019 as most of you know. It was date-stamped to two events. The first death in China (January 10th 2020) and WHO declaring a pandemic (March 2020: I was two days out with the announcement).
The virus obviously remains in 2022 – one look at the rising graphs of cases with Omicron tell you that. But what's the long-term with this pandemic? There is no vaccine. Just to repeat another old prediction from The Daily Mail in October 2020, a silver bullet injection does not exist and it never will.
What we do have are ongoing mutations of COVID-19 and ongoing quests for 'the solution' which may or may not be there. An effective vaccine is a goldmine. But does it even exist? I asked The Astrology Oracle about this in 2020 when Pfizer, AstraZeneca and Moderna were all publicising 'vaccines'. At that point we assumed these would be a single needle in the arm, but in Israel full vaccination is now three and they are considering a fourth. The Astrology Oracle suggested confusion, wishing and hoping, a gamble, a quest. Not what we really wanted, which was an answer. There may be money in it. Or not.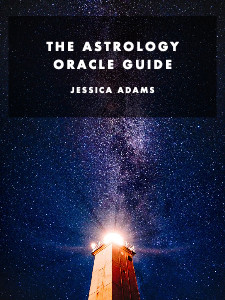 The New Travel and the New Planet
In place of globalisation, and in the face of COVID-19, we end up with new travel on a new planet. It takes time but peaking in 2026 and going past 2030, electric planes will replace failed kerosene airlines (watch Virgin and Richard Branson closely). Electric shared car and bike schemes will be in every suburb or village. Travel will become as it was in the 1950's. Rare, special, luxurious, unforgettable. This replaces the old cheap model.
As we saw at The Conscious Cafe, the future is electric (Uranus in Gemini translates as 'electric public transport'). With Pluto in Aquarius at the same time (people power in the group) these ways of getting around your area will be shared.
The New Knowledge Exchange
The combination of the building Gemini weather (Mars and Ceres in Gemini in 2022, with Uranus in Gemini from 2026) is also about digital knowledge. This is about the new you, online (your virtual self) walking and talking with others from across the planet in virtual spaces. Immediate language translation or even the invention of a new global language (children will pioneer this) makes knowledge exchange in the Twenties intriguing. Early signs show in 2022.
This perfect storm is historic. We literally have to go back to the year 1351 to see parallels. This is what else we can expect:
*The new inner economy, as Gina Lazenby describes it. Riches inside from meditation, for example, or spirituality.
*Time at home, or time alone, will be rich in benefits in 2022.
*Your new virtual self online will be able to choose faces, wardrobes, wigs and nicknames – plural.
*Issues about identity, privacy, vaccine passports and (Aries rules the face) Facebook will be battled and won by 2023.
*Keep a pantry and supplies because we will see rationing and supply shortages in 2022, 2023.
*Use the cycle to negotiate what you want from an employer – working from home, a short week, job-share and so on.
*Local cryptocurrency will take off in 2022 and be normal by 2026: your suburb's digital 'dollars' are coming.
*Expect a fierce local resistance to globalisation, mass tourism and COVID-19 super-spreading in 2022. Expect a victory.
COVID CLASS ACTION LAWSUITS ARE COMING
I predicted this in my book, Essential Astrology for Women in 2006 (HarperCollins). I knew it would come.
Many people at the Conscious Cafe 2022 event followed up with me later, asking about politicians and businessmen, and the Pluto in Capricorn cycle. Would they go down for their crimes against people? I actually replied to this question 15 years ago!
"Corporations will crumble and fall. Anything with a big pyramid structure and massive skyscraper towers is vulnerable. Check where your pensions or superannuation funds are. A crisis involving retirement, old age and large corporations is extremely likely, astrologically speaking, as Pluto goes through Capricorn. Corporations as we know them in the first ten years of the twenty-first century may be unrecognizable after 2025. They are very likely to face class-action lawsuits for manslaughter or other serious crimes." This is the year 2022 and afterwards – so watch this space.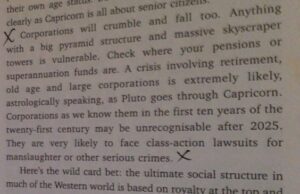 Questions!
From Cyprus to Toowoomba, you came with questions. Here are some answers.
Where is the best place for community in America in 2022?
Hawaii, because in the future she will separate herself from the other states and partner with New Zealand.
Thoughts on Russia and the Ukraine?
The various Russian charts show them in their weakest position for many years in 2022.
When will New Zealand reopen and when will property prices fall?
New Zealand's success in largely stopping COVID-19 makes her golden in the eyes of rich retirees and property prices will go up, I'm afraid. But do look at crowdfunded tiny house developments on shared land. New Zealand will continue to control the borders tightly as everyone knows Omicron Patient Zero was from Hong Kong via South Africa.
Cryptocurrency uses masses of electricity. What is the answer?
Local digital currency won't even need Elon Musk to recommend it – it will be very simple. Same cycle as 1351. Bartering. The new local social media (replacing American corporations) will be the channel. You'll trade online as the local area fixes its own budget, based on supply shortages, which will be common in 2022-2023. Later on local 'money' takes off for happier reasons.
Where is the safest place to invest or should I hold cash in 2022?
That's your personal chart, so turn to that – and your own psychic readings. In general, globalisation is dying and 'the new local' is the future, starting in a potent way in 2022. Invest in what/who is local. You will see towns, villages and suburbs who are tired of COVID-19 being imported, turn to their own shops, cafes and other local business for solutions. They will mandate masks. They will use the new local currency (clever) for discounts or access. In this way infected tourists will be shut out. We are seeing Mars in Gemini in 2022, 2023 for a very long time. That's anger, but it will be channelled into energy. Gemini rules the neighbourhood. The local scene. Further on from 2026, Uranus in Gemini turns this into a global switch – to local.
Will vaccine passports become real and be connected to the financial system and a social credit system?
I predicted passports would change some years ago, on this website, and yes. They will become a reality, proving third, fourth and more injections of Pfizer, AstraZeneca, Moderna and/or what governments approve, given the variant at the time. I don't know your country. The Orwellian threat of total government control is unlikely beyond 2023, if it even gets off the ground. Please note, though, if you do happen to be in Britain. The NHS will be replaced (the charts are really clear on that in 2022) and your new card will only be issued if you've paid your taxes.
What about solar power for electric vehicles?
Solar power, and other forms of power not even invented or thought of yet (that starts in 2026) will start to roll locally. Yes.
I don't understand why if the nodes leave Gemini and Sagittarius why there is such a focus on Gemini.
Gemini cycles dominate 2022 to 2023 in astrology. With the end of the damaging South Node in Sagittarius cycle, the last of the opposition to the Gemini cycles is finished. This is the end of globalisation and imported foreign COVID-19 variants and the start of 'new local'. Ceres in Gemini February-May 2022 dominates the year. Mars in Gemini August 2022-March 2023 carries that Gemini transit forward. February 2024 begins the historic twin Pluto in Aquarius and South Node in Libra cycle setting up trines to Gemini lunar cycles. In 2024 Jupiter moves into Gemini as well and makes a stunning trine to Pluto in Aquarius. Jupiter is still in Gemini in 2025 and that is the year that Uranus moves in. Uranus remains in Gemini until 2033. Revolution.
Amazing Tarot card about Brexit!
Yes. I agree. Pamela Colman Smith and Arthur Waite created the accurate Tarot deck. Try it on this website, free. I have the real thing as well (see photograph of me reading at The Conscious Cafe, below). I highly recommending buying a deck for yourself.
How long do you see food shortages for?
It's not just food. It's anything with component parts from poorer countries. Shortages will be with us until 2026. On the plus side, gardening and recycling take off with mainstream people who, so far, have not got the message about the environment.
Is there a rebalancing of the masculine and feminine?
Yes. The generations born with Uranus or Pluto in Libra (gender balance) are going to come into their own once Pluto enters Aquarius from 2023 and begins to slowly trine their natal chart placements in the sign of equality, fairness, harmony. This will make a huge difference to the sexism we see worldwide.
How can African nations leapfrog in development?
By going to their local economies (see above) and concentrating on the neighbouring parts of the country, as proper 'neighbours' in the old-fashioned sense. By investing in girls and women's education, which will be easy with the new technology of 2026 and beyond. Virtual classrooms with language translation and free access to volunteer teachers around the world is just the start. Africa will produce some brilliant female inventors who will make the country a fortune.
What about my second home that I have/want in Europe?
See above. Globalisation (Sagittarius) is dying. Local is the future. At least one airline will collapse. And you are likely to find France in particular sets stringent new rules on frequent travel.
Does the pushback against the foreign create more racism?
Pluto in Aquarius is with us from 2023 and people power (the international family) is the new power. No.
What will happen to the beauty industry?
Lipstick is hardly making any money in the Twenties, is it? Good question. We associate the face with Aries and Jupiter and Chiron in Aries together May-October 2022 suggest new opportunities to get away with the so-called impossible. Chiron is really about punk rock spirit (found in 1977) and maverick style (Zane Stein defined Chiron as a maverick, as did Dennis Elwell). So whatever the cosmetic companies do next will leave jaws on the floor.
Will politicians get instant karma?
Not instant. You have to remember Pluto in Capricorn cycles work slowly but surely. Pluto is plutocrats (the top 1% in power) and of course, absolute power "corrupts absolutely." If you are sick of your leader, or sickened by him, you need to remember this is the same cycle as the slow end of King George III in the United States of America. And corrupt British rule (slavery, unfair taxation – without representation). What happened was slow but sure. King George III went mad and was replaced by his son. The slave trade began to collapse. America threw Britain out and 200 years later emerged as a superpower. Pluto is out of Capricorn on March 23rd 2023. He goes back in for a few months but from 2024 he is history and so are many politicians.
I am in Australia and want to know if/when COVID-19 will end.
Deep breath. We have to get through Saturn in Pisces from March 8th 2023 until February 14th 2026. Saturn is tests and trials. Pisces is opposite Virgo. Virgo rules public health. That does not mean that we have a repetition of the chaos of 2021-2022. It does mean that everyone born in the Sixties in Australia with Uranus and Pluto in Virgo, is severely challenged to change. And also to change the system. This will be Medicare. However it will also be a new take on what 'health' means and immunity, too. Anyone who is talking about Post-Covid is fantasising, according to the astrology. And common sense tells you, this thing began with a Chinese virus in January 2020, which became an Indian virus in 2021 and an African virus later that year. It mutates.
I am a Sagittarian with planets in Sagittarius and want to know if I can travel again.
Not as you once did. Sagittarius rules foreigners and foreign countries (always has, always will). The end of the South Node in Sagittarius on 19th January 2022 is the very last of Sagittarius cycles for many years. So the 'weather' is over. Foreign travel as it used to be, is finished. We don't know why, just yet. I am writing your reply on 20th January so it's only just begun. There were cover-ups when we saw eclipses in Sagittarius in 2021, so these will come out in 2022, though nobody will ever know the truth. The airlines, airports, ports and cruise ships will be at the heart of it.
Is there any good news?
It's all good news if you are prepared to ditch the past. The new shared electric car and bike schemes will cost very little (and be free in many places). No more crowded trains. Air pollution will drop. COVID-19 rates will plummet, once foreign travel is controlled. There will be new forms of local/regional transport not even dreamed of yet. The United Nations, NATO, the World Health Organisation and other Aquarian bodies will actually have power from March 23rd 2023. You will eat and drink better, more affordably, with local produce and drinks, in season, from local restaurant, cafe, pub, bar communities. I could go on
Those Of Us Who Do Not Want Vaccination – a Question
Can those of us who do not want vaccination hold to that?
It depends where you live and what the border control is. And that will change over time as various counties, states, territories, regions, realise that uncontrolled travel is a disaster and bring rules back in. The astrology was always clear about the problem being travel. It's been like that in every plague cycle since 1350. People forget – COVID-19 came from China. COVID-19 Delta came from India. COVID-19 Omicron came from South Africa. Without proper quarantine a plague will always result.
I mentioned our Tasmanian experience at the event. We simply did not have Pfizer, AstraZeneca, Moderna on our island in Australia – and so tightly controlled travel to prevent any more deaths (cruise ships had brought that, in early 2020). The army guarded hotels in Tasmania. Our economy boomed. My property price doubled (true story).
We were Zero Covid for over a year. No masks. The Liberal Premier Peter Gutwein threw that away on December 15th and now we have rapidly spreading infection from tourists, those tourists confined to quarters because they are ill – and empty shops. That will not last. So, to recap – vaccination depends on your country/region and its border management and tourist management. If you are 'opened up' then you need to look at the science, the epidemiology and the medicine. To avoid hospital, get injected. To avoid Omicron, get injected three times. If your leaders aren't managing travel properly, you have to get real. The people who die in hospital from COVID-19 (and I include two of my friends) were not vaccinated – overwhelmingly so. Unless you are in the rare and lucky position of having politicians who strictly control travel, I'm sorry – you are vulnerable.
Thanks to all of you who came along to the Conscious Cafe 2022 Astrology Event, and Happy New Year.
Your Personal Psychic Reading for 2022
If you are a Premium Member, your natal chart appears when I pick up your questions in Comments. For specific, private, personal questions about your life, give yourself a three-way reading (if you are a Premium Member now). This is the method I recommend for validation of your predictions. Just follow the rules and it will work for you.