The Astrology Chart for China
This chart is set for 1st January 1912 at 12.00pm in Nanking, China. It shows the birth of the Republic of China and it is the most accurate horoscope for China we have. From this we can predict the end of Xi Jinping and the current system. There is no point in creating an astrological chart for Xi Jinping as it has a Rodden rating of XX. It's totally unreliable.
True Now – Predictions about Evergrande in March
An astrology prediction I made about a crisis in China and for Evergrande, back in January, is coming true in March. In fact, if you read the original China and Evergrande astrology forecast, you will see that Evergrande's default took place within a day of March 22nd 2022, the date given here for the start of a crisis in China. This was posted back on January 4th 2022.
Why Russia Plus China Was a Mistake
It was a huge mistake for China to create an alliance with Russia. You can see the South Node at 28 Libra in the Seventh House of partnerships, below. The North Node is at 28 Aries. It's in a T-Square with Uranus at 28 Capricorn in the Tenth House of leadership.
This fated pattern in the 1912 China astrology chart will be hit by transiting Pluto at 28 Capricorn, March 11th 2022 until June 20th 2022. It then returns January 12th 2023 until February 11th 2023. Then, July 28th 2023 until September 19th 2023. November 2nd 2023 until December 20th, 2023.
China and Russia at War in 1929
As you can see (below) China was 'born' with the classic Libra-Aries pattern we see in countries which repeat the themes of war and peace. In 1929 China and Russia were at war. That pattern was triggered by the True North Node at 28 Taurus and True South Node at 28 Scorpio. Here we are in 2022 with this cycle again. The True North Node at 28 Taurus, True South Node at 28 Scorpio. This time round, Russia and China are not at war. Russia wants a partnership.
Property Loans, Mortgages, Spreadsheets in the Sky
Tracking China's economy and her property bubbles is basically a case of tracking transits to Neptune at 22 Cancer in the Fourth House of real-estate investment, mortgages and 'spreadsheets in the sky'. Transiting Neptune at 22 Pisces is propping up the bubble until March 16th 2022 and then again from October 29th 2022 until January 8th 2023, when it is well and truly over.
The greatest risk period for Chinese property is when the North Node goes to 22 Taurus and South Node goes to 22 Scorpio, which takes place April 3rd to June 18th 2022. This pulls in world sharemarkets, so countries which have welcomed Chinese investment will be exposed to this bouncing bubble. (Main image: Christian Lue, Unsplash).
The China Economy Crisis
The Chinese economic crisis will be on April 18th 2022, so one month away as I publish this on March 18th. The astrology chart for China is clear. There are four astrology charts for China. The most accurate is set for 1st January 1912 in Nanking at 4.04am GMT (The Book of World Horoscopes, Nicholas Campion, The Wessex Astrologer, 2004) as above. This chart uses software on this website.
The Old China
This old 1912 chart shows the old China, with her Lunar New Year celebrations, 12 zodiac signs and I-Ching. Despite Chairman Mao and Communism, this chart is powerfully accurate today, perhaps because Lunar New Year and the 12 signs are so wired into almost every country.
The Communist Revolution
On 21st September 1949, Mao Tse-tung announced the People's Republic of China. Uranus was at 4 Cancer quincunx Jupiter at 4 Sagittarius in the 1912 China astrology chart. China was born on 1st January 1912 in Nanking with Jupiter, a symbol of expansion, at 4 Sagittarius, the sign ruling foreign countries. Uranus was again at 4 Cancer on 1st October 1949 when Mao's new China became official.
The Tibet Invasion

The China astrology chart for 1912 shows the True North Node at 28 Aries and True South Node at 28 Libra in a Grand Cross with Uranus at 28 Capricorn.
When China invaded Tibet in October 1950, when the Dalai Lama was 15 years old, we find these transits:
True North Node 28 Pisces
True South Node 28 Virgo
Jupiter 28 Aquarius
Saturn 28 Virgo
The Dalai Lama was born a patriotic Sun Cancer man on 6th July 1935 (data and natal chart rated C at Astro.com). Something tremendous will shift for him with Tibet and China from March 2023. A change in the balance of power.

A Dramatic Hit to the China Chart
The most dramatic hit to this China chart in 2022 is transiting Uranus at 13 Taurus in conjunction with natal Saturn at 13 Taurus. Allowing for world time zone differences, this is due in 2022 on April 17th, April 18th, April 19th. Uranus turns the world upside-down. In Taurus, it does so with business, shares and employment. This revolution in the Chinese economy is the final event in a series which began with COVID-19 and a series of lockdowns in 2021.
The China Astrology Chart in 2021
This first shock to the Chinese economy happened from June 13th 2021 until July 6th 2021, at the first pass of transiting Uranus (disruption) at 13 Taurus (currency and shares). This cycle of pandemic upheaval in the Chinese economy and world trade returned from October 5th 2021 until October 30th that year, and April 18th 2022 is the final hit. This pattern at 13 Taurus also shows up in the China astrology chart set for 1st October 1949 at 3.15pm CCT in Peking. That shows Mercury at 13 Libra.
April 18th 2022 and a China Crisis Prediction
On April 18th 2022 there is a rare line-up of Uranus at 13 Taurus and Mercury at 13 Taurus and the Moon at 13 Scorpio (all economy, currency, trade, property and bank signs). It will pick up Mercury at 13 Libra in the 1949 China astrology chart too. The sign of duets and duels. This is Russia.
Xi Jingping in April 2022
Yet, that's not all. There is a huge shift at the top of power in China coming then, too. It can only happen once in 240+ years. That is what makes April 2022 remarkable. I'll look at that in a moment, as the astrology chart for China shows the leadership will implode at the same time that the economy is hit. This is about Xi Jinping, Head of State and Head of the Communist Party.
Alternative China Astrology Charts
This April pattern picks up the T-Square at 28 Capricorn, 28 Libra and 28 Aries in the old 1912 China astrology chart. It is one degree away from the Sun at 27 Virgo in the China chart set for 21st September 1949 (another version of the nation) and one degree away from Venus at 29 Capricorn in another China chart set for 25th December 1947. Chinese leadership reveals a change in the balance of power as those transits reach 28, 29 degrees in April 2022.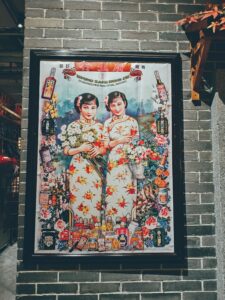 September 2022 and China
Looking further forward in time, towards the end of 2022, economic karma is coming for China. Between September 26th 2022 and December 9th 2022, we find the transiting True North Node at 13 Taurus in conjunction with natal Saturn, and the transiting True South Node at 13 Scorpio in opposition to natal Saturn.
Again, these are the signs which rule finance and property. That pattern at 13 degrees is very close to Neptune at 14 Libra in the China chart set for 21st September 1949 and exactly in conjunction with Mercury at 13 Libra in the chart set for 1st October 1949. September is a grand reckoning for China.
Chinese Karma
The nodes in the China astrology chart describe karma, going back in cycles of about 18-19 years. As they transit Taurus and Scorpio this suggests that China owes, or is owed, from the past – and there will be a karmic settlement from September 26th until December 9th 2022. The last time the lunar nodes transited at 13 Taurus/Scorpio was February 22nd 2004 until March 4th 2004. This was the year China pursued tax reform. Going backwards in time, we would also be looking for a Chinese balance sheet from 1985.
China Construction America

August 3rd 1985 until August 14th that year saw a recent lunar node pass in Taurus, at the same degree – and the start of China Construction America. This is one of the companies at the heart of this cycle between September 26th and December 9th 2022. But first, let's look at what else validates the Chinese chart for 1912.
The First Death From COVID-19
The first death from COVID-19, anywhere in the world, happened in China on 10th January 2020 with transiting Pluto at 22 Capricorn and transiting Saturn at 22 Capricorn. The transiting Moon was at 22 Cancer that day.
Why April 18th 2022 Challenges China
On April 18th 2022 we see an historic line-up with Uranus at 13 Taurus and Mercury at 13 Taurus, in an exact conjunction with Saturn at 13 Taurus in China's Second House, which rules her currency and economy. Shockwaves. This pulls in Mercury at 13 Libra in the 1st October 1949 chart, so – Russia. Partners. Also enemies – which nation will that be on April 18th 2022?
China and the World's Factory
Thinking about the shock to the Chinese economy the astrology clearly predicts on April 18th 2022, we can also speculate that the issues will be car factories and the airlines and the China-America trade relationship. Modern China has long roots.
1913 – Ford Motor Company introduces moving assembly belts into car factories.
1914 – First daily passenger air service in the US
Economic Shock for China and the World
This unusual 2022 aspect involving Uranus in Taurus (economic shock) exactly in conjunction with Saturn in Taurus (the chance of economic depression) was last seen from July 10th 1937 until September 30th 1937 and April 23rd 1938 until May 10th that year. The final pass came in the year that the Second World War began – 1939. Uranus was also at 13 Taurus from January 3rd 1939 until February 10th.
China in 1937, 1938, 1939

Back in 1937, 1938, 1939 Japan was at war with China. This has left traces in history which China will deal with in 2022. The United States is involved. On 15th December 1938, for example, America gave China financial backing to fight Japan. It's no surprise to see these old Taurus (trade and economy) cycles pulling in Russia too. On 28th May 1939 border war broke out between Russia and Japan.
Change in Leadership
Now, to the transit of Pluto at 28 Capricorn over Uranus at 28 Capricorn and the lunar nodes at 28 Aries and Libra, in the 1912 chart . This is about China's leader but also her place in the world order. Capricorn rules hierarchy. This pattern is just one degree away from Venus at 29 Capricorn in the 25th December 1949 chart. This is a transformation in the balance of power with Pluto, which usually involves resignation, election loss, serious illness, sacking or death. The transit at exactly 28 degrees began on March 11th 2022 and remains until June 21st 2022. This is the first phase of upheaval. Using micro-astrology and lining up all the planets, this is the start of a change in leadership in China on April 18th 2022 or close by. An implosion at the top.
Telephones, Cars and Computers
This period also shows a quincunx with natal Pluto at 27 Gemini, the sign ruling telephone and computer production –and cars. We find Ceres at 27 Gemini for three memorable days in May. May 8th-10th 2022 is critical.
May 8th-10th 2022 and Your Internet
The supply chain for cars, computers and telephones is compromised on May 8th, 9th, 10th 2022. The transit of Ceres on May 8th, 9th, 10th 2022 falls right on China's Pluto in Gemini.
Mercury Retrograde in Gemini
This China Gemini pattern is important because Mercury Retrograde in Gemini begins on Wednesday 27th April. We then have Mars Retrograde in Gemini (a war over cars, telephones and computers) from September 4th 2022 until March 17th 2023. We are going to see global delays and rescheduling, starting from 27th April and lasting until March 17th 2023, because of the China crisis.
COVID-19 and China
April 2018 is an upheaval involving Xi and the world order involving China – and it is historic. This is also about COVID-19 in China, as the Sun at 27 Virgo in the chart set for 21st September 1949 shows. It's so close to that 28 degree hit. Virgo has always ruled public health. This is the second of two major Virgo clues in the China charts. This is clearly the pandemic in China.
Tibet Fights On
The Tibet astrology chart shows the aggressive neighbour – China – with Mars at 13 Gemini. It also shows Tibet's determination to fight on. Remember that difficult transit of Uranus (the shock) at 13 Taurus, on the China Saturn at 13 Taurus? This is also a direct hit on the Tibet chart. It's an exact semi-sextile. It's a shock.
China and Her Neighbours in Detail
Pluto is at 27 Gemini in the 1912 Chinese astrology chart, the sign of neighbours. The Japan chart set for 3rd May 1947 shows Mercury at 27 Aries. The Vietnam chart set for 21st July 1954 shows the Sun at 27 Cancer. The chart set for 26th October 1955 shows Jupiter at 27 Leo. The chart set for 2nd July 1976 shows Mars at 27 Leo.
China's Neighbours in 2022
A substantial compromise with China's neighbours begins with Ceres at 27 Gemini on May 8th-10th 2022 in a small way, but the revolution is really when transiting Uranus goes to 27 Gemini, so September 9th 2031 until October 27th 2031, in the first phase of a 2030's revolution for Asia.
Other Astrology Predictions About China

Hong Kong Goes Back to Britain
China and an Evergrande Crisis
The End of Communism in 2023-2024