The Jupiter Neptune in Pisces Event – Q&A
Thank you for coming along to The Jupiter and Neptune Conjunction in Pisces event, on Zoom, from Meetups.com. With over 4000 of you in New York, London and Sydney-Hobart now, we do have to limit numbers, and have a waiting list, but I hope you were able to make it this time. We had some technical issues with Zoom and Meetup, so if you missed this event, please do post your question here in Comments.
Listen again, if you wish. A free audio podcast is now available free, for one month. Register at Upcloud now here and wait for a minute or two, for the recording to begin.
Predicted Last Year – Jupiter and Neptune in Pisces
I broadcast and published predictions about Jupiter and Neptune in Pisces here, with dates (going into late April) if you missed it. There are also predictions about the Pope (coming true this Easter 2022, below).
The King of Cups and Neptune in Pisces
This is the card I drew for the event, to show how all of us there, over 200 of us, would be affected by Jupiter and Neptune in Pisces. For most of us, this will be Pope Francis intervening in Vladimir Putin's war on Ukraine. You can see the fish around his neck and the fish to his left, representing Pisces. The Christian religion has always been symbolised by fish. The miracles of the loaves and fishes. Christ's followers – fishermen. What does this card mean to you? It may be a man in your world, in April 2022 until May 2022.
The Pope and Jupiter and Neptune in Pisces
This was actually predicted last year, but the astrology showed Pope Francis would dominate April 2022. Well, here's why. He has taken the lead in calling for peace at Easter in Ukraine. The Tarot card at our Zoom event, below, The King of Cups does strangely echo this photograph from SBS News. The headline? Pope Francis calls for an Easter truce to end the war. It may do.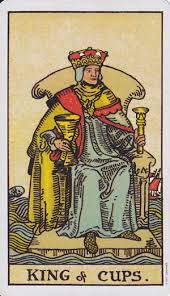 If you are a Premium Member you can also use The Astrology Oracle and The Garden Oracle digital cards, on this website. The Smith-Waite Tarot is available free to everybody (special thanks to the late Stuart R. Kaplan and U.S. Games Systems for permission to put up this famous deck, online) and has a quick-take interpretation when you draw your card.
The Rules of Tarot
Follow the steps. Tune in with the present first. If your initial card does not work, try again (limit yourself to two attempts and come back later if you're not in tune). The card you draw can be stage-managed or 'worked' as if it was a stage set, so you shape your life – present and future. Pamela Colman Smith was a set designer for The Abbey Theatre in Dublin as well as being the most successful Tarot illustrator and channel of the 20th century. The King of Cups (left) was our shared card at the Zoom/Meetup event and it will be thematic, symbolic but also literal for many people. This man may be dominated by Neptune in his birth chart, or have the sign of Pisces prominent. Keep tuning into the card.
Jupiter and Neptune in Pisces Q&A
Some comments are answered here; the rest will appear in the Comments section. Thank you.
Natalie: Jupiter has delivered an opportunity and it is up to you to take it (on Monday 11th April 2022). Hopefully you agreed, over the weekend, when we had that exact line-up. If not, you still have a few days left. Jupiter in Pisces in conjunction with Neptune in Pisces was in your solar Eighth House as a Leo – business. So that's a door opening to a future way of saving or making a lot of money. Remember that Jupiter does not deliver, it invites you to do the work – to ensure delivery.
Rachel: You are extremely Pisces with an Aquarius signature so find 2022 quite isolating. Pisces rules your inner space; Aquarius rules friends, socialising, your social life. For whatever reason, including COVID-19, your normal friendships and fellowship with others is blocked or stopped. This ends, March 2023. You are forced inward in the meantime, so your true Pisces self (medium, hypnotist, Christian and so on) can be reborn.
Danielle: You asked about your cancer diagnosis and this transit, as a Sun Pisces. You go through these tests and trials to go back to your relationship with your God and to understand your soul or spirit much better. The most intense part of this entire health story is over; the Leo eclipse/node cycles in your solar Sixth House are far, far behind you now.
Ankica: You will pay your mortgage off, mostly or wholly, by March 2023. The most demanding financial cycle of your adult life is history by 2025.
Making or Saving Money
Oku: This is about enhancing your potential to make or save money, based on excellent natural timing and a set-up that recently came your way.
Linda: If your birthday falls on the Jupiter-Neptune conjunction, then you are a Sun Aries having a Pisces experience. It's about your religion, Tarot, dreams, meditation or therapy and it's a defining moment for you – the real you.
Alexandra: You were recently given two major boosts, without even trying, on a financial, charity, business or property level. Given your new advantage and knowledge, how can you build on that and increase it?
Hollye: Time to relaunch in 2022 and snap up the chances you have been given in April-May. This is about the way you look, and are also labelled.
Relaunches in May and June
Brenda: Your relaunch happens later, after May, accelerating in June, with a different look and title/role which rewards you, finally, early 2023.
Natali: Pluto at 24 Virgo describes your health. As Virgo is about the tiny details of daily life, which affect your medical or health situation, watch the Moon as it goes into Taurus, Capricorn, Virgo at 24 degrees each time. Use those two-hour periods, if they fit in with your schedule, to find solutions, but also 'work' solutions that you've found.
Career Opportunities
Jerry W – You have career opportunities and solutions now, early May, then again October-December. Hopefully you used the 1-2 you were already given. If not, there will be 1-2 more.
Fran: Don't think small with your house, apartment, garden, town or region. One big vision is not so big, if you think about the possible outcomes in 2022. World leaders? The Pope will make a massive financial and spiritual contribution towards a solution in Ukraine.
House System Differences
Kathleen: You use a different house system to me. The conjunction falls in your Twelfth House, not your Second House, using the Natural House System. You also use wider orbs than me. I think the Tarot is your best solution here, as I don't have your chart and you're in a completely different horoscope space.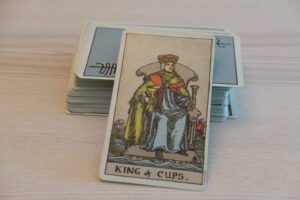 Martie H: Your husband has passed away and you now have some kind of financial raw material to work with, thanks to money made, or money saved. That works for you until May, then October-December. You will powerfully relaunch (new look, name, profile) from March 2023. Don't use Lilith, by the way. She's not in the astrology family tree that began with Mercury, Jupiter and the rest. It is possible that the King of Cups (left) who turned up at the event, is symbolic of your husband.
Patrice N. The internet is your gateway to opportunities, solutions and escape routes in April, May and a short trip you take or plan in the same time-frame will hugely improve your life. You will return to that part of the web or the map in October-December and gain one more time.
A Question About the Pope
Lisa: The Vatican charts all work, as do all the Rome/Italy charts, and the trick is finding a common degree pattern. The likely outcome, which you are picking up, is The Pope at the heart of a massed Christian global response to Ukraine.
Stephanie S: This is about your former, current or potential sexual partner and the house, apartment, valuables, business, charity and/or possessions. You are owed karmically from 18-19 years ago and will gain, by May.
Louise F: Your new job is validation for your relaunch and you will enjoy a peak experience with the new you, by May, which is repeated or doubled up, October-December in the last Jupiter in Pisces pass. Use this time to self-promote.
General Questions – Your Combined FAQ
I don't have anything in Pisces, how am I affected?

The general Pisces weather in April-May is about the Christian church worldwide (Pisces, the fishes, the fishermen followers of Christ, the miracle of the loaves and fishes) expanding, upgrading and escaping.
Through 1-6 degrees of separation you will benefit from this. For example, your local Roman Catholic father may solve a mystery which helps your career.
Pisces is also about dual realities, full stop. Not just the Christian church. It is about Carl Jung, for example, and his approach to Tarot, dreams and astrology. Fish were important symbols for Jung.
I Have Taurus and Scorpio Factors
I have Taurus and Scorpio factors near 23 degrees.
You owe, or are owed, from the year 2003. You will settle up, be repaid, be rewarded or make good, by May 2022 if it has not already happened. This is your good karma, perhaps, or your 'work harder' karma depending on how generous you were with others, unconditionally, in the year 2003. So, for example, the value of your shares may double, or you may find your salary is increased hugely by a new employer.
I have factors in all the signs; Pisces, Taurus and Scorpio.
Most interesting, grasshopper. You are a spiritual being who lives in a material world. Pisces is about the soul or spirit. You may have had a religious education or upbringing and then have to figure the rest out yourself. That is very common. Taurus and Scorpio are money, shopping, ownership, houses, apartments. In unison with Pisces, this pattern is the chart signature of big charity fundraisers. That chance is here again.