The 10th September Full Moon in Pisces
The Moon will be opposite the Sun on Saturday 10th September at 17 degrees of Pisces. This tug-of-war in your horoscope is between the Sun at 17 Virgo in your Sixth House of workload and wellbeing – and the Moon at 17 Pisces in your Twelfth House of religion, self-help, Tarot and hypnosis.
If you have anything in your birth chart at 17 Virgo you may prefer to wait until next week to judge or act dramatically about your working life or your health. If you have factors at 17 Pisces, the same advice applies to the church; counselling; psychics and spirituality.
Your Sun Sign and the Full Moon in Pisces
This Full Moon is more than usually important because it falls before Jupiter re-enters Pisces from Saturday 29th October 2022. This house of your chart (or department of your life) will not add up on Saturday 10th September but this inner conflict or real-world challenge will later result in fantastic solutions and wonderful breakthroughs.
In fact, Jupiter will be with you from Saturday 29th October until Tuesday 20th December 2022, and will deliver good outcomes from what (or whom) presents such an obstacle on Saturday 10th September. This Full Moon in Pisces in September 2022 is much more than it first appears.
The Saturn Tests of 2023-2026
Later on, Saturn enters Pisces from Wednesday 8th March 2023 and that's another story. This same area of your life will become a test for you, until Sunday 25th May 2025 and again from Tuesday 2nd September 2025 until Saturday 14th February 2026.
This is why attention must be paid to the Full Moon in Pisces on Saturday 10th September 2022; this story in your life looks like a three-act drama to me. Take your time as you make your choices.
In fact, if you can choose your timing, you may prefer to take mental notes at the Full Moon on Saturday 10th September, then make your choices when Jupiter is at a 12- year high in the Pisces zone of your chart from Saturday 29th October until Tuesday 20th December, 2022. The advantage is with you then and you can plan ahead for 2023-2026 with luck on your side. The Full Moon in Pisces in September 2022 is very useful.
Image: Worachat Sodsri, Unsplash.
Where is the 2022-2026 Pisces Story?
Aries: God and the church; faith and spirituality; psychologists and psychiatrists; meditation and hypnosis; therapy and counselling; Tarot and mediumship; confession and counselling; your unconscious mind and subconscious inner life.
Taurus: Friendships old and new. Clubs, teams, political parties, charities, associations, trade unions, secret societies. The brotherhood and sisterhood around you. Allies and communities. Circles of people and achievement through people power.
Gemini: Status and success. Hierarchies and pyramid structures. Social strata. Position, mission and ambition. Professional life. Your vocation or calling. Unpaid work of a philanthropic or voluntary nature. Your academic career. High Society.
Cancer: Foreigners and foreign countries. Publishing in digital and traditional form. Academia, colleges and university life. Globalisation. The worldwide web. International relations. Language translation. Knowledge, learning and teaching.
Leo: Legacies, wills and inheritances of all kinds. Marriage and mortgage. The wedding dowry. Common-law marriage and joint finances. Shared bank accounts. Sexual and financial relationships. "Until death do us part" and "For richer, for poorer."
Virgo: Marriage and separation. Common-law marriage and divorce. Former partners. Widows and widowers. Engagement and weddings. Professional partnerships. The law, applied to the end of career double-acts. Battles. Feuds. Mutual allies.
Libra: The daily routine. Your mental health. Your physical health. The housework. Staff and employers. Your lifestyle and the small details of your existence. Dogs and cats you must feed and walk. Your work ethic. Your food, drink, dentist or doctor.
Scorpio: Your sons or daughters. Any godchildren, nieces, nephews or grandchildren. The next generations along. Courtship rituals. Unwanted pregnancy, I.V.F., adoption, step-parenthood. What entertains or educates you and a younger generation.
Sagittarius: Houses and gardens. Land and houseboats. Permanent caravans. The family on both sides. Your ancestors on both sides. Leases and mortgages. Renovations and home repairs. Your home town and homeland. Your culture, history and roots.
Capricorn: Commuting on a local or regional basis. Short journeys. Walking and hiking. Cars, public transport, riding and sailing. The media. The worldwide web. Twitter. Speech and language. Brothers and sisters. Cousins. Messages of all kinds.
Aquarius: Your tax return. Your legacy, will and inheritance and any will which names you. The value of your property or assets. Debts. Banks and credit unions. Valuables for sale or purchase. Shares. Your income. Your personal code of values.
Pisces: Your public image. Your title. The names you are known by. Your face, hair, body type and shape. Your wardrobe and accessories. Your mode of transport, if it is a comment on your image. Your profile online. How you present and package 'Me.'
What to Expect From the Full Moon, Jupiter and Saturn
This triple sequence begins in a small way with the Full Moon at 17 Pisces on 10th September 2022. Check your local time, but we will see the moon at her fullest and brightest, at 5.59am in New York; 10.59am in London and at 7.59pm in Hobart, which is where I am writing this now. So, this is Saturday mid-morning in London, just as the nation is slowly beginning to adjust to King Charles III and the passing of Her Majesty, Queen Elizabeth II.
Prince Andrew and Prince Edward are both Sun Pisces men, of course. For them, this is about their title and reputation. King Charles has this Full Moon in his sector of 'heirs, spares and pretenders to the throne' so obviously – William and Harry.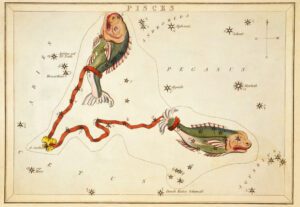 Do You Have Factors in Pisces?
If you have factors in Pisces in the Twelfth House of your natal chart, then you will feel this Full Moon far more strongly than other people. The Twelfth House rules your inner life. It describes introspection and meditation. Solitude and soul-searching. It describes your psyche or spirit. It has traditionally been associated with prayer and confession. It is very much the home of Christianity, the fish being the symbol of Jesus Christ and his disciples.
The Twelfth House is also about other aspects of the invisible world; quantum mechanics and trance mediumship. It covers dream interpretation, oracles of all kinds including the I-Ching, self-hypnosis and all that is hidden within. The Full Moon in Pisces in September, shows you.
The two fish describe the two realities. One is that which you know (the real or normal world which others live in) and the other is your own hidden world. This is mysterious, below the surface and can be confusing or confused, very often. This is where the usual boundaries of time and space are lost, but also where classical physics gives way to quantum physics.
The two fish of Pisces can show two parallel universes. They very much describe angels and mysticism; miracles and the afterlife; what Dr. Carl Jung might have called the stuff of the unconscious.
What a Full Moon Does in Astrology
A Full Moon is an opposition between the Sun and Moon. Any opposition describes opposing forces within yourself, or a difference with others. It is typically associated with unrest and sometimes disturbance; an increase in car accidents, for example, or an increase in hospital admission. It is possible that the sheer brightness of a Full Moon during sleep can create imbalances for people who are light sleepers and whose medical conditions are affected by sleep deprivation or disturbance.
Returning to pure astrology, it is common-sense to make allowances for people on a Full Moon and to make allowances for yourself, too. The Sun has always described fathers, as the Moon describes mothers, and sometimes there is an obvious gender split at times like this.
Do You Have Virgo Factors?
If you have Virgo factors, then again, the much bigger cycles of Jupiter and then Saturn in Pisces are important. Jupiter will oppose these at 28 and 29 degrees, from around Halloween until Christmas, so if you have Virgo placements at 28, 29 you need to pay attention to your health and workload.
Whatever is in Virgo, requires thought – no matter what the degree. Slowly but surely, Saturn will oppose your Sixth House Virgo placements, starting at 0, 1, 2 degrees in March 2023 and eventually taking you to 26, 27, 28, 29 degrees in January 2026 before leaving Pisces in February 2026. This Full Moon in Pisces in 2022 exposes a great deal.
So you see, this is more than just another Full Moon. It's like a torch or flashlight, showing you what you need to look at, in terms of your work ethic, your job, and how things are for you with your physical and mental wellbeing. It's very useful.
Main Image: Ganapathy Kumar, Unsplash.