The Sagittarius Full Moon in June
The Sagittarius Full Moon falls on Sunday 4th June 2023 at 4.41am in London. Allow a day either side for the world to catch up with itself, so you would be looking at worldwide web, media, publishing or academic questions from Saturday 3rd June until Monday 5th June.
The Astrology Chart for the Full Moon
What/who doesn't quite fit or work, then, is actually the basis for a fantastic year in 2024 and an exciting revolution from the year 2026. It's all down to the Sun in Gemini, opposite the Full Moon in Sagittarius.
In a moment I will look at your public chart and private chart to see how you are affected. (Chart: AstroGold).
Jupiter in Gemini and Uranus in Gemini
Gemini rules everything that is digital. Even though this Full Moon in Sagittarius is in an opposition to the Sun in Gemini, it is a useful spur to huge improvements, breakthroughs and booms from May 2024.
In May 2024 Jupiter goes into Gemini, for the first time in 12 years. Everything and everybody that did not flow, or connect, near 4th June 2023, will act as a spur to future outcomes – they'll be great – and then life-changing, from 2026, when Uranus enters Gemini for the first time in your adult life. This Sagittarius Full Moon will trigger it.
Your Sun Sign Chart – The Public You
How are you affected by this grit in the oyster, that makes the pearl later on?
Aries – The Worldwide Web, newspapers, magazines, television, radio, telephones, code, transportation, podcasts.
Taurus – Valuables, collectors' items, shopping, philanthropy, business, income, houses, apartments, investments.
Gemini – Title, appearance, reputation, name, face, shape, style, image, profile, online identity, first impressions.
Cancer – Religion, spirituality, self-help, Buddhism, hypnosis, Tarot, mediumship, therapy, counselling, inner self.
Leo – Friends, groups, clubs, teams, societies, Twitter, Substack, Meetups, associations, bands, ensembles, allies.
Virgo – Success, ambition, position, mission, achievement, status, rank, Curriculum Vitae, career, academic career.
Libra – Foreigners, foreign countries, academia, the Worldwide Web, travel, tourists, emigration, globalisation.
Scorpio – The sharemarkets, cryptocurrency, mortgages, banks, inheritance, wills, legacies, trust funds, insurance.
Sagittarius – Professional partners, sexual partners, marriage, divorce, separation, widowhood, feuds, conflicts.
Capricorn – Work, lifestyle, wellbeing, daily routine, mental health, physical health, service, duty, Mind/Body/Spirit.
Aquarius – Dating, mating, relating, courtship, the bedroom, pregnancy, babies, infants, schoolchildren, young adults.
Pisces – Home, family, household, home town, homeland, property, renovations, ancestors, the family tree.
Your Natal Chart – The Private You
If you have anything in Sagittarius in your natal chart, then what happens near that Full Moon will pull you in a different direction with your degree; course; class; website; book. How important is this to the rest of your life? Not much. This is just a fleeting Full Moon and we don't have any other historic or long-term cycles in Sagittarius in your Ninth House. It's a blip.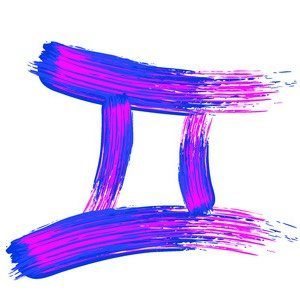 If you have anything in Gemini in your natal chart, then this Full Moon is pivotal to the future.
The full meaning of Gemini and the Third House goes beyond the internet, the media and communication – towards siblings, cousins and short journeys.
So we associate this part of your chart with your brother, sister, cousin, commuting and all business trips or holidays which involve your own country (for example interstate or inter-city travel) as well as neighbouring countries (for example, Britain and France).
Gemini and the Third House are a part of yourself and your life, and the extent to which this is so, depends on how many factors you have in the sign of the twins.
Four, five, six or more is a stellium so you live here. You really inhabit your Third House and Gemini self. If you happen to have anything at Gemini 13 degrees, then this Full Moon will hit your chart exactly and have long-term impact on, say, the relationship with your sister – or your use of Twitter. Perhaps, important projects which revolve around digital life. Maybe your car or other transport.
Full Moon Rules
A Full Moon is a full stop. Pause for thought. It involves the Sun and Moon clashing in opposite signs, so you may experience inner conflict or be dealing with a tug-of-war with other people, organisations or situations which produce conflicting opinions or feelings. This Sagittarius Full Moon will involve foreign relations for a lot of people, as Sagittarius rules people from other countries and cultures; other nationalities.
For that reason, professional astrologers traditionally advise to avoid a Full Moon for anything new or important as you will be commencing your plans when you, or others, are being stretched or pulled in different directions.
You can find out more about the Moon and Full Moon on this website just by hitting Search or if you are a Premium Member, read all about it in the books in your online library. You can also purchase these, if you are not a member.