Charles, Camilla and the Coronation That Never Was
The stars were not aligned for King Charles and Queen Camilla in May 2023. In fact, they have not been aligned for years.
So many years, in fact, that their marriage has been declared illegal by experts for over a decade. Unfortunately we won't know the truth about the marriage, and thus their status as King Charles and Queen Camilla, until Charles III passes on.
Constitutional experts claim that the union was (and still is) unlawful under the 1949 Marriage Act. A member of the royal family cannot be married in a civil ceremony. The 1836 Marriage Act also prevented – and still prevents – any senior royal from marrying in a civil ceremony. Famously, the couple married in the town hall, with a registrant and our late Queen did not attend.
As we'll see in this feature, Camilla and Charles may have got around these Marriage Acts, through what the Daily Telegraph are calling a 'wedding' which was quietly slipped in, during the coronation itself.
The astrology says, if so, – this ploy did not work. Through the lens of the horoscopes, crowns may have been placed on heads, but this is not King Charles and Queen Camilla we are seeing.
Astrologers Who Predicted Charles Will Not Rule
Leading astrologers since Charles Carter, President of the Astrological Lodge of London in the 1940s, have always predicted Charles III would never rule. Carter speculated about Charles abdicating, even when he was a baby.
The legendary Noel Tyl wrote, "Charles will not be king" in his 1996 book, Predictions For a New Millennium. Associate Professor Nicholas Campion in Born to Reign (1993) also cast doubts on King Charles III. And – with inside knowledge – Princess Diana's astrologer Penny Thornton, writing in With Love From Diana, hinted at abdication.
Charles and Camilla Will Not Rule
In 2022 and 2023, I told the Daily Mail, The Express and ABC Radio Australia about similar outcomes.
Charles and Camilla will not rule. There was a risk of a cancelled coronation earlier in 2023. I said, repeatedly, Charles would not be King. Ahead of a Conscious Cafe event predicting July-December 2023, where I'll talk about this – I thought I'd explain how the horoscopes are right and why when Charles dies, the coronation will be found invalid.
This may happen even sooner if the legal documents about Camilla and Charles that PM Tony Blair ordered to be sealed, all those years ago – are opened.
The best coverage of this episode in our living history is in the archived pages of the Daily Mail, to whom I spoke about Charles, stating that I did not believe the coronation would go ahead and/or he would never be king. When is a coronation not a coronation? When it's a retrocoronation.
Mercury Retrograde is the notorious cycle that even non-astrologers know about. Mercury rules paperwork, signatures and contracts. When Mercury appears to go backwards, so does the paper trail. Cancellations are common. So are 'null and void' outcomes. Charles III managed to sign his Accession papers on one Mercury Retrograde cycle then, incredibly, set his coronation for another. Thus, my nickname for what we saw, because as we will find out when he is dead, it was never a constitutional and legal coronation at all. In fact – a Right Royal Retrocoronation.
The Retrocoronation, Cancellation and Eclipse Cover-Ups
When should you also expect a cover-up? On an eclipse.
Charles chose the day after an eclipse for his coronation and as we'll see in this feature, Camilla also enjoyed a 'symbolic wedding' to him, according to the Daily Telegraph. For the second time, it seems. Was this because the couple knew perfectly well their town hall signatures years before, invalidated them as monarchs?
When Is A Queen Not A Queen?
When is a Queen not a Queen? When she gets her title on Mercury Retrograde.
On 2nd March 2020 Tatler among others reported, The Duchess of Cornwall would not become Queen. Clarence House confirmed that Camilla would be Princess Consort, instead.
So much for that. Perhaps understandably, given her huge Leo stellium, Camilla ended up as QUEEN CAMILLA in the Sunday Times magazine, complete with crown.
Yet, for how long? Camilla was promoted to Queen in the eyes of the media on on April 16th 2023 when she starred in the press. Yet… She is a Mercury Retroqueen on a Mercury Retrocoronation. Rather like every other dramatic announcement or verdict we see on these cycles, it will come to nothing, with the fullness of time. In fact, many legal minds would argue she isn't even Queen now – any more than Charles is King. As we go into the South Node in Libra cycle from July 2023, it is important to talk about both the law, as it pertains to Kings – and the law, as it pertains to Roman Catholics, Anglicans and marriage.
The Illegal Civil Ceremony
On Sunday 20th February 2005, Andy McSmith in The Independent reported "Charles's civil ceremony may not be legal." The story would not go away and it persists today, which is why I believe the horoscopes are correct and the astrologers are right. On 11th April 2010, Simon Walters and Ian Gallagher for the Mail on Sunday reported "The wedding secret Charles must take to his grave: Legal advice on Camilla marriage sealed until after his death. The Government was accused of a cover-up last night after it was ruled that the legal advice that enabled Prince Charles to marry the Duchess of Cornwall must remain secret until after his death."
Not To Be Seen Until Charles is Dead
The Queen Mother lived to 101. Her Majesty the Queen, lived to 96. Charles is 74 years old as I publish this in June 2023. We obviously hope he will live to a ripe old age as did his mother and grandmother.
His father, the Duke of Edinburgh was 99 so Charles has inherited spectacular genes. So, it may be as much as 20 years and counting before we are ever allowed to know the truth about the illegality of this 'King' and 'Queen' of England.
Camilla Parker Bowles and Charles, Prince of Wales, married on 9th April, 2005 in Windsor, Berkshire. A total solar eclipse occurred on April 8th 2005. The Deputy Registrar signed the Entry of Marriage certificate on 11th April 2005 (Image: BBC) and apparently the deed was done. Or was it?
Her Majesty the Queen and the Duke of Edinburgh did not attend Charles and Camilla's wedding, according to the Daily Telegraph, because her position in the Church of England forbade it.
Our late Queen did attend a star-studded Anglican blessing afterwards, though, wearing white (as Camilla had pointedly done when Charles had married her rival Diana).
The Queen also wore an Australian wattle brooch, sending a message to Charles about what Camilla would bring to the Commonwealth's jewel in the crown. She was right.
In 2023, the monarch's head has been taken off future Australian currency and PM Albanese is well on the road to ushering in a referendum on a republic. The Royal Mail public release of the crown-free Charles III (pictured) has gone viral on Twitter partly because this bare head does not even have a symbolic crown in the corner. And who oversaw this? Charles himself. These are English stamps, though. Not Australian. Eleven Ignored Objections and the Man Who Would Be King
Eleven written objections to the marriage were lodged with Camilla and Charles's respective local registry offices, all those years ago, as Mercury climbed backwards and an eclipse began to build.
Three objectors even turned up to an office in Windsor on the wedding day to state their case.
The wedding went ahead anyway, as we know, but it did so under bad stars and a distinct whiff of – The Magna Carta. Was this a future King who considered himself above the law?
True to Mercury Retrograde jinxing, Pope John Paul II died, plans had to be pulled and Charles delayed his wedding to Camilla by 24 hours. The location also changed. It turned into a town hall wedding with a registrar, with delighted souvenir shops nearby and a full McDonalds. Matt Cardy (Getty Images) photographed the wedding banns on February 21st 2005 at the register office, below, ahead of the planned April 8th event.
Consecrating an Old Infidelity?
Anglicans wondered, about adultery, divorce and remarriage, "Would permitting the new marriage be tantamount to consecrating an old infidelity?" Well, it seems the answer was yes when Charles sought Camilla's hand – and many Church of England faithful still ask that question today.
Nostradamus, Mario Reading and Harry
Mario Reading, who correctly predicted Her Majesty the Queen would die in the year 2022, seven years before it happened (Nostradamus: The Complete Prophecies for the Future, Watkins, London, 2015) wrote: "Princes Charles will be seventy-four years old in 2022, when he takes over the throne, but the resentments held against him by a certain proportion of the British population, following his divorce from Diana, Princess of Wales, still persist. The pressure on him is so great, and his age so much against him, that Charles agrees to abdicate in favour of his son. The question is, which son?"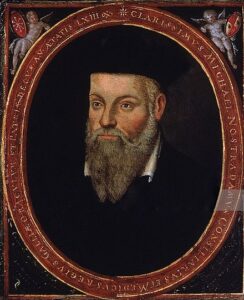 Mario Reading dated his quatrain to 2022:
Because they disapproved of his divorce
A man, who, later, they considered unworthy
The people will force out the King of the islands
A man will replace him who never expected to be King.
Mario Reading's use of 'later' is important, post-coronation, because the astrology suggests when Charles dies, the legal advice on Camilla is unsealed and we will see a Retrocoronation and full-blown constitutional crisis. If not before – it may be that Freedom of Information finally wins the day.
Mario Reading was right about 2022, as after Elizabeth II passed, the governments of Jamaica, the Bahamas, Antigua and Barbuda (the islands) did indeed announce referendums on republicanism. The Sydney Opera House cancelled a coronation celebration. (Image of Nostradamus: Wikimedia Commons).
The Invalidated Coronation of 2023
Royal author Anthony Holden, just six months ago, suggested King Charles's coronation could be invalidated because of his 1994 affair confession (reported in the Daily Mail). He is correct, according to the many horoscopes we have for the United Kingdom. Again and again we see the Libra-Scorpio dance across time. It has always been about the law – and church law – and also the realities of financial and sexual relationships. Death, too. And death came with Diana.
On 1st January 2023, Anthony Holden claimed the coronation could spark a constitutional crisis.
He told The Guardian, "The Church of England has never crowned a divorced man as King, let alone one who has publicly confessed to adultery – with the relevant woman expecting to be crowned Queen Consort." In fact, former Archbishop of Canterbury Robert Runcie told Holden a revision of the coronation oath and a new statue of Parliament would be required, some years ago, to usher in King Charles. Well – it didn't happen.
The Ill-Fated Accession and Camilla
The signed and witnessed Accession after our Queen's passing, also took place on Mercury Retrograde.
At 10.00am on September 10th 2022 the stars aligned – in reverse – and we began to see King-Not-King, thanks to the town hall wedding which had set up the cycles of time, all those years before. Eclipses commonly hide the truth in plain sight. There is a distraction, or big diversion, but the core facts of the matter are never seen. With Charles and Camilla, the red herring has been the Church of England. For all that the computer print-out on the day said Previous Marriage Dissolved for His Royal Highness Prince Charles Philip Arthur George, The Prince of Wales – and Previous Marriage Dissolved for Camilla Rosemary Parker Bowles – these are not ordinary Britons. For all that Charles has tried to avoid religious doctrine in the constitution, it stands.
The real problem is the Roman Catholic church. We've never seen an annulment of the marriage between Andrew Parker Bowles and his first wife. Two decent authorities, mentioned in this feature, both deny it ever happened. One is a Roman Catholic writer and senior commentator; the other is a royal historian and author.
Charles, a self-confessed adulterer, had also lived in sin with Camilla. And more controversially, without the necessary annulment from the Catholic church, she was still Andrew's wife in the eyes of the Vatican, even as her ex-husband watched the crown go on her head during the coronation.
On April 20th 2009 in The Times, Richard Owen reported from Rome, "The Pope's Gift for Charles and Camilla – His View on Divorce."
"When the Prince presents the Duchess of Cornwall to Benedict XVI as his wife for the first time, he will receive a gift that may strike an unwelcome chord: a "luxury facsimile" of the 1530 appeal by English peers to Pope Clement VII asking for the annulment of Henry VIII's marriage to Catherine of Aragon." Owen continued, "The Vatican is said to be dismayed by reports that, when he becomes King, Charles wishes to be known as Defender of "Faith" or "Faiths" rather than "the Faith", to reflect multicultural Britain."
"I Don't Think the Marriage Was Ever Annulled"
Father Francis Marsden, a priest for over 38 years with a wide readership online, claimed "I don't think the marriage of Camilla and Andrew Parker-Bowles was ever annulled."
Father Marsden has bylines in The Catholic Times and is a priest at the Archdiocese of Liverpool.
In academia, Professor Rebecca Probert is one of the authors of "When is a wedding not a marriage? Exploring non-legally binding ceremonies" at the School of Law, University of Warwick.
She writes, "The last 300 years of royal marriage law has resulted in a contradictory legislative and legal mess that potentially became 10 times worse when it was brought into shuddering contact with the Human Rights Act as a consequence of the wedding of Prince Charles and Camilla Parker Bowles."
It's the kind of thing that even the writers of The Crown could not invent. The tale of Diana, Charles and Camilla never really goes away, even (and perhaps especially because of) a coronation.
Unpopular or Popular Queen Camilla?
Camilla's increased popularity and 'public acceptance' has long been the argument for putting the crown on her head at Westminster Abbey.
A YouGov survey for the Daily Telegraph revealed just 7% of Britons thought she should have the title some years ago, but things are different now. In May 2022 YouGov reported 39% thought she should be Princess Consort. Only 20% thought she should become Queen. So here we are.
The peculiar nature of the coronation owed much to the Full Moon in Scorpio (Charles's sign) opposite the Sun in Taurus, and of course, the eclipse. It caught Camilla's solar Fifth House, which rules her stepsons Harry and William, their children – and her own, Catholic-raised children too. The Grim Reaper AKA Father Benedictus
A hooded priest rushed through the Cloisters at one point and was quickly dubbed The Grim Reaper. This still from the BBC coverage on YouTube shows the ghostly figure moving swiftly in the background. It raised an internet storm.
This was actually Father Benedictus, easily Westminster Abbey's most famous spirit person.
In fact, he was a Benedictine Catholic, just like the man who married Andrew Parker Bowles to Camilla Shand. Father Benedictus was last seen on the eve of the Queen Mother's wedding to King George – some years before the Abdication that put both of them on the throne. He appears in two histories of London and full-named eyewitness accounts exist.
Religion, Neptune and Saturn in Pisces
Beyond the odd nature of the ceremony itself, which brought the ghostly, hooded Father Benedictus in front of the BBC television cameras, the over-arching astrology of that coronation was a rare cycle.
Not only Neptune but also stern Saturn in Pisces, the two fish of Christianity, dominated the skies over Westminster Abbey since March 2023, two months before the event unfolded.
The King is Supreme Governor of the Church of England, also known as the Protestant religion, which states relics are 'repugnant to God.'
Repugnant to God
Yet Charles accepted relics of the cross of Christ , given by the Pope, at the coronation. The Bible used on the day also contained mistakes. It came (quite specifically chosen by the Archbishop of Canterbury) from the days of the He Bible/She Bible where the sex of one person is changed in the narrative.
Catherine Pepinster, author of Defenders of the Faith: the British Monarchy, Religion and the Coronation wrote, "Thirty years ago, the then Prince of Wales surprised bishops when he said that he would rather be known as Defender of Faith rather than the traditional Defender of the Faith. However, when the Queen died, he was given – and took – the ancient title."
That has immediately set up a typical Saturn and Neptune in Pisces problem. Perhaps that is why Father Benedictus appeared. Newsweek contacted Westminster Abbey about the hooded man's identity. They claimed he was a verger. He was oddly dressed, if so. And where was security?
"Andrew Parker Bowles Has Not Sought An Annulment"
Can divorced Charles III be Fidei Defensor, while married to the divorced Camilla? And if she did obtain an annulment from the Catholic Church, why has no biography or article about her or Andrew Parker Bowles ever mentioned it? Are we in fact looking at two people who don't have a legal, religious and constitutional rock to stand on? Or even a stone of Scone?
Marlene A. Eilers Koenig is an internationally recognised royal historian of British and European royalty and author.
In 2009 she wrote, "In 1996, Andrew married Rosemary Pitman, with whom he had been involved for some years. They had a civil marriage, as Andrew and Rosemary are both divorced. Andrew Parker Bowles has not sought an annulment for his first marriage."
The Scorpio Eclipse
If the historian and author David Starkey CBE is right and there never was a legal marriage for Charles and Camilla, because of the civil ceremony (and the weakness of the Human Rights act as a defence for the hopeful monarchs) then that Scorpio eclipse a day before the coronation may explain a momentous cover-up.
It is entirely possible that Charles and Camilla know what is in former PM Tony Blair's sealed document envelope – and always did.
Perhaps Prince Harry is seeking verbatim evidence of something approaching this, as he opens up the question of newspaper phone hacking. We know about Tampongate. What other recorded telephone conversations have there been, over the years, that might add to an Uncoronation?
No Crown on Charles III's Head – Hello, Goodbye?
There is no crown on Charles III's head on UK stamps as we've seen.
In fact, he is the first monarch to ever have the crown taken off his head.
Why? The official explanation is – for the sake of simplicity. Well, perhaps that argument might hold – except the elaborate, expensive coronation cost the government and taxpayers about 100 million pounds, according to Time magazine.
Tradition has it that the King wears no crown on the coins, so Charles III now looks oddly like a subject, not a monarch, on both stamps and currency. We psychic astrologers never, ever did see Charles, crowned. And here he is, just as our clairvoyance delivered.
When Charles III does appear wearing a crown, before us, it is – strangely – one that no longer exists.
This is the Tudor crown, notorious for being linked to the execution of Charles I and end of the monarchy – and it was broken up and sold centuries ago.
Another odd note: ITV's Chris Ship reported that Prince Harry was still referring to his father as "His Royal Highness" King Charles, not "His Majesty King Charles" as late as June 2023. Slip of the tongue?
Princess Anne and Princess Margaret
The Royal Family has form when it comes to divorce and Catholics.
Princess Anne stopped dating Andrew Parker Bowles himself, because he was a Roman Catholic (educated at Ampleforth) and under the Act of Settlement of 1801, no royal married to a Catholic could ever stay in the line of succession.
Princess Margaret was told she could not marry the divorcee Peter Townsend in the 1950s because civil marriages for royals were impossible. The Archbishop of Canterbury at the time, Geoffrey Fisher, said so.
Tony Blair and the Secret U-Turn
In 2005, Lord Falconer, Tony Blair's Lord Chancellor, gave Camilla and Charles a powerful but secretive U-turn that is still dismissed by many experts today.
Problematically, we, the people, have no idea what arguments he based his U-turn about the validity of their marriage, on.
When a Freedom of Information application was made five years after Charles's wedding to see Lord Falconer's case, Tony Blair's Justice Secretary Jack Straw blocked it. It has been blocked ever since.
The St. George's Chapel blessing after Charles wed Camilla, with the former Archbishop of Canterbury, George Carey and then Archbishop of Canterbury Rowan Williams, present, changed nothing about an illegal registry office event in the eyes of constitutional experts. This was not Mr and Mrs Windsor. Or even Mr Windsor and Mrs Parker Bowles. It was our future King and Queen; defenders of the Church of England.
In astrology, the clock is ticking. The South Node in Libra, which commences in July 2023, right on time with the post-coronation realities of Charles and Camilla, is about the law as much as marriage itself. There is a perfect storm coming. Saturn and Neptune in Pisces with their heavy emphasis on religious rules – and the South Node in Libra, associated with fated romance as much as judge and jury.
Damaging the Church of England
The Queen let it be known that the reason she did not attend the wedding was because her duty as head of the Church of England came before her family. That decision will return to us all, in the next year or so, astrologically.
According to the Daily Telegraph at the time, "She has told a friend that she feels it incompatible with her role as Supreme Governor of the Church to attend a civil marriage ceremony, particularly one involving the heir to the throne. She does not want to set a precedent that could damage the Church of England."
Beyond her worries about the Anglican faith and her role, our Queen also knew that Camilla had married Catholic Andrew Parker Bowles at Wellington Barracks chapel (Guards Chapel), Birdcage Walk, way back on 4th July 1973 with Father Jerome Lambert, a Benedictine monk and priest in attendance. And had two Catholic-raised children. It may be that information sealed by Her Majesty also becomes unsealed in the years ahead.
The Retrocoronation Realities of 2023
The coronation went ahead, as we saw, in May 2023, with typical Mercury Retrograde twists.
A horse involved in the coronation procession from Westminster Abbey lost control and reared backwards into the crowd.
Bad weather rescheduled the fly-past. Street parties were cancelled.
The Prince and Princess of Wales were five minutes late. Catherine, Princess of Wales, wore the late Princess Diana's earrings the wrong way around, too, which may indicate she knows more about the Retrocoronation than most people realise. It was a piece of theatre told backwards. In fact, it was a performance that takes us all the way back to the year 2005.
Mrs Parker Bowles and the Scorpio Eclipse
The Scorpio eclipse the day before the coronation had an answering call for Camilla, some 18 years prior if we go back through her horoscope.
In BBC Panorama on 13th February 2005, Dr Stephen Cretney, emeritus fellow of legal history at Oxford University, argued that a civil wedding ceremony could not produce a valid marriage between the Prince of Wales and Camilla Parker Bowles.
This was why Edward VIII could not marry Mrs Simpson; Princess Margaret could not marry Peter Townsend and Princess Anne had to marry Timothy Laurence in a Scottish church.
Some of the finest legal minds in the kingdom agreed.
David Pannick QC chimed with Cretney. So did former attorney general Sir Nicholas Lyell QC.
Then, in September 2006, Dr. Cretney warned of legal challenges in the future preventing Camilla from becoming Queen or inheriting from the royal family. That last point is absolutely crucial, given the Scorpio eclipse the day before the crown appeared on her head. The scorpion has long ruled inheritance through marriage. And the astrology shows this ongoing Uncoronation saga is gathering over the years.
Legal Eagles, Charles and Camilla
Back in 2005, the senior family lawyer, Valentine Le Grice QC, also thought Lord Falconer was wrong to give Charles and Camilla the go-ahead to marry in a civil ceremony.
Robert Blackburn QC, Professor of Constitutional Law at Kings College, said Lord Falconer's opinion 'flew in the face of any conventional reading of the statute book and flew in the face of standard legal text books." The Human Rights Act of 1998 was not enough, in their view.
In the eyes of many legal experts, it still isn't. Thus, the astrology has been right all along: strangely, it may be that when Charles signed his accession papers, he was signing for no purpose at all, there being nothing in the law or in the constitution that supported it. Mercury Retrograde can be peculiar.
On February 14th 2005, Buckingham Palace issued a statement that read "Legal advice was taken from four different sources and all agreed that it is legal for a member of the Royal Family to marry in a civil ceremony in England." Professor Blackburn noted, "Unfortunately these legal opinions were never published, nor any source or identity for them."
On 20th February 2005, Simon Walters in the Mail On Sunday reported "The wedding of Prince Charles and Camilla Parker Bowles descended into a full-scale constitutional crisis last night after fresh legal doubts were raised over whether their marriage can go ahead. Leading constitutional experts claimed British law does not allow Royals to marry in a civil ceremony, leaving open the extraordinary possibility of a legal challenge to the wedding."
Dr. Stephen Cretney told the media in 2005, that astrologically charged year – that the Blair government had given the Royal Family "poor advice."
"They did not check the law properly. If they had, they would have seen in three seconds that what is proposed is legal nonsense. This has all the hallmarks of a typical Tony Blair approach whereby Prince Charles was told by the Government, "You think marrying Camilla is going to be difficult, but it's all very easy and we can help you do it."
The Magna Carta of June 1215 put in writing the principle that the king was not above the law. There is a direct astrological link between 1215, 2005 and the Retrocoronation of 2023. It runs into 2024 and early 2025.
Queen Camilla's Second Wedding?
Did you read that one newspaper believed a second wedding had taken place during the coronation?
On 5th May, the day before the Coronation, Gordon Rayner in the Daily Telegraph wrote, "Queen to go through 'second wedding' to King Charles during Coronation."
Associate Editor Rayner wrote, "It will be the closest Their Majesties have come to a marriage in Westminster Abbey." His story ran, "Before she is enthroned, Her Majesty will be presented with the Queen Consort's Ring, first worn by Queen Adelaide in 1831 and following a tradition that dates back to the 11th-century. According to the Liturgy for the Coronation it "bears the same symbolism of a ring exchanged in marriage".
Again, we are reminded that an eclipse is a cover-up. The truth is hidden in plain sight. We thought we were watching Charles III receive the crown. In fact, according to the Daily Telegraph, we were watching a symbolic wedding. To 'make good' the illegal registry office ceremony years before? Or just to compensate for the ordinariness of it all, with the computer print-out paper, pinned to a notice board?
A Right Royal Shambles
Back on October 2nd 2005, in its program A Right Royal Shambles, Panorama on BBC1 claimed Charles was denied his church wedding to Camilla on the order of the Archbishop of Canterbury, Dr Rowan Williams.
According to royal biographer Jonathan Dimbleby, interviewed for the programme, Dr. Rowan Williams said a church ceremony, even though he could have granted it, would be unacceptable to religious leaders.
It's very likely he meant the Pope, if Camilla was still Mrs Parker Bowles and Andrew had never obtained an annulment before she wed Charles.
Royal Power and The Vicar Dismissed
I've spoken a little about the big astrology cycles surrounding the invalid coronation.
Pluto in Capricorn also deserves to be mentioned because it describes the descent of those who try to dominate and overpower others or over-rule them – too long, too much.
In fact, as I publish this on Tuesday 13th June, we have just seen Pluto turn backwards into Capricorn, and Boris Johnson has left UK politics and Donald Trump is facing multiple charges.
This cycle is very much about come-uppance for those who dismiss 'the little people' further down the pecking order.
Camilla and Charles married at Windsor Town Hall, waved through by Len Cook, Registrar General for England and Wales, with all 11 objections from ordinary people dismissed, all sent to Cirencester and Chippenham, including that of a fearless London vicar named Paul Williamson.
Clair Williams, Windsor and Maidenhead's superintendent registrar, conducted the ceremony assisted by Claire Paterson. There were three weddings booked straight afterwards after Camilla had signed the certificate, at the Guildhall, or town hall – and the bride after Camilla wore a plastic tiara, where she can still be seen in old news footage on YouTube.
Judy Wade, Royal Commentator, told AP at the time, "The press led us to believe it (the Guildhall) was dingy with stained carpets. There are a few very tiny stains, but nowhere near where the royal couple will sit."
Astrology Tells the Truth
Astrology tells the truth if you read history along with the horoscopes. As the truth about Camilla and Charles is sealed until the latter dies, we (taxpayers and subjects all) have precious little to go on, except those misaligned stars.
Penny Thornton was Princess Diana's astrologer in 1986 and Diana sought her out after reading Thornton's book on synastry (compatibility). Her truth was a lifeline for the late Princess.
Penny, who is a friend of mine, was one of the very few astrologers to stick her neck out and claim there were difficulties for Diana and Charles in their marriage.
Remember, this was sold to us as a fairy tale for years, with the true story neatly covered up.
In 1981, Thornton remembers "Everywhere you were hearing astrologers say, "Oh, they're a perfect match. She's a Cancer. He's a Scorpio." A year after Diana's marriage Penny defiantly published her book with its unpopular but spot-on opinion and Diana sought her out.
Astrology and Royalty
Ever since Dr. Dee chose a coronation date for Elizabeth I, astrologers have advised royalty.
It is also the case that people go to astrology when there is an information brick wall. That is the case with Charles and Camilla.
I believe all these leading astrologers I've mentioned, both past and present, are correct and once Charles has passed (perhaps before, with a legal challenge) we will realise that what we saw in May 2023 was just a performance. In this sense, the coronation is not unlike the Charles-Diana wedding itself. Hollow on the inside. Given the Libra South Node cycle, though, this coronation has legal implications. The scales of justice rock.
I believe Mario Reading, that brilliant interpreter of Nostradamus, is correct about the future of the Crown.
When Charles dies we will find out the truth, as former PM Tony Blair's sealed documents are unsealed – and realise that from September 10th 2022 (the accession, complete with malfunctioning pen) to the coronation of May 6th 2023, we will realise – he was never King, she was never Queen, and they never ruled at all. None of it happened, in fact.
The coronation was not cancelled as I expected, along with other astrologers and psychics – but it was a Retrocoronation and will later be invalidated.
Perhaps that's why the Princess of Wales wore Diana's earrings back to front. This may be why clairvoyants saw Charles without a crown on the stamps and coins.
Nothing in any of this is unusual in the highly dramatic, compelling, history of the United Kingdom monarchy. Perhaps that is exactly why we keep going back. It's unruly. 2022-2023 may also turn out to be truly unruled.
I will look at the peculiar case of the Camilla and Charles mystery at The Conscious Cafe on Sunday 18th June at an exclusive Zoom event about July-December 2023. It will cover the South Node in Libra, the impact on marriages, divorces, separations and partnerships everywhere, and cover your own horoscope. Tickets here.