The Conscious Cafe June 2023
This event was about the final six months of 2023 – July through December. It's not been possible to answer every question about this Zoom event at The Conscious Cafe, but where possible, I have replied to many of you who were there.
The best way to look at this special six-month prediction, is in the light of the big twelve-month prediction I gave you in December and January 2023. Treat this more recent six-month view, as part of the whole. When you read both together you will see how they work together, all the way to Christmas 2023.
https://www.youtube.com/watch?v=V7exQFchgwc
Your Year Ahead 2023 Online
Now, some of this may already have come true for you, but check and see what the astrology had in store for you, way back in January 2023.
Your Lunar New Year forecast set for Year of the Rabbit appeared on my YouTube channel. It began a little later than January 1st and extends to early 2024.
The Conscious Cafe Channel on YouTube – The Next Six Months
If you'd like to watch again, or if you missed the Zoom event, here it is at The Conscious Cafe on YouTube. Your Six Month Guide – July, August, September, October, November, December 2023
Useful Tarot Links
If you are new to my website or new to Tarot, these links will be useful for this event, which is also being recorded for ticket holders. I have chosen a card for your sign, to cover July-December 2023, but you will also be asked to draw a card too.
Look up the meaning of the card I drew for your sign in the session, but also your own, personal one-card reading.
Where To Draw Cards On My Website
The Smith-Waite Tarot is free to use on my website, thanks to U.S. Games Systems.
Pamela's Tarot
This $12 flipbook is free to Premium Members and has long interpretations of the cards.
July to December 2023 is Dominated by Libra Patterns
Libra is the sign which rules marriage, divorce, remarriage – and also complicated areas like bigamy and adultery. It rules widows and widowers, but beyond sexual duets, it also rules professional partnership. It's about 'the two of us' but also 'one against one'.
Libra is the scales. You on one side, and a particular person on the other.
So, you're up for six months of Libra cycles which trigger other cycles in July to December 2023, too. Thanks to Ceres and the South Node in Libra (just two cycles) July- December 2023 is dominated by questions about love and the law. This may affect you directly, or at a distance, but it's coming.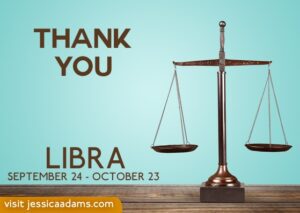 Libra Rules the Law
Libra has always ruled the law. This may be the law regarding same sex marriage or the constitution as it affects church or civil partnership, in your country.
The law regarding equality between men and women is another expression of this cycle. The scales say it all. Women who lose their jobs for saying sex is real, for example, are a Libra issue.
If you are a Sun Libra, have factors in Libra, or are involved with your other half (or the other side, if you are against each other) and he or she has Libra factors, this cycle is intensely personal and will change your life. How? Because you will be dealing with karma from life as it was 18 or 19 years ago, and what you are owed, or owe, will come back to you – from July.
Camilla, Anne, Margaret and Wallis
This is the 'Camilla, Anne, Margaret and Wallis' cycle.
Mrs Parker-Bowles, as she still may be; the divorced and remarried Princess Anne; Princess Margaret (who was not allowed to marry the man she loved) and the exiled Mrs Simpson.
From television series like Wallis and Edward, to The Crown, to the cover of VOGUE magazine with this beautiful portrait of Anne, the astrology shows up in the imagery. Libra is about the woman on one side of the scales. A man is always on the other.
The two big royal marriage acts of 1772 and 1949 both took place with either the South Node or North Node in Libra. It's back.
Divorce and the Law – Libra Cycles
Libra is about women, as we've seen. It's about divorce. It's about odd pockets of the law, like illegal marriage and bigamy.
As so many people have Uranus, Neptune or Pluto in Libra in their birth charts (perhaps you) the South Node in Libra will put all of this centre-stage soon. The Conscious Cafe event of Sunday 18th June 2023 will look at all of this. When you are reading this feature, do look at Comments over time, as these extend the information for you. Other people's questions may be yours. The Marriage Act of 1949
Charles III and Camilla were not allowed to marry in St. Paul's Cathedral or Westminster Abbey, or even an Anglican ceremony, because of the Marriage Act of 1949.
This act arrived on another South Node in Libra cycle. So, against the odds, Charles and Camilla wed with the South Node in Libra, against the Marriage Act of 1949, which was passed on another South Node in Libra cycle. And here we are again.
An earlier act, the Royal Marriages Act of 1772 took place with the North Node in Libra, as I've mentioned. The opposite node. Same sign.
The 1949 Marriage Act stopped Princess Margaret from marrying divorced commoner Captain Peter Townsend. It sent Princess Anne to Scotland to marry Tim, because she wasn't allowed to do so in England. Our late Queen saw all this.
Our late Queen also received legal advice from PM Tony Blair and four anonymous experts about Charles and Camilla, which is to be sealed until Charles is dead. So, this may not be Queen Camilla we are seeing at all.
The Town Hall Wedding
Camilla and Charles married in a town hall (the Guildhall) with four other couples booked straight after them, and the Queen did not attend, according to The Daily Telegraph, because she was Supreme Governor of the Church of England and Defender of the Faith. This was not an Anglican ceremony.
That South Node in Libra cycle, across the wedding, of December 27th 2004 until June 22nd 2006, will repeat from July 18th 2023 to January 11th 2025.
Those wedding banns from February 21st 2005 pinned on the noticeboard of the registry office, nailed a difficult truth. The highest legal and constitutional authorities in the United Kingdom said the Charles-Camilla marriage was not lawful.
This agrees with astrology, which since the 1940s, has also said Charles may step down; he may never rule; he may not be crowned. Astrology has seen another role for him. This is a common viewpoint of eminent astrologers including Charles Carter, Noel Tyl, Penny Thornton (one of Princess Diana's astrologers) and Associate Professor Nicholas Campion.
When the Daily Mail, Daily Express and ABC asked me about Charles and the Coronation I said I doubted it would happen. I said he and Camilla would never rule and he would not be king. I've not changed my opinion and at The Conscious Cafe in June 2023 I will explain why. And how, in the end, the document unsealed when Charles dies will reveal he and Camilla were never married in law. The Libra South Node and Sex Outside Marriage
For all that the Libra South Node is about the karma of marriage and divorce, it is also about the finer details of the law, as it pertains to (say) couples living together.
Common-law marriage or a de facto relationship is a Libra matter.
Because the legal advice to the Queen, waved through under former PM Tony Blair, about Camilla and Charles is secret, this is a South Node cycle matter.
Lord Falconer, Tony Blair's former flatmate, used the Human Rights act as a last resort to get the town hall event through. It was never enough for some of the UK's most respected legal minds.
The Law and Husbands – Royal Husbands
It might have been different if this 2005 town hall registry office event was about Mr and Mrs Windsor, but Charles III as King must be, as his mother was – Supreme Governor of the Church of England and Defender of the Faith.
Anglicans do not accept sex outside marriage and the Church of England as recently as 2020 said, sex was for married heterosexual couples only.
Family law authorities like the late Dr. Stephen Cretney QC pointed to the fact that Camilla and Charles may never have been married at all.
Here's a reminder of just how many astrologers including Princess Diana's own astrologer Penny Thornton, have been troubled by the chart for Charles III for many years.
Queen Camilla and Andrew Parker Bowles
BBC History Extra contributor Marlene Koenig states Camilla's marriage to Andrew Parker-Bowles was never annulled by the Roman Catholic church.
This will come under close examination on this South Node in Libra cycle in 2023-2024, by all the laws of astrology. That South Node in Libra transit will trigger both charts for Camilla and Charles.
On 13th February 2005 BBC Panorama showed Professor Vernon Bogdanor (Oxford University) stressing that it was important that the public should have no doubts about the legal position of Charles and Camilla. Yet we do have doubts, all these years later, because Tony Blair covered up the legal opinion given to the Queen which allowed Mrs Parker Bowles her marriage, and thus her path to Queen.
One writer tried to use Freedom of Information to find out who the legal experts were and what they had advised the Queen and the Blair government. He was denied.
Boris Johnson, The Spectator and Catholic Camilla
When Boris Johnson was Editor of The Spectator in December 2004, the 18th December edition even claimed Camilla was a Roman Catholic – and Catholics can never be Queens or Kings as the law dictates.
There is no evidence for this at all, though Camilla did raise Catholic children. But – what if Johnson knew something?
Even if there is no evidence Camilla converted to the Roman Catholic church to marry, the second registry office event with Charles flew against the 1949 Marriage Act.
Tony Blair's old flatmate Lord Falconer (also in charge of the Millennium Dome) thus acted against the law – according to Professor Robert Blackburn who is a constitutional law expert and author of King and Country: The Monarchy and Future Charles III.
Germaine Greer, Charles and Camilla
Germaine Greer, writing in The Change, said, "In 1994 her mother's (Camilla's mother's) long suffering ended. So did Camilla's marriage to Parker Bowles. What is not clear is whether the original Catholic marriage has been annulled and on what grounds. The Catholic Church does not countenance divorce. Camilla may still be the wife of Andrew Parker Bowles in the eyes of the the Catholic church."
Dr. Stephen Cretney QC, then Emeritus Fellow of Legal History at Oxford University, said that marrying in a register office could mean that "the Prince of Wales is not married and Mrs Parker Bowles is not his wife. Constitutionally it's important to know whether they are married or not." He commented many years ago and has since died. Nothing has changed, though. The papers are still sealed. We still don't know.
Libra Factors in the Charts of Camilla and Charles
We will only find out if Charles has been single all this time, as well as Camilla, when Freedom of Information gets through, or when Charles passes. We obviously hope this will not be for many years; our late Queen Mother passed 100 years of age. Meanwhile, we have a Libra problem.
The pair share Libra factors at 14, 15, 16 degrees in both their astrology charts (AstroGold software, below). It hits both Charles and Camilla. At The Conscious Cafe of June 2023 we will look at the timing of these Libra cycles.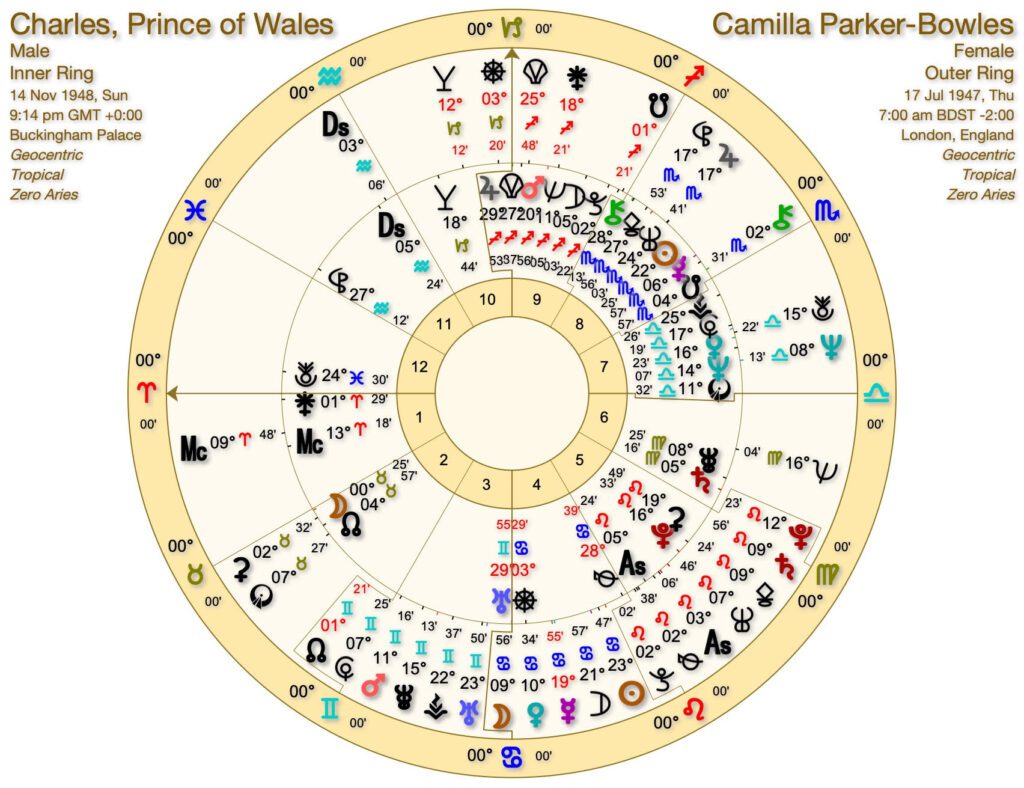 The Archbishop of Canterbury
It's quite true that 'the monarch never dies.' Accession is automatic.
Thus, "The Queen is dead, God save the King!" is traditional. Yet, when Charles III signed the Accession papers, Mercury was retrograde.
He announced his Coronation for another Mercury Retrograde cycle. He chose the day after an eclipse in Scorpio, the sign of inheritance, legacies and wills. These all suggest retrospective second takes. What is supposedly final on Mercury Retrograde seldom is.
A coronation was never even required for Charles III to be King. The problem is, the King comes with Queen Camilla. They're a package. And religion comes with the job. That's also a package. If Dr. Stephen Cretney QC was right, these two people may well have been single when crowns went on heads. And single people cannot have sex outside marriage in the Anglican faith.
The Archbishop of Canterbury at the time of the Charles-Camilla registry office commitment, Dr. Rowan Williams, never gave his approval for Charles to marry Camilla in 2005. History stands.
Catholic Queens, Catholic Kings
New rules since 2015 mean any King or Queen can be married to a Catholic these days, but that was not the case in 2005 when Charles and Camilla wed. If The Spectator was right all those years ago and Camilla actually did become a Catholic to marry Andrew Parker Bowles, then that wedding automatically blocked Charles as heir to the throne.
Our late Queen was never given enough advice during the wedding, at the time, according to the Conservative Attorney General from 1992 to 1997, Sir Nicholas Lyell QC.
The Invalid Coronation
Family lawyer Valentine Le Grice QC queried what would happen if other royals married in a register office. "Those marriages may produce children and it may be important to know if they are legitimate," he told The Evening Standard at the time.
All of this will resurface pretty quickly from July 18th 2023 as the South Node goes into Libra where it stood in 1949 when monarchs were banned from civil weddings.
In January 2023, the distinguished royal biographer and journalist Anthony Holden said the Coronation would be invalidated. As an astrologer I agree. What we saw was theatre. There was no legal nor constitutional foundation beneath it.
Hello to A Right Royal Mess
Another Archbishop of Canterbury, Dr. George Carey, said of Charles III, "Remarriage would create a crisis for the Church – this is well-known."
This was when Princess Diana was still alive, of course, but it points to another astrological truth. 2023 and 2024 see the Pluto Return of the Church of England, founded by King Henry VIII. And that's critical. It's a transformation for the entire church.
Gary Atkinson, from the College of Law, called all this 'A Right Royal Mess' in The Law Gazette of the UK.
What bothered Atkinson and so many other legal minds in the United Kingdom, was the only thing that got Charles and Camilla over the threshold was the Human Rights Act of 1998 and it wasn't sufficient.
Gary Atkinson wrote, plainly, in 2005 – "If the family law experts are right (and the Lord Chancellor is wrong) the forthcoming marriage of Prince Charles to Camilla Parker-Bowles is legally scuppered from the outset."
All of which means, Charles and Mrs Parker-Bowles have been living against the rules of the Church of England, for 18 years and counting. The marriage was scuppered. The advice was sealed to death. Yet here we are. So does this go away? No.
A Warning for the Future
Professor Stephen Cretney QC has now passed, but in 2006, a year after the Charles-Camilla town hall event, he gave a lecture to the Society of Legal Scholars, warning that the marriage could be open to legal challenge by people trying to prevent Camilla from becoming Queen one day, or inheriting from the Royal Family.
He had not, Cretney said, "found anybody who (would) categorically say" that the Government's advice was correct."
The sealed document is still there, and so is the public, waiting.
The Reverend Paul Williamson
The Reverend Paul Williamson of St. Georges Church in Hanworth, West London, objected to the illegal nature of the 2005 marriage in a caveat. He waited for a reply. As a good and faithful Anglican he and many other objectors to the town hall wedding were ignored.
Barrister Aileen McColgan, who shared chambers with Cherie Blair, summed up the legal angle on the religious question, at the time. She said that the prince's future role as Supreme Governor of the Church of England raised questions over his right to marry in a civil ceremony.
King Without A Crown
Even the Royal Mail stamps (pictured) show Charles without a crown.
The stamp for the Coronation shows a crown apparently being put on his head, although a reader has written to say, she believes it's a picture of the crown coming off.
Charles is the first monarch to ever lose the crown on the stamps, since stamps were invented. And this is at his instruction.
Halsbury's Law of England
All editions of Halsbury's Laws of England show the opinion that the civil registration of marriage is not available to members of the Royal Family.
Anthony Holden, Vanity Fair contributor and bestselling biographer of Charles, says, "The then Archbishop of Canterbury, Robert Runcie, had told me – at the time, of course, unattributably – that the advent of King Charles III would provoke a constitutional crisis."
The astrology says, all this is just as relevant in 2023-2024 as it was in 2005. Nothing's changed. In fact it increases in power. At The Conscious Cafe June 2023 I will go into the 'climb' of the intensity and potency of this Libra cycle. I was talking to my friend, astrologer Lynda Hill, about Charles III – and she is yet another leading horoscope author and lecturer who has said he'll never be King.
Expect a rewind and reevaluation when the truth comes out about the unconstitutional status of the coronation. As I mentioned at The Conscious Cafe, we have to wait until Charles III has passed, legally, and documents are unsealed.
The Libra South Node and Your Marriage
This South Node cycle will raise the issue of invalid marriages for all of us. Yours too, perhaps, or that of people you know.
Bigamy can be conscious, or quite unwitting. Being married abroad in a fake ceremony or without adhering to the formalities can raise Libra problems.
The current Archbishop of Canterbury, Justin Welby, oversaw a ceremony between Prince Harry and Meghan days before their official wedding. So was that also a wedding, or not? The Daily Telegraph reported Camilla had been presented with a ring at the Coronation that gave her a church wedding to Charles after all. So are they right?
Mick Jagger, Jerry Hall and Other Questions
Mick Jagger claimed his marriage to Jerry Hall was invalid as it occurred on a beach in Bali. Under Balinese law the marriage had to be Muslim to be valid. It was declared null and void.
Again and again, from July 2023, right through 2024 and into early 2025, you'll see the twin Libra issues of love and legals, bringing back unanswered questions from about 18 or 19 years ago, and even 18 or 19 years before that.
Libra, Trans, Abortion and the 2024 US Election
Libra rules what is fair, equal, symmetrical and harmonious. It's not just about illegal or invalid royal marriages. It's also about some dark issues. Rape inside marriage and abortion, say. It is also about unusual questions. Marriage between a man and woman, when the man claims to be female.
This brings us neatly to men who say they are women (changing their names, wearing women's clothes, having silicon breasts) and women who say they are men (breasts being removed, changing their names, wearing men's clothes). Classic Libra concerns.
I'll run some charts at the end of this feature to show two important dates in the War On Women, as Graham Linehan has called it.
The US Election and Women – Kamala Harris Or Not?
This trans and abortion debate will strongly influence who becomes President in the US in November 2024. I'll only touch on this briefly at The Conscious Cafe June 2023 but it's important, given these Libra cycles. The election charts for the day and also the inauguration of 2025 show strong focus on Libra.
The partnership between Joe Biden and Kamala Harris, as they seek nomination, will be at the heart of karma in 2023-2024. The karma runs 18-19 years ago, for both of them. So how will they both fare?
A Libra-Scorpio Election Day in November 2024
There is no point in looking at the various contenders for Presidency as they stand in June 2023. We don't have reliable chart data. The US chart for the election day itself shows the story though. It's Libra and Scorpio dominant. So, it's about feminism, trans, abortion and the rights of gays and lesbians. It's about the law. It's also about what's fair.
Dylan Mulvaney and Joe Biden
Should men who claim to be women (although there are only two biological sexes) use women's change rooms and rest rooms?
Should rapists go into women's prisons if they alter their names and put on make-up and dresses? Should men compete against women in cycling and swimming?
These are not Twitter or Facebook distractions.
The astrology says these issues undercut the 2024 US election. Dylan Mulvaney is an election issue. And the Libra transit makes us question women, who fight women, on women's rights. Harris backs Mulvaney. Biden backs Mulvaney.
Women and the US Election
The Scorpio and Libra patterns on Election Day 2024 raise all the unanswered questions about Donald Trump, the writer E. Jean Carroll (who won $5 million in damages against Trump) and…Sex with a capital S for Scorpio. This goes into the dark areas of rape, child sexual abuse and more.
Twitter is where 'the woman question' (actually the Libra question, as it is the sign of women and equal rights) is being played out in June 2023. By November 2024 this will be shifting votes.
Nikki Haley and Liz Cheney are just two more examples of why Libra thinking is Election 2024 thinking. These Twitter posts from Nikki Haley and about Liz Cheney were widely retweeted from Fox and the Washington Post. What's a woman? Robert F. Kennedy Junior and Men in Women's Sport
You don't have to be an astrologer to guess an outcome for the US Election 2024. It's like betting on two flies crawling up a wall, to use the old Australian joke.
My students at The Sun Sign School are picking Democrats because from the first year of power, the White House will be under Pluto in Aquarius. That's the sign of community and diversity. That's Democrat.
The Democrats at the White House
The astrology suggests, even as far in advance as June 2023, that the Democrats will take the 2024-2025 White House.
Will Robert F. Kennedy Junior be President? We lack data for him so should not even speculate. Yet, he is on the right side, on the War On Women. This is from The New York Post Twitter account, April 30th 2023 and was widely retweeted. There is a rumour Michelle Obama will run. If so, where does she stand on trans women in female sport?
Astrological Charts For You
I'll talk more about the astrology of the US election later in June 2023. If you can read astrological charts, here are some from Stephanie Johnson's AstroGold software, below.
These are the big dates in the Libra South Node cycle.
All those divorces and separations will result in remarriages, new engagements and weddings for New Year's Eve 2025 and that is what we are seeing at 6.00am on Tuesday 31st December 2024 in London.
Adjust for your time zone. Those kisses on the stroke of midnight could change your life.
Pluto at 1 Aquarius 02 is exactly sextile the North Node at 1 Aries 02 and trine the South Node at 1 Libra 02.
The Lovers' New Year
There are a couple of 'watch out' Libra cycle dates long before we come to this powerful lovers' New Year, so I will include them too.
Avoid 23rd July 2023, which is a Sunday.
Allow a day either side for world time zone differences, so say July 23rd, 24th, 25th. This is a T-Square so it's tight, tense and troublesome. Pluto at 29 Capricorn 06 is square the North node at 29 Aries 06 and square the South Node at 29 Libra 06. Not good for first dates, engagements, weddings or divorces.
The other date to avoid is the Solar Eclipse on Sunday 15th October 2023.
Again, allow a day either side. The Sun at 21 Libra 07 is next to the Moon at 21 Libra 07 (New Moon, new beginning) but it happens as the Sun and Moon cover each other up. An eclipse is always a cover-up. It conceals, it never reveals. It obscures. Don't judge or act about love and sex, then.
Your Comments and Questions
I have some time for questions and comments with this feature and if you are a Premium Member, your chart will appear on the screen so I can interpret it. With 500 people booked for this event I'm afraid I just don't have time to respond to every enquiry but I will try to go through as many as possible in the week of Monday 19th June.
Thanks for coming along. The Libra Cycles gives us a huge amount to think about, no matter if it is the future of Camilla and Charles, or the outcome of the 2024 US Election. Or your marriage!