Psychics, Astrologers, Titanic and Titan
Since the Titan went missing on Sunday 18th June 2023, I've had hundreds of questions pile up on my website, on Twitter and on Substack. Having posted this feature some days ago now, I've decided to write a new one, as so much information about Titan and Titanic has come through.
When, as a psychic, I clearly heard the words 'Ivanhoe' and 'Newport' in relation to the missing Titan, I posted this information on Substack first because Canadian PM Justin Trudeau subscribes to my site there. At the time, the world was watching in horror as apparently the Titan Five were running out of air.
In this feature I'll answer all your questions. But first – some Google Maps. The doomed Titan and her mother ship, Polar Prince, were at St. John's. I believe Ivanhoe and Newport are map points nearby.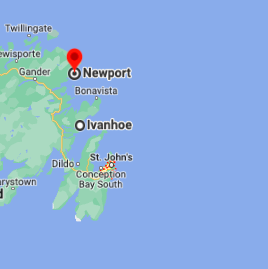 How Close Are Ivanhoe and Newport to St. Johns?
On land, these two map points are close; they are about 90km away from each other. In the hopes of having any other medium or psychic validate those two map locations, I shared Ivanhoe and Newport on Twitter to John Edward (I am an administrator at Evolve Plus TV, his website) and to my friend and psychic colleague Kyra Oser whom you may remember from CBS Radio. For whatever reason, I am yet to hear from any other psychic or medium about these same names on the map.
Now – E.S.P. spies are nothing new. Remote viewing has been known since the cold war days of Stargate and Grillflame. In the awful days when the world held its breath, worried that the Titan Five were losing theirs, I posed a simple question to my spirit guides. 'Where is Titan?' I still do not know why two map points so close to Polar Prince and Titan were given to me.
At this point in proceedings, I began to get good leads from readers of this website, about both Ivanhoe and Newport. Substack writer Kitsy Stratton pointed out that the cargo ship CMA CGM IVANHOE had been at Halifax, again very close to St. John's and the Titan and Polar Prince – on the day of the search and rescue attempts. She alerted me to this on DM Twitter on 22nd June 2023 – the Ivanhoe had arrived at 7.51PM UTC on June 21st.
Psychic Astrology and Ivanhoe
So is this Ivanhoe the map location, or Ivanhoe the ship, or both? At some point, as any clairaudient psychic will tell you, your guides have no more to say. Again, I don't know why. This is where astrology can be very useful.
I am not only a medium and clairvoyant/clairaudient, I am also an astrologer, so I read charts with clairaudience (I sometimes hear words) and with clairvoyance (I can see images). This is how I predicted a virus linked to China in January 2020, a year before it happened. It's how I predicted Brexit, against all the polls. This is a rare profession, but I'm like the late Henrietta Llewelyn Davies before me (she also wrote horoscopes for Cosmopolitan magazine UK, like me). In common with her, my astrology is filtered through E.S.P.
Mediums and psychics are frequently used by police, as in the case of Dennis McKenzie (Being the Soham Psychic) and his location of Holly Wells and Jessica Chapman, endorsed by Holly's father Kevin. I also gave police information about that disappearance. Increasingly, psychics, mediums and psychic astrologers work as a global network. Together they can collectively piece together information, which was the idea with Titan, in the initial first days.
Do We Have Timing for Titan's Loss of Contact?
The Titan timeline shows the Gemini signatures in several astrology charts, which you can see at the end of this feature. Gemini is about communication and Titan famously lost it, with its mother ship. The facts are these: The Polar Prince, a Canadian ship, left Newfoundland on Friday 16th June towing Titan with its now-famous five passengers, friends and families on board the mother ship. On Saturday 17th June Hamish Harding, the British billionaire pilot announced the dive on Instagram. The Titan submerged at 8am EDT on Sunday. 18th June and lost contact with Polar Prince at 10.45am.
At 5.40pm the same day, Saturday 17th June, the Polar Prince notified the U.S. Coast Guard that the Titan vessel was overdue. Secretly, the U.S.Navy found an implosion or explosion on its acoustic data that day. This is the first of many, many secrets and mysteries surrounding not only Titan but Titanic, which I will look at in this feature. For this, we go to Neptune in the chart of the sub, but also find it in the charts for the doomed Frenchman on the trip (Mr Titanic, Monsieur Nargeolet) and the old Titanic itself.
Do the Banging Noises Show in the Charts?
On Tuesday 20th June and Wednesday 21st June, we were told banging noises were heard on on sonar equipment. This is another Gemini matter. Sonar is Gemini. Just as Morse Code was Gemini, on the Titanic. This sign dominates all the charts and not in a good way because it is unclear, distorted and thoroughly unreliable, with all its cross-currents in the horoscopes. Finally, on Thursday morning 22nd June, the tail cone of Titan was found on the ocean floor with parts of the hull, by a robotic vehicle.
The Titanic Five were gone. OceanGate issued a statement mourning the death of its CEO and Titan pilot Stockton Rush, Hamish Harding, Paul-Henri Nargeolet, Shahzada Dawood and his son, 19-year-old Suleman Dawood. On 29th June what were assumed to be human remains were found in the wreckage parts.
How Do Gemini Patterns Show in Titan and Titanic?
As you can see in this feature (bottom of page) the astrological charts for Titan and Titanic, its target, line up. Something that struck me from the start was the dominance of the zodiac sign Gemini in all the horoscopes, no matter if we are talking about the doomed French explorer, or the chart of J.P.Morgan, who owned Titanic.
Gemini, as I am sure you know, is the heavenly twins; it can show brothers and sisters. Of course it rules a number of things; communication as well as short journeys.
The Titan and the Titanic are both Gemini-dominated. Sisters. Further on in this feature I'll look at the theory that they were swapped.
The victim's sister in the Dawood story, mourning her brother, contradicted his wife's later account. I find that very interesting because this is the most prominent and striking sister in the Titan story.
How Do Gemini Patterns Show in the Dawood Story?
And so to more sisters. Not ships this time but Azmeh Dawood — the wheelchair-bound older sister of Shahzada Dawood — who told NBC News that her nephew, Suleman Dawood, had informed a relative that he "wasn't very up for it" and felt "terrified" about the trip. The 19-year-old Strathclyde University student Suleman, ended up going because the trip fell over Father's Day weekend and he was eager to please his dad, she said. Yet, Suleman's mother, Christine Dawood, told the BBC that she had initially been booked on Titan, but stepped aside because her son had been keen to join. This is a direct contradiction between sister and sister-in-law.
Why Does the Rubik's Cube Matter?
Gemini also rules puzzles. Suleman's mother, Christine Dawood, said Suleman wanted to break the world record for the depth at which a Rubik's cube puzzle had been solved. Perhaps he had been inspired by another of the Titan Five – Hamish Harding – who held the Guinness record for the longest time spent crossing the deepest part of the ocean on a single dive (4 hours, 15 minutes).
In any case, this teenage university student was clever. Logical. Quick. We don't have a chart for him, or indeed his father, or any of this famous family, but he was clearly highly analytical.
The Rubik's Cube is of course, used on social media by GCHQ or Government Communications Headquarters, the signals intelligence organisation for the UK government and armed forces.
I even found the cube appearing on the GCHQ Twitter account days after Suleman's grieving mother made her statement. Again, these are all Gemini themes. Thanks to a woman I will call A, who used Twitter Direct Messaging to tell me about her psychic insights regarding this. Stitches in the tapestry.
How Else Does Gemini Show Up?
Gemini also rules radio, as well as sisters. And of course Rubik's Cube puzzles. You can see all the many Gemini aspects in the charts for Titan, Titan's owners, Monsieur Nargeolet (Mr Titanic, from RMS Titanic Incorporated) at the end of this feature and count them. There are many.
As I began taking a deep dive (a Titanic deep dive) into the mysteries of Titan, including her missing hours, I realised the chart for the ship she had been seeking, and the sub itself, joined up – over a century apart.
Gemini shows up in the primitive communication and lost communication on Titan. It also shows up on the doomed Titanic with its famous missing messages.
This Gemini pattern I found linking all the charts, was also very much about the Marconi telegraph or Morse Code equipment on Titanic, which Titanic Incorporated, the company employing the doomed Frenchman Paul-Henri Nargeolet, now owns. It has salvage rights but has so far been blocked by the U.S. government.
There is a famous photograph of the Titanic Marconi operator Harold Bride taken on 11th April 1912 by Francis Browne.
I would connect a line in time to Harold Bride and his frantic Morse Code and the Frenchman.
Why Does Neptune Matter in the Story?
There are other astrological synchronicities in this tale of two tragic mysteries.
Neptune has long been writ large on the Titanic chart. Neptune is a symbol of all that is hard to see. And of course, the sea itself. Neptune can also be found in the two Titan charts and again, the chart for Monsieur Nargeolet.
Why Did The Titanic Speed Up?
To this day, nobody understands why the Titanic accelerated towards the ice. That is the prevailing great mystery. It's all very Neptunian.
As I publish this on 29th June 2023, nobody can understand (either) why so many brilliant scientific minds on the Titan could have taken such a deadly risk. Another mystery.
Some explanations may be found in Neptune in both charts and I welcome contributions from astrologers as well as astrology students here.
What About the Astrolocality of Titan?
My friend and colleague, astrologer, lecturer and writer Stephanie Johnson from AstroGold and SolarFire, found the Neptune line on her AstroMapping software feature, with the line going through Newfoundland (turquoise line) west of St. Johns on 18th June at 1.15pm. I've hand-coloured the Titanic's famous logging equipment here so you can see NEPTUNE more clearly. What happened to Titan when the Polish Prince lost contact, nods to Titanic.
How is Neptune Found in the Titanic in Astrology?
NEPTUNE is indeed clearly marked on the Titanic's patent log, above, from this Getty library image. Titanic was given two Walker's Patent Neptune taffrail logs (one was a spare) which indicate and record a ship's speed and distance.
The spare is the one photographed here. Titanic tells you herself. This was and is the most blurred chapter in maritime history. In astrology, Neptune is a symbol of ships, submersibles and the ocean, but in astrology it is also a traditional symbol of confusion, distortion, deception, illusion and delusion. One of the other huge mysteries about Titanic was the fire on board, before she even left Ireland, covered up from passengers and bypassed in the later enquiry. I'll talk more about Neptune and fires in a moment. This is the Neptune line showing from Stephanie Johnson's AstroGold/SolarFire Astrolocality software, below. It's set for the Polar Prince's last communication to Titan.
How Does Sagittarius Show Up With Titan and Titanic?
The sign Sagittarius is also in difficult positions in the charts for the sub and the ship. Sagittarius rules foreigners. Prime candidate here is Russia. The Russian ship Akademik Keldysh, managed in Moscow, was also part of a Titanic submersible tour with a company called Bluefish some years ago. Once we realised that the US Navy sonar detected the implosion of Titan shortly after it was reported missing (as I posted on Twitter from the original Daily Mail article) it was time to get all the charts out again and look at all these dominant signs, starting with Gemini and Sagittarius – as well as Neptune, the dominant planet.
Does Neptune Show Up With James Cameron?
Neptune rules what we cannot see – what is hard to see, or impossible to perceive. The marking on Titanic, made by her fire, was hidden from view. I mentioned the repetition of fires in the Titanic story. We know about the first one, but there is a second. Titanic director James Cameron also owned a submersible called Deepsea Challenger, which was struck by the same disaster as Titanic – a blaze.
It did not happen on board. It happened when the truck carrying it caught fire, from a likely brake failure. The Titanic fire is an ongoing Neptune mystery. A descendant of the engineering chief of Harland and Wolff, the Irish company which built Titanic, found photographs in the attic one day.
It was only then that he also saw a a thirty-foot-long black streak on the outside of the Titanic hull, near where the iceberg blow would fall. Journalist and author Senan Moloney bought the photos of Titanic taken by the ship's engineers before it even left Belfast. He saw black marks on the hull, near where the iceberg hit. His Channel 4 documentary, Titanic: The New Evidence still stands the test of time today. The Titanic covered up the fire to its passengers and set sail. We've been talking about Neptune and lack of visibility, distortion and sometimes deception. It also brings confusion, sometimes quite innocently. This was the moment on 23rd June 2023 on my Twitter account @jessicacadams when we learned the US Navy sonar heard the implosion early on.
How Does Taurus Show Up With Titan?
Taurus patterns are right across the Titan and Titanic charts, but also the chart for J.P.Morgan who owned Titanic. So we focus on Gemini for the big questions about communication on Titanic and Titan, but also move to the money, which is at the heart of the matter. Taurus, as I am sure you know, rules big business, finance, millionaires and billionaires. It rules misers and the very rich. Hamish Harding had a net worth of $1 billion made from selling private jets, according to the Daily Mail.
Shahzada Dawood, on board with his teenage son, owned a $4.2 million house in Surbiton, it is reported. Stockton Rush, who owned the Titan, had a net worth of $12 million. The Frenchman Paul-Henri Nargeolet was worth $1.5 billion.
Is Taurus About Thrift?
It seems incredible that such rich people should have chosen such a low-budget Titanic tour. Is Taurus about thrift? Yes. Taurus rules huge extravagance as much as penny-pinching.
One of the things about the Titan story that fails to add up for me, is the constant repetition that these were big spenders, buying a $250,000 ticket for a Titanic tour. Actually, if reports of their multi-millions and billions are true, they were thrifty. They could have spent far more and had a superior experience. We live in an age when you can buy two adjacent economy class plane seats and stretch out. Why did the very rich Titan Five need to go cramped class on the sub? I've been fielding a lot of questions from readers about this.
Is Taurus About Discounts?
I've mentioned the Taurus themes in these charts. Very, very rich people and very, very strange cost-cutting. Discount materials past their shelf life from Boeing were used to make Titan. The Boston Globe reported, "Imagine sitting in a tube-shaped vessel, about the size of a minivan, with four other people. You're bolted in, with no way to get out, while the pilot uses a video game controller to steer…Passengers who embark on the voyage typically bring a sandwich for lunch." You might call this economy class in the sub world.
So were all these very rich people simply being careful with money? It was cattle class, to quote a Taurus phrase.
Does Taurus in the Charts Show Titanic Gold?
Once you look at the charts for Titanic and J.P.Morgan its wealthy owner, you begin to see why people believe Titanic was carrying enormous amounts of gold. Here we have both lunar nodes at 1 Scorpio and Taurus, the money signs, in a T-Square with a 0 Aquarius placement. Tight, tense, taut.
Wrecks can and do hold buried government treasure. A British merchant ship that was torpedoed during World War II while allegedly carrying platinum bars is now worth more than $3 billion. If the claim proves true, it could be one of the richest sunken treasures ever discovered. This is the Port Nicholson. Again, found by a submersible. She sank in 1942.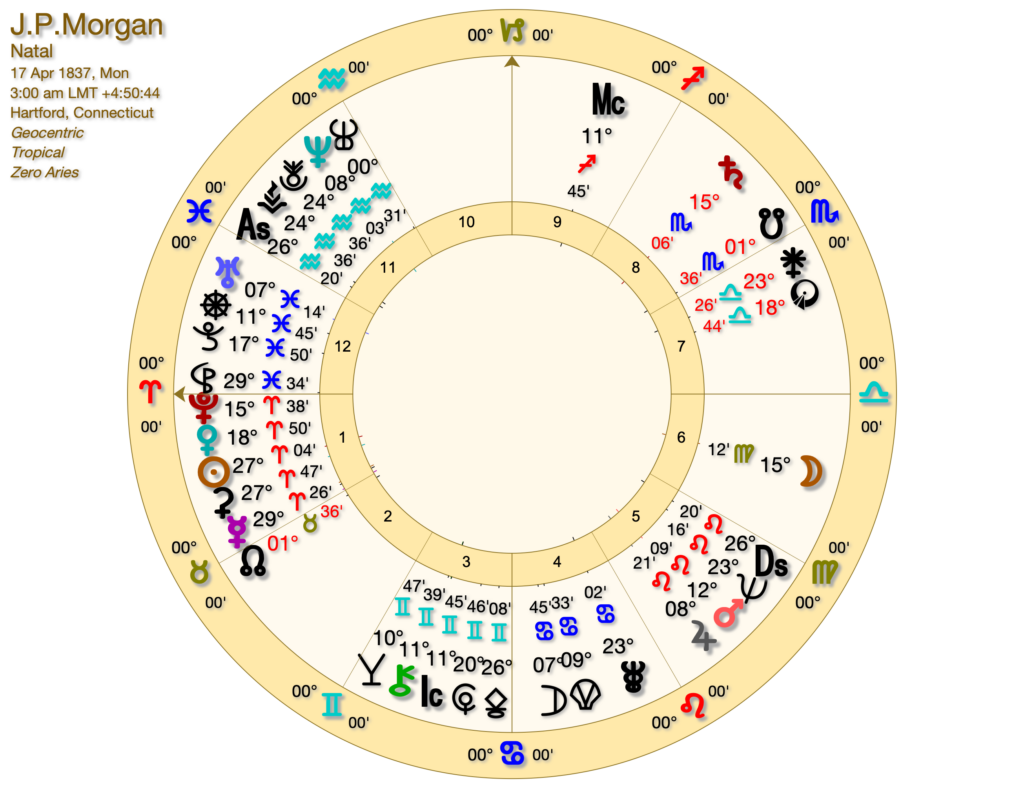 Is Taurus the Problem for Titan?
There is a strong, typically Taurus storyline emerging with Titan as well as Titanic. With Taurus we always find questions about 'How cheap is cheap?' as well as 'How rich is too rich?'
I'm going to return to the actual state of the Titan sub again (dire) and question, again, why five extremely rich people would accept something worse than cattle class.
Caitlin Tilley, reporting for The Daily Mail on 27th June 2023, said the 22 foot sub Titan, had no chairs and Ziploc bags for toilets. Passengers' privacy was protected by a curtain.
CBS correspondent David Pogue, who visited Titanic on Titan in 2022, added a description of white camping lights on board.
The Titan, the Astrology Chart for OceanGate and Stockton Rush
Mr. Pogue, who became a prime media source for stories about the Titan, for the BBC, also said passengers on the Titan submersible were sealed inside the main capsule by 17 bolts that could only be opened from the outside – with only 90 hours of oxygen.
'There's no backup, there's no escape pod – it's get to the surface or die,' he told the BBC.
'If you have to go to the bathroom you can crawl into the window end of the sub and hang up a black cloth for privacy. There's a one foot square box on the floor that contains Ziploc bags.'
Ocean Gate's website, according to The Boston Globe, stated: "When the toilet is in use, we install a privacy curtain between the dome and the main compartment and turn the music up loud. We do recommend that you restrict your diet before and during the dive."
Are the Titan's Text Messages Gemini?
The Titan's text messaging system is typical of Gemini, so yes. We would hope that the ongoing investigation will find them.
The Titan's track record of losing contact is also part of the Gemini story in these charts. Mercury, too (the ruler of Gemini).
Professor Salvatore Mercogliano, from Campbell University, believes Polar Prince did not call for help when she lost communication with Titan because Titan had previously had communication failures with its text message system. Thus, no disaster was ever assumed on the day.
You'll remember the Titanic's messaging system also failed.
Why Did Men of Science Choose Titan?
As well as being very rich, those onboard were clever and all had some kind of science background. Shahzada Dawood MSc matches his wife's science degree – Christina Dawood also has her Master's. I've mentioned the Sagittarius-Gemini theme in the Titan chart and in fact it is very common in stories where we have foreign academics. The Dawoods were British-Pakistani.
Their son Suleman Dawood was at Strathclyde University and as we've seen was gifted at solving Rubik's Cube puzzles.
The Dawood University of Engineering and Technology in Karachi was established by the family.
Why did the Dawoods try so hard to get on board a sub which was, basically, nothing that men and women of science would ever pass? That CBS had already given a bad review to?
Pogue's take on Titan was published by CBS on its website and shown, on CBS Sunday Morning, November 27th 2022 https://www.cbsnews.com/news/titanic-visiting-the-most-famous-shipwreck-in-the-world/
Pogue broadcast for CBS that he was "a little nervous, especially given the paperwork, which read, "This experimental vessel has not been approved or certified by any regulatory body, and could result in physical injury, emotional trauma, or death." Where do I sign"
And yet…
Gemini Patterns and Missing Social Media Messages
Another Neptune mystery about Titan is the lack of farewell photographs or videos on Twitter, Facebook, YouTube, Tik-Tok, Instagram. We are again, back to Gemini patterns, as many of you have pointed out to me on Twitter through Direct Message.
We have one Tik-Tok goodbye for Titan that I've been able to find online. C'est finis.
Any jolly farewells to the tourists would have minute-timed the astrology charts on Twitter and so on, but we have nothing, save one piece of Tik-Tok footage of a young woman farewelling the doomed Frenchman Nargeolet, known as Mr. Titanic.
This was @abbijaxxxon who was filming the day. That footage and the stills have gone viral online.
There were 41 people on board Polar Prince on 16th June 2023, towing the Titan. Nobody uploaded any photographs or film to social media on departure.
The RCMP or Royal Canadian Mounted Police quoted RCMP Superintendent Kent Osmond as saying "I"ve been doing police work for 33 years and this is a very unique circumstance."
Thinking about the absence of social media on departure, astrologers would have to agree. He wasn't of course referring at all to the social media void on Polar Prince. Again, given the Gemini chart signatures, where is the usual online Facebook, Twitter, Instagram, Tik-Tok presence you would expect at the thrilling departure of Titanic tourists on a journey planned for months?
Amelia Earhart and – A. de Saint-Exupery, the most famous two missing aviators in history, are admired on the Twitter feed of the late Hamish Harding. Did he know?
Gemini Patterns, Morse Code, Marconi and the Titanic
The missing hours of lost communication from Polar Prince to Titan mean we also have missing hours as astrologers. As with this original Titanic communication from 14th April 1912, if we had a time (11.00pm New York) we could set up a chart and see more. The parallels with both vessels are shown in the horoscopes, also for both. Newcomers to astrology are sometimes surprised to find out that a submersible or a ship can have a 'birth' chart. But they work.
Is Polar Prince Gemini?
In this tale of Gemini and twinning, it is important to note that the Polar Prince was once called The Sir Humphrey Gilbert.
In her previous identity, back in 1963 she attended the sinking of the French vessel Douala. Thirteen men drowned. So, yes, she has a double identity. A twin self – as the Gemini chart signatures show.
How Does Aquarius Show in the Charts?
Aquarius (groups, friends, teams, societies) shows in the charts, prominently in that of the Frenchman, Monsieur Nargeolet. It is paired with Taurus, which as discussed, is the sign to be associated with great wealth.
This is a five-star, first-class (private plane) fraternity. Again, it is peculiar that they went discount.
Shahzada Dawood, the British-Pakistani businessman, knew Charles III and Camilla through the British Asian Trust and the Prince's Trust International.
Those of you looking at the Sagittarius elements in the charts will have picked this up already. And so to Aquarius.
This is the sign that more than any other rules clubs.
The Explorers' Club, which Hamish Harding had founded, has Honorary Directors including Prince Albert II of Monaco and the Prince of Bhutan and Paul-Henri Nargeolet was of course also a member. Along with James Cameron.
They no longer always fly solo at great distance, like their original member Amelia Earhart. Instead, they use submersibles.
One such deep-submergence vehicle is called Limiting Factor. This was the vessel of choice for Richard Garriot de Cayeux, a leader in the PC gaming industry of the 1980s and President of the Explorers' Club.
Hamish Harding had also used it. Limiting Factor was a $37 million two-seater. So, not a cramped sub with a curtain. This leads me to another question, not so much about Aquarius, the club sign, but also Taurus, the money sign.
Why Not Pay $295,535 Instead?
The Washington Post reports an 'elevated and slightly longer version' of the OceanGate Titan which costs about $295, 535 per person. This is the luxurious Brown and Hudson trip.
Brown and Hudson makes the point that it also offers more training.
Is the Search Cost Taurus?
Yes. Another variation on the Taurus theme in the charts. One of the many reasons why Titanic tourism and even remote cameras may be off limits by law (soon) is the cost. The US government alone has paid $1.4 million to date, in searching for Titan, according to The Washington Post
Is the Macy's Relative in the Titanic and Titan Story, Taurus?
Yes. OceanGate Stockton Rush's wife and now his widow and heir, is the great-great granddaughter of the Macy's owners who died on the Titanic. In common with her husband and every person on Titan (bar one, Monsieur Nargeolet) we have no reliable charts for anyone so can't say if Taurus figures in these astrology charts – but thematically, Taurus certainly does. And it's across the OceanGate and Titan charts, as well as the Titanic chart.
Is Titanic Owner J.P. Morgan a Taurus Matter?

Yes. His karmic node is there. In fact he has the classic Taurus-Scorpio nodal axis of people who have many past lives with great wealth or poverty. Taurus tends to lead us back to gold bullion and bull markets; it is associated with the Wall Street charging bronze bull. Morgan's name is still massive on Wall Street. In the era of J.P.Morgan, the Titanic owner, it was common to place large quantities of gold bars on ships. Morgan himself did so, to avert a Wall Street crisis for the US.
Ships carrying gold can and did sink.
In 1917 Laurentic sank. Over 350 of her crew died in lifeboats. She had 43 tons of gold bars on board. Most were salvaged but 22 still remain unaccounted for. Like Titanic, she had a coal fire on board. Like Titanic, she was headed for Canada. The gold bars were on board to buy munitions from Canada and in the US.
Operation Fish was the Second World War evacuation of British wealth from the UK to Canada. It was the biggest movement of wealth in history. Ships going to Halifax carried what is estimated today to have been 116,000,000 pounds of gold. Given the space shown on this original map of Titanic, it is entirely possible that J.P.Morgan had a huge quantity of gold bars, boxed up, on board. I'm showing this original illustration of Titanic for those of you who are interested in remote viewing. What are you seeing? Do the J.P.Morgan and Titanic Charts Line Up?
Yes. The J.P. Morgan natal chart is AA Rodden-rated and reveals the North Node at 1 Taurus and South Node at 1 Scorpio, with Saturn at 15 Scorpio.
He also has Bacchus at 10 Gemini, Chiron at 11 Gemini, the IC at 11 Gemini, Cupido at 20 Gemini. His MC is at 11 Sagittarius. His White Star Line owned Titanic and her sister ships. The chart, together with the rest, is at the end of this feature.
What is The Oceangate Astrology Chart?
Oceangate, owner of Titan, was incorporated on December 13th 2011 in Washington, curiously enough expiring on December 31st, 2023. The address given is 1205 Craftsman Way Ste 112, Everett, WA 98201-1594 and the chart at the end of this feature is based on that. This is a corporation not a person, but for astrologers and astrology students, the chart makes intriguing reading. I always say, astrology cuts through the noise. Well it does here.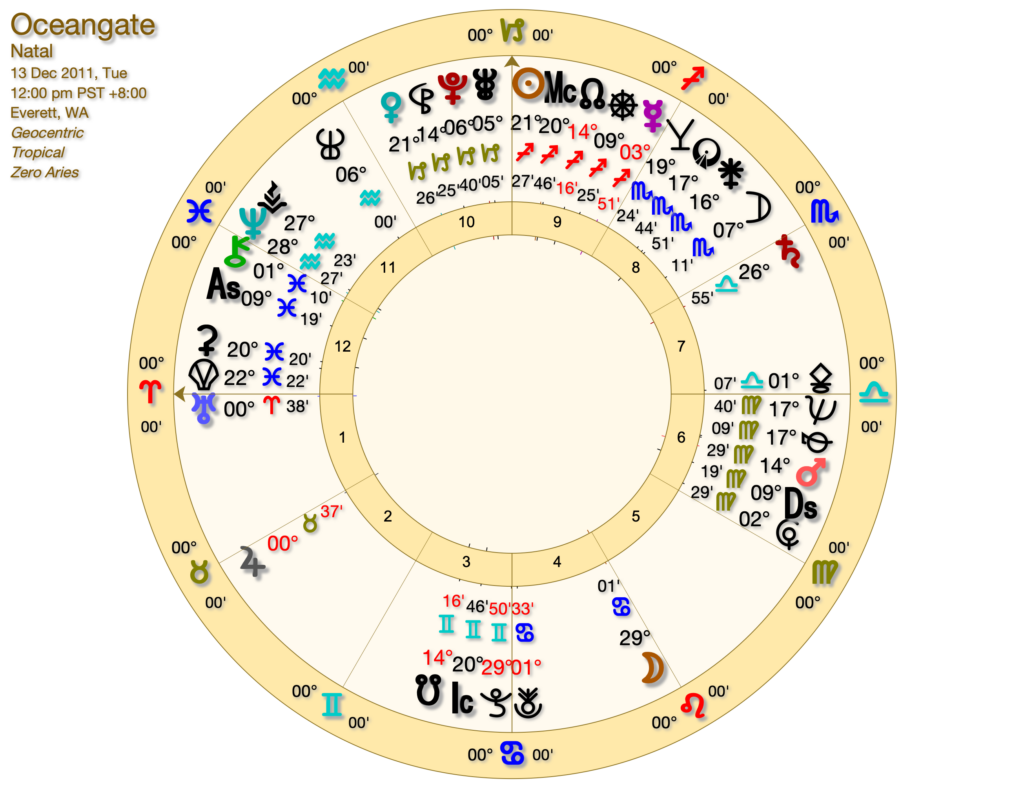 What is the Astrology Chart for Paul-Henri Nargeolet?
This AA (Rodden Rating) chart held at Astro.com shows Paul-Henri Nargeolet born on 2nd March 1946 at 6.30am in Chamonix, Mont Blanc, France. We are lucky to have it, as it is unusual to find AA-rated charts with confirmed time, place and date of birth. The Moon at 21 Aquarius is in a conjunction with the Ascendant at 2o Aquarius. The shock of transiting Uranus at 20, 21 Taurus in June 2023 will be written across his profile forever. This is about the Explorers' Club. It is also about Titanic Incorporated, his other group. This is the global elite of exploration (Twitter/Instagram/Facebook) to which Paul-Henri belonged. A good candidate for an Aquarius Moon but also an accompanying T-Square, which I'll talk about next.

The Neptune T-Square in the Paul-Henri Nargeolet Natal Chart
Transiting Neptune at 27 Pisces from 1st to 30th June 2023, is in a troublesome, tight and tense T-Square with the South Node at 27 Sagittarius and the North Node at 27 Gemini.
I am struck by the fact that the U.S. government tried to stop Nargeolet and RMS Titanic Incorporated from taking the Titanic's wireless telegraph machine in 2020. Monsieur Nargeolet also has a natal T-Square with Mercury at 26 Pisces, the South Node at 27 Sagittarius and the North Node at 26 Gemini. It's just one degree out from being exact. That's rare. It's also the last natal chart pattern you want, if your life's work is to help get Marconi telegraph equipment off the Titanic.
You can also see the famous Explorers' Club clearly shown in the Eleventh House and the issues, there. And what issues.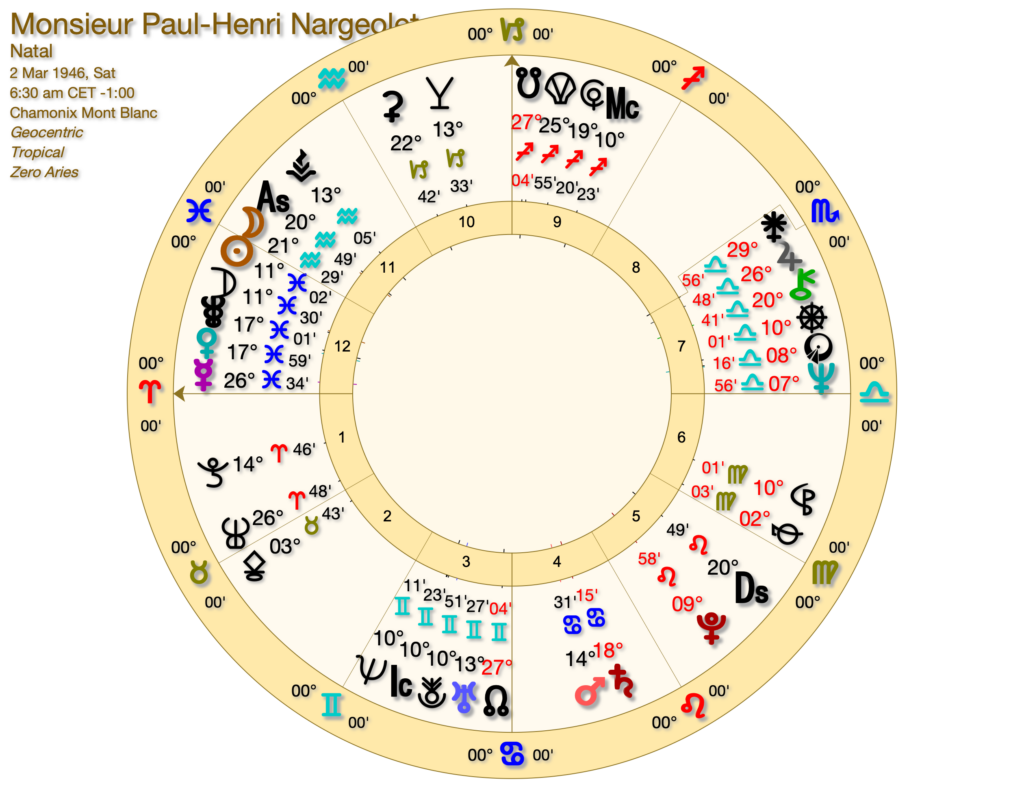 Is Saturn in the Charts?
We also find Saturn looming in the charts as you might expect. Without natal charts for four of the Titan Five, we have to look elsewhere for the synchronicity which is typical of astrology.
It's unusual to see a woman wearing a Saturn necklace but Jannicke Mikkelsen owns and wears one. Or did. The planet of the most difficult karma. She has become part of the Titan Five story in the media.
She directed the documentary Challenger Deep with her friend, the lost British explorer Hamish Harding – and also worked on One More Orbit, another documentary about Harding and his record-breaking polar flight. "Every single minute feels like hours," Mikkelsen was quoted in The Daily Mail on 21st June, revealing that the plight of her missing friend, left her unable to sleep. The Saturn necklace photograph is unsourced and is widely shared on social media including Facebook where it's become viral since Mikkelsen's interviews. This is a promotion for Mikkelsen's documentary, One More Orbit as you can see on her shirt logo, near the Saturn necklace.
Dragons Off Maps – Hamish Harding
Richard Garriot de Cayeux, President of the Explorers' Club, which Mr. Harding helped found, said in a statement, "He holds several world records and has continued to push dragons off maps."
We lack a natal chart that is reliable for Harding, as discussed. Harding, survived by his sons Rory and Giles, stepdaughter Lauren, stepson Brian and wife Linda, does not leave us any AA data at all: confirmed time, place and date of birth. Thus, we don't use it.
Yet the dragons on the map, which are mentioned here, are plainly there in the chart for the Titan's owners. The astrological chart for Oceangate shows the North Node at 14 Sagittarius, the sign of explorers, opposite the South Node at 14 Gemini, the sign of short journeys. Both in a T-Square to Mars at 14 Virgo. The Dragon's Tail is Cauda Draconis in astrology and the Dragon's Head is Caput Draconis.
Astrology runs on such synchronicities and astrologers pay attention.
Where is Scorpio in the Story?
Scorpio rules inheritance, legacies and wills. It also rules marriage, divorce and alimony. Scorpio is also ruled by Pluto, the god who had responsibility for dead souls. Thus, I've been asked where Scorpio is to be found in these charts.
It's interesting and not what you would expect.
For years, the 1985 discovery of Titanic was covered up as a scientific mission. As CNN reported It was actually a US military mission to recover two sunken nuclear submarines. Robert Ballard had to have a cover story, as he's since confessed. He was actually looking for the doomed 1960s American submarines USS Thresher…and USS Scorpion. Boom.
Is The Simpsons Prediction, Neptune?
There are elements of the Titan disappearance chart and the chart for its owners which are a clear case of truth being stranger than fiction. Part of this shows up in The Simpsons' appearance in this story. We can give this to Neptune, which dominates the charts, as it has all the confused and confusing trademarks of that planet in astrology.
Mike Reiss saw the Titanic in the Titan in 2022. Back in 1998 he wrote Simpson Tide, about a submersible, based on Crimson Tide. Homer was in the US Navy Reserve and aboard a nuclear-powered submarine.
I've mentioned Neptune here, and this is also the planet which rules film and television. The ultimate distortion! This still from The Simpsons' Simpsons' Tide episode, created by Mike Reiss, went viral on Twitter on 22nd June, seen here in the @KremlinTrolls account.
Is the Eastenders Actor, Neptune?
There is a theatrical, televisual quality to these astrology charts. A drama on stage; a Hollywood blockbuster; a cult cartoon – even a soap opera. Ross Kemp turned down a trip on the Titan over safety fears. This takes us from Hollywood (James Cameron) to cartoons (The Simpsons) to British soap.
Is the Titanic Twin Mapping, Gemini?
Yes. In May 2023, just before the Titan disaster, a digital twin of Titanic emerged. Created by deep-sea mapping it was expected to shed light on the 1912 sinking. The Guardian reported the twin would give forensic evidence on how Titanic actually sank.
Again, we are back to Gemini the twins in the Titanic chart and the Titan chart too. Forensic evidence of the Silent Cabin, perhaps? The Marconi transmitting room? The Silent Cabin contains an intact Marconi station. Its soundproofed walls have protected the apparatus.
This Gemini entanglement across time and space in all the charts is something that turns up in quite striking ways.
Is the Olympic, Gemini?
The other Gemini twin in this astrological story is of course The Olympic, Titanic's sister, who some believe was swapped for Titanic and is in fact the shipwreck now lying near Canada. Others furiously disagree.
Some say the supposed Olympic, now part of the wood panelling and staircase at The White Swan Hotel in Alnwick, England, is really the Titanic and can be seen in the number 401 stamped into the wood – the Titanic's registration.
The reason for the swap? And the reasons why it never happened? Titanic Switch is a website dedicated to the theory https://www.titanicswitch.com
Will There Ever Be a Resolution?

I believe that when we finally see some outer planet transits going across the old Titanic Gemini position and the matching Titan Gemini position (27 degrees of the sign) we may just get somewhere with this twin Titan and Titanic mystery. The next due date for that is transiting Jupiter at 27 Gemini on May 28th to 31st 2025. Far into the future, there will be historic shocks about both Titan and Titanic, when Uranus goes to 27 Gemini. I'll not add any more to this feature until then, although I will of course answer all your Comments/Questions as usual. Can you help solve these psychic and astrological mysteries?
The greatest mystery of all, perhaps, is why it has taken the US, UK, Canada, France and other interested parties, such a long time to begin the process of blocking Titanic to cameras or actual damage and removal. Perhaps we won't have to wait too much longer. Take another look at that chart for the old ship. She may well be the reason that there is a global overhaul of maritime law and ocean territory and borders, which should have happened in the 1980's.