France, Astrology and the Future 2023-2030
Pray for France as the Paris we know and love is temporarily gone in July 2023. Even Joan of Arc would have a battle on her hands with some of these residents, non?
There are several astrology charts for France, but the one that works best for prediction is below. I've labelled it France FINAL after running all the horoscopes for Paris through the last war. This chart also shows the mob violence in France, as I publish this on 2nd July 2023. You've seen me talk about the return of the French Revolution cycle quite a few times, and here we are. Pluto at 0 Aquarius is coming back – this is the cycle that delivered the end of Louis XVI and Marie Antoinette and gave us 'new France.' Of course this is a really long cycle. Having started tentatively in March 2023 it's now dormant but returns in January 2024. (Data: The Book of World Horoscopes, Nicholas Campion, 2004).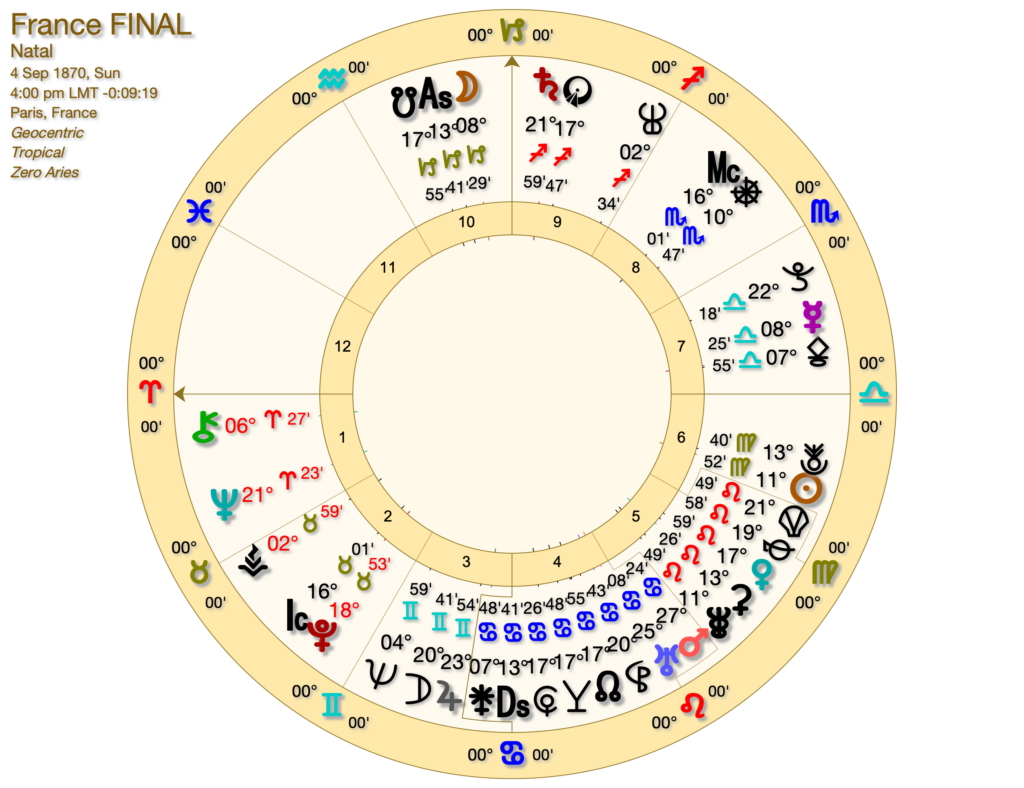 Saturn at 21 Sagittarius – The Hard Karma of Foreigners and Foreign Countries
You would expect to find something painful in Sagittarius, in the Ninth House of foreigners and foreign countries – and here it is. Saturn at 21 Sagittarius. It aspects Salacia at 21 Leo. It also aspects Neptune at 21 Aries. The French relationship with foreigners is complicated. This chart shows you the collaboration of some French with the Nazis under Hitler's occupation. It also shows you why France has had (since 1870) an embedded problem with other languages and cultures, be they there legally or illegally. It doesn't really matter if it's the Occupation of the 1940s or more recent troubles, with mob violence and terrorist attacks.
This Saturn at 21 Sagittarius was exactly under transit when the war began. Uranus had moved to 21 Taurus and triggered that pattern. The shock of war. As I write this on July 2nd 2023, Uranus has moved back to exactly the same position. He stands at 21 Taurus. There is a great feeling here of walls, fences, barriers and boundaries coming back in. Back then it was sandbags and check points. As Uranus continues to transit Saturn, it may come again.
Russian Spies, Borders and Fortress France
This is also about borders, isn't it. Saturn rules what and who is inaccessible or impossible to get out of. This does feel like 'Fortress France' particularly in regard to the English Channel, Eurostar and borders within Europe, such as they are. The cycle runs July 1st until 8th. Then October 22nd to 31st. November 1st to 15th. And again, April 6th until 24th, 2024.
Beyond physical barriers, the issue for France is infiltration by foreign agents. We would assume Russia, the enemy of NATO. Fortunately from April 24th 2024, that extremely difficult transit (Uranus quincunx Saturn) is finished.
Deeply Patriotic France and Her Matriarchy
This is a matriarchy. Just look at the Cancer stellium. It's intensely patriotic, this country and with Mars in Cancer, has fought for her people and land, and will do so again. I'm sure there are plenty of astrologers who are concerned about the opposition of Pluto to Mars that is coming.
This takes place when Pluto goes to 27 Capricorn, right opposite Mars at 27 Cancer, starting 20th September, with a direct phase (increasing in intensity) on October 11th. It ends on 1st November which is when the extreme danger period is over, as Pluto is about the most powerful, dominating, controlling people and organisations – even countries – and Mars is the French army. The French Resistance and the gendarmes.
I'm sure you've seen this famous painting in the Louvre. With the Cancerian breasts front and centre, this is the very picture of Mother France. The old archetype of Joan of Arc also nods to this Cancer stellium in the chart – the protectress.
Relations With the Neighbours
Perhaps because of the turmoil ahead, France develops a much better relationship with the neighbours (even post-Brexit Britain) as Jupiter with all his solutions and good news, moves into Gemini and her Third House, from May 26th 2024.
From that point forward there will be long overdue improvements in all those Gemini and Third House matters we might expect – short journeys within Europe and to the United Kingdom. The French language and all translation. The worldwide web itself.
This foreshadows a radical period of change for France with her European neighbours in particular from July 8th 2025, when Uranus with all his new inventions, freedom, liberation and quite revolutionary new directions, enters Gemini. This lasts until 2033 so the wider map of the European Union, in whatever shape it survives, will alter remarkably. Uranus is always 'The last thing you expected is the first thing to happen' so there are surprises in store here.
This is also very much about the French car industry (Gemini rules commuting) so, Peugeot and Renault, for example. France has Jupiter in Gemini and she will have her Jupiter Return in May 2025, which looks big for Eurostar, the most famous example of her Gemini connection to the world.
Politically, a safe pair of hands in France is always a female pair of hands as she is so drawn to mothers and grandmothers – the female of the species – and anyone playing that card (Mother France) be he male or be she female, will win votes and remain popular. I'm sure you know Cancer also rules cooking and of course this country is the home of Cordon Bleu. She's strongly Leo too – the sign of courtship – and of course the sign of Chanel, too. In fact, Chanel was so interested in astrology that she used the lion motif during her rule of French fashion, just as today, the house of Chanel still honours her sign in its fragrance.
It's quite a chart, this old horoscope for France, and it foretells quite a future.