Your Astrology Chart With Male and Female Asteroids
There are one million asteroids. In modern astrology, we only use those which belong to the family tree that began with Mercury, Venus, Mars and the rest. Here's how you can find out more about interpreting your personal birth chart, and those of partners, potential partners or former partners.
Are you the Diana type, with the independent, alpha female asteroid Diana making exact patterns in your chart? (Diana pictured here by Rubens/Wikimedia). Maybe you are an old-fashioned man, like Johnny Depp, and have male asteroids dominating your chart along with male planets.
The Astrological Lodge of London Event
I'll be talking about the female and male asteroids in your natal chart at The Astrological Lodge of London, over two nights – on Zoom. The event is recorded if you are unable to make it.
This event runs on Monday 3rd July at 8.30pm to 9.30pm and again on Monday 10th July at 8.30pm to 9.30pm.
As always, I will take questions during the Zoom. Asteroid Astrology will also be offered at The Sun Sign School in the first quarter of 2024.
Are You a Premium Member?
If you are a Premium Member you can pick up my flipbook on this, Asteroid Astrology, free from your library here. This will give you a complete and detailed guide. You can also purchase it for $12.00 to give you the full picture of the asteroids. (Image of Diana: The Astrology Oracle/Justin Tabari).
Why Use Female and Male Asteroids?
I have been working with asteroid astrology since 2006 when Pluto was demoted and Ceres was promoted. Both are now dwarf planets. Why bring in Proserpina? Well, it seemed illogical to leave her out. If you're going to work with Ceres (dwarf) and Pluto (dwarf) you may as well include the original Roman mythology. This first female asteroid, Proserpina, the daughter of Ceres and wife of Pluto, launched me into an updated astrology, which I began using at Cosmopolitan magazine. Readers loved it. Finally, people know who they really were, because they could see their asteroids.
More Accurate Readings
Astrology has always moved with the times. When Uranus was discovered in 1781, he was put into astrology charts. When Neptune was found in 1846, the same. As astronomers find more missing symbols in the family tree of astrology, we apply them. Completing the family tree of astrology by putting Pluto's wife back in, and the rest – helps you fathom your chart in more detail.
You may never really know Pluto in your horoscope, natally or by transit, until you have seen how his wife Proserpina and mother-in-law Ceres operate as well. And I haven't even mentioned Juno, the wife of Jupiter, or Ops, the wife of Saturn. This gives you more accurate readings about who you are – and what happens to you. (Juno card from The Astrology Oracle: Images by Justin Tabari).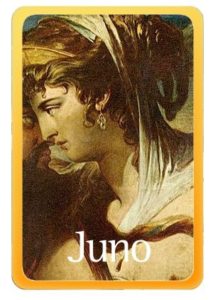 Love, Sex and Asteroids
These female and male asteroids also show why you play the husband in a marriage (even though you are the wife) and why you play the wife in a marriage (even though you are the husband). Remember these are ancient archetypes, layered over 2000+ years of history.
Obviously, these female and male asteroids show lesbian, gay and bisexual people why they might lead with one aspect of their personality. These are traditional symbols. Pluto abducted Proserpina because he was sexually obsessed with her. Venus seduced Mars with her beauty.
Comparing Marriage Charts
Comparing two charts in a marriage or common-law marriage (living together) can help you see how your feminine or masculine side, and that of your partner, line up. If there are female or male asteroids or planets at the same degrees in both charts, this is unusual and important. You two may even find the original Roman myths play out in your lives.
For example, if your Vesta aspects your boyfriend's Sun, there may be a harem of women to complete with. If you and your partner have Jupiter and Juno contacts (Jupiter and Juno, painted here) then you may play out the myth of those two, complete with peacock and pea hen issues.
The addition of male and female asteroids balances the astrology chart. This is really because so many of the planets are male. Jupiter. Saturn, Neptune, Pluto – and so on. In fact most planets in 20th century are male. Yet, Jupiter has a wife and daughters. Saturn has a wife and daughter. Neptune has a wife. Pluto has a wife and mother-in-law.
The Male and Female List in Your Astrology Chart
Here is a full list of planets, asteroids and other factors by sex. We begin with neutral placements – the angles and nodes. These 34 factors include 28 which are planets, asteroids or other heavenly bodies. Of these 28, exactly 14 are male, and 14 are female. It's almost as if the Romans who gave us our modern astrology, meant it that way.
NORTH NODE – Neutral
SOUTH NODE – Neutral
ASCENDANT – Neutral
DESCENDANT – Neutral
IMMUM COELI – Neutral
MIDHEAVEN – Neutral
SUN – Male
MOON – Female
MERCURY – Male
VENUS – Female
CUPIDO – Male
PSYCHE – Female
VULCANUS – Male
MARS – Male
JUPITER – Male
JUNO – Female
FORTUNA – Female
MINERVA – Female
DIANA – Female
BACCHUS – Male
APOLLO – Male
AESCULAPIA – Male
HYGIEA – Female
PANACEA – Female
CHIRON – Male
SATURN – Male
OPS – Female
VESTA – Female
URANUS – Male
NEPTUNE – Male
SALACIA – Female
PLUTO – Male
CERES – Female
PROSERPINA – Female
Using Exact Orbs
In modern astrology, if you include male and female asteroids, you have 34 chart factors. That's a lot so you only work with orbs of 0-1 degree. Exact, or almost exact. It makes the chart easier to read. At a glance, if you see factors lining up at the same number (always the first number – the degree) then you know you have something unusual and striking – in terms of your personality but also your destiny.
Equality and Asteroids
Until the reintroduction of the Roman/Latin asteroids to astrology, only two female archetypes existed – the doting mother (The Moon) and the adulterous wife and jealous mother(Venus). Thanks to the asteroids and other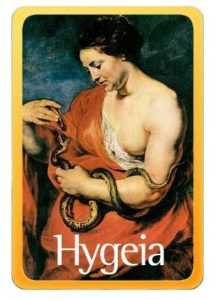 bodies, we now have new female archetypes like Minerva (female wisdom and knowledge) and Diana (single, child-free, women). Roman Asteroids give us feminine symbols not defined by their relationship to men. Minerva was single. Diana only had one lover – Endymion – and he was asleep.
Equality for men means the feminine side of the male sex is allowed more expression by using female asteroids. Maybe you're like Kurt Cobain and you relate to women very easily. Maybe you're like Kurt and like to wear a frock on occasion. He had a strong female asteroid pattern. Maybe you do too. The female asteroids making exact aspects in a male chart, explain why a man might want to increase the feminine bandwidth in his personality – like Caitlyn Jenner – as he now calls himself – who is a man who took a woman's name and had surgery.
Kurt Cobain, whom I was lucky enough to interview (see Serving the Servant, Danny Goldberg, Trapeze and Cobain on Cobain, Nick Soulsby, Chicago Review Press) is a good example of a straight man with a feminine side – Caitlyn Jenner (she used to be called William) says she prefers women. Jenner has Hygiea, a female asteroid, in the sign of Scorpio, ruling sex. (This asteroid also has Greek spelling: Hygeia) Image: Justin Tabari.
The Dii Consentes Are Back
New discoveries in astronomy and the software to show them, has meant the original twelve Roman gods, the Dii Consentes, are back together in your chart. Jupiter, Juno, Minerva, Vesta, Ceres, Diana, Venus, Mars, Mercury, Neptune, Vulcan and Apollo were the first twelve.
Masculine Women and Feminine Men
Caitlyn Jenner (William Bruce Jenner) born on 28th October 1949 at 6.16am in Mount Kisco, New York (AA/Astro.com) has an exact line-up at 0 degrees involving the female asteroids.
Vulcano 0 Capricorn (Male asteroid)
Hygiea 0 Scorpio (Female asteroid)
Fortuna 0 Libra (Female asteroid)
Mars 0 Virgo (Male planet)
Kurt Cobain, born on 20th February 1967 at 7.38pm in Aberdeen, Washington (AA/Astro.com) has Vesta, a female asteroid, in a conjunction with Neptune, a male planet. He also has Cupido, a male asteroid, in conjunction with Diana, a female asteroid. This is the feminist who wore cardigans and a blonde bob.
Neptune 24 Scorpio
Vesta 24 Scorpio
Cupido 28 Aquarius
Diana 28 Aquarius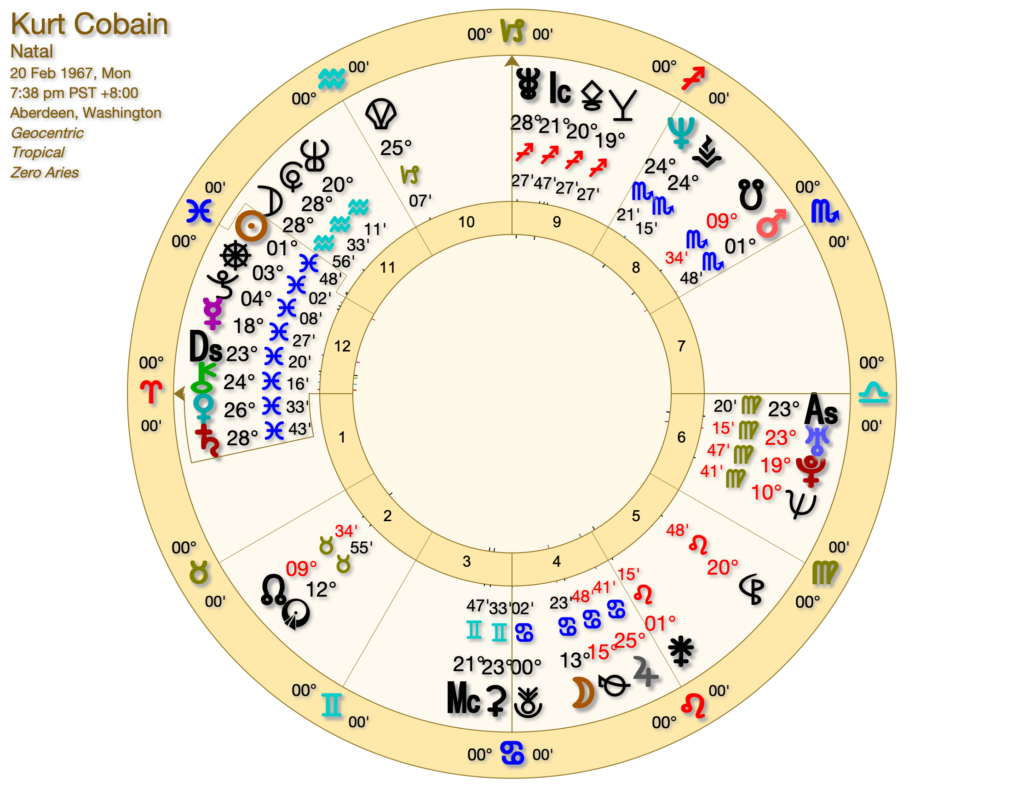 Johnny Depp, Elvis Presley and Quentin Crisp
Johnny Depp, born on 9th June 1963 at 8.44am in Owensboro, Kentucky (AA/Astro.com) has a male asteroid (Cupido) and male planet line-up (Mars) at the same degree, including the angles. He presents as strongly masculine in a traditional way.
Mars 3 Virgo
IC 3 Scorpio
Cupido 3 Aquarius
MC 3 Taurus
Elvis Presley, born on 8th January 1935 at 4.35am in Tupelo, Mississippi (AA/Astro.com) has Vulcano in conjunction with the MC. Bacchus, a male asteroid, is square both. The IC is involved in the pattern and Ceres too. Elvis played the army card well.
Vulcano 26 Virgo
MC 26 Virgo
Bacchus 26 Sagittarius
IC 26 Pisces
Ceres 26 Cancer
Quentin Crisp, born on 25th December 1908 at 12.30pm in Carshalton, England (AA/Astro.com) has a female asteroid next to Pluto. Another female asteroid, Psyche, is in opposition. This is the pattern of England's 'stately homo' to coin a Gemini nickname.
Pluto 24 Gemini
Hygiea 24 Gemini
Psyche 24 Sagittarius
Chrissie Hynde, Aretha Franklin, K.D.Lang and Tina Turner
Chrissie Hynde, born on 7th September 1951 at 10.20am in Akron, Ohio (AA/Astro.com) has a female asteroid, Diana, aspecting the angles. Diana is the goddess daughter of Jupiter who rejected motherhood and marriage in order to be free. She is also identified with Artemis, the Greek goddess of the hunt. She is always seen with a greyhound.
Diana 27 Cancer
MC 27 Cancer
IC 27 Capricorn
Aretha Franklin, born on 25th March 1942 at 10.30pm in Memphis, Tennessee (AA/Astro.com) has Bacchus, the male asteroid, in conjunction with her Sun. 'You Make Me Feel Like a Natural Woman' is one of her biggest hits – this erotic, sometimes overtly sexual anthem suits her Bacchus-Sun conjunction.
Sun 4 Aries
Bacchus 4 Aries
K.D. Lang was born on 2nd November 1961 at 2.03am in Edmonton, Canada (AA/Astro.com) and has the female asteroid Panacea aspecting the male horoscope symbols, Pluto and the Sun.
Pluto 9 Virgo
Panacea 9 Virgo
Sun 9 Scorpio
Tina Turner was born on 26th November 1939 at 10.10pm in Nutbush, Tennesee (AA/Astro.com) with the two female asteroids, Salacia and Minerva, in conjunction. Sagittarius rules foreign culture and Buddhism became Tina's escape.
Salacia 14 Sagittarius
Minerva 14 Sagittarius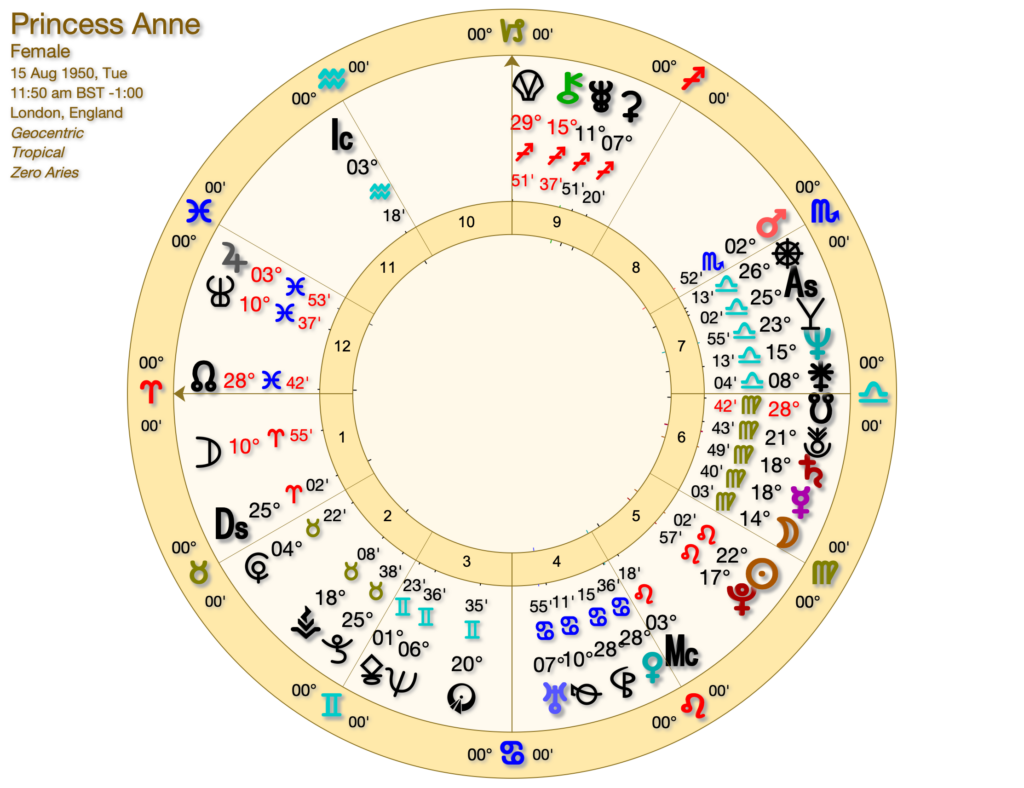 Alastair Sim, Siouxsie Sioux and Princess Anne
Alastair Sim was born on 9th October 1900 at 1.00am in Edinburgh (AA/Astro.com) with two female asteroids in conjunction. He played Millicent Fritton, headmistress of St. Trinians, and her brother Clarence. He did so because Margaret Rutherford was unavailable. His drag sibling performance suits his Gemini pattern.
Ops 27 Gemini
Minerva 27 Gemini
Siouxsie Sioux was born on 27th May 1957 at 9.12pm in London. (AA/Astro.com). She has Mercury in conjunction with Aesculapia. From punk to Goth to 2023, her business is about comebacks.
Aesculapia 12 Taurus
Mercury 12 Taurus
Princess Anne was born on 15th August 1950 at 11.50am BST in London (AA/Astro.com) and has Mercury and Saturn in conjunction. Two male planets. She has frequently been named 'the hardest working royal' and carried out 11,088 engagements between 2002 and 2022, more than any other member of the royal family. Including the men. (Source: Wikipedia). When Charles III accepted the crown, transiting Uranus (revolution, radical change) moved to 18 Taurus and triggered this pattern in her chart. This could only have happened once in her life, and it happened when her brother asked her to embody that dutiful, masculine, Virgo line-up.
Mercury 18 Virgo
Saturn 18 Virgo
Vesta 18 Taurus