Tarot Techniques to Solve Your Problems
On average, I have over 18,000 questions in the Comments section of this website and can obviously answer just a few. Some of your problems are urgent and important, though, so I suggest you develop a relationship with the Tarot on this website.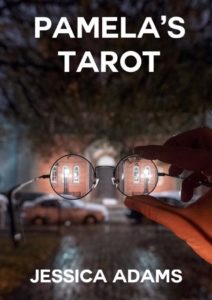 It is free to use, thanks to the generosity of the late Stuart R. Kaplan at U.S. Games Systems. If you are a Premium Member you can pick up an extended reading when you choose a Tarot card. You can also read Pamela's Tarot, an interpretation flipbook, in your library here. It's in your members section.
Begin at the Beginning
Get used to accurately reading your present, before you begin on the future. A notebook or journal is handy, or a folder you keep on your computer. Record your readings there.
Your question is 'If my life was a journal, what would be on the front cover this week?' What's the main story? The Tarot can and should show you. If you don't get a clear result first time, settle yourself and try again. Allow two attempts.
With practise, you will become quite used to shuffling the Tarot on my website and instantly seeing it talk about your life, as a main story or main event. (All images: Justin Tabari).
Improving Your Accuracy
Once you are confident that you can pick a card which describes the headlines of your life that week, begin by predicting the week ahead. If your life is being covered in a magazine, what will be on the cover next week?
You can increase your accuracy by doing this with Time magazine. What will next week's cover of Time be about? Record your progress. The more you practise, the better you will become.
Tarot Techniques to Try
Write down your question or type it on your computer. Begin, as always, with a Present card to tune in. This is like tuning in a Roberts radio on the dial. You have to get clear reception with yourself. I don't need to add, all noise should be blocked and you should be alone. Give yourself time and space, because you will be experimenting with time and space.
I'm Blocked
If you are blocked from a goal (getting a boyfriend, getting a job) and feel stuck after months or years of trying, ask 'What or who is preventing me from getting my goal?' Sometimes the answer is very simple. I had a reader who could not get a boyfriend because she was spending all her time and energy on socialising with her female friends instead. The Three of Cups showed her at a glance. Three women drinking and dancing. When she sat with the card longer, she realised the group of women made it hard for a single man to approach. They also had difficulty choosing!
I Have Career Confusion
Ask 'What am I capable of doing best, now and for the next 12 months?' The Tarot will tell you. That is your guide to finding a job you are good at, and enjoy. Maybe you are suited to going between two cities, like Los Angeles and New York and are a very good bi-coastal manager. The Chariot card can tell you that.
Should I Stay Or Should I Go?
Draw one card, one after the other. The first card shows the impact of you staying (within 12 months). The second card shows the impact of you going (within 12 months). This is good if you are in two minds about leaving your boyfriend or unable to decide if you should resign from your job.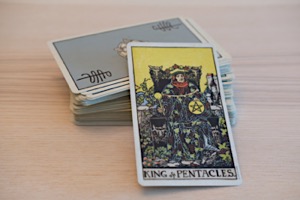 What's the Main Outcome?
Ask, "What is the main outcome, overall, within 12 months, of me taking this choice?" If you are asking about buying a particular house, for example, and you draw The Empress then if you are a woman, you are being shown a comfortable, luxurious lifestyle with a beautiful garden or natural surroundings.
How Does He See Me? How Do I See Him?
This is useful for a rocky marriage or sexual relationship. You can switch the sex, of course, to 'She' and 'Her.' It shows you a mirror of the person you believe you see, and it also reflects how you are viewed by the other person.
What Characteristics and Traits Should I Cultivate to be Happiest During My Lifetime?
Sometimes readers are just unhappy. This is quite a useful card as it is usually backed up by the information in the astrological chart. Draw one card. This is a lifetime reading. You may draw the King of Pentacles, for example, which is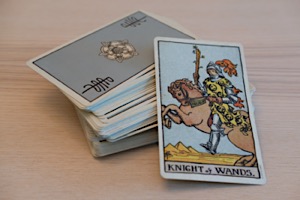 telling you that you need to use your Taurus and/or Scorpio side and be your own accountant. If you are a man (for example) it is time to become the King of Pentacles or Coins. If you are a woman, emphasise your male side. You may have male planets or other horoscope factors in the finance and property signs – Taurus, Scorpio, Cancer.
A really quick way into happiness is to look at the stelliums in your birth chart. A stellium is four, five, six or more factors in the same zodiac sign and house (life department). Most people have three or four stelliums. Put those signs and life areas together and you will be shown what you should be doing with your life. Your mission statement. Your raison d'etre. It might not always be easy but if you fulfil your quest you will find happiness. Often asking the Tarot will show you, visually, that particular stellium. So you'll have confirmation.
What Is My Illness or Health Issue Stopping Me From Doing?
This is quite a useful reading. In astrology, the polarity of Virgo and Pisces – the Sixth House of doctors and the Twelfth House of the unconscious mind – suggests that we often produce specific complaints which meet our unadmitted need to get out of something, or get away from someone.
Or – quite another function! Once you realise what your medical condition is achieving, you can go deeper and may find a way to give yourself what your unconscious mind wants and needs, without actually having the problem, to do it.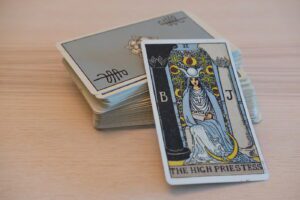 I had a reader with a teenage son who was a handful. She had chronic common colds which meant she had to take to her bed and drop out of doing the cooking and housework. Her Tarot reading gave her the Knight of Wands. Being ill meant she could stop mothering this difficult son, without the guilt of being a bad mother.
What Am I Doing Wrong?
This is a good one in a situation where you keep on getting bad results, repeatedly. You may find yourself rejected in business, for example. What your best friends are too kind to tell you, can be shown in the Tarot. Maybe you are hard to understand – you're not speaking clearly. This is where your psychic ability comes in, by the way.
How To Read the Cards Like a Professional Psychic
We actually have tutorials on this at The Sun Sign School, from professional Tarot readers including Daisy Waugh, who joins us in July 2023. Psychic ability does come on a sliding scale. It's like being musical. You can strum a few chords on a guitar or play like Chrissie Hynde.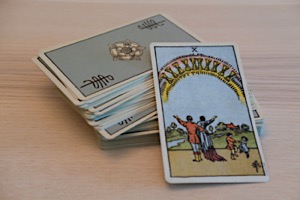 Reading the cards like a professional psychic takes years and natural ability. Like a great guitarist you have to be born with the potential.
There are tips and tricks to help your accuracy, though, especially if the long interpretation does not specifically answer a question. Here are ten of the best.
*Make a Tarot reading an occasion with all noise removed and a notebook or folder to write/type into.
*Look at the tiny details of the card from the Smith-Waite Tarot – what does a snail say to you, or a zodiac sign? How about the skirt that someone is wearing? What does it remind you of?
*Sit with the card for 10 minutes while you use your intuition to go beyond the book – what are you picking up?
*Ask your spirit guides and helpers to assist you in the reading so that the answers benefit you and everybody else.
*If you clairaudiently 'hear' a word or name when you read the Tarot write or type it down. Take it seriously.
*If your rational mind blocks you from trusting Tarot, find the science behind it – it's just quantum mechanics.
*In general, women in the card are you (if you are a woman) and men are you (if you are a man).
*Knights and Pages are people younger than yourself and Queens and Kings of the opposite sex are older people. Usually, a Queen is you (if you are a woman) and a King is you (if you are a man).
*You can trust online Tarot shuffles as the 'random' mechanism is the same as a 'random' shuffle by real hands.
*Start reading great Tarot books and bypass anything online that feels trashy or plain wrong. Often, these books are out of print and on eBay. Tarot and You by Richard Roberts (Morgan & Morgan, 1975) is a good bible, among others. Easily the most experienced and internationally known Tarot professional online is Mary K. Greer.