How To Use Tarot To Fix Mercury Retrograde 2023
Draw two cards from my website or your own Smith-Waite deck for this. The first card tells you what to expect from the full Mercury Retrograde in Virgo cycle, August 8th to September 30th. The second card tells you what you can actively change, direct and work with – to get the best results. If you came along to the Zoom session with the Tarot Guild of Australia on Friday 4th August, you'll already have drawn two cards at the event.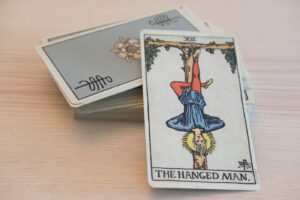 About Mercury Retrograde in Virgo in 2023
If Mercury is communication, information and transportation (and Virgo is work and wellbeing) what can we expect from August, September 2023?
As always with retrogrades, we use the 're' prefix. So this will be a time of rescheduling. You can also expect product recall and retracted statements.
Having Plan B and also Plan C is smart. Yet, as you'll see in this session, the Tarot can also help you personalise your forecast so you can drill down into the details.
The Hanged Man (above, image by Justin Tabari) is a good symbol of Mercury, suspended. Yet you can see how enlightened he becomes, just by dangling and waiting. In the Zoom we talked about so many cards showing the character with one foot in, and one foot out (like Temperance).
This is also Mercury Retrograde, who would normally be running or riding, but on the retrograde, is turning back, or actually reversing – rather than hesitating. Here is Temperance which many of you drew at the Zoom session. "Just putting my toe in the water" but not yet ready for the full experience of health, healing, lifestyle change and the rest. Typical Mercury Retrograde in Virgo.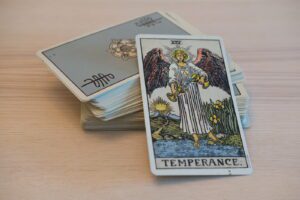 Useful Tarot Links and Guides on My Website
Pamela's Tarot – Free to Premium Members
Quick Tarot Card Meanings
Problem Solving Tarot Techniques
What's Good About Mercury Retrograde?
Mistakes in the creative process can turn into a masterpiece if those concerned are talented enough. What doesn't work, can help bring about something better. If your work is creative (or your course, or unpaid work) then this is possible.
August, September is very good for rehearsal. For beta-testing. If you have the time to try second and third attempts at something, in order to perfect it, then you can sign off successfully in October.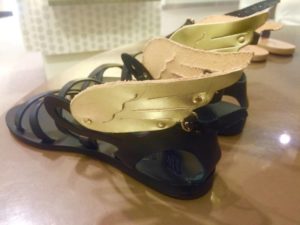 Virgo Factors In Your Chart
If you have Virgo factors in your chart, then Mercury comes to 'live' in your Sixth House of workload and wellbeing for a couple of months.
Imagine a house guest who arrives with a mail sack on his back; a clipboard for you to sign; a cellphone in his hand, a microphone headset – but walking backwards.
The gear will malfunction. The car he's parked outside will only drive in reverse and sometimes come to a stop, for days. That is who you are living with. Imagine someone whose winged sandals are on the wrong feet for two months. Somebody operating forwards, then backwards. We saw this in The Fool card in the Zoom session too. He is leaping off the cliff but one foot is turning in the other direction. Not ready to fly.
Watching the World
Covid hospital cases are up dramatically in New York and London. Virgo of course rules Covid. This is a good time to remember what to do/what not to do – and do it. As I said at the event, this is the most likely reason for the usual worldwide delay: Covid outbreaks affecting the usual chain of events from Heathrow Airport, out.
Heathrow Airport was actually founded on Mercury Retrograde. Virgo is an indicator of virus so with Mercury going backwards in this sign, global scheduling is hit.
How are you going to navigate the backward path of August, September 2023? The phrase 'Going back over' is Mercury Retrograde. So is the idea of repetition. Technical failure is sometimes the reason.
People do swear more on Mercury Retrograde, but on the other hand, cancellation can be lucky. On the Titanic, which sank on this cycle, people who didn't make the voyage because of illness or other rescheduling were fortunate indeed. As with all these cycles, the context matters. Your personal chart is Queen or King and how the usual computer problems or other X factors affect you, is personal too.
August 4th until 28th, 2023
Mercury at Virgo 8, 9, 10, 11, 12, 13, 14, 15, 16, 17, 18, 19, 20, 21
August 28th until September 19th
Mercury at Virgo 21, 20, 19, 18, 17, 16, 15, 14, 13, 12, 11, 10, 9, 8
September 19th until 30th
Mercury at Virgo 8, 9, 10, 11, 12, 13, 14, 15, 16, 17, 18, 19, 20, 21
The Virgo Weather of 2023
If health or work have moved to the top of your list, you likely have Virgo factors in your Sixth House of wellbeing and workload. The weather is rolling: the Sun in Virgo is with you from August 24th to September 23rd. We have a Full Moon against the Sun in Virgo on August 31st. Mercury in his full cycle is there from July 29th until October 5th, and going backwards as above. Mars has been in Virgo since 11th July and will be there until 27th August.