The 2023 Blue Moon in Pisces
The Full Moon set for Thursday 31st August (allow a day either side for world time zone differences) is a full stop in two areas of your life at the same time. It will bring things full circle for you.
The Sun is at 7 Virgo 25 in opposition to the Moon at 7 Pisces 25. Cycles in both these signs are currently quite important in your chart. In this feature I will look at how your Sun Sign horoscope is affected and also look at your natal chart. If you are a Premium Member, you can see this at a glance.
What a Full Moon Does in Astrology
When the Sun clashes with the Moon, inner conflict increases. So does conflict out there on the street. Thakur and Sharma found crime incidence increased on Full Moon days in a 1978-1982 study.
This is why professional astrologers will tell you to allow more time and space for others as well as yourself, on a Full Moon.
More babies are born (Matsumoto and Shirahashi) and a 1996-2007 study found night births on a Full Moon increased.
When Animals Bite More and Babies Arrive
Animals bite more (Bhattacharjee) and more ambulances are called to traffic incidents (Onozuka). A Blue Moon or second Full Moon in a month suggests you, or the people around you, are stretched more. August 2023, which began with a Full Moon on Tuesday 1st and ends with a Full Moon on Thursday 31st, needs special attention.
This Full Moon in Pisces – the August 2023 Blue Moon in Pisces – is shown below, at the second it becomes exact in London. Adjust for your city. (AstroGold Software).
Is Your Birth Chart Triggered?
Do you have anything in your natal chart at 7 degrees? If so, the Full Moon at 7 Pisces, Sun at 7 Virgo and Juno at 7 Leo (you can see them all below) will pick up that factor in your horoscope.
So, for example, if you were born with Jupiter at 7 Taurus, in your Second House of money, that's the issue. You can always find out the meaning of your birth chart (natal chart) factors on this website or in your flipbooks here.
Your Sun Sign and the Blue Moon
How are you affected by this Blue Moon? We have Mercury Retrograde in Virgo, alongside the Sun in Virgo, so that's quite unusual. We also have Saturn, Aesculapia and Neptune in Pisces, alongside the Blue Moon in Pisces.
Aries Allow until September 30th for decisions about your lifestyle, workload and wellbeing to become final, as since 8th August, rescheduling and rethinking has been par for the course. Everything about your work-life balance will be very clear at the Blue Moon and a choice is hovering. Just allow about four weeks for it to settle. This cycle is commonly about food, drugs, doctors, drink, fitness, dentists and/or complementary therapy. Taurus Courtship, the bedroom and parenthood is a work in progress and you may retrace your steps, or others may retrace theirs, by 30th September. What you feel is real and a decision has to come, but as Mercury (information, communication and planning) is out of phase, allow plenty of time for things to sort themselves out. Friends and groups are a key area now and boundaries are extremely important – Boundaries, capital B. (Blue Moon image: Picryl).
Gemini As your ruler Mercury is retrograde in the household, property, family, home town and homeland sector of your chart, make allowances for changes or even cancellations by 30th September. You will want to meet a crossroads choice, but have Plan B and C. Your career, academic career or unpaid work is also in the Blue Moon zone. The strategy you cobbled together after March 2023 needs a long look. Is your approach still working?
Cancer Your brother, sister and/or cousin is at the heart of this Blue Moon and you are also ruled by the Moon so it's personal. It's unlikely that the narrative since August 8th is going to stick so even though you feel you must make a decision, allow for a zig-zag path until 30th September. Foreigners and foreign countries, academia, publishing and/or the worldwide web also needs thought. How are you going to organise this in a better way?
Leo This Blue Moon is about your money, house, apartment, business, charity and/or valuables. Make allowances for the story to go backwards and forwards until 30th September, as what has been 'in motion' since August 8th was always going to put you on a loop. The original approach you had 1-3 weeks ago will need to alter. Out of this period will come a determination to set boundaries, or reinstate them, if lines have been crossed, Leo.
Virgo If you are one of those Virgos who also have Libra and/or Leo factors in your natal chart, then this Blue Moon is a milestone for your marriage; relationship with an ex; partnership. No matter what your birth chart looks like, there is a two-way street in your life which must be navigated very carefully at the Blue Moon. There are major questions here about your boundaries as well as hers, or his. Time to take a deep breath and sort it out.
Libra Your daily routine, lifestyle, workload, health, wellbeing and commitment to paid work, unpaid work or study is in the frame. Ever since March 2023 you have been dealing with situations which are hard to get out of, or just as challenging, situations which you find very hard to get into, or access. The Blue Moon in Pisces in your Sixth House of duty, service and wellness asks you to look at the balance (or lack of it) between these areas.
Scorpio Friends and groups are ruled by Virgo in your solar chart, so you can assume life until 30th September will be full of rescheduling, rethinking and requests to reconsider. Have Plan B and C if paperwork is involved as what was the case after 8th August will not be the case by the end of next month. Courtship, the bedroom and a younger generation also need more thought. How are these areas of your life to be restructured, Scorpio?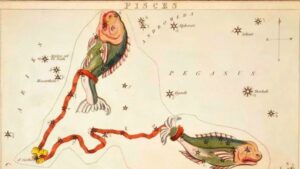 Sagittarius Of all the 12 signs of the zodiac, you are most stretched by this Pisces Blue Moon – along with Gemini. Both home and work, the cornerstones of your life, now ask you to reach a decision at the crossroads. Be kind to yourself and allow for changes and delays along the way, as it will not be until September 30th that your career, academic career or unpaid work is finalised in detail. At home, boundaries are required or must be put back in. (Image: Picryl).
Capricorn Your brother, sister and/or cousin will put you at a crossroads on this Blue Moon and it is time to look at what is confused or confusing, probably due to a lack of boundaries. At the other end of this Full Moon we have Virgo, which rules foreigners and foreign countries; academia; publishing; the worldwide web. Here, you can count on rescheduling and even cancellation by September 30th. A choice must be made, but with that in mind.
Aquarius Your overdue payments, health insurance, banking, accountant, tax position and the rest is now firmly under the light of the Blue Moon. Allow until 30th September for the final details or numbers to be fixed as Mercury Retrograde is with you. Despite this cycling backwards and forwards, you are still being nudged towards a timely decision as one situation that has only been with you since March needs a new look and new approach.
Pisces Your appearance, title and reputation are under the light of the Blue Moon in Pisces and if anything here is unclear, or has left you or others feeling all at sea, it is time to drop anchor and slowly begin to formulate a plan. You also appear to be involved in a duet or duel, with no clarity, as since August 8th the story has been stop-start, changed or even put you on hold today. This does sort itself out by September 30th but allow for a long circuit.

Are You Strongly Pisces or Virgo? If you have a stellium (four, five, six or more factors) in either Pisces or Virgo, then you will be more affected by this Blue Moon.
My book Modern Astrology 2050 can explain more about these stelliums, or unusually high clusters of factors in just one zodiac sign. Strongly Virgo people will find that the issue is their work-lifestyle balance with particular focus on their health and wellbeing, against the demands of their diary or schedule.
Strongly Pisces? The Blue Moon is Personal
The Blue Moon actually in Pisces goes through the Twelfth House of your natal chart, which is where you find your God (or rejection of God). It is where you seek self-help, counselling or therapy. Where you find Buddha (or not). It is also where you may be hypnotised, see a medium, use the Tarot or explore your need to meditate. It's about the inner life.
You are being shown the need to approach this quite differently, on this Blue Moon. Things cannot go on as they have been, and this applies no matter if your issue is the Archbishop of Canterbury or your psychologist.
Princess Diana and the Blue Moon
Princess Diana was born with Bacchus at 7 Leo in her Fifth House of children and grandchildren. This Blue Moon will hit her chart, just as the world is remembering her unlawful killing, as August ends and September begins. The Sun in Virgo is semi-sextile Bacchus. The Blue Moon in Pisces is quincunx Bacchus. Juno in Leo is in an exact conjunction with Bacchus.
This is about Harry and/or William, but also their children. Diana was also a Sun Cancer woman and so, ruled by the Moon. It's an emotional time.
Your Natal Chart and 7 Degree Placements
If you have anything at 7 degrees in your natal chart, as I've mentioned, you will find that this Blue Moon brings you to a crossroads, more than other people.
This may be because key people in your personal or work life are also at a crossroads, of course. The 'what' of the story depends on whatever you have at 7 degrees.
Juno is at 7 Leo 51 at the minute the Blue Moon becomes exact at 7 Pisces 25, opposite the Sun at 7 Virgo 25. That's quite an unusual line-up and it will trigger the 7 degree planet, angle, asteroid and so on – in your chart.
A quick way into this, is to use the Smith-Waite Tarot on my website, to ask 'How will this Blue Moon affect me?' and then see how the card shows you the story in your chart.
The Blue Moon in Pisces in Summary
Two Full Moons in August 2023 is unusual. Once in a blue moon, as they say. Whenever the Sun is in opposition to the Moon, we find we are inwardly divided. We can't make our minds up, or we feel pulled in two directions. We may also find that we are in polarised situations where two people, or two organisations, or two sides, are very much against each other.
You've seen how more babies are born on a Full Moon. Think of the mother pushing and the baby (and the midwife) also pushing and pulling, and you get a good idea of what this week will bring.
It's push-pull and for some people around you, it will trigger quite a lot of factors in their birth charts. When in doubt, make allowances, be more tolerant, cut people some slack and give yourself a lot more time and space too.
Main Image: Picryl