The Full Moon in Aries for Every Sign
The Aries Full Moon on Friday 29th September at 9.57am UTC falls at 6 Aries in opposition to the Sun at 6 Libra. (UTC is Coordinated Universal Time.)
What a Full Moon Does in Astrology
The Moon is opposite the Sun so there is inner conflict and disagreement between people.
Some people get less sleep in the week of a Full Moon for the obvious reason that it can shine through curtains and blinds. Perhaps that's why some of us behave like lunatics. The word lunar is tied to lunacy.
The University of Basel proved it: science lines up with the astrology. You do sleep less in the days before a Full Moon.
It's a good time to clear the decks, create time and space for yourself and cut other people some slack.
The Full Moon is Time For Reflection
A Full Moon is reflected in rivers, ponds, lakes and oceans. That's a reminder that this September 29th Full Moon is time for reflection.
Things come full circle on a Full Moon. It looks like a big, white, bright full stop in the sky. It's time to pause and slow down.
The Moon and Women
The 29.5 day lunar cycle aligns with menstruation. This is probably where astrology began. They call it correlation. When we talk about 'that time of the month' we are actually talking about 'that time of the moonth." From Moon and 'month/moonth' we also get 'mood.'
The Full Moon and the Police
Extra police offers were employed in Brighton some years ago on every Full Moon as violent incidents were found to increase, as reported by the BBC.
Circadian Rhythms in Full Moon Week
In the days leading up to a full moon, people go to sleep later in the evening and sleep for shorter periods of time, according to research at the University of Washington and Yale University.
Sleeping less and going to bed later in Full Moon week may be one of the reasons we feel less balanced now or notice that others are out of synch.
Your Personal Chart and the Full Moon
If you have anything at 6 degrees of any zodiac sign, then other people's conflicts with each other, or their inner conflicts with themselves, will affect you at a distance.
If You Have Factors at 6 Aries
Your reputation, appearance and title are now fully obvious as the Moon in Aries is fully illuminated. Expect a spotlight on your name and face. Shadows vanish and everything about you is clear.
This is an opposition, though, so leave plenty of time and space as you may be dealing with people or situations against you, or be in two minds about matters affecting how you are seen. Relaunch another time. Full Moon chart for New South Wales, Victoria, Tasmania, Queensland and the Australian Capital Territory, below, using Sydney for timing.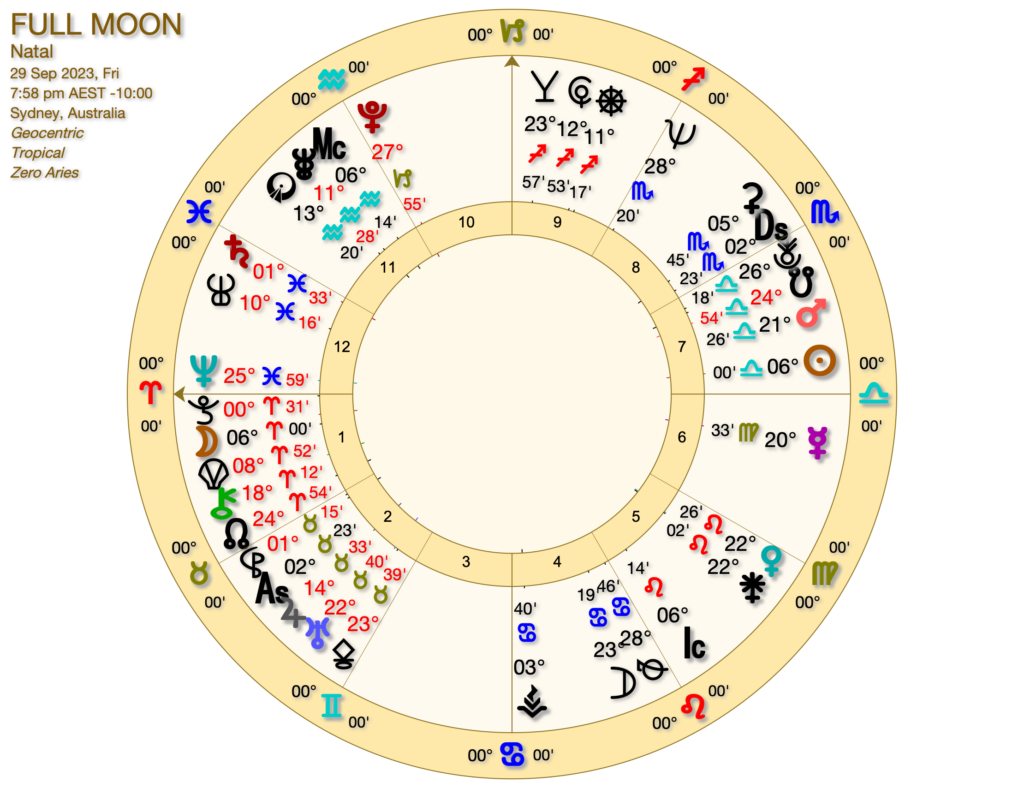 If You Have Factors at 6 Libra
Your duets or duels in life are in the spotlight. This may be your marriage or professional partnership. Any conflict or lawsuit. The Full Moon in Aries is in opposition, so you will find a classic clash taking place between 'Me' and 'Us'.
There may also be an obvious example of 'Me' versus 'You.' Pick an easier time to date or separate. Find a different day/night to discuss the two of you – or a battle.
The Lunar Nodes and Full Moon Karma
This Full Moon in Aries against the Sun in Libra triggers the current nodal cycle, which is karmic. It relates directly to your partnerships or conflicts some 18-19 years ago and depending on your age, could even trigger marriage or relationship soul debts and credits from the Eighties, Sixties or Fifties.
You may see a strong karmic connection between life now, near 29th September 2023, and what was taking place, years ago (below). If so, you owe, or you will be owed, and closure will be the end result. You can find out more about the nodal cycle here.
26th December 2004 to 22nd June 2006
6th April 1986 to 5th May 1986
8th May 1986 to 2nd December 1987
19th August 1967 to 19th April 1969
25th January 1949 to 26th July 1950
Basic Full Moon Handling
Common sense suggests now is not the time to take huge risks or go to extremes. If your inner voice tells you not to do something, listen to it. If you can see the polar opposites in a situation and feel yourself moving towards one or the other, you may want to think twice about acting on that. It's a good time, to take peaceful time out.
Full Moon chart set for New York at 5.57am on Friday 29th September, below.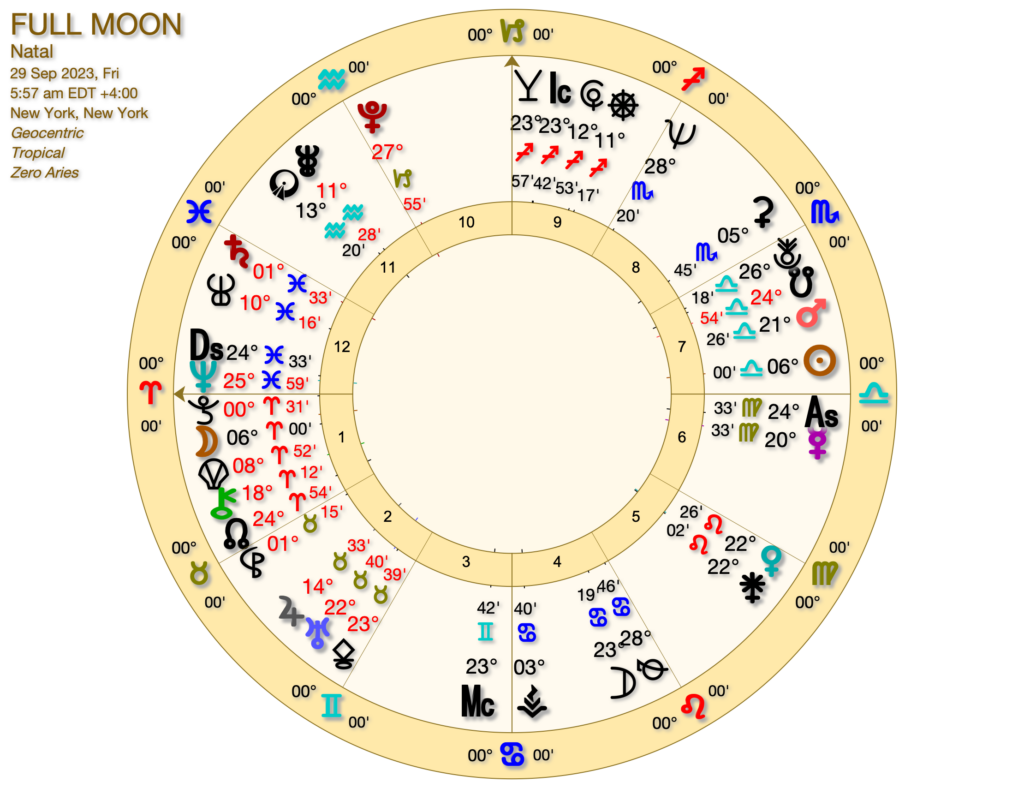 Sign by Sign Full Moon Predictions
Aries
Oysters close on the Full Moon and so should you. Narrowing your shell, in terms of your image or profile, will help you now. You can open up on the New Moon in Aries, closer to your birthday in 2024. An issue about your title, reputation and appearance will come full circle now. The Sun in Libra is also in your sector of partners and opponents. Find another time to push or pull too dramatically in either direction, Aries.
Taurus
This Full Moon in Aries, up against the Sun in Libra, is most obvious with your workload, wellbeing, daily routine, job, unpaid work, housework, academic career, health and fitness. When things are not aligned, you may prefer to take action later on, Taurus. The Full Moon itself is in your Twelfth House of hypnosis, therapy, Tarot, mediumship, religion and the inner life. You may prefer to start something new later on.
Gemini
You will find friends and groups are clearly in the Full Moon zone now and everything will be obvious in greater detail than usual and demand more, too. Your relationship with dates, sexual partners, children and young adults is also in the zone. Make big changes another time. There may be a mixture of both, so your godchildren (whom your friends are parents to) could be at the heart of mixed feelings, for example.
Cancer
The Full Moon in Aries is at odds with the Sun in Libra, in your zone of home, family, household, property, town and country. As this is so important to you, there are easier times to push one way or the other, no matter if the issue is a close relative or renovations. The Full Moon itself is in your sector of career, unpaid work and study and as you are ruled by the Moon this is where you will feel the greatest emotional split.
Leo
The Aries-Libra line in your horoscope is about foreign and local travel. You are unlikely to find things aligned in either department, Leo, as your chart is temporarily lopsided. You may prefer to be on the move another time or just be more mindful about journeys. Aries also rules publishing, academia, foreigners and foreign countries in your chart in combination so select another time for big moves in that department.
Virgo
This is a financial Full Moon as both your own income, and any shared house, business, apartment (and so on) is on the lunar line. This suggests you could pick an easier time to make huge choices, like switching banks or buying a property. Give yourself space. The Full Moon in Aries is in your Eighth House of joint finance, property and possessions and if you have factors in Libra in your birth chart, think about timing.
Libra
The Sun in your own sign is against the Full Moon in Aries, which describes your duet or duel at the moment. You are ruled by the scales and as you depend on symmetry and harmony, you may have to work harder on that now. Finding a level playing field is crucial. The Sun in your First House is also about image, profile, reputation, appearance and title. Another time to act on this may be far less of a stretch for you.
Scorpio
The most obvious thing about this Full Moon for you will be unanswered questions about work, study or unpaid work. There may also be health matters to attend to, as the Moon in Aries falls in your Sixth House of mind, body and spirit. Can any big decision wait? The Sun in Libra is in your Twelfth House of inner life, the soul, spirit, psychology and psyche so choices here may seem like a big ask; can any of this wait?
Sagittarius
If you know a Gemini then you will both be concerned with similar questions. This Full Moon is about your social life, social media and friendships; if you can delay dramatic decisions you may prefer to do so. Relationships, children and teenagers also need more time. The Full Moon in Aries is in your Fifth House of parenthood and substitute parenthood; courtship and the bedroom. You may want to make choices later.
Capricorn
The Full Moon in Aries falls opposite your Tenth House of career, status, unpaid roles and academia. As this matters so much to you, it is where you must now make some wise choices about when to act, and when to wait. Perhaps some decisions can be left, Capricorn, with the Sun in Libra. The actual Full Moon itself is in your Fourth House of family, property, town and country. Again, this is a stretch; can it wait?
Aquarius
Your travel and relocation sectors, which also cover short-distance journeys and foreign involvements, suggest a classic cash of push-pull when it will be hard to reach agreement with yourself, or just more challenging to make things balance. Take your time now. The Full Moon in Aries also makes a brother, sister or cousin more of a big ask for you, emotionally, so you may prefer to make big decisions later.
Pisces
Your finance, charity, business, shopping, valuables and charity sectors are brightly lit by this Full Moon and you may find yourself in two minds, or stretched by people or organisations which are pulling you in two different directions. Think about the timing. The Full Moon in your Second House is about your own values and your life budget. If others are not in alignment with that you may want to act at another time.
Using the Tarot, Garden Oracle and Astrology Oracle
If you are familiar with using these by now, you will know how well they work in describing what is ahead. They have been designed to work in synch with each other, too.
Ask 'How will the Full Moon in Aries in September most affect me, in the weeks ahead?' Follow the steps. Your intuition will help you navigate.
As always with the cards on my site, the answers will also tally with your own birth chart.
All images: Picryl.