It would be surprising if Nostradamus had not predicted the Corona Virus, COVID-19.
The film Nostradamus (1994) gives a powerful picture of the medical man, who became an astrologer, during the 16th century plague. He was so popular that he has never been out of print. This prediction about the Lambda, Kappa and Theta variants of COVID-19 (below) ran in a 1697 edition. Centuries later, it has come to pass. Nostradamus Prophecies (left) and Medtech Pharma Intelligence news item (right). Nostradamus was seeing these headlines about COVID-19 variants centuries ago.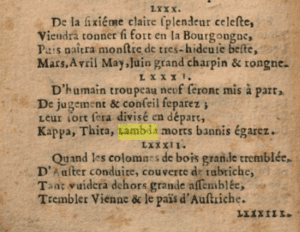 Nostradamus, Omicron and COVID-19
Nostradamus published his book of prophecies in 1555, so he was peering almost 500 years into 2021 when he named Kappa (India variant) Theta (Philippines variant) and Lambda (Peru variant) in a prediction.
Amazingly, he referenced the new COVID-19 variant, Omicron, and the Delta variant too.
Two stars in the constellation of Pisces are called Delta and Omicron. (Illustration: John Flamsteed, 1776, Wikimedia).
David Ovason – Nostradamus Expert
This is Nostradamus expert David Ovason's translation of Quatrain XCII in Centurie VIII.
It can be found in his book, The Secrets of Nostradamus (Penguin, 2012).
"The two shining ones to meet in the fishes?"
He takes the Nostradamus prediction "Les deux brassiers en Pisces rencontrees" to mean – The two shining ones to meet in Pisces, the fishes. As Ovason comments in his book, it's clearly an astrology clue. But there's more. The mystery is hidden in this 1776 illustration of Pisces by John Flamsteed. You can't see the 20 stars in the two fish. If you could, however, you would spot COVID-19 variations. They have the same Greek alphabet names. Omicron and Delta are here.
The Original Nostradamus Covid Prediction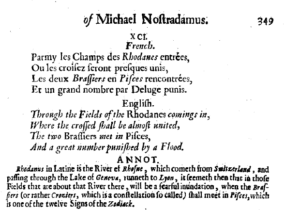 Every translator of Nostradamus since 1555 has put her/his own touch on the original predictions. This comes from my 1685 copy of The True Prophecies or Prognostications of Michael Nostradamus, printed by John Salisbury in Cornhill. It was translated and commented on, by Dr. Theophilus de Garencieres, who got it quite wrong. It would take another 300 years or so, before the prediction would come to pass.
The Pisces Stars and COVID-19
The following stars in the zodiac sign Pisces constellation take their names from the Greek alphabet used by the World Health Organization to name COVID-19 variants.
Gamma
Delta
Epsilon
Iota
Lambda
Mu
Xi
Omicron
Tau
Upsilon
Phi
Chi
Omega
Omicron Piscium – the COVID-19 Variant in the Pisces Constellation
This illustration is from one of the most useful astronomy websites you'll find, Earthsky.org. What Nostradamus saw in 1555 can still be seen today. Pisces contains 20 stars and depending on the time of year, you can spot Omicron near the Moon, Uranus and Mars. Pisces the Mutable Constellation

From the BBC – Omicron is "incredibly heavily mutated. Professor Tulio de Oliveira, the director of the Centre for Epidemic Response and Innovation in South Africa, said there was an "unusual constellation of mutations."
Pisces, Gemini, Virgo, Sagittarius Cycles
This is literally true in astrology. Pisces is an unusual constellation and it is also a mutable sign. Nostradamus would have easily known this in 1555 when his book appeared.
What Astrologers Know About Pisces Patterns

Professional astrologers can decode Nostradamus. This is my original date-stamped prediction about a virus, made because of Full Moon opposite the Sun in that mutable constellation of Pisces.
As you may have seen on this website, my virus prediction (one of two about 2020) was published on November 11th, 2019.
"Where is the Chaos in Your Life on Sunday 8th and Monday 9th March, 2020?
"You can circle these dates in your diary now, because we're going to see computer and human viruses, and regular traffic, air traffic and shipping affected by wave after wave of rain/flooding. The Full Moon falls on Monday 9th March at 5.47pm UT with the Sun at 19 Pisces…"
The W.H.O. officially declared the Corona Virus as a pandemic on 11th March, so I was two days out.
How Nostradamus Used Astrology
Nostradamus probably wrote the quatrain about the two Pisces stars, Delta and Omicron, after his prediction about Kappa, Theta and Lambda. The predictions in Nostradamus's Prophecies have never been in chronological order. We have to put them in their correct order to see what he was seeing, almost 500 years ago.
Some authors claim Nostradamus did this to evade the Holy Inquisition, who could have persecuted him for what looked like witchcraft. Another very good reason is that Nostradamus avoids a prediction paradox – by using coded astrology references. They often don't make sense until the event arrives.
Why Nostradamus Was So Mysterious
If the W.H.O. knew that two of the stars in Pisces were Delta and Omicron, as seen by the master astrologer, they may have found other names. So the prediction would never have come true, and that would have posed a prediction paradox for the master astrologer and psychic, Nostradamus. That's one of the reasons he's so mysterious. Classically, we only know exactly what he was talking about, when it comes to pass. This has just happened with the arrival of Omicron Covid.
Plagues in Pisces Cycles

We always have plagues in mutable sign cycles (Gemini, Sagittarius, Pisces, Virgo) and in 2021 we find Neptune in Pisces, the South Node in Sagittarius and North Node in Gemini. Patterns in Pisces, at the same time as patterns in Gemini and Sagittarius (which rule travel) are a problem. Nostradamus' timing for his prediction about the two Pisces stars, Delta and Omicron, is remarkable.

The constellation Pisces, the fishes, which holds the stars Delta and Omicron is visible in October, November and December in the Northern Hemisphere. Omicron arrived right on time. Those two stars are staring us in the face.
Africa and Omicron as Seen by Nostradamus

The key to the original prediction about COVID-19 variants, beyond its 'two shining ones to meet in Pisces' (the stars Delta and Omicron) is the phrase, 'the fields of Rhodanes.' This is clearly Rhodesia.
Rhodesia, Zimbabwe and Zambia
The Republic of Rhodesia was the equivalent of Zimbabwe and Zambia, today. As the BBC reports, Zimbabwe is now on the USA travel ban list for COVID-19 along with South Africa.
In addition, the Guardian reports Zambia is now on the UK travel red list.
The Fields of Rhodes
In the 16th century, Rhodesia and Zimbabwe were unknown to any French person, including Nostradamus, but 'the fields of Rhodes' is an astonishing hit, in the quatrain about two Pisces stars. Cecil Rhodes and his British South Africa Company founded Rhodesia in 1895. He bought up diamond fields in the region. Thus, "The fields of Rhodes." (Les Propheties de M. Michael Nostradamus, 1555, Wikimedia Commons).

Nostradamus, Omicron, Covid and the Future

So is there hope for the future? What did Nostradamus see, beyond our modern plague? Basically, a smaller world. The end of globalisation. In fact, I saw patterns involving that sign too (perhaps it features in your own astrological birth chart) back on 7th October 2019.
To quote that prediction on my website – Nostradamus and astrology are correct. It's a shrinking world. This is what you read at the end of 2019, before anyone had heard of the Corona Virus in China. At the time, I had no idea that within four months, a Corona Virus would be found in Wuhan, China and that this would turn into a worldwide pandemic by March 2020. You can read the original prediction about The New Travel, Trade and Immigration Rules, below.
What I Saw Using Nostradamus' Methods on 7th October 2019
"The New Travel, Trade and Immigration Rules. The world is set to change its border control, trade and immigration rules in a radical way between 2020-2022…new passport and visa schemes are coming…sweeping in its global impact…We're looking beyond smart passports here into a whole new world of travelling and working – studying and travelling. New border controls. New-style customs and immigration processing at airports." Read the full prediction here.
COVID-19, anybody? The genius Nostradamus, of course, actually named the variants which have shut down borders, before his famous vision of 'the shrinking world.' I believe that quatrain was originally intended to come after the virus variant calls.
Diminue Le Monde – The Shrinking World

The world (le monde) decreases in size – reduces, dwindles, subsides – in the future, according to Nostradamus. This is the famous quatrain:
Les fleurs passes diminue le monde
Long temps la paix terres inhabitees
Suer marchera par ciel, serre, mer et onde
Puis de nouveau les guerres suscitees
The Plague Scars Gone
Ned Halley translated this way back in 1999 in his terrific book, The Complete Prophecies of Nostradamus (Wordsworth Reference). "With the plague scars gone, the earth becomes smaller. Peace will reign for a long time. People will travel by land, sea and air, before war once again takes over." (Image: Fotolia).
Different Travel, Different World
The challenge, then, once the scars of COVID-19 have gone, and globalisation ends, thanks to the end of open borders – is to enjoy a different kind of travel – and to make sure any wars are minimal and over quickly. Nostradamus reminds us that prediction is about reducing impact, even if we can't stop an outcome.