Predictions About Harry From 2017
Way back on 17th July 2017, I published some predictions about the Royal Family and Prince Harry. If you missed the original astrology forecast about Harry and William, you can find it here.
True Royal Predictions, New Royal Predictions
Some of this has come to pass: "A complete split is possible between the male heirs in the United Kingdom." You have to remember Harry and Meghan did not even become engaged until November 2017. Here are those four extracts from the original 2017 astrology prediction about the Royal Family. Hindsight is interesting, five years later.

More True Predictions About Harry and Meghan
What you read on this website on 16th December 2017
"Meghan's horoscope shows a fantastic new role involving children in 2019. This is also the year that a special child will come into her life." (Two years after this forecast, Meghan became a mother).
This prediction also appeared here on July 17th, 2017.
"This is a random, fortunate, fated carve-up of the Royal Family's line of succession to the throne. It can also happen, at best, every 12 years. So it's historic. Again, we have to ponder – another baby for Kate? A marriage for Harry? Another kind of shift?"
(Well both, actually). And another prediction, which is interesting as it precedes Megxit: "Ceres enters Leo on Sunday 24th September 2017 and stays there until Thursday 28th June 2018. This is going to be a tremendous territorial divide of world leadership, particularly in respect of those leaders' children, successors or dynasties. It will take around nine months to complete.
Buckingham Palace Astrology Predictions
On 8th January 2020, we saw Megxit; the end of Harry and Meghan in Britain. How far ahead did astrology see it? Find the original forecast about Buckingham Palace here. (The White House was also rocked in the date given; impeachment proceedings began against Donald Trump).
The prediction was made in 2017, three years before it came to pass.
Harry and Meghan Wedding Predictions
This was published on 9th May 2018, days before the wedding. "This is beginning to look like 'batten down the hatches' and also 'umbrellas up' for the younger Royals… The Royal family manage their inheritance because they produce the 'heirs and spares' who rule Britain and the Commonwealth. Uranus in Taurus is the storm that nobody really expected to see." Harry published Spare five years later, having quit his role.
This ran in the Daily Mail, quite possibly one of Harry's least favourite newspapers on the planet, on 19th October 2020. "There will be no reunion for Prince William and Prince Harry." You can listen to a Daily Mail podcast with me here, recorded in the first half of January 2023, about Harry, Meghan and the Royal Family.
The Duke and Duchess of Sussex Predictions
Living in Sussex at the time, I felt I was entitled to make a prediction about titles! "Meghan Markle will lose the title, Duchess of Sussex. They will be offered the same status as Princess Anne's title-free son, Peter Phillips."
The Astrology Chart of Prince Harry
What does the horoscope say about Diana's younger son? He arrived on 15th September 1984 at 4.20pm in London with stelliums in Taurus, Virgo and Scorpio. The astrology of Prince Harry shows someone who would be a philanthropist and businessman, were he not born into royalty.
The chart also shows Meghan, to Harry, is part of a 'foreign affair' which ends in 2026, as the most enthralling, liberating, peculiar overseas people and places sweep him away. Sagittarius and the Ninth House are about foreign cultures (multiculturalism) as much as foreign countries.
Racism and Mixed Races
For Harry this cycle, which began in 2018, is about racism and mixed races, as well as different races. It is also (just as importantly) about Russian America. And American Russia. It's a cycle full of shocks, disruption and excitement too – but ultimately it will end in 2026, after the last rug is pulled.
Prince Harry's astrological chart chimes with some key dates in the ongoing narrative about race in the United Kingdom. The Archbishop of Canterbury, Justin Welby, the BBC reported on May 8th 2018, had been listening to Stormzy, the grime superstar, before the wedding of Harry and Meghan.
Justin Welby and Stormzy
More recently, Stormzy 'rowed with staff' at Heathrow Airport over a passport issue which apparently stopped him boarding a flight to the World Cup. Harry's astrology chart chimed. Again, when Prince William's godmother Lady Susan Hussey resigned after a (strangely recorded) conversation with the head of Sistah Space (Hackney), Harry's chart resonated.
Ten days before Harry and Meghan's wedding, I made a prediction that we were in for storms and they would not stop. You can see it here.
Uranus, Mars and Neptune in Sagittarius line up exactly with charts for the USA, Ukraine and Russia too. I'll talk more about that in a moment. (Natal chart for Prince Harry: AstroGold software).
For astrologers, many of whom are joining the discussion, you're watching transits to Uranus at 9 Sagittarius in the Ninth House in opposition to Chiron at 8 Gemini.
Leo Eclipses, Heirs and Spares
The famous Leo eclipses at the height of Donald Trump's presidency, happened in the sign we associate with the bedroom, courtship, heirs, spares and pretenders to the throne. Eclipses are always cover-ups.
And so to another Leo eclipse in the series: near January 14th 2019 in Birkenhead. This is when these two photographs (below) were taken. Meghan and Harry were visiting the Tomorrow's Women Wirral Charity and Hamilton Square.
Photographs of a Pregnancy
This day, January 14th 2019, was when Meghan showed the world's press pack she was expecting the baby who would be born as Archie Harrison Mountbatten-Windsor on May 6th 2019, so four months later. This is the famous 'Now you see, now you don't' sequence of photographs. And we're not talking about the handbag.
Was this a Moonbump? My friend Sarah Vine at the Daily Mail thinks so. Or was this trick photography? (Both images come from different photographers, licensed from different agencies). If so, why play tricks, implying Meghan has a Moonbump? This leads me to a discussion about 'manufactured warfare' which I'll touch on briefly in Harry's chart in a moment. The Leo Eclipses and Leo Meghan
The Eclipse fell at 0 Leo shortly after these peculiar photographs were taken – and was exactly square Harry's Pluto at 0 Scorpio. The Full Moon Eclipse in Leo on January 21st 2019, happened a week later. Harry makes no mention of this series of photographs in Spare.
The Drama of March 2023
And so to the future .Close to March 24th, 2023, Pluto will move to 0 Aquarius for the first time in around 248 years. Pluto will immediately square Harry's own Pluto at 0 Scorpio. Again, we are back to his inheritance from Diana; his inheritance from his father and The Queen; his own will, made out to Archie in particular, who was the bump we saw a week before the eclipse – and Lilibet. We don't know the terms of the late Queen's will.
We've not seen this astrology in the skies, since Henry VIII. Since Louis XVI and Marie Antoinette. Since George III and the Prince Regent who replaced him. It is always about extreme system change for royalty. I've predicted several times now that Charles and Camilla will not rule.
This will be a real power struggle, with Harry, with that Pluto-Pluto square, both within the family, and within Harry himself, as Pluto square Pluto transits are about control. This will replace what I see as 'manufactured warfare' which is being artfully constructed online by an army of trolls and selected media, to split the United Kingdom and United States Special Relationship, but also unity within the United Kingdom itself. Now, let's talk about Scorpio.
Scorpio in Harry's Chart
Harry has five placements in Scorpio in the Eighth House of sex, death and money. Charles is a Sun Scorpio. On page 88 of Spare (Penguin Random House 2023) Harry recalls stargazing. "See that bright one next to the moon? That's Venus. And over there, that's Scorpius – best place to see it is the Southern Hemisphere." Scorpio rules inheritance. It is the sign we associate, more than any other, with wills, mortgage and marriage, but also divorce and. pre-nuptials. As I said, sex, death and money.
Prince Harry, Fate, the USA and Russia The website Russia Beyond is good to know about if you want to update yourself on the fated role this country plays in Harry's life. In fact, it ran a feature (above) questioning his choice of wedding garb. The controversial beard, much discussed in Spare, is also discussed here.
The Romanov Bloodline and Harry
Harry's chart lines up with both historic astrology charts for the United States and Russia, which is interesting given that he wore a near-replica of Tsar Nicholas II's distinctive frock coat (and beard) when he married Meghan. Just a touch of the Romanov dynasty, here, for his big day – the Romanovs' modern bloodline is carried by Harry. For her part, Meghan and her mother spent the night before the wedding at Cliveden. Once home to Christine Keeler and a Russian spy scandal. Fate.
Meghan and the Russian Tiara
Writing in Spare, the only Royal autobiography to enter the Guinness Book of World Records, Prince Harry states that Meghan was set to wear Diana's tiara, lent by his aunts, Diana's sisters. She accepted. Shortly before the wedding, the Queen then offered Meghan a choice from her own tiara collection. Present was Angela Kelly, the Queen's advisor and one of the few authors given Her Majesty's approval.
Harry writes, "One was all emeralds." So was it the Vladimir Tiara, which the Royal Collection Trust shows, is certainly 'all' emeralds? It was owned by one of the most important figures in the Romanov dynasty – Grand Duchess Vladimir. Town and Country magazine seem to think so, saying the Vladimir Tiara was "a piece that was the subject of some speculation around the royal wedding."
Or, was the 'all emeralds' tiara the Greville Emerald Kokoshnik Tiara? It's not Russian, it's French, but it's made in the kokoshnik style, favoured by the Russian Imperial Court.
The way Harry tells it in Spare, "One of the five stood out. Everyone agreed." Harry then says Angela Kelly became obstructive. The chosen tiara was then handed over, much later.
Russian Americans and American Russians
A CBC investigation on 14th April 2022 traced the ownership of Mille Fleurs, the Vancouver Island mansion where Harry and Meghan escaped to after leaving the United Kingdom – to a Russian billionaire.
Yuri Milner and Sergey Grishin
This Russian friend of US entertainment king David Foster (who has been described as an American father figure to Harry) is Yuri Milner, once linked by The New York Times in 2017 to the Kremlin.
David Foster has also known Donald Trump for years and was invited by Trump to provide the entertainment for his inauguration, which he declined. Yuri Milner invested in a company co-owned by Jared Kushner, Donald Trump's son-in-law.
Having left Canada, Meghan and Harry bought their America home from another Russian, Sergey Grishin. For astrologers, the key degrees in Harry's natal chart which line up with historic charts for the USA and Russia are Sagittarius 9, 16 and 28.
The clincher is Ukraine. The couple obviously married while war on Ukraine was just a dream for Vladimir Putin, but the Ukraine chart also lines up with Harry's. Both he and Meghan joined the condemnation of the Ukraine invasion. I find it fascinating that Spare makes no reference at all to the huge Russian-American story that the astrology chart shows.
Two of the book's publishers were once my own publishers at what is now Penguin Random House and I can vouch for their meticulous editors. Yet, for whatever reason, the above details missed the edit. The omissions in Spare, which goes into great detail about perfume, cologne and cosmetics – but not about the details of the new American life – are interesting.

Prince Harry and the Sagittarius Stellium
What we have here is a man who is strongly Sagittarian, with Uranus, Mars and Neptune in that sign – a stellium. Triggered by the transit of the South Node in Sagittarius from May 6th 2020 until January 18th 2022, Harry created Spare.
The best book ever written on the meaning of the signs is The Rulership Book by Rex E. Bills (American Federation of Astrologers, Arizona, 1971). It is an outstanding 'bible' which should be on every astrologer's bookshelf. Years into the future, Rex Bills produced key words for planets, signs and houses which proves its truth, time after time.
Remembering Rex Bills published it, years 13 years before Harry was born, he associates Sagittarius with: –
Archery and archers (the synchronicity here is with Archie, Archewell and the Archbishop of Canterbury. There is also synchronicity with the archers in the Bayeux Tapestry, now a popular internet meme, showing 'Harold' and William).
Army barracks
Baldness
Booksellers
Churchmen (again, the Archbishop of Canterbury)
Foreign countries
Counsellors
Military drills
Spain (the leaked first edition of Spare appeared in Spain)
Foreign affairs
Foreign politics
Foreign agents
Nottingham (Nottingham Cottage, or Nott Cott, as Harry calls their old home)
Philanthropy
Foreign politics
Publicity and Public Relations
Radio and television
The United States

(The Rulership Book, Rex E. Bills, American Federation of Astrologers Inc, Tempe, Arizona, 1971).
The Joy of Family for Harry in 2023
2023 brings a tremendous feeling of freedom, space, liberation and excitement for Harry and his partner, and his two children. This is the renovation for a dream home, or a relocation to a new home. This happens in a year when, historically, the line of succession in the Royal Family will be disrupted. It's a spot of pure happiness.
For the first time in 248 years Pluto is in Aquarius, where he stood when Henry VIII gave way to Mary and Elizabeth – and Louis XVI and Marie Antoinette met the guillotine. This was also the year George III, suffering from what is believed to be bipolar disorder, was replaced by his son, George IV, the Prince Regent.
I've had so many comments about this piece, which I have updated on 14th January 2023 (post publication of Spare) that I have decided to expand the feature by replying to your questions and thoughts. Thank you for providing them, as one day this website will be a tiny part of astrological history – given what we are about to see in March 2023.
One Last Thing
I published this astrological profile of Prince Harry before he announced his first public event since the release of Spare. He will be appearing at an Uplift conference on Nob Hill, in San Francisco. I am updating the prediction on 2nd February 2023.
The conference is set for 7th March 2023.
Transiting Saturn at 0 Pisces will trine his natal Pluto at 0 Scorpio for the first time in 29 years. That is not auspicious. When we go to the rest of the chart, we find the Sun at 16 Pisces square his natal Mars at 16 Sagittarius. Again, that's a red flag. Natal Uranus at 9 Sagittarius is square Mercury at 8 Pisces.
Astrologers reading this will see many more difficult patterns in the Prince Harry chart on opening day at the conference. The stand-out for me is transiting Diana at 17 Aries in opposition to the natal MC (Midheaven) at 17 Scorpio.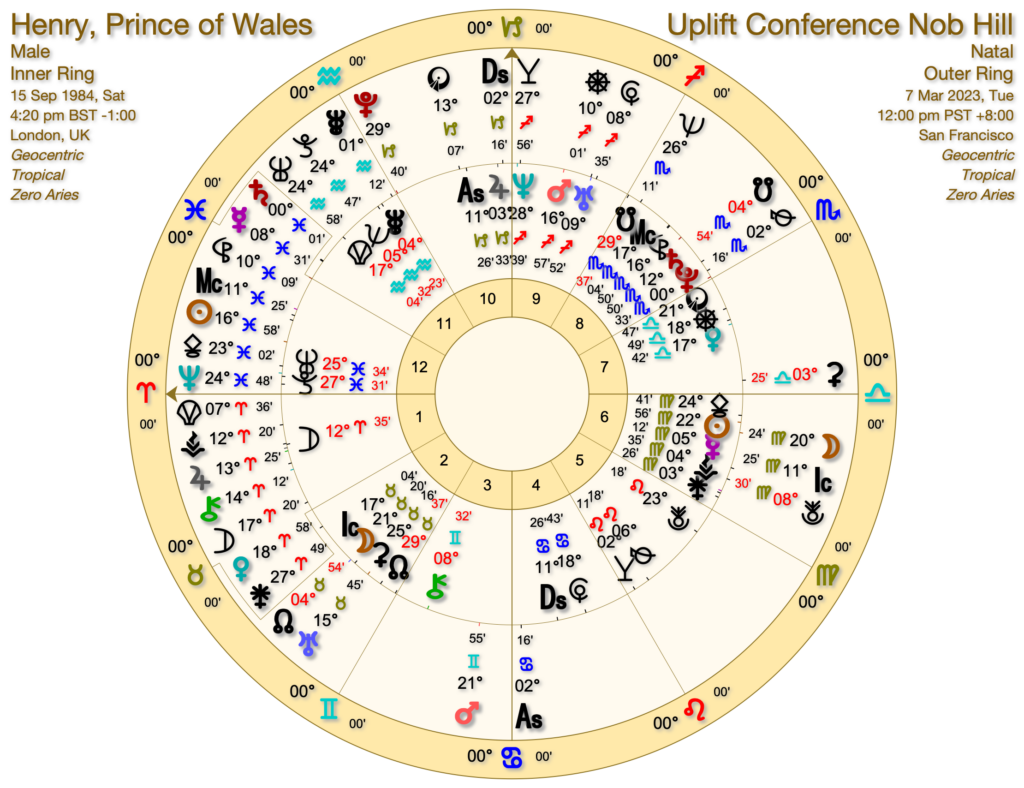 Sources and Links
Updated on 18th January 2023:
Season Five, Episode Six of The Crown, Ipatiev House, focuses on the British royal family and the Romanovs.
Town and Country magazine, November 14th 2022.
The Duke of Sussex gave Russian hoaxers his email and phone number and even rang them back on his mobile, it has been claimed. Prince Harry responded to an email sent by Vladimir Kuznetsov and Alexey Stolyarov, who told the Sun that none of his advisers checked if they were genuine.
The Guardian, 12th March 2020.
A CBC investigation traces the ownership of Mille Fleurs, a lavish Vancouver Island mansion where Meghan and Prince Harry wintered in 2020, revealing ties to Russian billionaire Yuri Milner and murky laws that experts say make Canada a target for money laundering.
CBC April 14th 2022
Harry and Meghan bought California home from billionaire Russian oligarch. The previous owner of the Chateau of River Rock was Sergey Grishin. He sold the seven-acre site to the Sussexes for a heavy discount of £11million.
The Daily Mail, August 14th 2020.
Cliveden was the five-star setting for the Profumo affair, one of the greatest scandals of the Cold War. At a poolside party in 1961 the married war minister John Profumo was seduced by Christine Keeler — and history was made. It emerged that Keeler had also enjoyed a relationship with Yevgeny Ivanov, a Russian naval attaché who was actually a Soviet spy.
The Evening Standard, 17th May 2018
Harry's uniform at the wedding is a standard frock coat of the Blues and Royals, which looks almost identical to the Royal Scots Dragoon Guards uniform worn by Nicholas II.
Russia Beyond May 29th 2018
Meghan and Russian Tiaragate: The most thorough account of numerous media reports and books detailing the Queen's alleged obstruction of Meghan's Russian tiara preference is in The Court Jeweller, 21st August 2020.