Aquarius Monthly Horoscope
Jessica Adams' free Psychic Astrology forecast for May. See what this month looks like in the stars.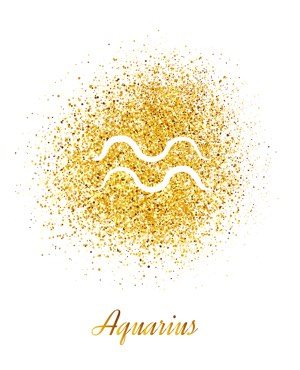 May
Your Apartment, Household, Family, House, Town, Country
The first week or two of May is the time you come into your own, Aquarius, as the person best-known for meeting change – with more change. Your sign tends to dive into the storm and dance with it, rather than shake your head and wait for the old weather from yesterday to return.
You know what is going on with your house, family, apartment, household, town or country. With the mortgage or landlady. With your local area or passport. With your people, actually, which may involve all the leaves and branches on the family tree, but also your roots. Where your parents, grandparents, great-great grandparents came from, and what you feel grounds you, culturally or spiritually.
Uranus tends to shake the tree. This is your ruling planet, now in this zone of your chart for the first time in your adult life. If you are curious about Uranus, use Search to find out more when you have finished reading this. It turns the known world upside-down and replaces it with the new world, rapidly, so that it can some time to adjust and adapt. Yet, the faster you move, and the more you understand that you are actually being given freedom – the easier it will be.
We do associate this with feeling galvanised. It's a bit like the pogo in 1977, the year that punk rock broke in London. This odd new solo dance, the safety pins, the dyed hair, the incredible music and the rare talents – Johnny, Sid, Siouxsie, liberated people. Any Uranus transit feels like this. Odd, unusual, exhilarating but also confronting. You now have a punk rock moment with your close relatives, flatmates/roommates, live-in partner, tenants, landlady and the rest, Aquarius. Your property investment and your country and your family tree. Your personal birth chart will tell you the rest.
What to do, in the first week of May as the astrological weather rolls into your horoscope? Try to go with the odd new rhythm of life, which may well feel like some kind of Buzzcocks classic. Try to understand you are being shown what freedom feels like, and in fact it's not just a sample. It's the new world. However this reaches you, and that will be intensely personal, try to see that the past is being moved swiftly out of the present, so that you can zig-zag towards the future.
There is really no point in having a family tree unless you and they are free. A very likely outcome of May 1st-8th for so many of you is mortgage relief, or government decisions about your home, town or country which liberate you in some way.
Again, your personal chart will tell you. But in all cases Aquarius, just go with it. Be open, if you can, not closed to change. Read the room. The people in the room who are pursuing quite radical new ideas and revolutionary, brilliant, exciting alternatives are the right faces for you. They will make a lasting difference to how you see your people or your place. Try to go with that even if there is no precedent. This is literally unprecedented.
Aquarius, I will now look at the Nodes in Sagittarius and Gemini, and the Gemini New Moon. This takes you into the second half of the month.
The Nodes in Gemini and Sagittarius – and You
Every 19 years the North Node and South Node move back into Gemini and Sagittarius respectively, and there are two shifts back to the years 2001 and 2002. This is happening now, first of all with sexual relationships, the world of children, or the world of younger people. Gemini rules all this in your chart in the Fifth House, which describes the kinds of couples who produce pregnancies, or the sorts of commitments which lead to step parenting or shared responsibility for younger in-laws.
There is also the simple case of godchildren, nieces or nephews. Of course, a son or daughter. And most certainly, younger generations (old enough to be your own offspring) whom you tutor,  mentor or guide. A virtual class of students, for example. The Fifth House, ruled by Gemini in your chart, is about leading the way. Being Queen to a younger court, or King. Preparing the next generation in the dynasty to take over the throne!
This is also why we associate this cycle with entertainment, sport or other activities which mean you can bond with younger people. Harry Potter would be a good example. So would music (if it's the right kind of instrument). All these things keep your generation and theirs, more closely entwined.
The North Node now will take you back to the past for closure, settlement, harmony and balancing. Even if you were only born in 2001 or 2002, you may have past life karma going back another 19 years, and another 19 years, and so on into the mists of time. The Node rules reincarnation and for so many people born under the Sun sign of Aquarius, May 2020 is about understanding that your soul contract may have involved particular issues around babies, children or young people which are now here for reassessment.
A really common example is a pregnancy that never came to pass, in 2001 or 2002. Or a child who was actually born who is now on his or her way to adulthood. Again the wheel of karma turns. By that I mean, you are owed. Or you owe. Spiritually! There will be clear signs of this in May and certainly June 2020 as the Sun enters Gemini in the final week and of course Venus (relationships) is retrograde there. It will be pretty obvious.
The Sagittarius South Node is about friendship. Friends and groups. The same thinking applies. You will be taken back 19 years, in waves, or even into past lives, with particular faces (old or new friendships) and specific clubs, teams, circles, networks and so on. Here, you may find that you are in a position to 'do unto others' what was 'done unto myself' 19 years ago, or even as far back as a past life in the 1940s. Wartime units, groups, clubs, teams are sometimes the source of karma.
You have to possess an open mind if you are to accept this theory that the Nodes take us back into previous lives, but in fact it is commonly accepted in Indian (Vedic) astrology. There is really nothing like the present to convince you, though. If May and June, when we see these trends begin – bring karma – you know why.
The Nodes are slow-moving and will be with you until January 2022, Aquarius. You may find that closure is also slow but that's fine. Along the way, the sheer repetition of one situation with a friend or group (band, club, team, union, society, association) is all it takes to help you reshape your approach.
This is soul change. It can show on a practical level with decisions you make (say, about money) involving friends, but it is generally about the spirit. The inner person. You become a better human being – that's the idea.
A very common Fifth House-Eleventh House (Gemini-Sagittarius) node outcome is a friend asking you to become a godparent. And yes, you would all of have known each other in a previous life. For more on this Node cycle visit my YouTube channel to hear a podcast with more detail.
Are you a Premium Member? Your personal birth chart will be online now, if you are logged in, so you can see if this month's key dates affect you. Don't forget to navigate May using all your membership benefits. The Astrology Oracle cards and guidebook. Your private library of e-guides which cover so many Mind, Body and Spirit subjects. Podcasts to relax with – and longer forecasts. Now, here are your diary dates for May. Take a closer look.
Extended Premium Forecast
© Copyright 2020 Goddess Media Limited. All Rights Reserved.
Join my free newsletter to stay in touch, hear about new astrology and horoscope posts. We will also write to you occasionally to tell you about events and offers linked to this website. We respect your privacy. We will never sell or share your personal information and you can opt out by clicking an unsubscribe link at the bottom of any email.